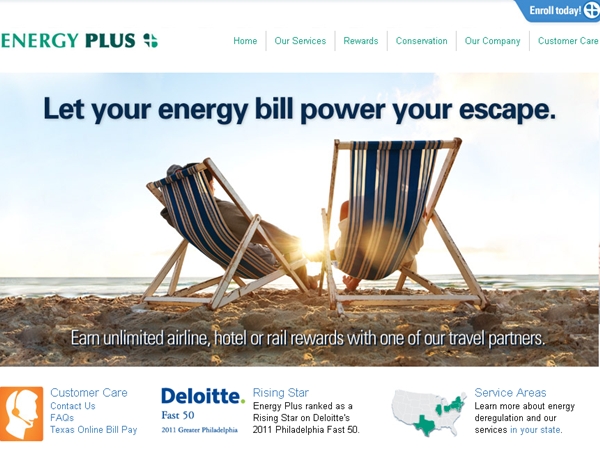 Just the other day we received an offer in the mail on Starwood Preferred Guest letterhead for 7500 Starpoints points if we switched from ConEd to Energy Plus. Now, while I would welcome 7500 bonus Starpoints, I started becoming suspicious as soon as I noticed that there was no claim that by switching my energy costs would be lower. Instead, it highlighted these "benefits":
Month-to-month variable rate plan where you are not locked in to a long-term commitment*
Automatic green product that supports 100% wind power at no extra cost
7500 Starpoints when you sign up an electric account with Energy Plus**
2 bonus Starpoints for every $1 you spend on the Energy Plus portion of your bill**
On the Energy Plus site there are also offers for 5000 bonus points for American AAdvantage miles, United MileagePlus miles, Delta Skymiles, US Airways miles, JetBlue TrueBlue points, Southwest Rapid Rewards points, Hilton HHonors points, Marriott Rewards points, Priority Club points, Wyndham Rewards points, Amtrak Guest Rewards points, a $50 Upromise enrollment bonus or $25 cash back.
After doing a quick calculation of what 7500 would be worth (up to $210 for me, given that I value Starpoints at up to 2.8 cents for the business/first class international flights I'd use them for) I immediately delved into the asterisks and fine print:
*The Energy Plus supply rate per kWh is variable and therefore subject to change each billing cycle. Please see Terms of Service provided online and in your Welcome Email/Letter for complete details. Current and historical rates should not be taken as a guarantee of future rates and Energy Plus makes no warranty, express or implied, regarding specific savings
**Bonus offer only available to new Energy Plus customers. 7500 bonus Starpoints will be awarded to Starwood Preferred Guest members after completing two months of active service with Energy Plus. Active accounts are defined as those (i) that are billing more than $0 and (ii) for which Energy Plus has not received a request on behalf of the customer to discontinue (drop) their service. Members will earn 2 bonus Starpoints for every $1 spent on the supply portion of the monthly bill.
[bolding is mine]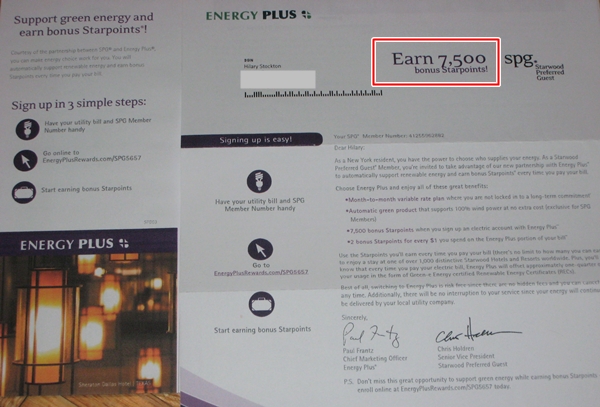 So at this point I was already thinking that this company probably overcharges for electricity, and uses miles and points to try to entice customers to switch. I did some searching, and sure enough, found a ton of complaints about Energy Plus, especially their marketing practices and claims. Here are a few excerpts:
Posted: Dec 18, 2010 on Flyertalk by Freckles68
I did it a few years ago for the Amtrak miles. I let it go for about two years at first, because my first couple of bills didn't seem out of the ordinary (that's how they get you). The bills kept going up and up, but I just assumed that was because the price of electricity was going up and up.
One month I received a ridiculous bill, and I decided to look into it. Turned out Energy Plus was charging me more than twice as much as Con Ed. Con Ed's rate was a little over 8 cents; EP was charging like 17.
Energy Plus promotion not worth it; way inflated energy rates
Posted: Jan 19, 2011 on Flyertalk
I enrolled in the Energy Plus promotion to get Continental OnePass miles. Two billing cycles later and I am absolutely switching back to ConEd (NYC energy provider), as Con Ed's rate this month (Jan. '11) is 11 cents per kilowatt hour and Energy Plus is charging 19 cents per kilowatt hour for the exact same service. When I complained last month to Energy Plus, the said they would switch me to a lower billing plan, which turns out to still be 15.9 cents per kilowatt hour (compared to the 11 cents with my previous provider). My electric bill is monstrous and this is definitely not worth it for a few thousand miles. I could have purchased the miles outright and still saved money. I would steer clear of Energy Plus…grossly inflated rates!
Re: Energy Plus Scam
Posted 2-13-2011 on UPromise Energy Plus Scam thread
Over two years ago I switched to Energy Plus after speaking to one of their sales people. They told me I should see and an average of 7% savings over my current supplier's charges in addition to getting 3% back into my son's Upromise account as well as a $25 signing bonus that would also go into the Upromise account. I believed Energy Plus's representation and I signed up. I now regret it and partially blame myself because I didn't' listen to my wife… I now know what an idiot I was not to listen to her. Last week my wife insisted I call to have the meter checked because of how high the bill was. I did call, and was shocked when National Grid told me that in my most recent bill, I paid over 14 cents per KWH to Energy Plus when National Grid was charging a little over 5 cents.
I took a detailed look at my last 23 months of Electric bills, noted the amount charged by Energy Plus for my energy supply and called National Grid (previous supplier) and got the amount they had been charging during the same period. The result of this simple check dropped my jaw in disbelief. I had been taken to the cleaners. The initial three months after signing were nearly identical to my previous supplier's rate and then for the next 20 months, Energy Plus overcharged me from 100% to over 200% more each month than what I would have been charged if I had stayed with National Grid. Most of the months, the overcharge was between 140% and 200%.
Bottom Line: If you have low electricity bills, it's a time of year when you use little electricity and/or are gone much of the time, it could be worth it to switch just for the points; just don't forget to switch back as soon as your points post. A few pointers:
If you're not going to be home at all, it won't work; you need an active account that bills more than $0 for your two months to count
You'll effectively need to be a customer for 3 months, since you must be an active customer for two months
You may be charged about the same or slightly less the first 2-3 months, based on where you live (Connecticut users tend to pay more for their electricity, so some have reported savings). Remain vigilant about checking your bill—Energy Plus reportedly raises its rates after the first few months
Note that energy bills include both "supply" and delivery" charges. If you do sign up, the Energy Plus portion of the bill is the supply portion; your local energy provider will continue to charge for delivering the electricity (and remains responsible for outages)
If you've already signed up for Energy Plus and just realized that you've been overpaying, it's worth complaining and seeing if you can get a partial refund. The poster of the second excerpt was able to get $600 back, and another angry former Energy Plus customer was able to get $1000 back, although keep in mind that he had been a customer for two years, so this was likely a small fraction of what he overpaid.
Given that our electricity bills are moderate to high (3 people, including a little kid who generates a lot of laundry with washer/dryer usage) and the hassle of switching then switching back, I won't be jumping on this "deal." And while it may not be a "scam" in the sense of a company not providing a product/service at all, I do think the myriad complaints about Energy Plus marketing tactics amount to a scam.
I'm guessing that's why their new tactic seems to be focusing on their "green product" and *not* claiming to actually save you money compared to your current electricity provider. What's incredible to me is that their BBB rating is an A, perhaps because they've responded to the various complaints (and paid off the complainers?); guess another takeaway is to not place much weight at all on BBB ratings.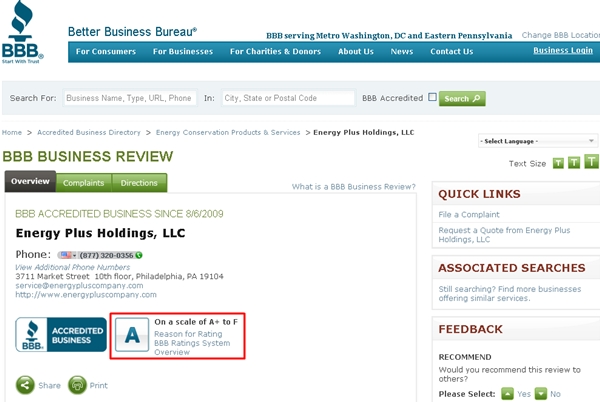 Check out and apply for the Best Travel Credit Cards.
If you enjoyed this, please follow TravelSort on Twitter or like us on Facebook to be alerted to new posts.
Become a Member to find your perfect luxury or boutique hotel at up to 50% off: TravelSort Hotels