Update: This promotion is over. For the latest US Airways and other miles and points news, follow TravelSort on Twitter or like TravelSort on Facebook
Just yesterday US Airways announced a 100% bonus on the purchase of Dividend Miles through September 15, 2011, a promotion they seem to run several times a year in one form or another.
When purchasing up to 50,000 miles in increments of 10,000 miles, you earn a 100% mileage bonus.
US Airways miles usually cost 2.75 cents per mile to purchase, plus federal excise taxes of 7.5%. That means that through this promotion buying 50,000 miles (for a total of 100,000 miles, given the 100% bonus) would cost you $1,375, plus the 7.5% federal excise tax, for a grand total of $1,478, or around 1.48 cents per mile.
Before we get to into the analysis, let's cover a few of the terms and conditions. Your US Airways Dividend Miles account has to be at least 12 days old to take advantage of this offer. The good news is that if you don't have an account and open one now, there's still plenty of time to take advantage of this offer, since it runs through September 15.
Second, while US Airways doesn't have an annual cap on the number of miles that can be purchased, only a maximum of 50,000 miles (plus the 100% bonus) can be purchased through any given promotion. As I mentioned earlier, US Airways does seem to run these types of promotions several times a year, so you can take advantage of as many offers as you want.
Third, in order to avoid any risk with buying the miles and not being able to use them, US Airways allows three day courtesy holds, so you could put an award ticket on hold, then purchase the miles, and then ticket the reservation. That way there's no risk of the space disappearing and being left with miles you can't use.
Lastly, the federal excise taxes mentioned above are just the taxes for purchasing the miles, and not the taxes for any ticket you might book with the miles. So actual taxes and booking/processing fees on the ticket would still need to be paid separately at the time of booking (which range from $5 for a domestic award to $150+ for an award to Europe).
With that out of the way, let's talk about when this offer is actually a good deal, because it's a topic I get lots of emails about. To keep things simple I'm going to stick to premium cabin redemptions. Sometimes this promotion will make sense for a coach award redemption, but I think everyone can do the math on that themselves. If the cost of purchasing a ticket is more than the cost of buying miles, then it might make sense to purchase miles. Just keep in mind the value of the miles you would be missing out on by redeeming miles vs. booking a revenue ticket.
US Airways' award chart is region based (as opposed to distance based, like some other award charts). So let's go through each region and analyze the actual cost of an award ticket through this promotion including federal excise taxes, though not including taxes on the actual ticket (which vary greatly).
Domestic first class award (excluding Hawaii) for 50,000 miles in first class ($740)
Chances are that most of you won't find domestic first class worth that much of a premium, though there are a few cases in which this can be a great deal. US Airways' domestic first class award chart doesn't differentiate between two cabin first class and three cabin first class, which often features fully flat beds in first class.
So this is an opportunity to fly United's Premium Service first class between New York and Los Angeles/San Francisco for $740, or otherwise one of United's other three cabin domestic flights (like Washington to Los Angeles on an internationally configured 777) for that amount. Given how high airfare often is nowadays, it might not be a half bad deal.
First class to Hawaii for 70,000 miles in first class ($1,036)
Given that coach fares to Hawaii are often around $1,000 nowadays, this can be an amazing value. If you can find your way onto an internationally configured plane operated by Continental out of either Newark or Houston you'll be even happier, since it will be a near full international business class experience. See my post on Tips for Booking Award Flights to Hawaii
Business class to South America for 100,000 miles ($1,480) or first class for 125,000 miles ($1,850)
While this redemption value to South America is amazing, the main challenge is Star Alliance's limited route network in South America. So while award availability can be tough to come by, if you can find award space on one of the Star Alliance airlines that fly down there (including Continental, TAM, United, and US Airways), this is a great value.
Business class to Europe for 100,000 miles ($1,480) or first class for 125,000 miles ($1,850)
Given that almost everyone wants to fly to Europe in a premium cabin, this is easily one of the best redemption values out there not just because of the cost of the award, but because Star Alliance has an abundance of first and business class award space between North America and Europe. Lufthansa will have the most availability out of their North American gateways (especially Atlanta, Boston, Charlotte, Dallas, and Detroit, though also out of their other gateways), while it's also worth checking for availability on Air Canada, Austrian, Continental, LOT, SAS, Swiss, United, and US Airways.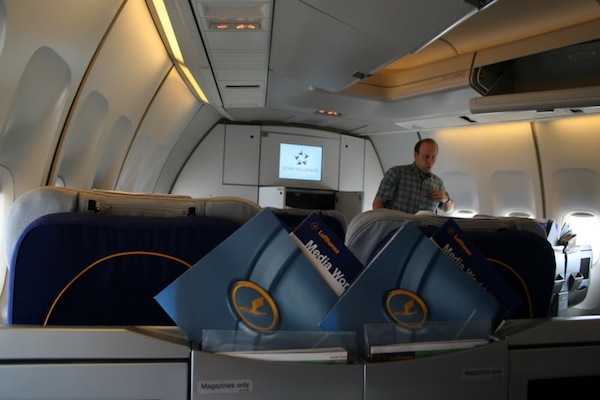 First class to North Asia for 120,000 miles ($1,776)
While the Europe redemption might be the most popular, this is hands down the best value, which I highlighted in The 10 Best Premium Cabin Award Tickets. You can travel to North Asia (which is everything North of and including Hong Kong) for less than you can travel to Europe, but here's the kicker – you can travel through Europe to get to Asia. That's right, it will cost you less to fly to Asia via Europe (with a stopover, if you want) than it will cost you to fly just from the US to Europe direct. So you could route the award to fly either ANA or Asiana direct to Asia, or fly through Europe on a combination of Star Alliance partners.
4/8/14 Update: 90K miles used to be the price for a Business Class award to North Asia, but with no notice, US Airways has increased it to 110K miles. See Bye Bye US Air 90K North Asia Business Class Awards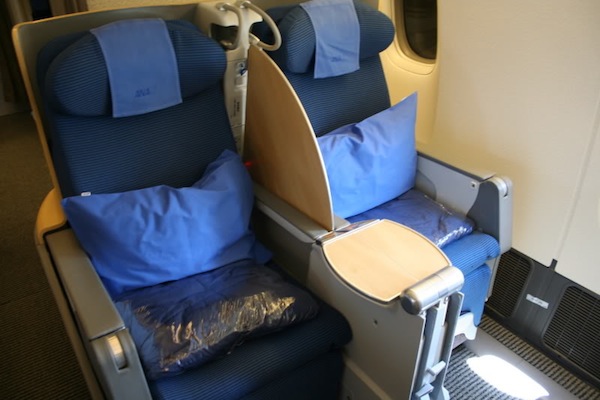 I've always been tempted to book this award in business class, and fly Austrian, Continental, SAS, and US Airways all on a single award.
Business class to South & Central Asia for 120,000 miles ($1,776) or first class for 160,000 miles ($2,368)
The price premium for travel to South Asia is pretty steep, so I generally try to stick to North Asia on US Airways awards. That being said, it's still a pretty unbeatable value if you're looking to travel to South or Central Asia. Once again you can route via Europe on any of the airlines mentioned above, or if you prefer, also have the option of flying Thai directly from Los Angeles to Bangkok.
Business class to the South Pacific for 110,000 miles ($1,628) or first class for 140,000 miles ($2,072)
Awards to Australia are typically priced very high, so this is actually a very good redemption value. Generally I suggest going with business class awards to Australia since first class award space can be very hard to come by. With business class you have the option of flying Air Canada from Vancouver, Air New Zealand from Los Angeles, San Francisco, or Vancouver, United from Los Angeles or San Francisco, or typically routing via Asia to Australia/New Zealand if you prefer.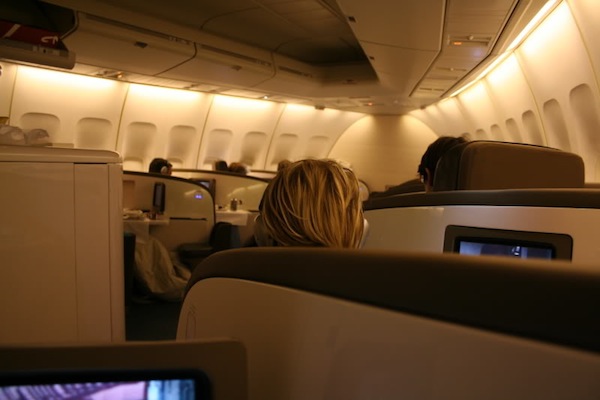 Business class to the Middle East for 120,000 miles ($1,776) or first class for 180,000 miles ($2,664)
The Middle East is a region where first class is a bit overpriced, in my opinion, so I would stick to business class awards. Your best bet with an award to the Middle East would be to travel via Europe, since there aren't many airlines that fly nonstop, and those that do are very stingy with award space.
Business class to Africa for 110,000 miles ($1,628) or first class for 150,000 miles ($2,220)
You can't beat US Airways' redemption rates to Africa. Lufthansa and Swiss have extensive service all over Africa, so I recommend flying with them via Frankfurt, Munich, or Zurich, which will typically give you the best availability and options.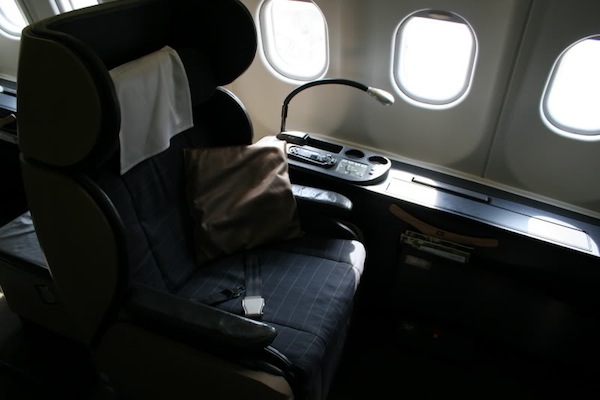 In closing I just have a few more general thoughts.
First of all, it's worth keeping in mind that when flying between regions on US Airways awards, you're allowed one stopover at a Star Alliance hub. That would include any airport where a Star Alliance airline has a hub, though it's not strictly enforced, in that you can usually get a stopover elsewhere instead.
Next, as you can see, many of the options mentioned above require more than 100,000 miles, and the maximum number of miles that can be purchased through this promotion are 100,000. To make up the difference you can either buy miles now and top off your account with the next promotion, transfer points from Starwood Preferred Guest (where they transfer at a 1:1 ratio, plus 5,000 bonus points for every 20,000 points transferred), or sign up for a US Airways Dividend Miles credit card.
Lastly, I'm a firm believer in the saying that "if something sounds too good to be true, it probably is." I've had that thought on US Airways' constant mileage sales for about a year now, though the fact is that it hasn't been too good to be true – the deal is actually as good as it sounds. My fear remains that they'll eventually devalue their award chart, which I'm sure will happen sooner rather than later.
I'm hoping that if/when it happens, they give us some advance notice. For that reason, though, I suggest only buying miles if you have a relatively short-term use for the miles. I'd say if you think you can use the miles within 3-6 months, go for it. However, if they decide to change their award chart, be flexible to book earlier, since I assume they'll give us some sort of advance notice. However, if you're just trying to stash month for a dream trip three years from now, I wouldn't suggest taking advantage of this offer. US Airways has run this offer many times in the past, and I would guess this isn't the last time they'll do so.
If you have any questions on the above, post them below and I'll answer them as soon as I can!
Need Award Booking Help? Our fee is as low as $75 per ticket if you book your hotel through us.
If you enjoyed this, join 150,000+ readers: please follow TravelSort on Twitter or like us on Facebook to be alerted to new posts.
Become a TravelSort Client and Book 5-Star Hotels with Virtuoso or Four Seasons Preferred Partner Amenities!