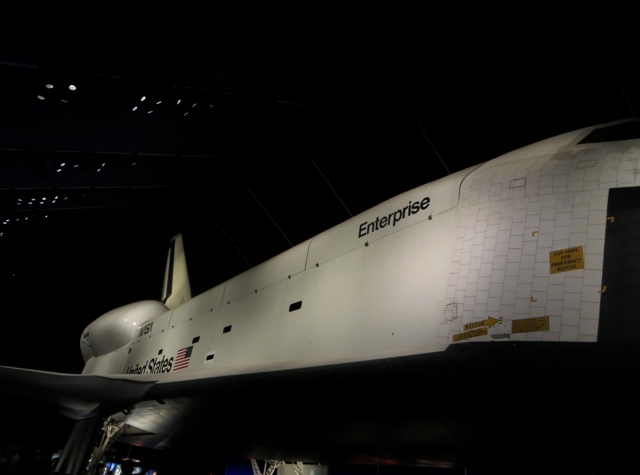 This Intrepid Museum Review is one of our many reviewed things to do in NYC. Visiting New York? See all of our posts tagged NYC.
The Intrepid Sea, Air and Space Museum had been on our list of places to take the munchkin, so a few weekends ago, even though it was a drizzly day, we decided to make the trip. It's quite a unique museum, housed as it is on the historic aircraft carrier Intrepid, which was commissioned on August 16, 1943 and served both in the Battle of Leyte Gulf and the Battle of Okinawa.
In between those two battles, the Intrepid sustained two kamikaze strikes, the second of which saw two kamikaze planes strike within minutes of each other on November 25, 1944, killing 69 men. This attack is shown in Kamikaze Experience on the Hangar Deck, which, although we stumbled into it on our way to the Exploreum interactive exhibits, I really don't recommend for young kids, as it's a terrifying thing to explain while fake smoke billows about you. For older kids and adults, though, it's a sobering reminder of just one of the countless horrors of World War II.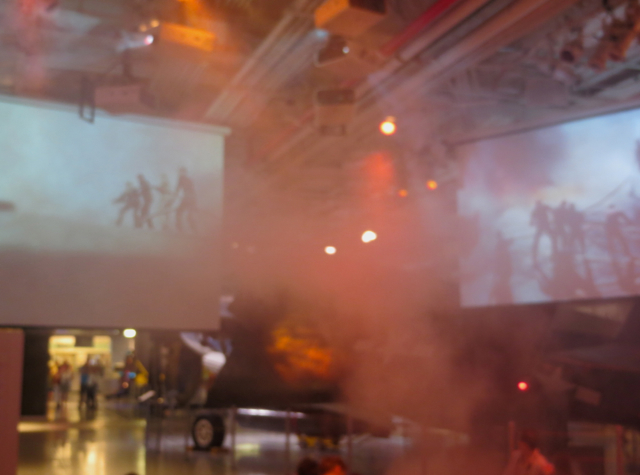 Having finally extricated the munchkin from the Kamikaze Experience, we walked past a Navy plane: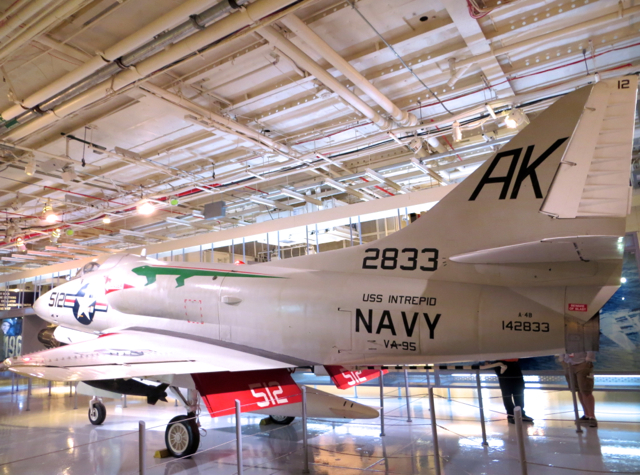 And made our way to the Exploreum, with its many interactive exhibits. First up was piloting an Intruder: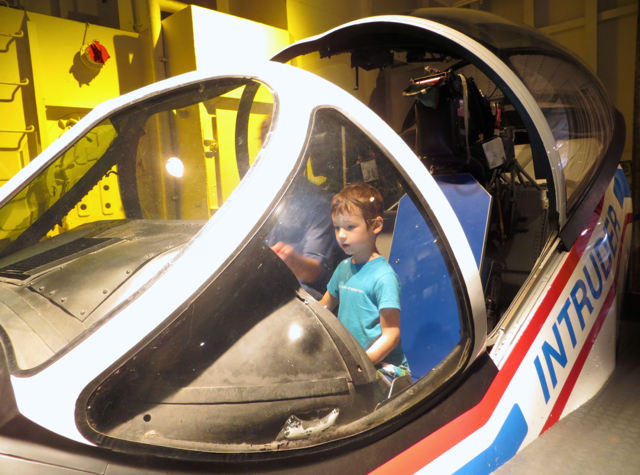 Then the munchkin spied a replica of the Gemini Space Capsule, where there was already a small line of kids waiting to fit into the two cramped spaces. I just barely managed to fit into one, and I'm 5'7, so good luck if you're 6 feet–there was no way my husband fit in that space. Not for the claustrophobic!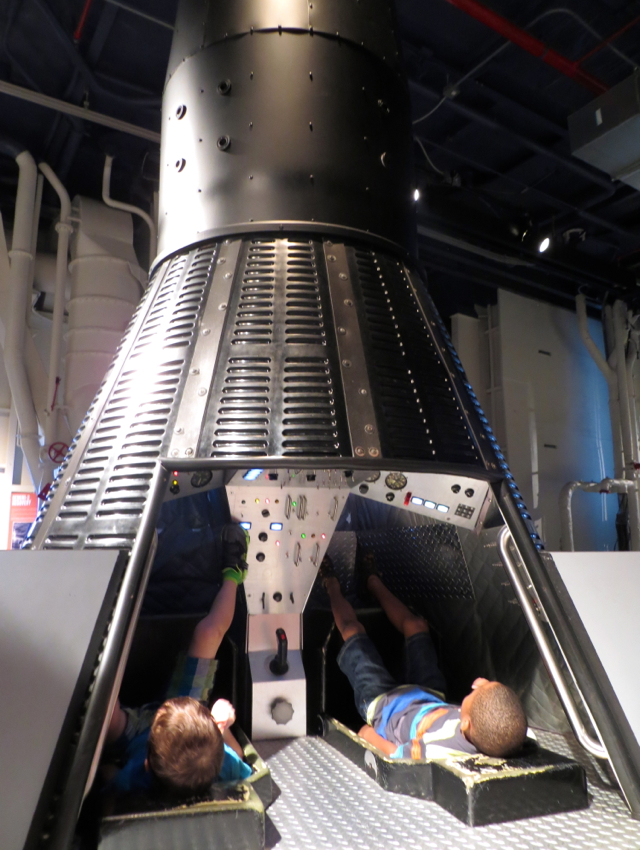 There was an interesting exhibit on the ship's various alarms–it must have set pulses racing when the Flight Crash Alarm went off. Although I didn't manage a photo of it, nearby was a Morse Code chart, and we spelled out some words using Morse Code.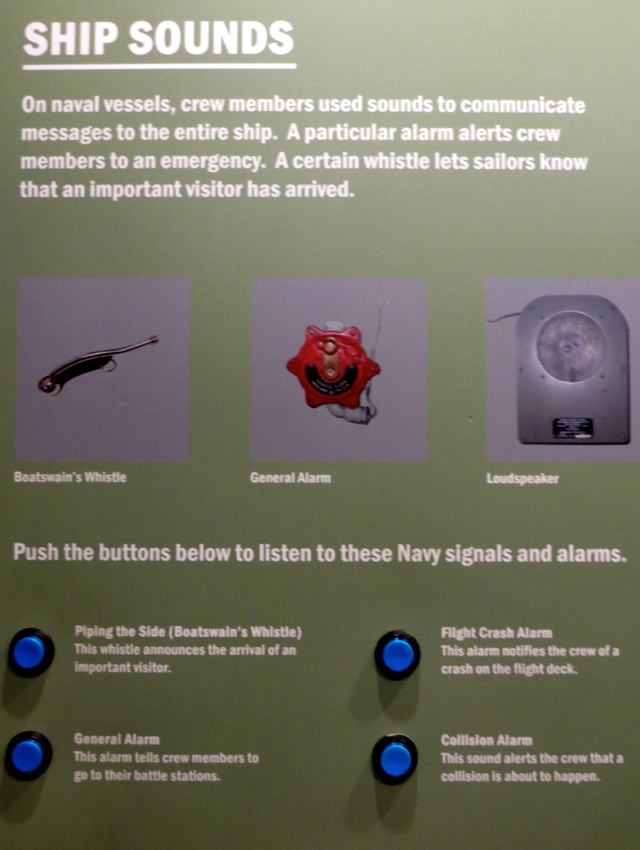 3000 men served on the Intrepid at a time, so cooks and bakers were kept very busy indeed. Here's what they had to cook up on a given day: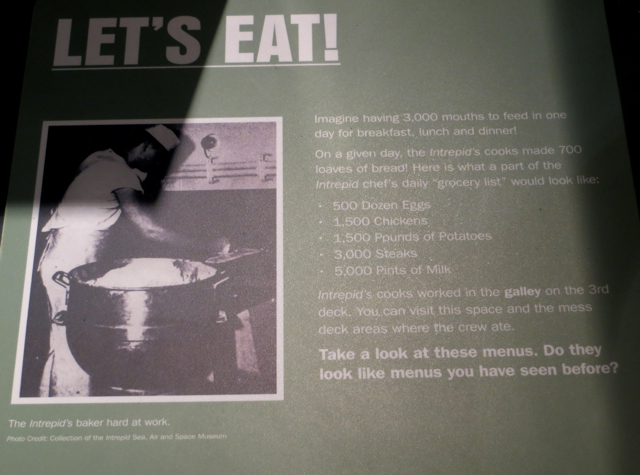 There were also bunk beds to try out: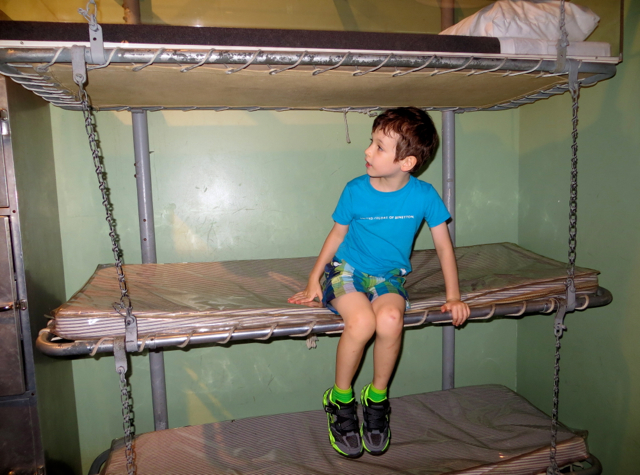 And my husband and the munchkin had fun on a model of one of the Intrepid's life boats, although thank goodness they weren't really on water, given how crazily they rocked the boat–pretty sure one or both of them would have been drenched!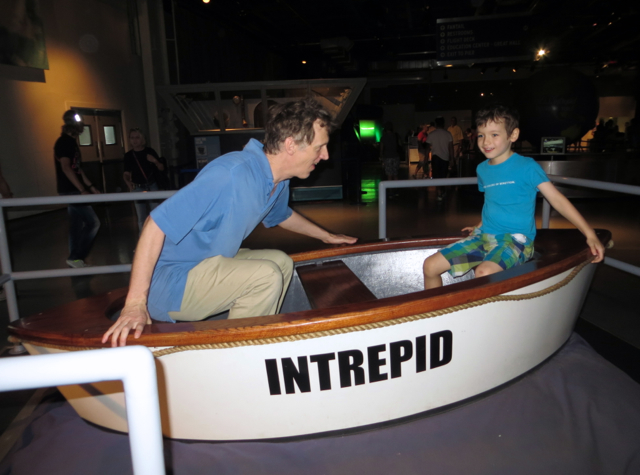 While the munchkin would have been tall enough to ride the G-Force Simulator, we didn't think he'd like it at this age, especially since he still sometimes gets carsick. But he did enjoy seeing how the G-Force Simulators moved, as well as the video monitors of the occupants' reactions. It was especially fun to see people with long, loose hair when they went upside down and their hair was standing straight up! This ride, as with the other simulator experiences such as the XD Theater and Transporter FX, require separate tickets that are $9 per person.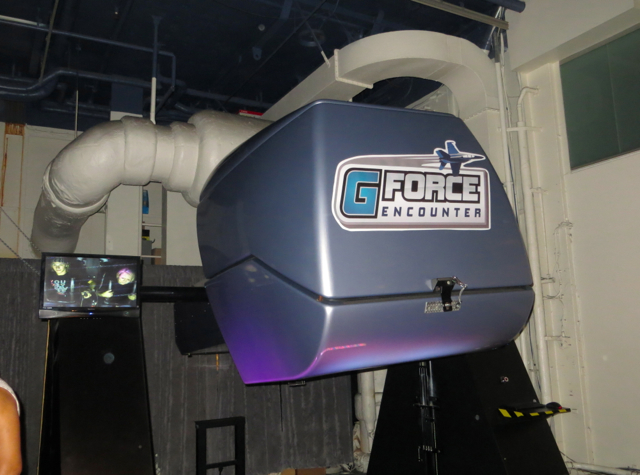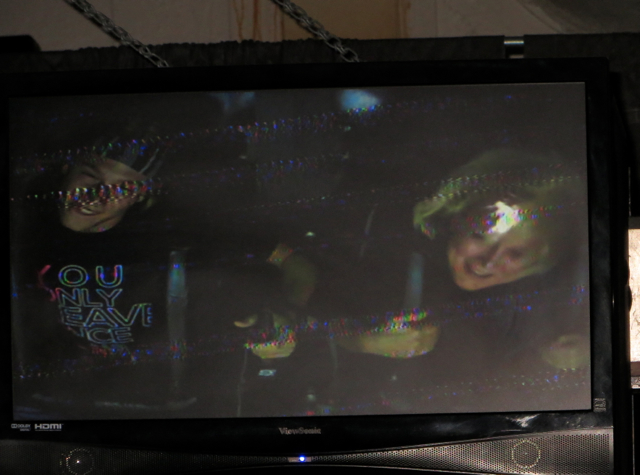 On the way out of the Hangar Deck, we spied an Army helicopter that of course the munchkin was keen to pilot: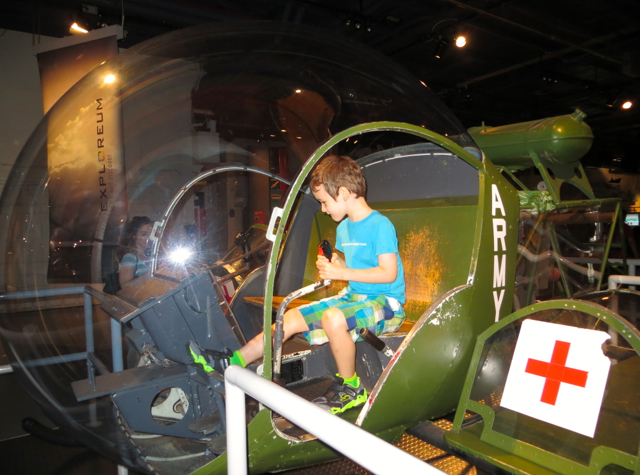 He then discovered a platform to the side for carrying a wounded soldier, so had to re-enact that as well: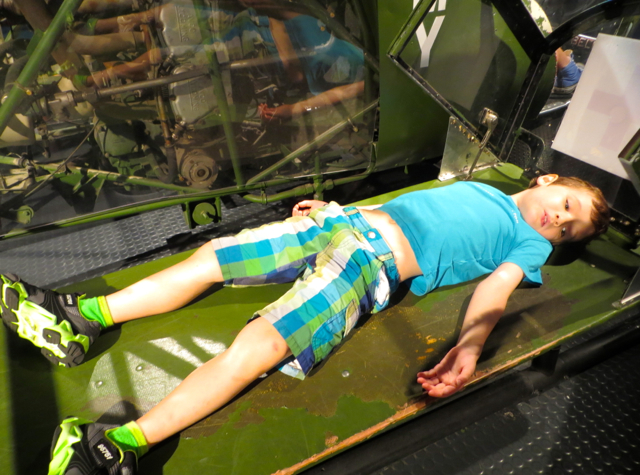 We next made our way up to the Flight Deck, where the drizzle had turned into a steady rain–good thing we had our umbrellas handy! I'm sure readers will know exactly what all of the planes and helicopters in these photos are; we walked the length of the Flight Deck, but due to the rain and the munchkin's impatience to get to the Space Shuttle, we didn't read any of the signed descriptions (apart from the Blackbird, used by the CIA for intelligence gathering, which was so distinctive I had to take a closer look). So feel free to correct or add to any of the photo titles below.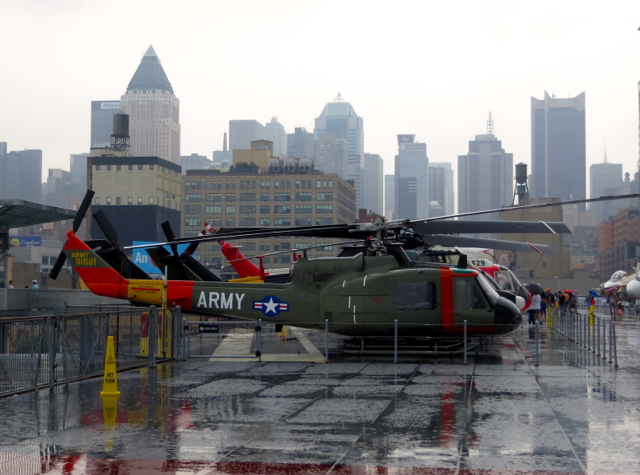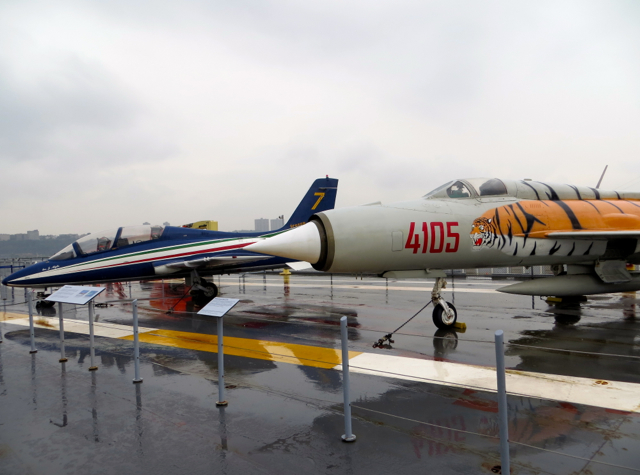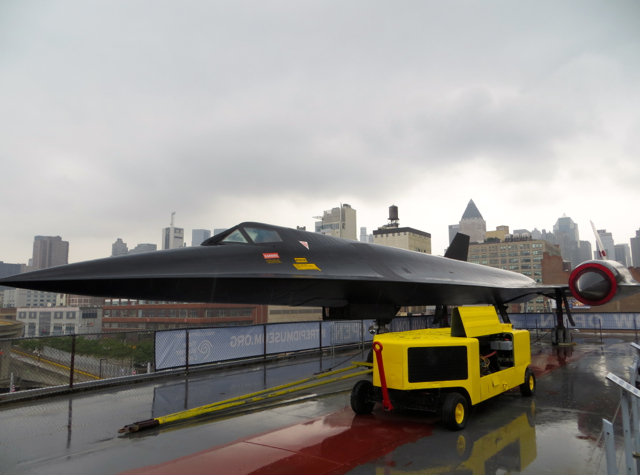 Having been closed for some time due to Hurricane Sandy, the Space Shuttle Pavilion is finally open again. Personally I thought it a bit anticlimactic, since you can't actually go inside any of it, but it was worth seeing once. And it's pretty funny, to me at least, that the space shuttle (which was originally planned to be named Constitution) was named the Enterprise after Star Trek fans organized a campaign to then President Gerald Ford, who, Star Trek fan or not, was "partial" to the new name and instructed NASA officials to change the name.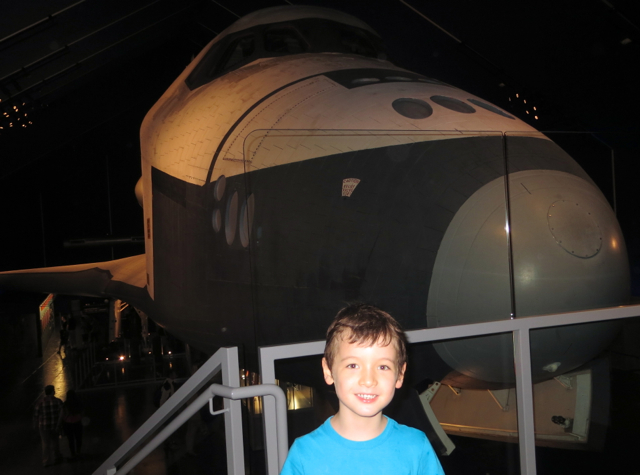 And the film shown about the space program was well made, even though while watching it I couldn't help but think how much more we accomplished with technology in the 40 years from 1930-1970, compared to 1971 to today. Between 1930-1970 just a few of the milestones included the first programmable computer, first jet airplane flight, first supersonic flight, first person in space, first man on the moon, the Internet (ARPAnet). Somehow just making faster and smaller computers, mobile devices, apps, etc. doesn't seem nearly as momentous as putting a person on the moon and some of those other milestones, but perhaps that's just me.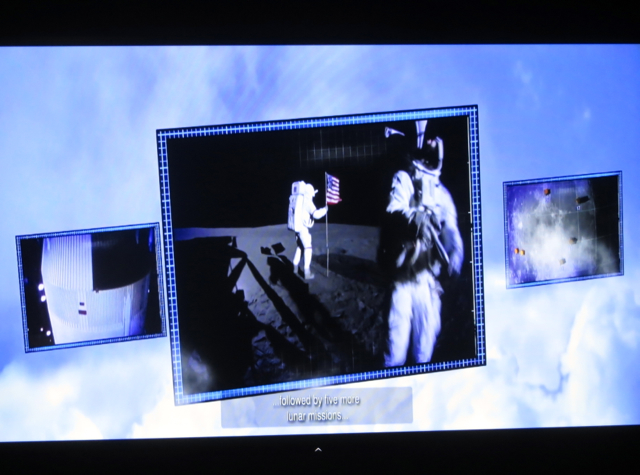 Visit and Pricing Details for The Intrepid Museum
Hours: Daily, 10am-5pm (10am-6pm weekends and holidays April-October) Last ticket sold one hour prior to closing
Visit Duration: Allow at least 2 hours for the Intrepid and Space Shuttle, excluding simulator rides, films and tours
Ticket Prices: Tickets purchased in advance online are $2 cheaper, but you won't be able to apply coupons such as the Entertainment Book free adult entry. Here are online ticket prices for General Admission including the Space Shuttle Pavilion, valid as of September 2013:
General Admission prices:

| | |
| --- | --- |
| Adult | $29.00 |
| Seniors (62+) | $25.00 |
| College Students (w/valid ID) | $25.00 |
| Veterans | $22.00 |
| Youth (7-17) | $22.00 |
| Child (3-6) | $15.00 |
| Child under (3) | Free |
| Retired Military | Free |
| Active Duty | Free |
| Museum Members | Free |
Note that simulator rides are at an extra $9 per person cost. Tours, including of the Concorde (the only way to see the inside of the Concorde), include General Admission and are priced as follows:
Guided Tour prices: (Includes General Admission)
| | |
| --- | --- |
| Active Military Combo Tour | $20.00 |
| Adult Combo Tour | $42.00 |
| Youth Combo Tour | $32.00 |
| Senior Combo Tour | $33.00 |
| College Combo Tour | $38.00 |
| Veteran Combo Tour | $37.00 |
The Verdict: The munchkin had an absolute blast here, pretending to be an astronaut in the Gemini space capsule replica, "piloting" the Intruder and Army helicopter on display, interacting with the other Exploreum exhibits, and seeing the Space Shuttle Enterprise and the fighter planes on the flight deck up close. Although I'm glad we went given how much fun the munchkin had, I thought tickets were quite expensive, even with our Entertainment Book discount. That said, there is a lot to see, and if you're an aviation buff (or have kids interested in planes, helicopters and space) this is must-see while in NYC.
Related Posts
Governors Island Ferry, Bicycling and Family Fun
Need Award Booking Help? Our fee is as low as $75 per ticket if you book your hotel through us.
If you enjoyed this, join 90,000+ readers: please follow TravelSort on Twitter or like us on Facebook to be alerted to new posts.
Become a TravelSort Client and Book Your Hotel with Virtuoso or Four Seasons Preferred VIP Amenities!