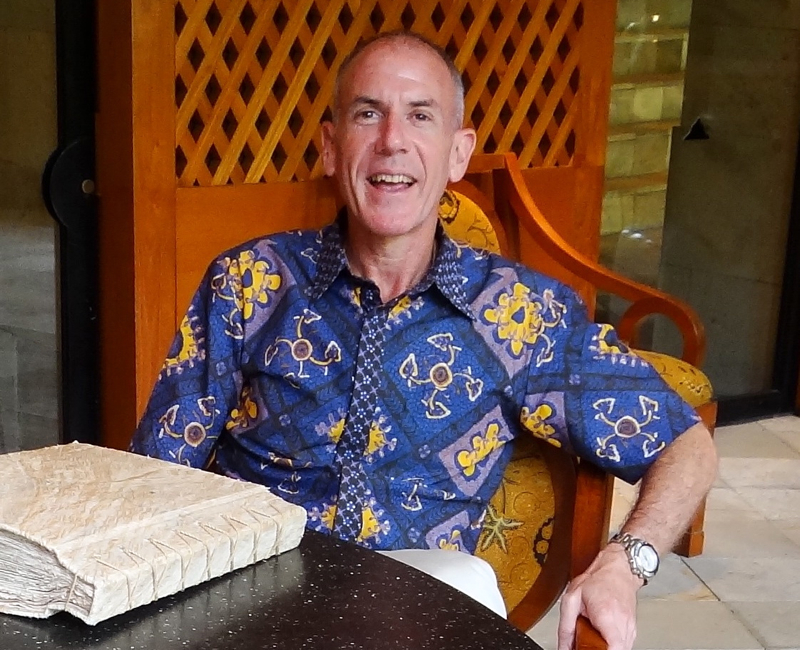 Mark Swinton, GM of Amanjiwo, graciously agreed to be interviewed while I was on a visit and site inspection of Amanjiwo. For other posts on Amanjiwo, please see:
Amanjiwo Review, Borobudur, Java
Amanjiwo Restaurant Review and Menu
How Did You Get Started with Aman Resorts and in Hospitality?
Originally I was born in Vancouver and in high school one summer, had a dishwashing job in a restaurant. I enjoyed the atmosphere so that was the beginning. My first hotel job was in 1982 and I've been working in hotels ever since. I enjoy traveling and love meeting people and learning about other cultures–it all came together for me.
In 2006, I was working in Bali and was friends with the General Manager of Amanusa at the time. One day we played golf together, and he mentioned that Amankora, in Bhutan, was looking for a GM. He asked if I'd be interested. I didn't think anything would come of it, but he passed along my interest, I interviewed, and was offered the role. I managed Amankora 2006-2007.
Following Bhutan, I was the General Manager and part of the team that opened Aman at Summer Palace in 2008, and stayed on until mid 2011.
What Attracted You to Amanjiwo and Indonesia?
I first moved to Bali, Indonesia in 1998, and my wife is Balinese. Thanks to this, I have a strong connection with the country, I speak the language and understand the culture. I first visited Borobudur in 2000 with my wife, and we stayed at Amanjiwo our first night. Amanjiwo is special, very spiritual. It's in an area of Indonesia that's simply magical. It's something that must be felt, when you actually come here and experience it.
Can You Share More About What Makes Amanjiwo Unique?
Amanjiwo has a significant history, having opened in 1997, prior to Suharto stepping down, and endured the political uncertainty as well as economic pain that followed as the country struggled toward democracy. Indonesia is in a much better place now, with a stronger economy and 6 ½ percent GDP growth. Through this all, and even with the many new hotel openings, Amanjiwo has continued to thrive, and many of our staff from the very beginning are still with us, lending a strong continuity and sense of family to returning guests.
Thanks also to our small size and culture, we really get to know our guests and their preferences. I used to work in Micronesia and several times had to fly to Manila. I stayed in a luxury brand, which I won't name. Even though I stayed once a month, 15 times in one year, not once did I receive a welcome back. We offer a much more personalized experience at Amanjiwo.
Another distinctive aspect of Amanjiwo and Aman Resorts in general is the connection with the local community. For many hotels and resorts, the first thing that occurs when building a new resort is constructing a wall. But not Aman. You can walk right into the rice fields from the resort. For example, I was out there earlier today talking with some of the locals that work these rice fields. Similarly, we invite local kids to practice Balinese dancing in our lobby daily with their teacher, and a number of local boys enjoy playing soccer at Amanjiwo. We're integrated into the community, not walled off from it.
What are the Biggest Challenges of Operating a Luxury Resort in a Remote Area?
Each Aman property has different challenges depending on the location and its age. For example, here in Borobudur, it can be challenging to obtain high quality Western products, such as Australian beef, cheeses, and fresh tuna. Once we had a guest who had enjoyed both bottles that we had on hand of a rare French vintage, then had his birthday the following day. We called the distributor to have it specially flown in from Jakarta, since it wasn't available in Yogyakarta or anywhere close to us.
I also remember a time at Amankora, when one of our guests needed a makeup mirror. Needless to say, this isn't something you can just get from any of the local stores, so we phoned one of our contacts in Bangkok, who bought it there and put it on a plane to us. I doubt the guest ever realized what went on behind the scenes to get her a makeup mirror, but that's part of what we do at Aman for our guests, to make everything seamless for them.
Here at Amanjiwo the focus is on how to improve the business: how to develop the business and showcase Borobodur without it becoming a Disneyland of sorts. Amanjiwo strives to imbue guest experiences with traditional Javanese culture and not over commercialize guests' experience. Our goal is to continually create new, enriching experiences that are thought provoking, stimulate emotions, and enrich our guests' stay with us.
How Do You Select and Train Amanjiwo Team Members? Do Cultural and Religious Differences Between Team Members and Amanjiwo Guests Pose any Challenges?
Having spent so many years in Indonesia, I can share that most locals here think of themselves first as Javanese, and don't primarily think of themselves as Muslim, Christian, etc. They're Javanese before their identity with any given religion. Religion is important, but its the fabric of a person that really matters. We hire based on personality and intuition, because there are many things we can train and teach our staff, but genuine hospitality is innate, and we look for that.
Final Thoughts?
I've very lucky, very fortunate to have my health, a very supportive and understanding wife who has a golden heart, and to be living in a country I love.
The greatest compliment anyone could ever do is to come back to visit us, because [at an Aman Resort] we're family and it's a home for our guests. It's one of the main reasons I like working for Aman. We even have guests we call our "Aman junkies," and it's so heartening to see them return again and again, like old friends coming to visit.
Related Posts
Amanjiwo Review, Borobudur, Java
Top 10 Aman Resorts in the World
Amanjiwo Restaurant Review and Menu
Virtuoso Hotels: Bookings with Upgrades, Complimentary Breakfast and VIP Perks
Need Award Booking Help? Our fee is as low as $75 per ticket if you book your hotel through us.
If you enjoyed this, join 100,000+ readers: please follow TravelSort on Twitter or like us on Facebook to be alerted to new posts.
Become a TravelSort Client and Book Amanjiwo with Virtuoso Amenities!