Link: Apply for the Ink Bold Business Card – 50,000 points
The Ink Bold Business Card is currently my favorite credit card (or more accurately, charge card) for a few reasons I'll go into below. But as a business card, I've been getting questions from readers about if they should apply for the Ink Bold, if they're eligible, and how to sign up in order to maximize the chances of getting approved.
Why the Ink Bold Business Card Trumps Most Other Cards
On the face of it, the Ink Bold Business Card may not seem that special; its 5x bonus categories are for office supply stores, wireless/telecom services, and cable TV/satellite services. But as we've written, the big deal is that you can buy gift cards at office supply stores to use for ALL your expenses, and this month (May 2012) you can increase the bonus further by going through the Ultimate Rewards Mall to Get Over 7x Points Everywhere with the Ink Bold and Staples. Think about that–over 7x is better than 5x for Chase Freedom quarterly category bonuses, 3x on airfare through the AMEX Premier Rewards Gold, 2x on all travel and dining with the Sapphire Preferred, etc.
Now, it is something of a hassle to deal with a lot of gift cards, or to try to use multiple gift cards for large purchases. But still, to have that 5-7x bonus points option is tremendous. Also, for Amazon gift cards, it's a no-brainer: you can upload all your Amazon gift cards at once, and Amazon will automatically apply your gift card balance to your purchases before it uses any of your stored credit cards.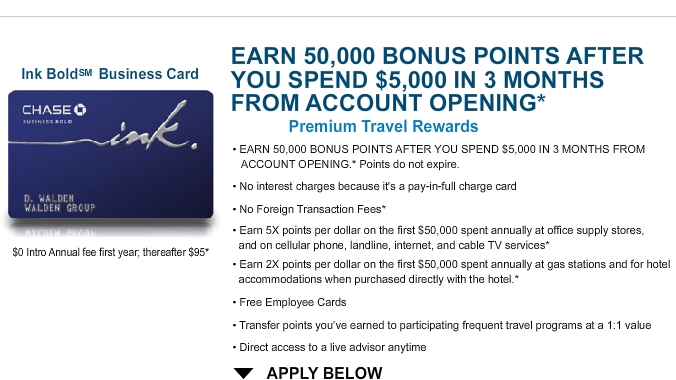 Who is Eligible for the Ink Bold Business Card
The Ink Bold is a business charge card, so you should have a business if you apply. Your business could be a small home business though. For example, do you ever sell things on Amazon, eBay, Etsy, Craigslist? Do you ever rent out your apartment or other real estate using Craigslist, Airbnb, etc.? Do you do any consulting work? All of these and most any other small business makes you eligible to apply for the Ink Bold Business Card.
Also, even if you have the old Ink Bold Business Card (i.e. prior to November 2011) you are eligible to apply for the current Ink Bold, because it is considered a new card product.
When to Apply for the Ink Bold Business Card
You can apply for both a Chase personal credit card (such as the Sapphire Preferred) and a business card, such as the Ink Bold, at the same time. It's best to wait at least 1 month (and better, three months) between Chase card applications, but there's no hard and fast rule–you will find people that have managed to get approved for two Chase personal cards at the same time, have 10 or more active Chase credit cards, etc. It all depends on your individual credit and circumstances, as well as the rep(s) you speak with.
Spend Considerations
The current offer for the Ink Bold requires $5000 spend within the first 3 months. You receive the 50,000 bonus points after you spend $5000. Hence, it's worth timing your card application for when you expect to have lots of spend that you'll need to make. Also see our tips Maximizing the Chase Ink Bold 50,000 Bonus-How to Meet Minimum Spend
1. Apply Using the Best Current Bonus for the Ink Bold Business Card
Apply for the Ink Bold – 50,000 points (current best offer) or see Best Travel Credit Cards where we update the current best offers for the Ink Bold and other travel credit cards.
2. Read Statements and Check Boxes
These are straightforward: you need to agree that you are the owner or authorizing officer of the company, that you are liable along with the company for all charges incurred on the account, and that your credit history is clear of bankruptcies/seriously delinquent accounts and that you haven't been denied credit by Chase within the last 6 months.
Incidentally, the last point is another reason why you should never wait around when a credit application isn't approved immediately; you should always call reconsideration and if necessary move credit lines around in order to get an approval, and avoid being denied credit.

3. Use Your Chase Online ID and Password if You Have One
If you already have a Chase ID and password, you can log in and shorten your application. Do this before filling anything else out, as it will clear fields once you log in. Note this will only take care of your personal info, you'll still need to fill in info about your business
4. Tell Chase About Your Business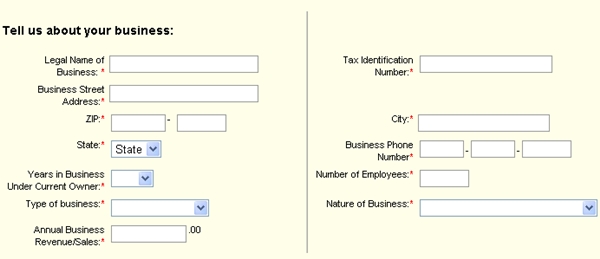 Legal Name of Business: You can use your own name, e.g. "John Doe" if you don't already have another name for your business
Business Address: Your home address, or wherever you receive your mail
Years in Business Under Current Owner: If this is new business, just select "1" from the dropdown
Type of Business: If you don't have a corporation, LLC etc., simply select "Sole Proprietor"
Annual Business Revenue/Sales: Be honest here. If you have $600 in eBay sales, put "600". If you're just starting your business, put "0"
Tax ID: Just use your social security number unless you already have an EIN. You can get an EIN easily online at the IRS site, and it could potentially help your application. Click on the "Begin Application" button to start your application. Note that an individual may only have one EIN, no matter how many businesses they have.
Business Phone Number: Your personal phone number, unless you've set up a separate business phone number
Number of Employees: 1 (if just you)
Nature of Business: Pick the best fit for your business. For example, if your business is selling goods on Amazon, eBay, Etsy, etc. you could select "Retail." If you have your own consulting business, "Professional Services." Otherwise, just pick "Other."
5. Tell Chase About Yourself
This part should already be pre-filled if you logged in using your Chase ID and password. For Authorizing Officer, use Owner, unless you have one of the other titles in the dropdown. For Gross Annual Income, use your total household annual income.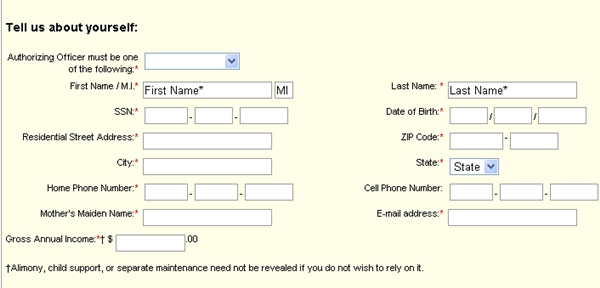 6. Employee Cards
If you have actual employees that need cards, you can add them; otherwise, leave blank.
7. Agree to Terms
You agree that you've read and agree to all the terms of the Ink Bold card. Since it's a business card, you're also agreeing to use it for business purposes, and not for personal use.

8. Submit! And Call
I personally don't know of anyone who's been approved instantly for a Chase business card, not to say it hasn't happened. Just don't be surprised if you see that a decision is pending. I wouldn't call Reconsideration right away, since it takes a little time to be visible to the business credit representatives, but I would call the next day or the day after. For Chase business credit analysts, call 800-453-9719 Monday-Friday 8am-9pm EST.
If you aren't approved initially, thank the representative and end the call, then call again and speak to another representative. Just remember to remain polite, calm, and friendly.
Good luck!