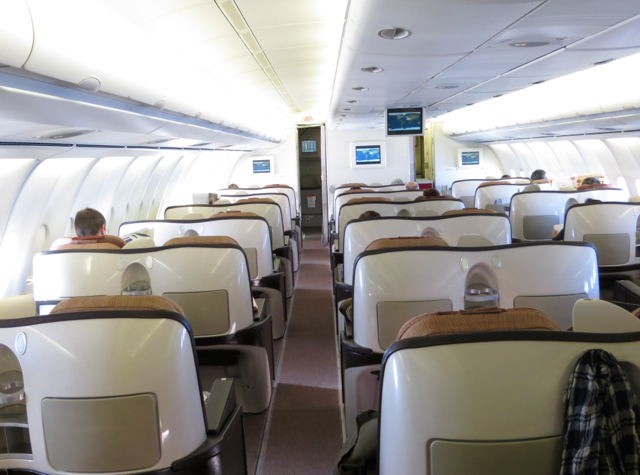 This Iberia Business Class A340-600 Review is part of a trip report including Iberia New Business Class, plus reviews of luxury hotels and dining in Marrakech, Morocco. For the prior posts, please see:
British Airways Galleries Lounge at JFK Terminal 7 Review
Iberia New Business Class A330-300 Review
Solano at Four Seasons Marrakech Restaurant Review
Atlas Mountains Berber Village Experience
Amanjena Review, Marrakech, Morocco
Amanjena Restaurant Menus and Dining
Iberia Business Class Lounge Madrid Review
Iberia Business Class on the A340-600 has 42 seats in 7 rows with a 2 – 2 – 2 configuration. We were originally scheduled on an A330-300, but the aircraft was swapped, so while the cabin isn't as nice as Iberia's new business class on the A330-300, at least I'm able to review it for TravelSort clients and readers and highlight the differences we experienced.
We departed the Iberia Business Class Lounge a bit after the initial boarding announcement, and made our way to the gate for boarding. We were pointed in the direction of our seats, 2A and 2C, on the left of the cabin. The munchkin quickly settled in and started reading.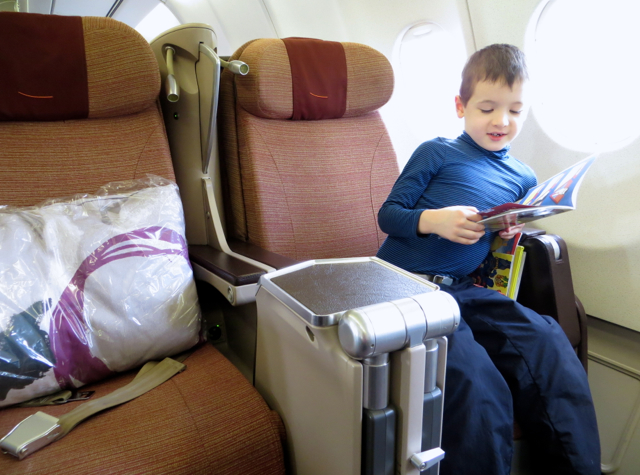 The A340-600 doesn't have staggered seating, and there's no question the 2 – 2 – 2 seating makes the cabin look old by comparison, but because your seat isn't extending into the space to the right or left of the seat in front of you, the pitch also seems much more spacious, with tons of leg room.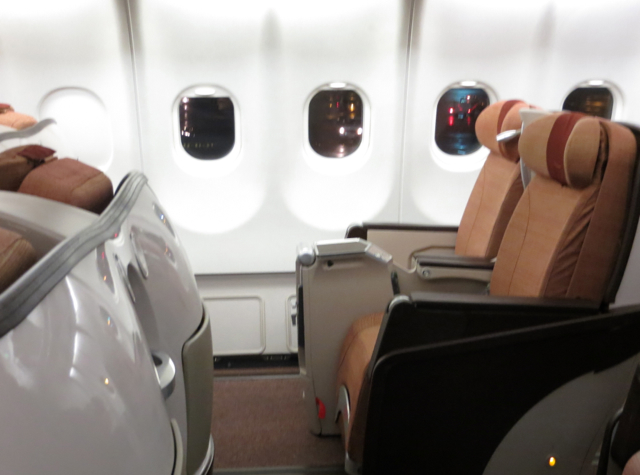 Here's a view of the front of the cabin taken from my seat, 2C: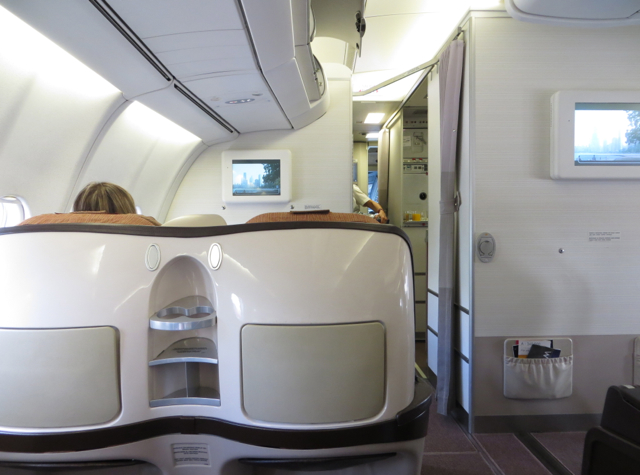 We were offered pre-flight drinks, and both opted for orange juice this time: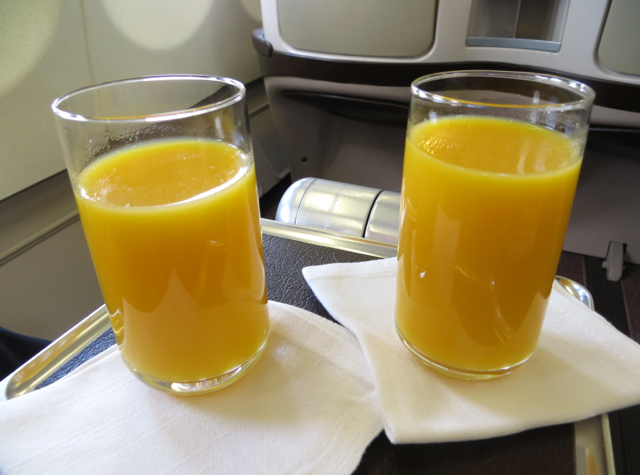 The flight's purser came around to introduce herself, a nice touch (which didn't occur on our prior A330-300 Iberia Business Class flight). Menus and amenity kits were also distributed. Here's our lunch menu for the Madrid to New York JFK flight: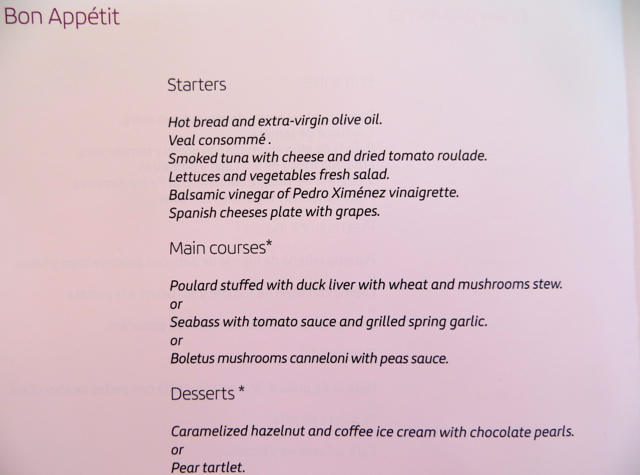 The amenity kits were exactly the same as on our outbound Iberia New Business Class flight: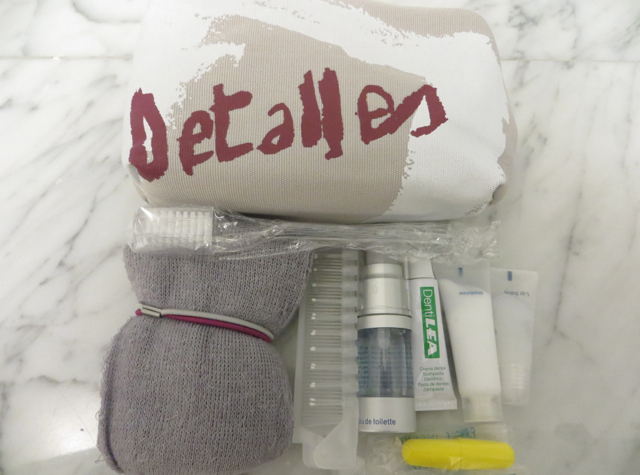 After take-off, I helped the munchkin set up his IFE screen, which is tucked away under the middle armrest. It's been awhile since I've used these, but even though the screen was small, I found that the navigation worked much better than the touchscreen on Iberia's new A330-300 business class.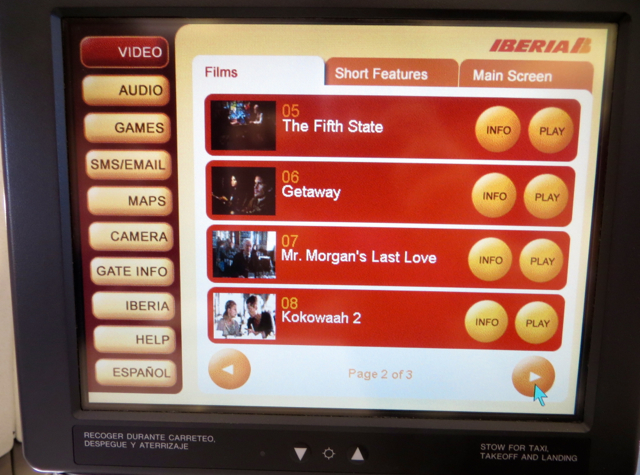 Fortunately the munchkin doesn't really care about screen size, as long as it's something he enjoys. He got bored of the Iberia kids' selection rather quickly and was happy to watch one of his favorites on our cheap and ancient Sony player, both before and after the meal.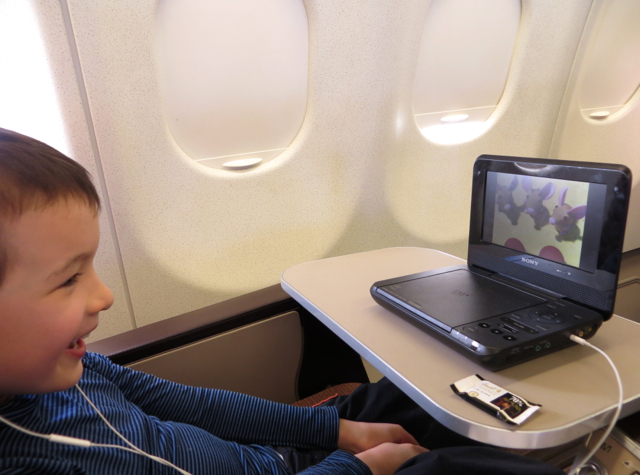 Meal service took awhile, as on our Iberia A330-300 Business Class flight, but since it was a day time flight I didn't mind this time. Hot towels were provided first: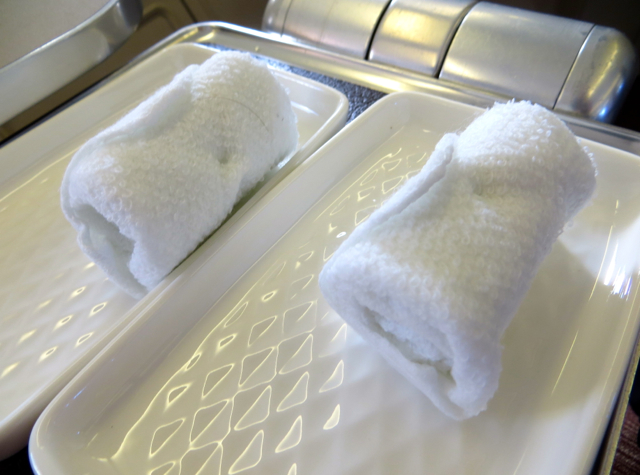 Wines and snacks were served from a trolley. There were still the potato chip boxes (which I again declined) but this time olives were also offered. I decided to try a Rioja, but in my view the Bodegas Valudero Tempranillo was far better.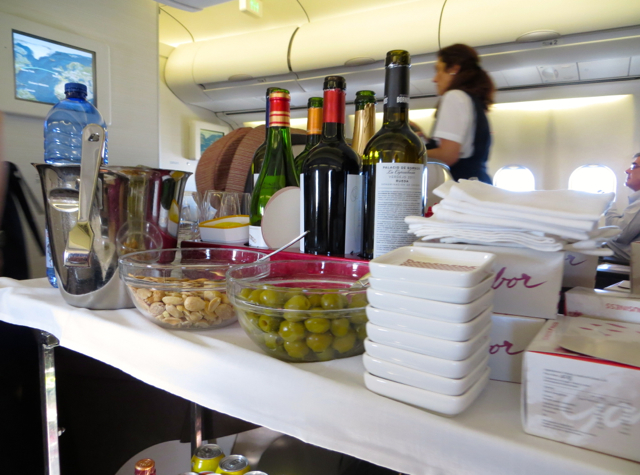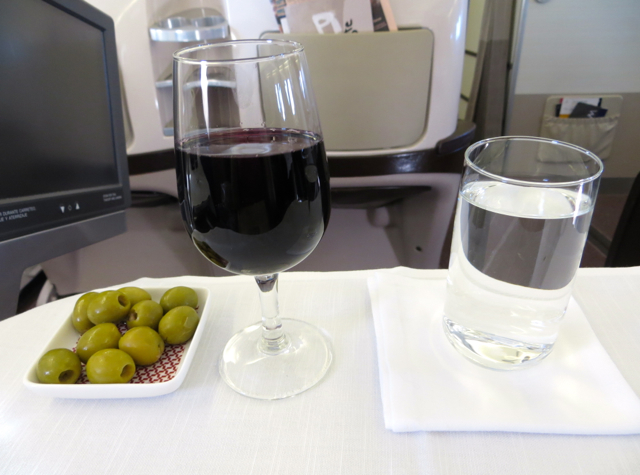 The appetizer (no choice offered) was a smoked tuna roulade. The munchkin hated it and I found it barely edible, so it's a good thing there was also cheese and grapes.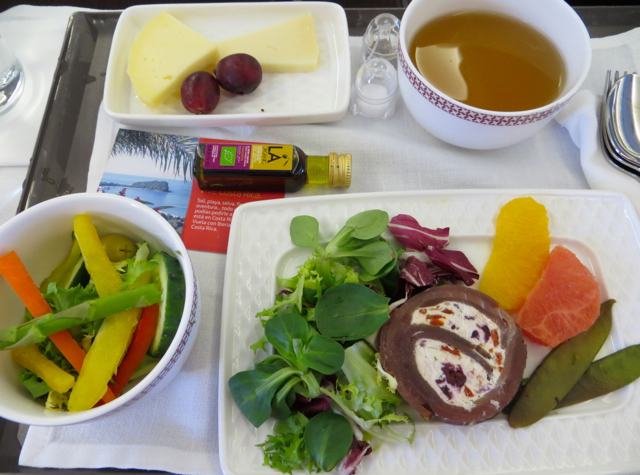 Although there was a sea bass option, I rarely order fish because it's so difficult to get that right on an airplane, with the effects of reheating. Instead, I chose the Poulard (chicken) with "wheat and mushrooms stew." While presentation again was poor (similarly to our outbound Iberia Business Class flight) it tasted fine, and I ended up sharing it with the munchkin.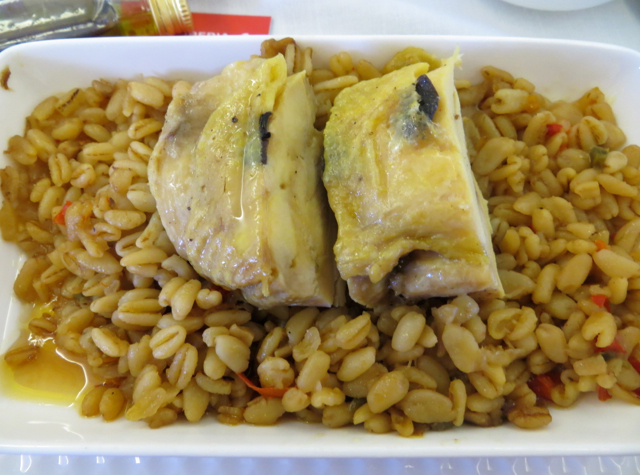 The munchkin had chosen Mushroom Cannelloni with Pea Sauce, and this was an unmitigated disaster. Just look at it–and unlike with the chicken dish, it tasted as bad (or worse) than it looked. I feel badly for economy class passengers if they were served something similar.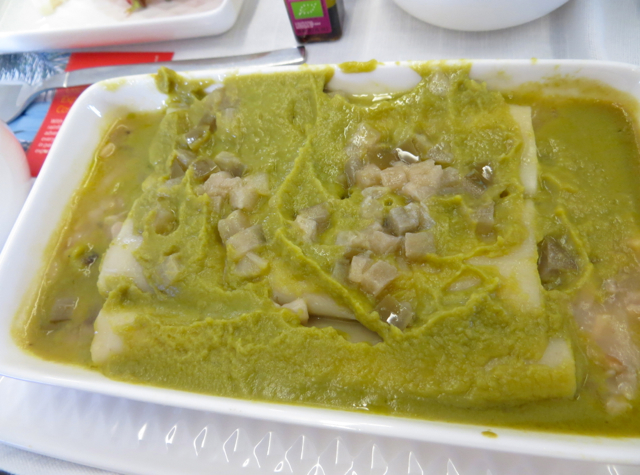 What's interesting is that dessert on both of our flights was the highlight. The pear chocolate tart would be nothing special purchased from a bakery, but was very good as airplane desserts go.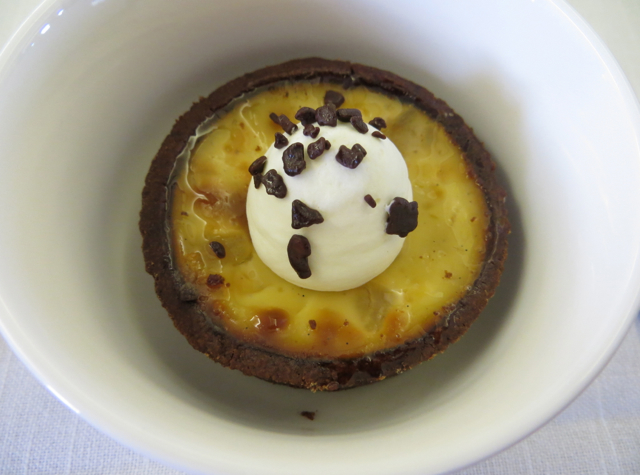 The ice cream dessert didn't exactly follow the menu, since it was supposed to come with chocolate pearls and instead came with what seemed to be almond tuile flakes (but hey, it was closer to the menu description than lemon cake instead of fudge cake, as on our other Iberia flight), but it was delicious nonetheless.
My advice? If you have a nice crew and can possibly persuade them to just give you extra cheese, grapes and desserts, go that route and skip the appetizer and main dish. And whatever you do, don't order the pasta choice–it won't end well.
After the meal, I requested tea, but didn't specify the kind of tea and wasn't asked, so originally I was given a cup of Lipton's. I explained that I wanted mint tea, and the attendant quickly obliged, and also offered chocolates with it.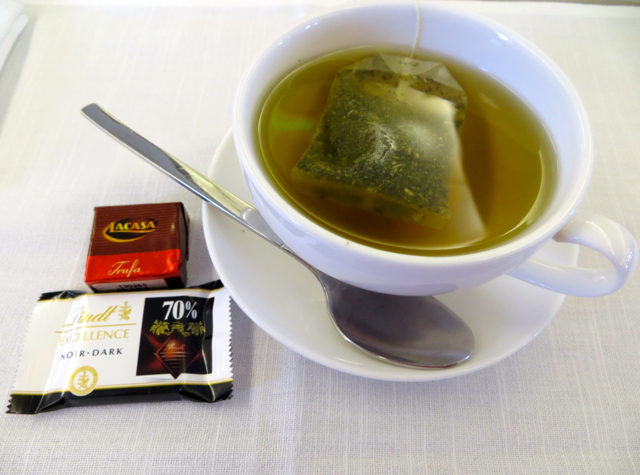 Since it was a long travel day, I settled the munchkin for a nap. Iberia's A340-600 seats may be dated, but they actually are quite comfortable as business class seats go. Here's the seat control: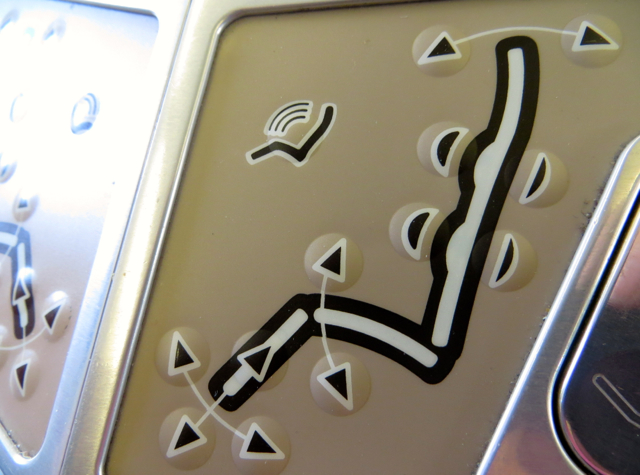 And here are our seats fully reclined into a flat bed. Perhaps because the end of the seat wasn't tucked into a cubby hole, the bed felt a bit longer and more spacious, although it still would have been on the short side for my 6'5 husband.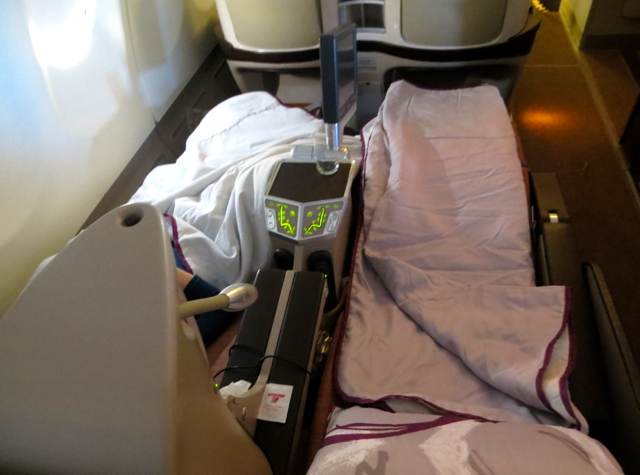 Prior to landing, we were served a simple snack of cheese and cold cuts with bread, tomato, and a small bowl of fresh fruit. This would have made a much better lunch than the mushroom cannelloni disaster–in general, the less something is cooked by Iberia, the better your chances of getting something edible.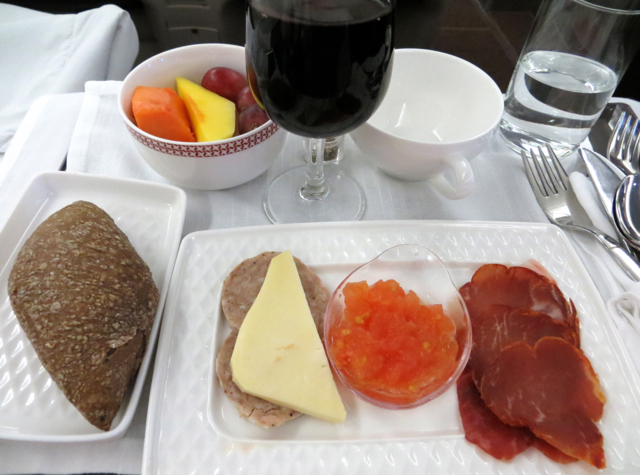 The Verdict: Iberia's old Business Class on the A340-600 is a more comfortable seat than I expected for this older product. In-flight service was good, and even a bit better and more organized than our outbound flight in Iberia's New Business Class on the A330-300. The IFE is old style, with small screens that retract into your armrest, but I found navigation easier on it than on the new touch screens. What really lets all Iberia flights down, in my view, is the food. I found it impressively bad, even for business class, with the notable exception of dessert and simple things that aren't cooked, such as salad, fruit, cheese and cold cuts.
Related Posts
Iberia New Business Class A330-300 Review
Iberia Business Class Lounge Madrid Review
How to Transfer British Airways Avios to Iberia Plus to Avoid High Fuel Surcharges
Top Hotels in Madrid, Barcelona, Istanbul and Marrakech
Need Award Booking Help? Our fee is as low as $75 per ticket if you book your hotel through us.
If you enjoyed this, join 100,000+ readers: please follow TravelSort on Twitter or like us on Facebook to be alerted to new posts.
Become a TravelSort Client and Book Your Hotel with Virtuoso or Four Seasons Preferred VIP Amenities!