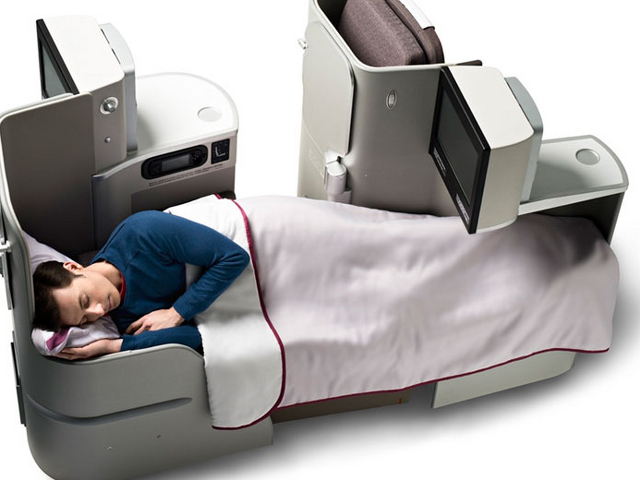 Iberia is offering 50% off award travel on Iberia flights, for bookings made through January 7, 2014 and travel completed by April 8, 2014. This is a good deal if you're planning travel somewhere Iberia flies, are already an Iberia Plus frequent flyer member, and either have the Avios in your Iberia account or have AMEX Membership Rewards points that can be transferred to Iberia.
1. Log into Your Iberia Plus Account
Select "Reserve Flights with Avios" from the Iberia Plus dropdown, then plug in your origin, destination, dates, and whether you'll be traveling with a companion.
2. Search for Your Award
Since Iberia's search is only day by day, it can be more convenient to search using Award Nexus, ExpertFlyer, or even Qantas to see more than a day at a time.
Sample Fares
New York (JFK) to Madrid in Business Class Roundtrip: 40,000 Avios + $235.27
Los Angeles (JFK) to Madrid in Economy Class Roundtrip: 25,000 Avios
Chicago (ORD) to Madrid in Economy Class Roundtrip: 20,000 Avios + $235.27
Madrid to Moscow in Business Class Roundtrip: 20,000 Avios + $88.45
Madrid to Moscow in Economy Class Roundtrip: 10,000 Avios + $74.65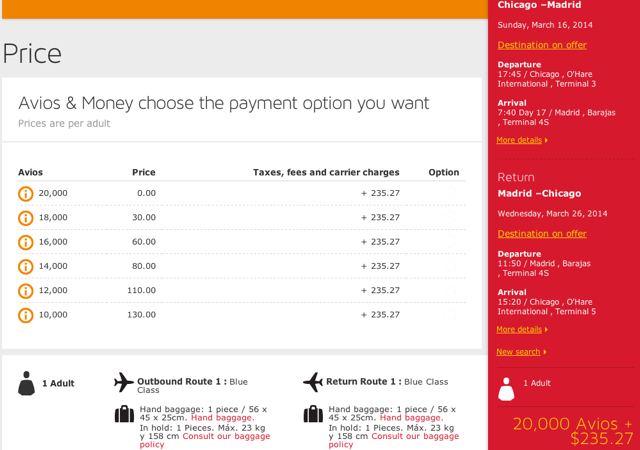 FAQ
Can't I Transfer British Airways Avios to Iberia?
Normally, yes, although unfortunately many folks are encountering a "technical difficulties" error message so it's not possible to use the "Combine Points" function to transfer your British Airways Avios to Iberia, either online or over the phone. I see this error message even though I've had fairly recent activity in my Iberia account. That said, some have been able to transfer successfully after buying some Iberia Avios for $75, so you can try that if you're sitting on a lot of British Airways Avios that you're hoping to transfer over.
What About the Iberia 50% Bonus for Transferring Iberia Avios?
Unfortunately, even though this promo was supposed to last until January 5, 2014, this option isn't working either. The Web page says "
We are sorry to inform you that this service is not available.
If you have any questions, please consult your
service centre
.
We apologise for the inconvenience."
One can only hope Iberia's planes are working better than its IT systems where Avios transfer functionality is concerned.
Can I Transfer AMEX Membership Rewards Points to Iberia?
Yes, although not online–you need to call AMEX Membership Rewards, using the number on the back of your AMEX card, to request the transfer.
How Long Does it Take for AMEX Points to Transfer to Iberia?
Usually within 48 hours (update: mine transferred in about 24 hours), but officially it could take up to 7 business days. You'll need to decide if you're willing to take the risk of the points not transferring in time to take advantage of this deal, since it ends January 7.
How Do I Get the Cheapest Economy Award Pricing of 10,000 Avios Each Way from the U.S. to Madrid?
Look for the "Blue" award. The regular Economy award is more expensive.
What's the Best Business Class Option?
Look for Iberia's A330 aircraft, as these feature Iberia's New Business Class with completely flat bed seats, where each seat has aisle access.
Do you plan to take advantage of this Iberia 50% off awards deal, for winter or spring travel?
Related Posts