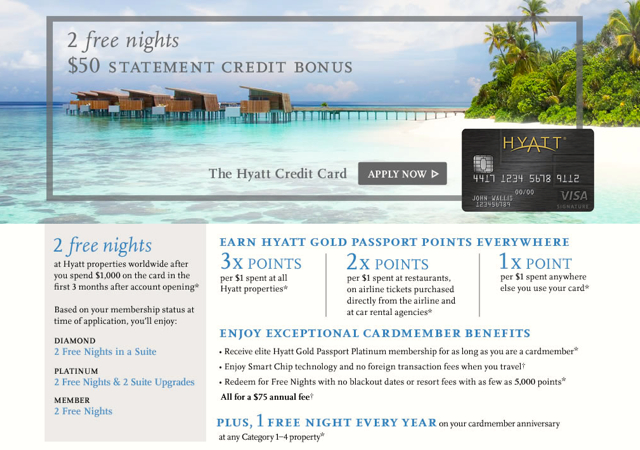 Update: Hyatt is devaluing its award chart effective Jan. 7, 2014. See Hyatt Award Chart Devaluation: New Category 7 and Pricier Awards
The Hyatt Visa still offers the best sign-up bonus offer: 2 free nights and a $50 statement credit if you initiate a booking at Hyatt.com. And no, I don't receive any affiliate credit for this card, but recently a TravelSort reader asked about which hotel credit card to get, and I steered him toward Hyatt, since it had hotels in the key cities he frequents and even Category 6 Hyatt properties are 22,000 Hyatt Gold Passport points–a good deal, considering the higher amounts charged by SPG, Hilton, Marriott and Priority Club for their top properties.
I've covered the Hyatt Visa before, but here's how to see the $50 statement credit. It used to be a $100 statement credit, but that hasn't been seen since April or so, although you're welcome to wait if you're hopeful that it will return.
1. Go to Hyatt.com and Log into Hyatt Gold Passport
If you're not yet a Hyatt Gold Passport member, you can join.
2. Start a New Hyatt Registration
Ideally, make an actual Hyatt reservation that you need to make anyway. You can also try making a reservation and not completing it just to get to the Hyatt Visa offer with $50 statement credit–most folks seem to have received their statement credit even without completing the reservation, but some have not–your mileage may vary.
3. Click on the Hyatt Visa Offer with $50 Statement Credit
You should see an offer that looks like the one below, offering the Hyatt Visa with 2 free nights after spending $1000 in the first 3 months, + $50 statement credit after first purchase.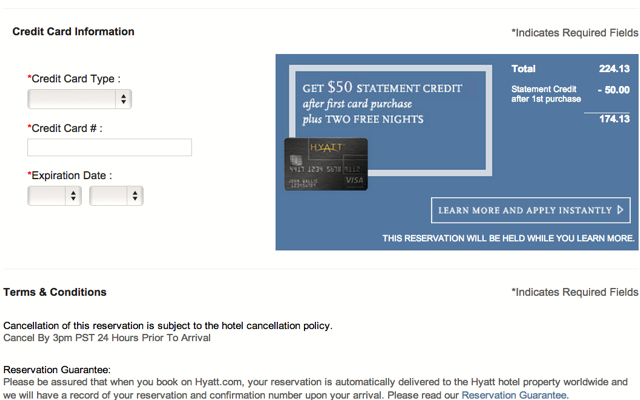 FAQ
Help–I Can't Get the Hyatt Visa Offer with $50 Statement Credit to Appear
Try searching for a U.S. Hyatt. In the past, sometimes when searching for an international Hyatt, the offer doesn't appear.
What If I Don't Complete My Hyatt Reservation–Will I Still Receive the $50 Statement Credit with My Hyatt Visa?
Maybe–some have, some haven't. To be safe, you should make a real reservation. Or, you could try making a refundable reservation for several months from now, and wait until you receive the $50 statement credit before cancelling it.
When Will I Receive the Voucher for the 2 Free Nights at Any Hyatt in the World?
After meeting the $1000 minimum spend the Hyatt e-certificates are usually deposited a few days to a week later in your account.
How Long Are the 2 Hyatt Free Night Certificates Valid for?
1 year from date of issue. If you don't have a high value use for them sometime in the next year, such as redeeming them for a Park Hyatt stay, you may want to postpone your application for the Hyatt Visa.
Where Should I Redeem My 2 Free Nights?
My top pick would be the Park Hyatt Maldives, especially if you enjoy diving and snorkeling. Also see Best Park Hyatt to Stay 2 Free Nights with the Hyatt Visa.
Any Downsides to Be Aware of with Hyatt?
Hyatt has fewer hotels than the other major chains, which means that even many Hyatt fans end up also staying at other non-Hyatt hotels. You could use Starwood, Hilton or Marriott as a backup chain. Or, if you prefer high end hotels, which generally aren't good value points redemptions anyway, consider becoming a TravelSort Client so that we can provide special perks and amenities thanks to our Four Seasons Preferred Partner, Ritz-Carlton STAR, Mandarin Oriental FAN, and Virtuoso affiliations.
Related Posts
Best Park Hyatt to Stay 2 Free Nights with the Hyatt Visa
Hyatt Visa: New Bonuses and Elite Status Benefits
Hyatt Award Chart Devaluation: New Category 7 and Pricier Awards
Best EMV Chip Travel Credit Cards in the U.S.
Need Award Booking Help? Our fee is as low as $75 per ticket if you book your hotel through us.
If you enjoyed this, join 90,000+ readers: please follow TravelSort on Twitter or like us on Facebook to be alerted to new posts.
Become a TravelSort Client and Book Your Hotel with Virtuoso or Four Seasons Preferred VIP Amenities!