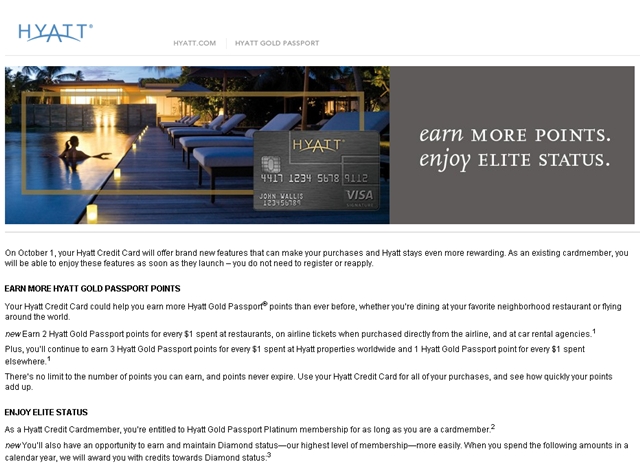 Hyatt has announced new bonuses and elite status benefits for the Hyatt Visa, effective October 1. Here's what the new benefits are:
2X Hyatt Gold Passport points per $1 spent at restaurants, airline tickets purchased directly from the airline, and car rental agencies
Spend $20,000 annually, receive 2 stay credits or 5 night credits toward Diamond status
Spend $40,000 annually, receive additional 3 stay credits (total of 5 stay credits) or additional 5 night credits (total of 10 night credits) toward Diamond status
Why the new benefits? Hyatt execs probably aren't too keen on the fact that currently the best way to earn Hyatt points is not with the Hyatt Visa (even though it earns 3 Hyatt points per $1 spent at Hyatt properties) but with the
Ink Bold
or
Ink Plus
, assuming you buy
AMEX Prepaid
refills or Visa gift cards at an office supply store to earn ~4.6X points (after taking into account the fee) then use them to pay for Hyatt stays. And with the AMEX Prepaid this even works abroad, as there are no foreign transaction fees.
Alternatively, some like to use the SPG American Express Business card to earn 1 SPG point per $1 at Hyatt plus the 3% cash back OPEN savings you get with the AMEX Business card. You could get the same OPEN savings with the AMEX Business Gold Rewards card that is offered today with a 75,000 signup bonus, although Membership Rewards points aren't worth as much as SPG points.
Of course, my own strategy involves getting wholesale rates on Hyatt via
TravelSort Hotels
or my industry discount that exceed the value of the points or 3% cash back via the above approaches.
So is this a game changer? For most people, probably not:
Hyatt Visa vs. Sapphire Preferred
While Hyatt is offering 2X points on dining, the
Sapphire Preferred
offers this plus an annual 7% dividend, so you come out ahead putting dining purchases on the Sapphire Preferred. Plus, you have additional category bonuses with the Sapphire Preferred: 2X on all travel, which includes not only airlines and car rentals (which the Hyatt now covers) but also trains, subways, tolls, boats and taxis. Of course Hyatt does offer 3X on Hyatt hotels, but unless you're a road warrior, that won't be a huge spend category for most. Finally, remember that flexibility is worth quite a bit. With Ultimate Rewards points you can transfer not only to Hyatt, but also United MileagePlus, British Airways (for Oneworld awards), Korean (for Skyteam awards) and other hotel programs.
Hyatt Visa vs. Chase Freedom
The
Chase Freedom
is an even better value than the Sapphire Preferred for most people when it comes to dining, at least if there's at least one quarter when the Freedom offers 5X points for dining, as it does currently, and if you're taking advantage of the
Chase Exclusives bonuses
.
Hyatt Visa vs. Ink Bold or Ink Plus
As we mentioned above, the ability to get gift cards via the
Ink Bold
or
Ink Plus
trumps pretty much anything. The problem is getting your hands on these gift cards and AMEX Prepaid refills, as many Office Depots no longer carry them. But if you live near one that still does, this is easily the best way to rapidly accrue Hyatt points.
Diamond Elite Status
The type of traveler for whom the new benefits might come in handy is one who already stays about 20 nights a year at Hyatts and narrowly misses making Diamond, plus has high spend or high reimburseable spend. In this case, if you can fairly easily shift $20,000 or $40,000 in spend to the card I guess it may be worth it. Honestly, though, even in this case you'd probably just be better off finding a cheap Hyatt and "mattress running" to get those additional stays in. There's just too much opportunity cost with switching $20,000, or especially $40,000 to Hyatt from the other Chase alternatives out there.
Verdict:
I continue to highly value the signup benefit of the Hyatt Visa, since it offers 2 free nights at any Hyatt, including any Park Hyatt. That's up to ~$2000 value right there. The annual free night at Cateogory 1-4 Hyatts is probably worth the $75 fee, though I can't get too excited about it. The new benefits are as great as I've seen of any hotel credit card, but I can still do better with the
Sapphire Preferred
,
Freedom
and
Ink Bold
. If you do sign up for the Hyatt Visa, there's currently a way to get the $75 fee waived by booking a Hyatt hotel; you should see a credit card offer towards the end of the booking process. Our Hyatt Visa link is still the best available direct link, wanted to point this out for anyone thinking of applying for the Hyatt Visa now.
What are your thoughts? Are you excited or not about the new Hyatt benefits?