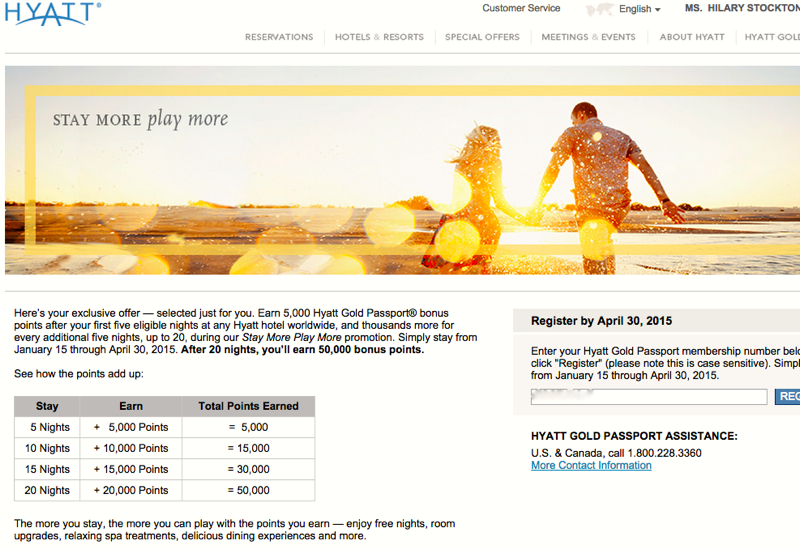 Is Hyatt's Stay More Play More Q1 2015 offer worth it? There are various targeted offers, so it depends on what your offer is and how many Hyatt stays (or hotel stays you can easily shift to Hyatt) you were planning to make anyway during the offer period. Here are the details and the various offers:
Register between January 15 and April 30, 2015
Stay at a Hyatt property between January 15 – April 30, 2015
Must provide your Hyatt Gold Passport number at check-in and choose points for your stay
Must pay an Eligible Rate (includes rates found on hyatt.com Web site, the Hyatt Daily Rate, Points + Cash awards, AAA and Senior Citizen rates; ineligible rates include but are not limited to discounted rates; free award night stays; third party rates booked on Expedia, Orbitz, etc.; wholesale rates; airline employee rates)
Hyatt Gold Passport member will only receive Eligible Night credit for their own room, regardless of the numer of rooms paid for.

Allow two to three weeks after your stay for bonus points to be posted to your Hyatt Gold Passport account
So what are the various offers? Here's mine (and for what it's worth, my husband received the same offer):
Stay 5 nights, earn 5000 points
Stay 10 nights, earn an additional 10,000 points for a total of 15,000 points
Stay 15 nights, earn an additional 15,000 points, for a total of 30,000 points
Stay 20 nights, earn an additional 20,000 points, for a total of 50,000 points
Other offers include:
Earn 2000 points after your next eligible stay at any Hyatt hotel
Earn 5000 points after 2 eligible stays at any Hyatt hotel
Earn 20,000 points after 10 eligible stays
Is the Hyatt Stay More Play More Offer Worth It?
If you have 15-20 Hyatt stays (or stays that can easily be switched to Hyatt) planned during the promotion period, prior to April 30, 2015 and have received a similar offer to mine, then it definitely makes sense to earn an additional 30,000-50,000 Gold Passport points. I value Hyatt points at about 1.8 cents each (since I typically only use them for Points + Cash bookings) so I'd value 30,000 Hyatt Gold Passsport points at $540, and 50,000 points at $900.
Personally, even though I did register for the promotion, I doubt I'll have a single Hyatt stay during the promotion. We planned our Q1 2015 travel almost 1 year ago, and it doesn't at this point include any Hyatt stays. A key issue for me at least is that Hyatt has a smaller global footprint, which also translates into only a few aspirational properties. Most of the ones I've wanted to stay at, I already have.
When deciding if the offer makes sense, consider what you value Hyatt points at to see if it makes sense to switch stays from other chains to Hyatt, or for that matter, to book a mattress run to meet a bonus threshold.
Are Hyatt Virtuoso Bookings Eligible?
Yes; if the Hyatt property you're booking is a member of Virtuoso, book with TravelSort as a TravelSort Client in order to enjoy Virtuoso benefits, as well as earn bonus points. See the end of this post for the list of Hyatt properties that are Virtuoso members, and the Virtuoso benefits they offer.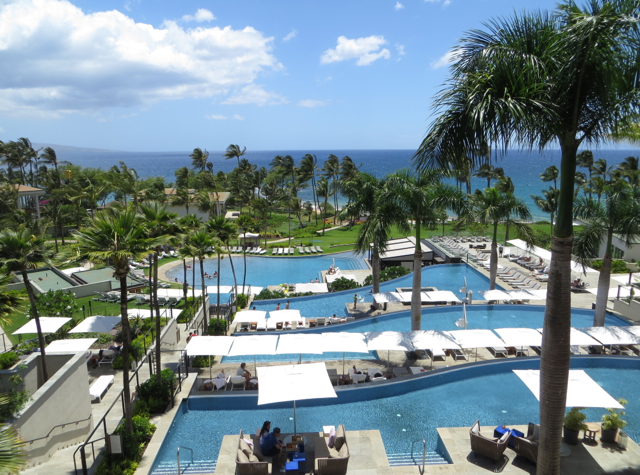 Do Stays Paid for with a Hyatt Gift Card or Hyatt Check Earn Regular and Bonus Points?
Yes, these qualify and will earn you Hyatt points as long as the stay is an eligible stay (for example, airline crew and travel professional rates, third party bookings, etc. are not eligible stays). So if you purchased discounted Hyatt gift cards or checks late last year, you can use them to pay for your eligible stays while also earning the bonus points of your targeted offer.
Do you plan to use Hyatt's Stay More, Play More promo to earn bonus Hyatt points?