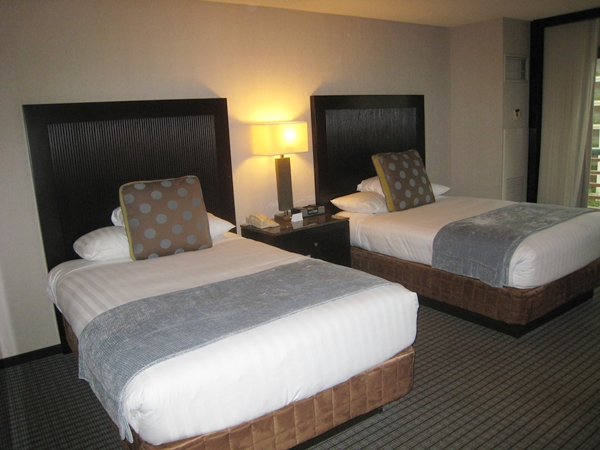 We mentioned the Hyatt Regency San Francisco Airport Hotel as our top pick for a 4 star hotel close to SFO in our post
Best San Francisco Airport Hotels
, and we recently stayed there overnight between NYC-SFO and SFO-HNL flights. While certainly not the cheapest San Francisco Airport hotel, I wanted a reliable, comfortable choice given I was traveling alone with my 4-year old. I also wanted to ensure I was staying at a hotel where the shuttle ran frequently, and at the Hyatt (and the nearby Marriott, with which it shares a shuttle) the shuttle runs every 10-15 minutes.
I was very happy for the frequent shuttle service, given that it was raining and a bit windy when we arrived at SFO, and even though there's thankfully a covered shuttle stop, the rain was blowing into the enclosure a bit, plus the munchkin was (of course) again hungry. We waited only about 7 minutes for the shuttle, and from there to the hotel was just 10 minutes, including a stop at the Marriott.
Check-in went smoothly, and the associate even gave my son a coloring book and crayons, and would have offered him a packaged snack, if I had approved it (as they were Oreos or goldfish I declined, and she thoughtfully checked with me first). She also gave us some chilled bottled water, which we definitely appreciated.
Our double room was, as we requested, facing the atrium, and extremely quiet. There was even a sliding door to a small balcony to view the atrium from (parent: note that there's no way to lock the sliding glass door, so keep an eye on your kids! They'd have to be able to climb over the railing, but best not to take any chances…)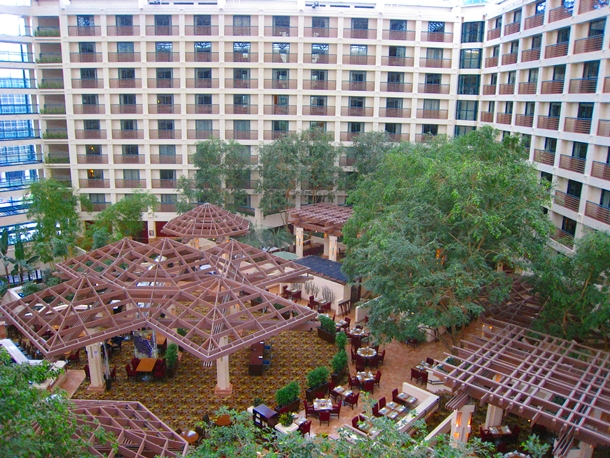 Decor was standard and bland, but decor is extremely low on my priority list for an airport hotel. There was a flat scren TV (which as usual we didn't use) and a large work desk and ergonomic chair. There was also a mini fridge, and I was happy to see that it was empty, instead of a pre-stocked minibar, as it allowed me to store a small cooler I'd brought with some organic treats for my son.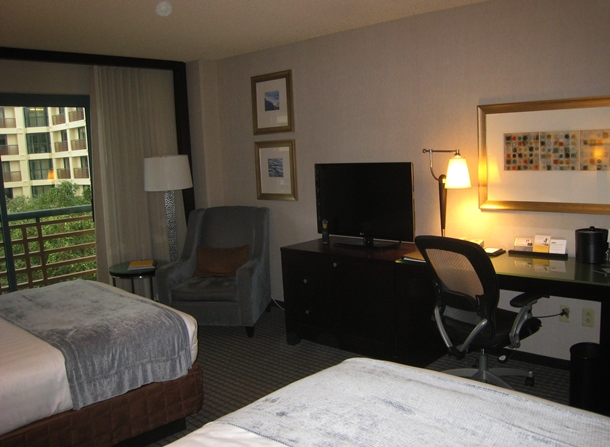 And the Portico bath amenities had a strong artificial white ginger odor, but that's why I bring my own L'Occitane and Bulgari toiletries, so that didn't bother me either. What mattered to me is that it was clean, quiet, and had comfortable beds, and that's exactly what we wanted.
Actually there was one other reason why I chose the hotel–it has a pool and hot tub, which I thought my son might enjoy. Given the rather rainy weather, I tried to talk him out of it, but he was already excited about the pool. When we actually were outside in the rain I could see him hesitating, but I figured the hot tub at least would be nice, and it was. Given the weather, we had it entirely to ourselves, and it was very soothing to rather sore muscles to soak in the warm water, while it drizzled lightly.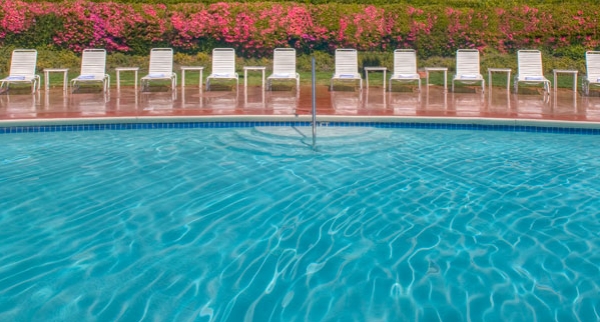 Even though we didn't actually do any swimming, and soaking in a hot tub hardly counts as exercise, we both ended up quite hungry afterwards. So after showering, we ventured down to the Atrium, where all the dining outlets are. There was a 15% off happy hour deal at Knuckles, a Sports Bar, but we preferred to eat in the light-filled atrium. Fortunately, the wine bar served the Knuckles menu in addition to small plates paired with wine. Our server was incredibly friendly, and straightaway brought my son a coloring placemat with some word games and maze to work on while we waited for our food. We opted to split the quesadilla, and asked if we could have it with pulled pork instead of the chicken. Fine cuisine? No–but heary and filling? Yes. So much so, that I nixed plans to order dessert.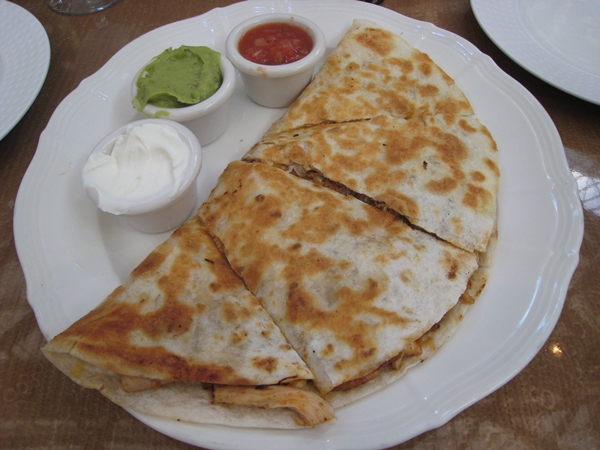 For some reason I had a headache after dinner, but fortunately the on-site gift shop, next to Knuckles, carried all the usual OTC medicines, including Advil, so that was helpful and saved me having to check with the front desk.
We turned in early, and both slept soundly on the Hyatt Grand beds for a good 10 hours–yes, we were that tired!
In the morning, I wanted to check in online. Although WiFi is $10 per device, there are a couple computers in the lobby where guests have their first 15 minutes complimentary. That was more than enough time to check us both in and get boarding passes sent to my mobile phone, before heading outside to catch the shuttle. As before, we waited only about 8 minutes for it, and as it had already stopped at the Marriott, it was less than 10 minutes to SFO.
Bottom Line: The Hyatt Regency San Francisco Airport is a great place to stopover when you care about getting a great night's sleep and need reliable airport shuttle service. It's a huge place, and there are frequent business meetings there, but at least during our stay I still found the staff to be incredibly welcoming to us as a family, which isn't always the case at business-focused airport hotels. And the pool and hot tub are a nice bonus for anyone looking to relax sore muscles or entertain a youngster. While prices for some dates can be high, TravelSort Member rates are generally <$150;
Contact us
if you'd like to reserve.