The Hyatt Regency Kyoto has three restaurants: The Grill, where a breakfast buffet is served daily; Trattoria Sette, an Italian restaurant on the 2nd floor; and Touzan, its Japanese restaurant. We tried offerings from all three during our brief stay. As we were on a Virtuoso stay, our breakfast at The Grill was complimentary, along with a $100 food and beverage credit that we used towards our purchases at Trattoria Sette and Touzan.
Hyatt Regency Kyoto Breakfast Buffet at The Grill
The Grill is open daily for breakfast from6:30am-10:30am, and the restaurant also serves lunch 11:30am-2:30pm and dinner 5:30pm-10pm. The venue is unfortunately quite dark, even during the day, due to the low ceiling, the opposite of the airy and light-filled Brasserie at Four Seasons Kyoto.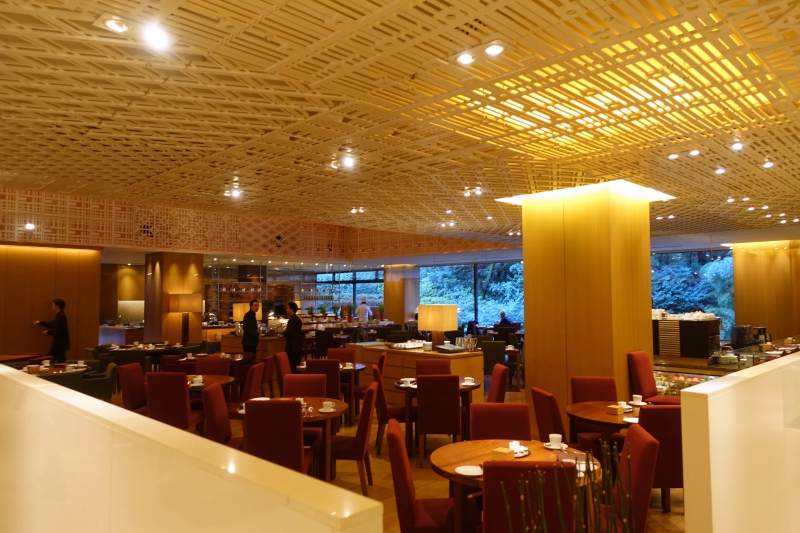 The buffet selection was smaller and simpler than at the Four Seasons. Fruits consisted of regular bananas, strawberries, oranges, melon and kiwi (no blueberries, mango or apple bananas) and fewer juice options.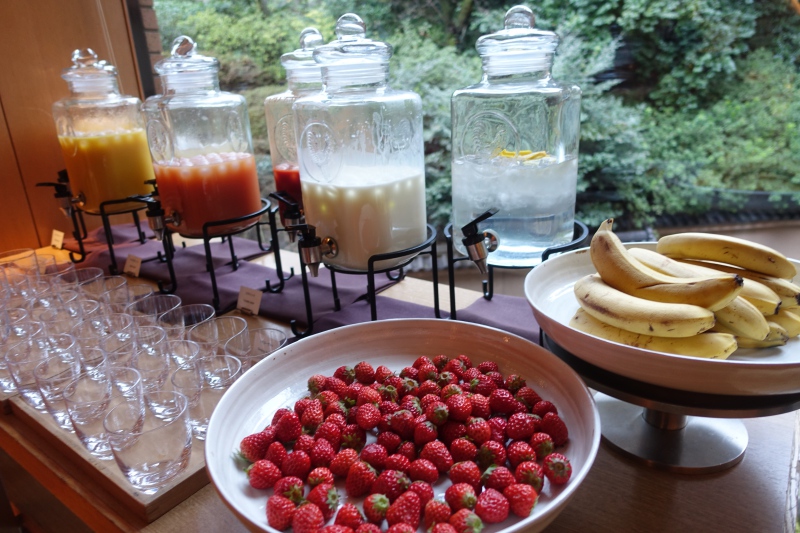 There were just two kinds of yogurt, and no interesting toppings such as the persimmon compote at the Four Seasons: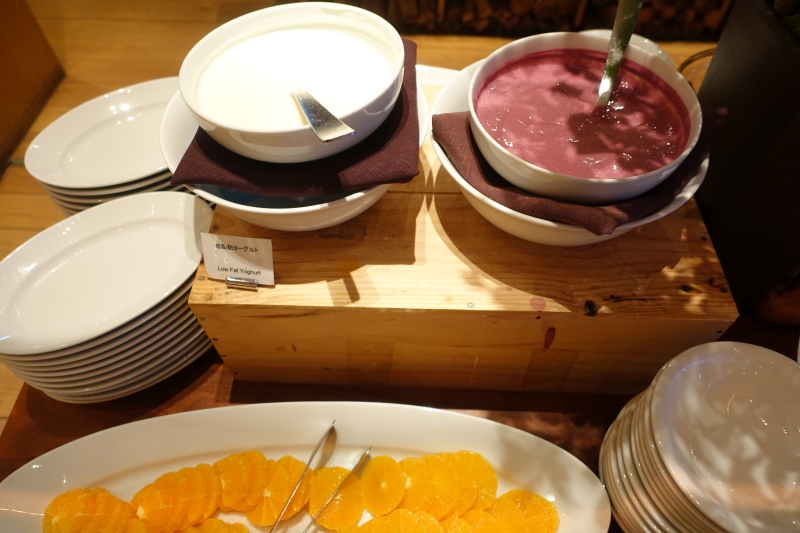 Hot items were scrambled eggs, mushrooms, tomatoes and the like, although it was possible to get omelets and other egg dishes made to order. No baked frittatas or truffle eggs, however.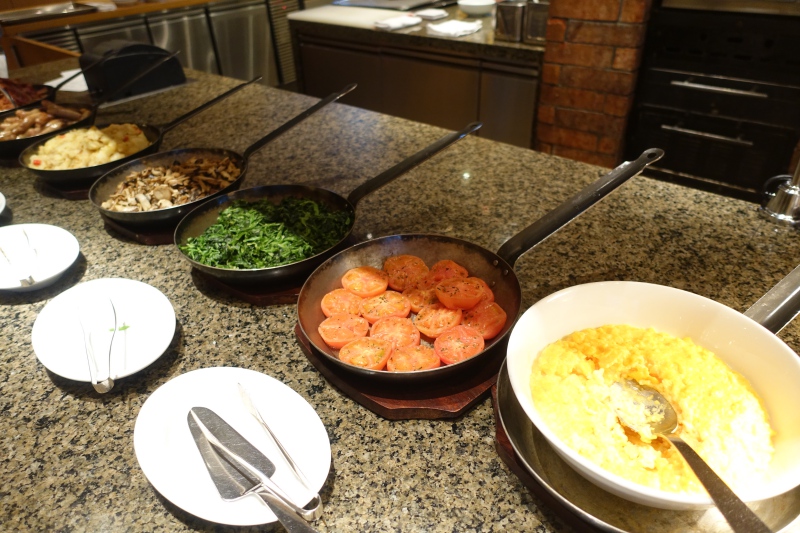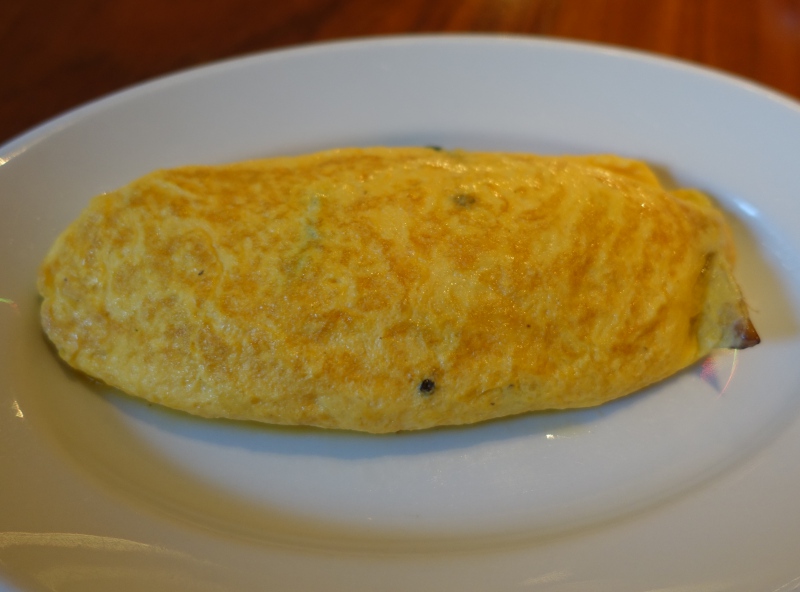 In keeping with Western breakfast tradition in Japan, there was salad: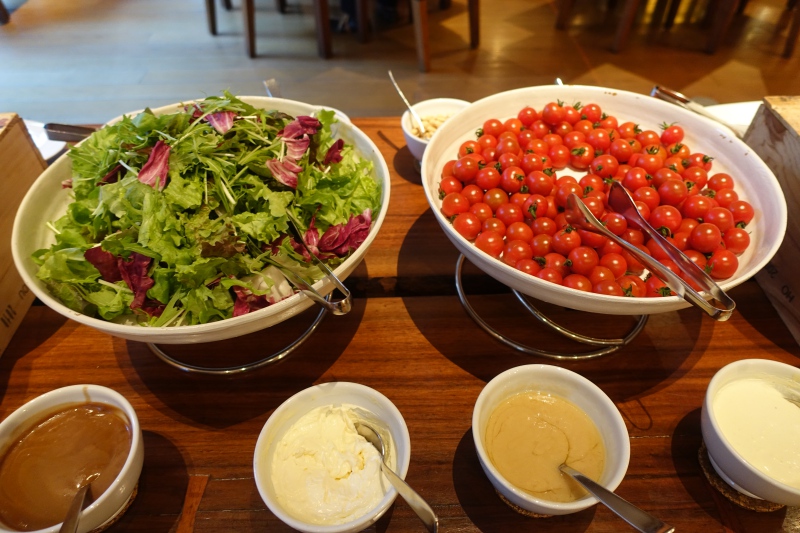 The pastry selection included various muffins and danishes, but no almond croissants, just regular croissants.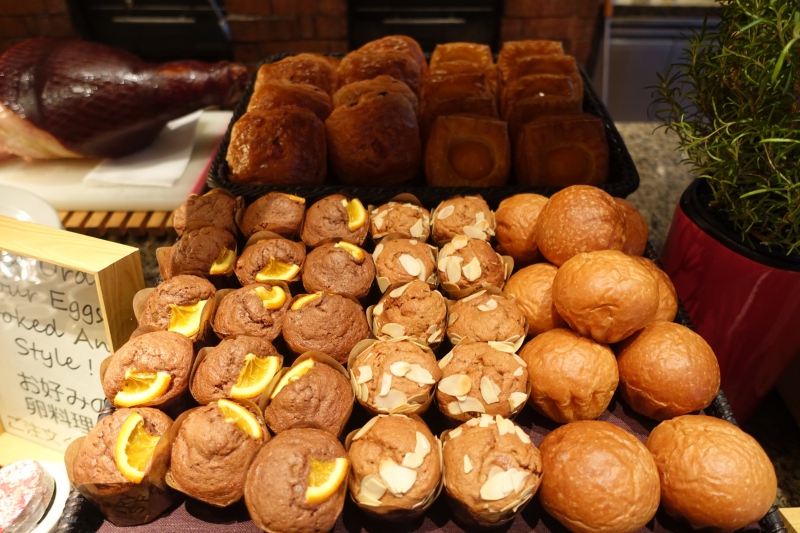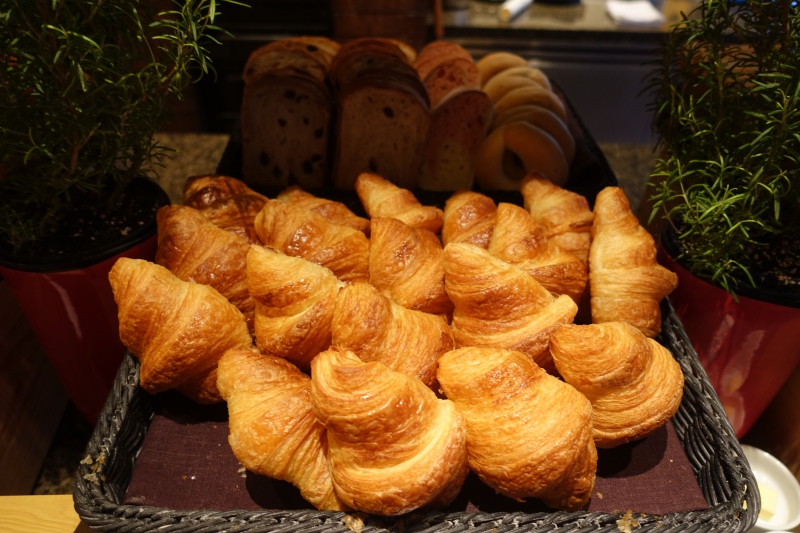 The cappuccino less carefully made here as well, and no latte art.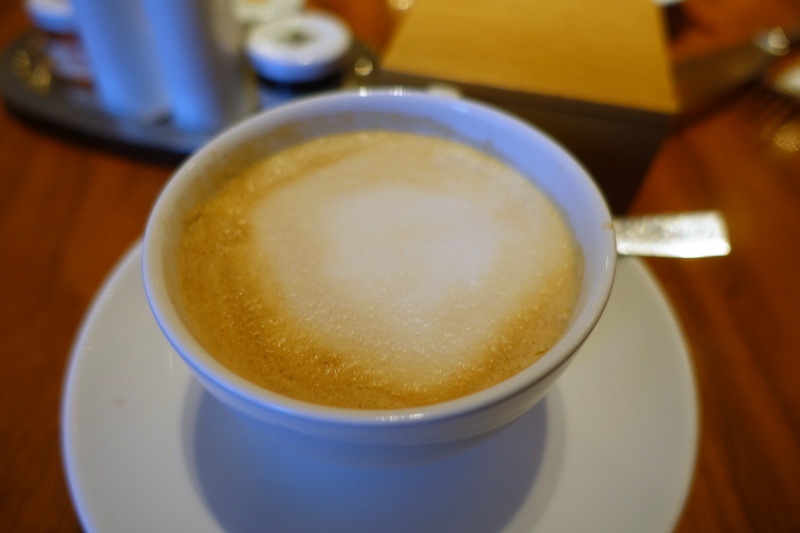 Trattoria Sette Italian Restaurant
Trattoria Sette, the Hyatt Regency Kyoto's Italian restaurant, is open for lunch and dinner daily, with lunch starting at 11am and dinner at 5:30pm. Here's the entance, followed by the seating area near our table and view from our table: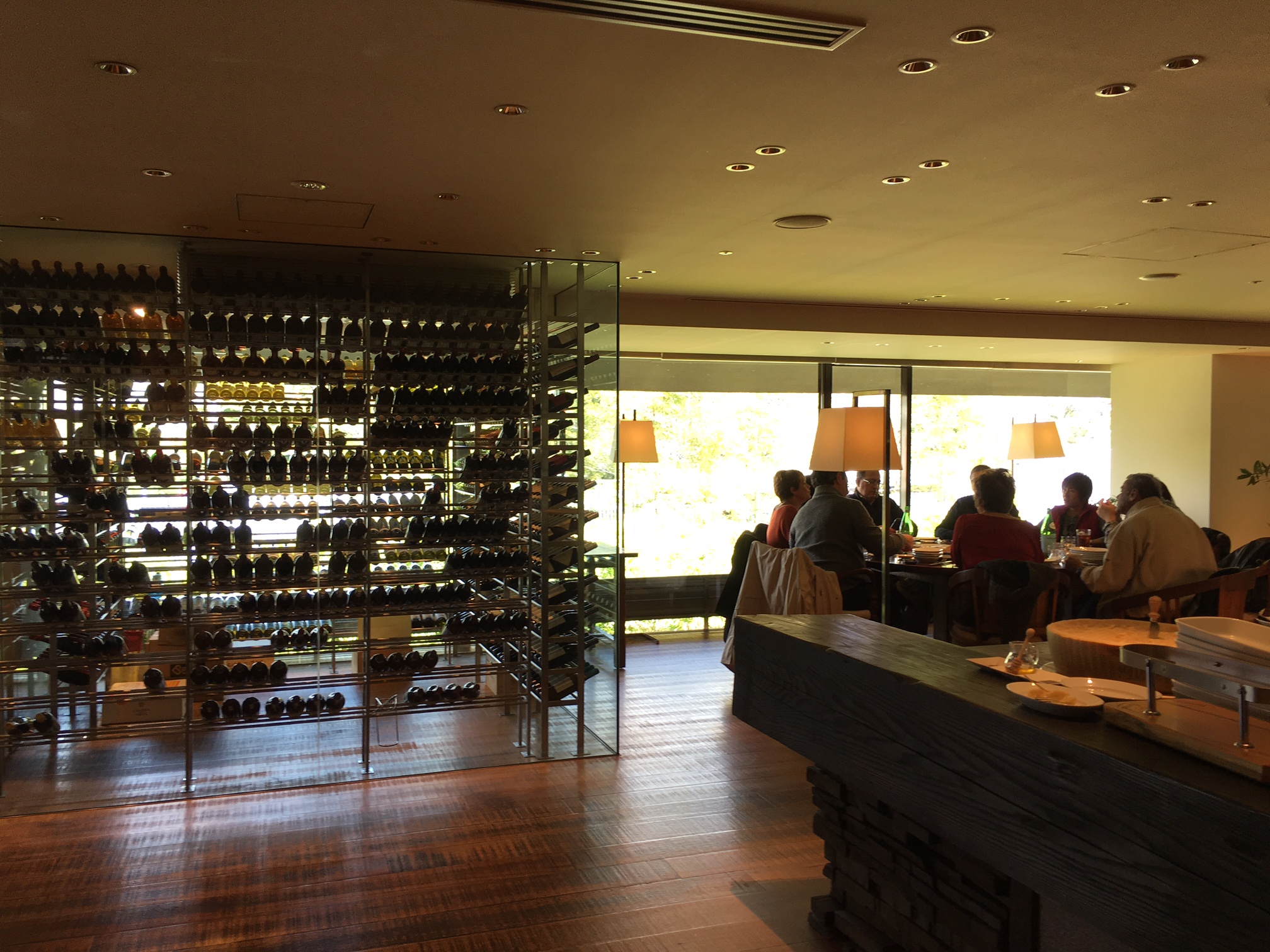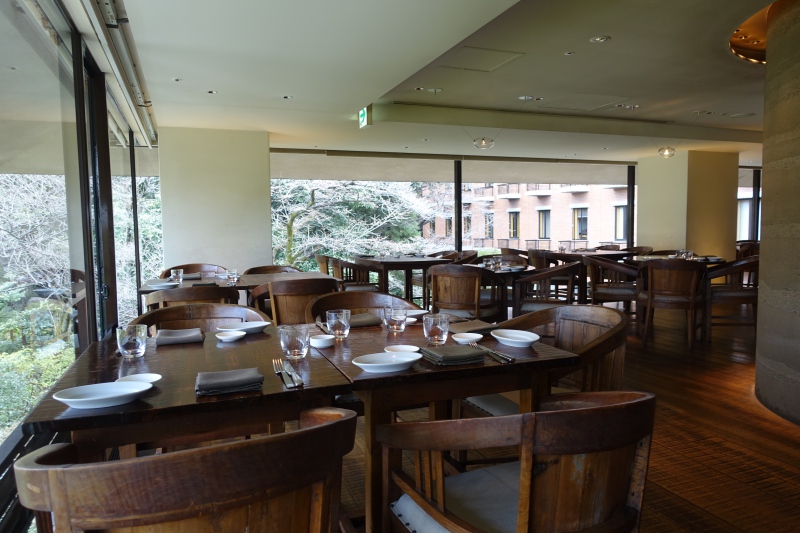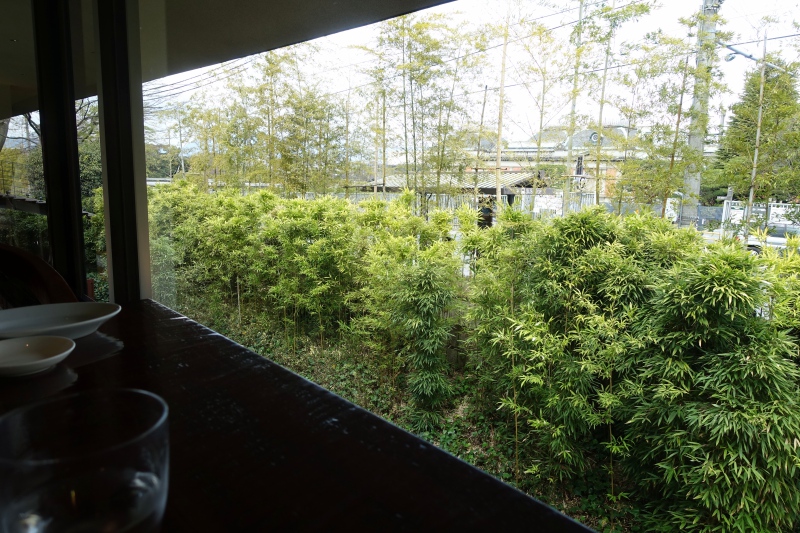 There's a set lunch menu, which we ordered for our son: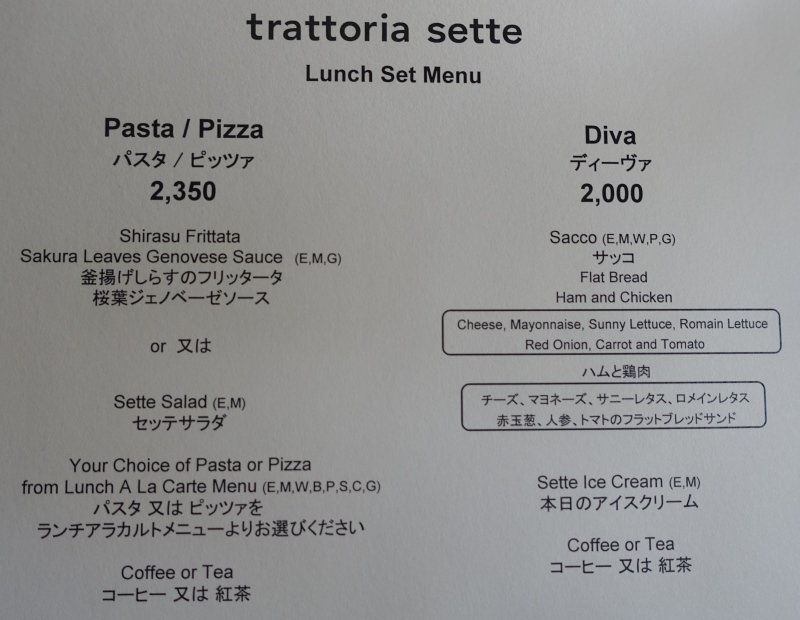 An a la carte menu is also available, featuring various pizzas and pastas: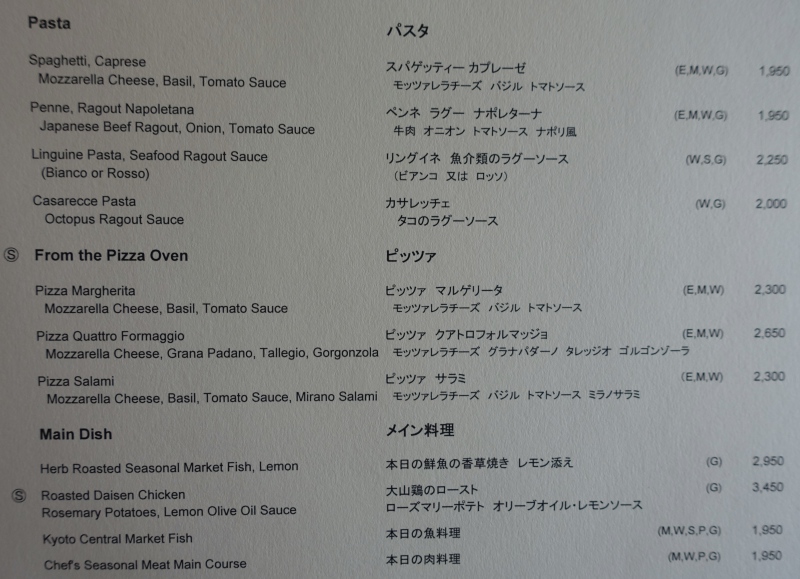 There's also a kid's menu, but as our son was very hungry, we opted to just go with the set lunch menu.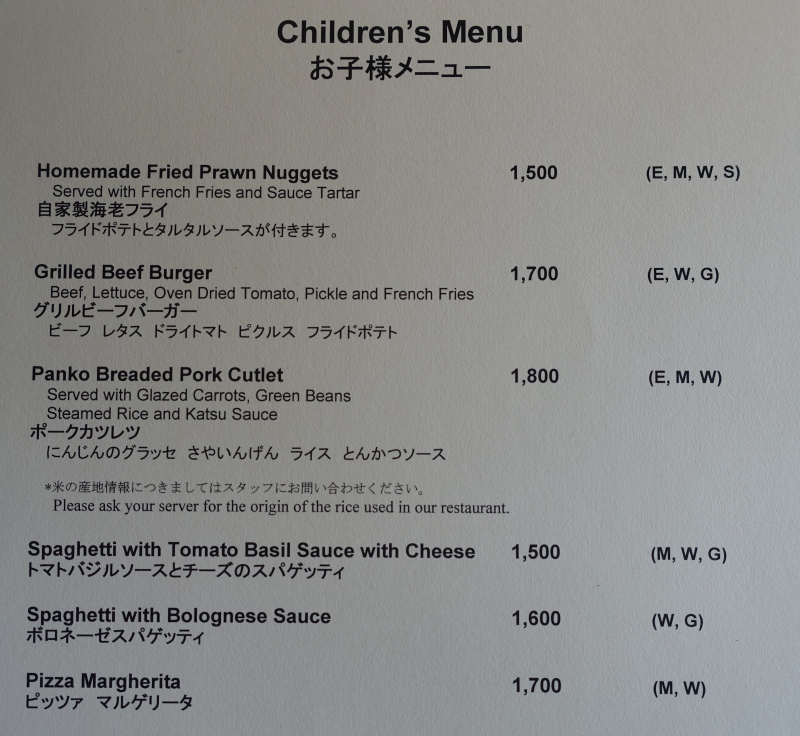 Some complimentary white bread and breadsticks were served with olive oil, to start: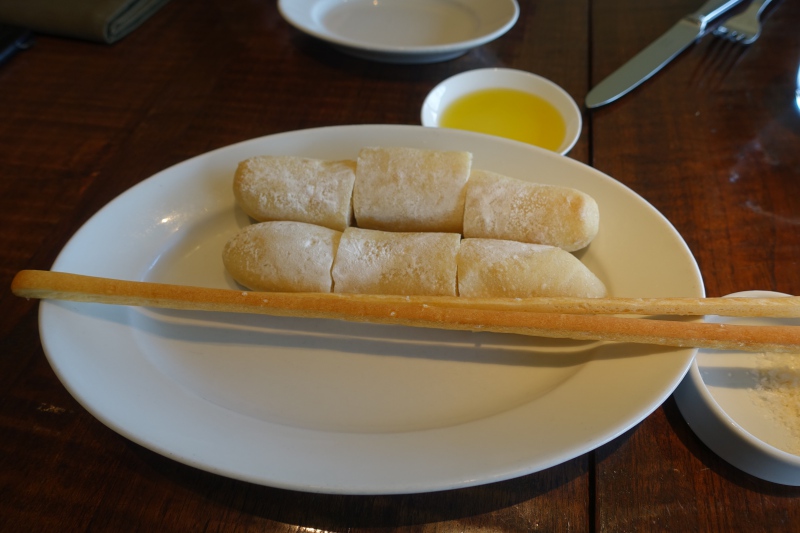 The frittata appetizer was colorfully plated with fresh cherry tomatoes and broccoli, and served atop some pesto sauce: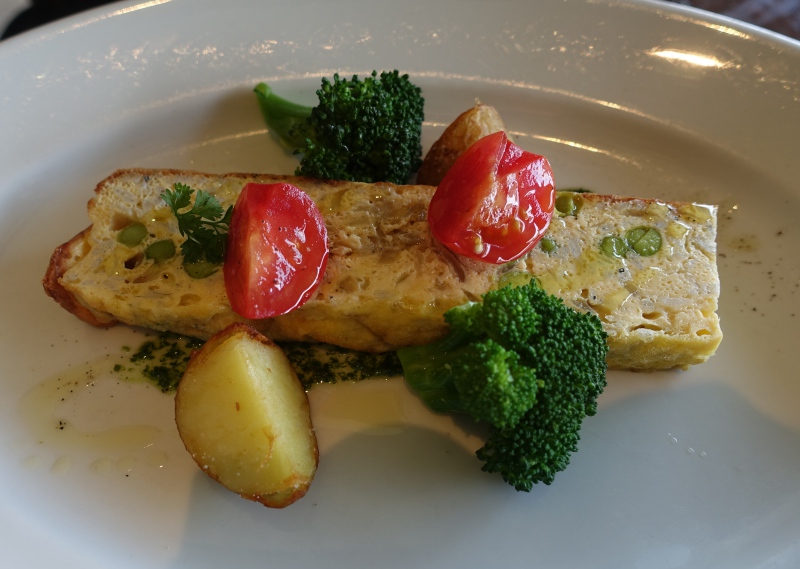 Our son loved his Quattro Formaggio Pizza, which had a very light, crisp outer crust, and a nice combination of Mozzarella, Grana Padano, Tallegio and Gorgonzola cheeses.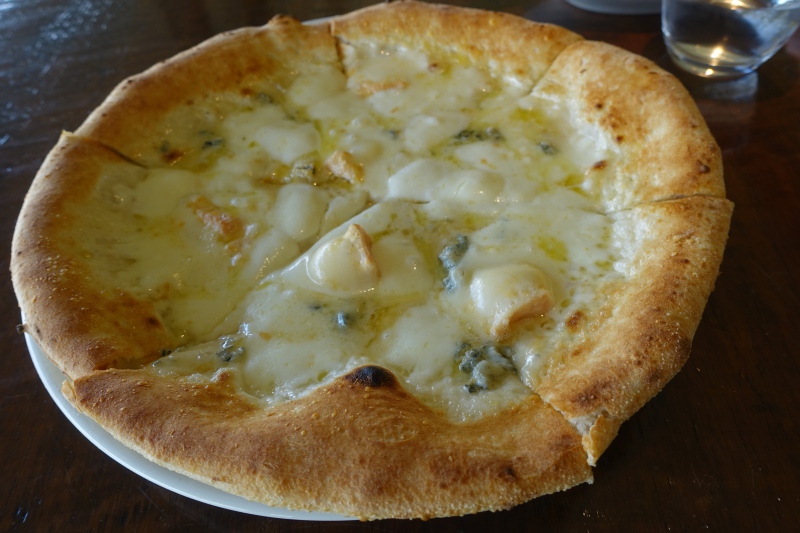 My husband liked but didn't love his Pasta Carbonara. Still, he appreciate that the kitchen was willing to make it for him, since it wasn't on the menu.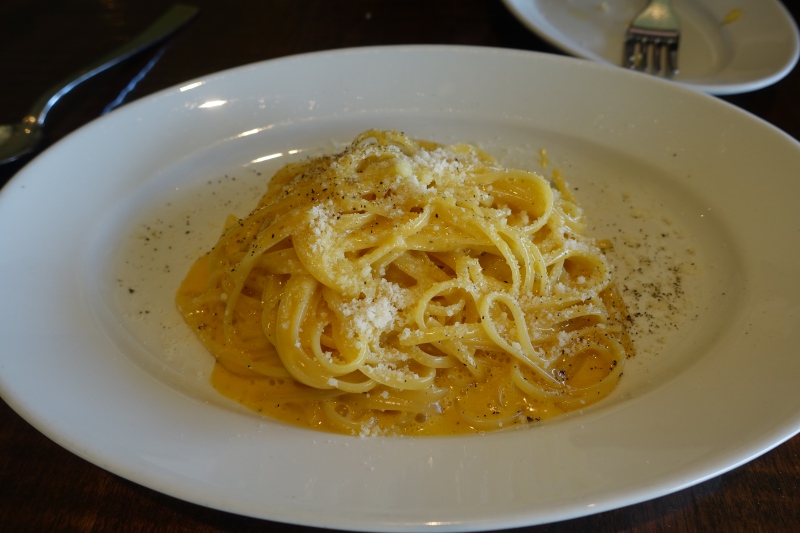 Touzan: Hanami Bento
By far the best thing I sample from the Hyatt Regency Kyoto was something I just by chance came across online, the seasonal Hanami bento offered by Touzan. Hanami (literally "see flowers") parties are common among Japanese during cherry blossom season, when avid picnickers go to great pains to stake out a prime spot under beautiful blossoming cherry trees. Touzan's seasonal hanami bento is all wrapped up in a knotted scarf: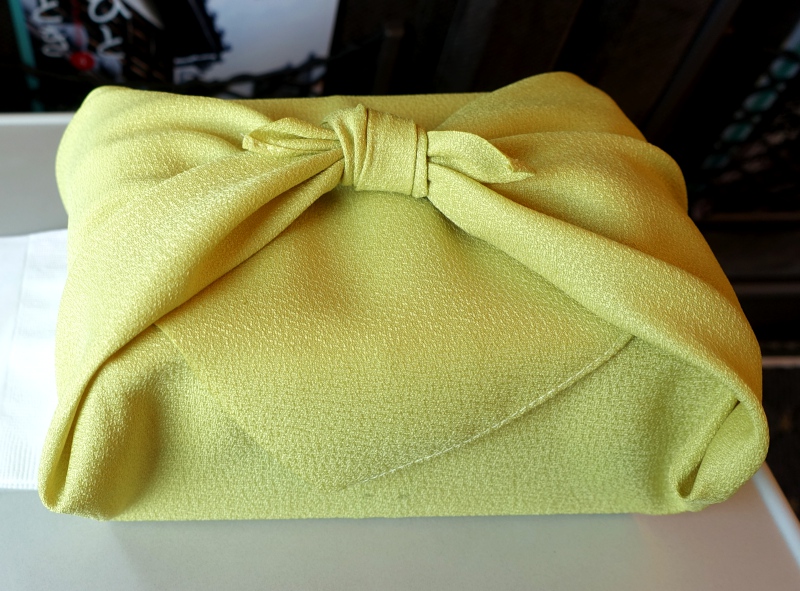 The bento box itself, while disposable, resembles the wood that traditional bento boxes are made of: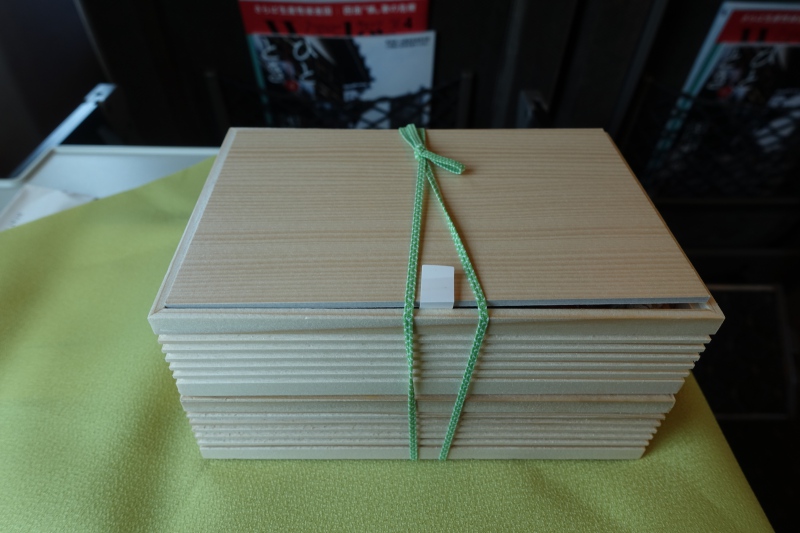 The top layer contained an abundance of delicacies, from seafood such as a large steamed prawn, octopus, unagi (eel) and other fish, plus tamago (omelet).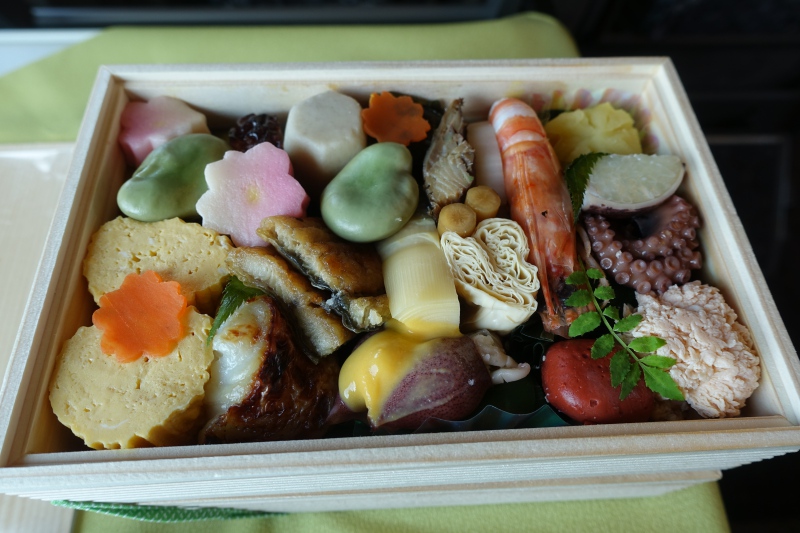 The bottom layer was also delicious and very filling: sushi rice with toppings. A fantastic and satisfying lunch, and, as it turned out, much better than the ostensibly 2-Michelin star restaurant dinner we had that night in Tokyo.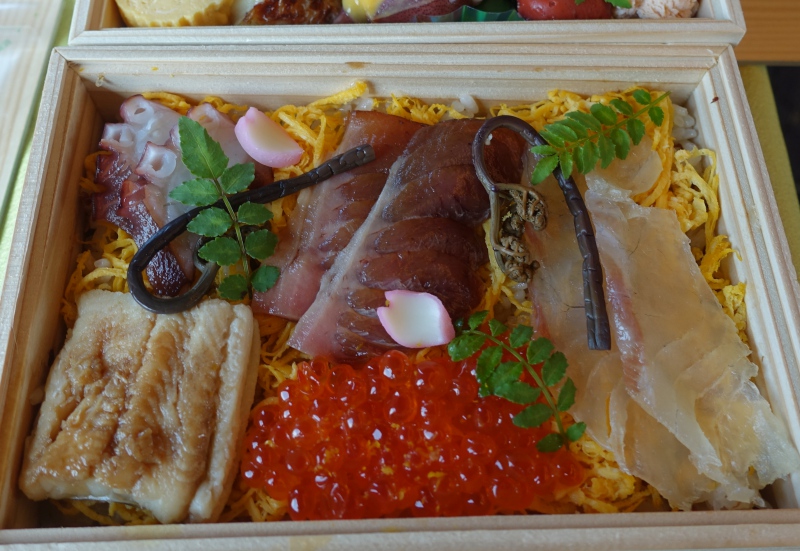 The Verdict
The breakfast buffet at The Grill was perfectly serviceable, and appropriate for a 4 star hotel, but in no way a luxury hotel breakfast and not at all comparable to The Four Seasons Kyoto. The highlight for lunch at Trattoria Sette was the pizza Quattro Formaggio, which had a very good crust. The restaurant was also accommodating in preparing an off-the-menu Pasta Carbonara, checking to see if it was ok for it to lack the bacon, as the restaurant didn't have any.
While Touzan was closed during our stay, the best thing we ate from the Hyatt Kyoto was the Touzan Hanami Bento, with its variety of seafood and seasonal specialties in the top bento box, and a delicious chirashizushi ("scattered sushi") rice in the bottom bento box. This was JPY 5000 + tax, or ~$55, so certainly not inexpensive, but delicious and beautiful in its presentation.
Overall, I would try another meal at Touzan, but we won't be rushing back to the hotel or its other restaurants.
Recommended Posts
Four Seasons Kyoto Breakfast at Brasserie and Dining Review
Review: Sushi Wakon at Four Seasons Kyoto
Amanemu Dining and Breakfast Review
Kinosaki Onsen: Nishimuraya Honkan Review
Disclosure: We paid a Virtuoso rate at Hyatt Regency Kyoto that included breakfast and a $100 food and beverage credit.
Need Award Booking Help? Our fee is as low as $75 per ticket if you book your hotel through us.
If you enjoyed this, join 200,000+ readers: please follow TravelSort on Twitter or like us on Facebook to be alerted to new posts.
Become a TravelSort Client and Book your Kyoto Luxury Hotel with Virtuoso or Preferred Partner Benefits!