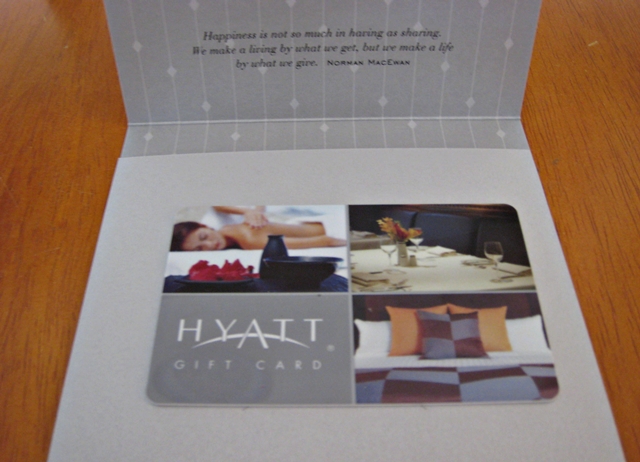 Amy writes "What's the difference between Hyatt Gift Cards and Hyatt Check Certificates? And when would Hyatt Gift Cards or Checks be a good deal?"
Amy's question was one I ran into several weeks ago during the 4th quarter Chase Freedom 5X points for hotels, airlines, Kohl's and Best Buy. Even after making some airline and Kohl's spend, my husband and I had some additional spend to maximize the 5X points, so we opted to front load some of the spend we'll be making later this year at an international Park Hyatt.
I went to a local Hyatt to buy some gift cards, and specifically asked if they could be used at international Hyatt properties, which the associate confirmed. Well, as I later found out, she was wrong. I contacted the international Park Hyatt property, who responded that they only accepted Hyatt Check Certificates.
And sure enough, looking at the Hyatt chart of what different properties accept, Hyatt's international properties outside the U.S., Canada and Caribbean do NOT accept Hyatt gift cards.
Fortunately for me, Hyatt customer service was great, and I was allowed to exchange my Hyatt gift cards that I thought could be used internationally for Hyatt check certificates that can actually be used internationally, while still keeping the original credit card charge to my Chase Freedom for 5X points on all this Hyatt spend. But lesson learned: you can't buy Hyatt Check Certificates at Hyatt hotels in the U.S.–only from Hyatt Corporate.
Hyatt Gift Card and Hyatt Check Certificates FAQ
What's the Difference Between Hyatt Gift Cards and Hyatt Check Certificates?
Hyatt gift cards are prepaid, stored value cards for use at Hyatt hotels in the U.S., Canada and Caribbean. Apart from at Canada and Caribbean properties, they are not accepted at Hyatt's international hotels. For example, here are Hyatt's German hotels. As you can see, they all accept Hyatt Check Certificates, but not Hyatt Gift Cards: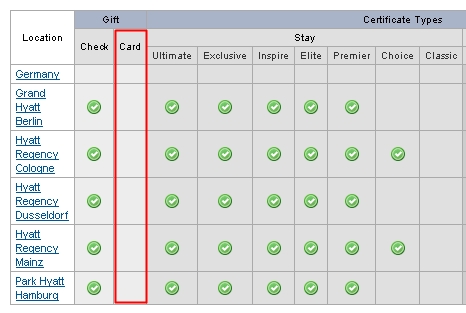 Hyatt Check Certificates are accepted at most Hyatt hotels worldwide. Check to ensure the property you are visiting accepts them by going to Hyatt's Participating Locations list. A photo of a Hyatt Gift Card is at the top of the post; here's one of a Hyatt Check Certificate: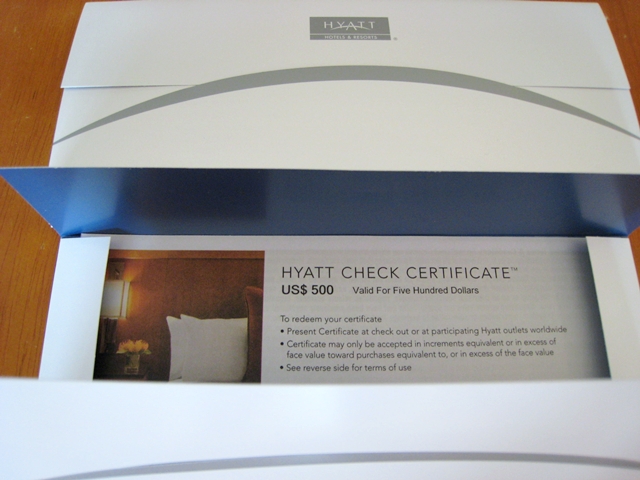 Can You Buy Hyatt Check Certificates at a Hyatt Hotel?
No, at least not in the U.S. The Hyatt Check Certificates valid at international Hyatt properties are only available via the Hyatt Gift Cards and Certificates site.
Do Hyatt Gift Cards and Hyatt Check Certificates Expire?
No, if you bought them yourself. However, the Hyatt Check Certificate terms state:
"If you have received this Gift Check as a premium, as a part of a loyalty program, or other non-cash transaction, these additional terms and conditions shall apply:
Please see the front of the Gift Check for its expiration date.
No credit or change will be given on any unused portion of the certificate.
Certificate is void if sold for cash or other consideration."
What Happens When the Transaction is Less than the Value of the Hyatt Gift Card or Check Certificate?
With the Hyatt gift card, since it's a stored value card, the amount you pay is deducted and the balance remains on the card for you to spend at a later time.
Hyatt Check Certificates cannot be used to pay for something less than the value of the check certificate; you must use it for a transaction that is equal or in excess of the value of the Hyatt Check Certificate.
What About Foreign Exchange Fees?
For Hyatt Check Certificates used at international Hyatt properties, the hotel will convert the Hyatt Check Certificate into local currency according to the daily exchange rate. Since hotel exchange rates are often rather poor compared to ATMs, I would recommend using the Hyatt Visa or other no foreign transaction fee credit card rather than Hyatt Check Certificates *unless* you got a good deal (bonus points) for purchasing the Hyatt Check Certificates.
When Does it Make Sense to Buy Hyatt Gift Cards?
From the miles and points standpoint, it mainly makes sense if:
There's a temporary bonus for hotel spend, as there was in Q4 2012 with the Chase Freedom 5X bonus for hotels
To meet minimum spend to receive credit card bonuses, especially with cards such as the Ink Bold, Ink Plus and Sapphire Preferred that give a 2X bonus for hotels, if you'll have significant Hyatt spend in the future, but properties and dates aren't certain.
Where Can I Buy Hyatt Gift Cards?
Most U.S. Hyatt properties offer them, although I've run into Andaz properties such as the Andaz 5th Avenue that didn't have them (at least at the time I visited).
Are There Any Discounts for Buying Hyatt Gift Cards and Hyatt Check Certificates?
None currently that I'm aware of. Costco used to sell Hyatt Check Certificates at a discount, but to my knowledge doesn't carry them any longer. And there was a brief time when it was possible to very lucratively redeem Capital One points for $900 Hyatt Check Certificates, although of course that quickly got shut down–and absent an inadvertent deal such as that one, I wouldn't recommend any Capital One credit cards to any serious travelers given their poor 1 point = $1 redemption value.
Related Posts