How to upgrade to Virgin America First Class? As I sit here on seemingly indefinite hold with Virgin America's call center, I'm pretty sure I'll have enough time to write an entire blog post on this topic before I manage to speak to an agent. First piece of advice: don't count on getting through to a Virgin America agent quickly.
A few posts ago, I wrote on How to Book a Business Class Award Ticket to Hawaii, which was how I booked my husband's ticket there (award on Continental Business First from EWR-HNL, then stopover on the way back in SFO with the SFO-JFK flight on United's premium service flight, with flat-bed seat). Since there was no way I could get other award seats for the same flights (just getting one that worked for our dates was a small miracle) I'm using some Virgin Main Cabin Select vouchers to get my son and me from JFK-SFO, then purchasing cheap economy tickets from SFO-HNL. On the transcontinental I'd really love to try to upgrade to Virgin's First Class seat, mainly for the additional comfort: larger seat, greater recline—and even a massage function! I have yet to fly in an airplane seat with a massage function, so that would be a welcome first.
While it remains to be seen whether I'll manage to snag upgrades for the two of us, here are tips based on what I've found out:
1. Know what you get in First Class vs. Main Cabin Select vs. Main Cabin
Main Cabin: Seats have 32 inch seat pitch. You'll pay $25 for each checked bag and expect onboard fees for just about everything (except network TV), from $2 for headsets to $5-8 for full-length movies, $2-7 for premium TV options, $4-9 for sandwiches, $6-8 for alcoholic drinks and $10 for pillow/blanket
Main Cabin Select: These 12 seats are located in the bulkhead sections of the Main Cabin and are exactly the same as standard seats except with 6 more inches of legroom (38 inch seat pitch), free 1st checked bag, complimentary food and drinks, all movies and entertainment free. You'll still need to pay for WiFi and pilllows/blankets, however.
First Class: The 8 First Class recliner seats have a massage function and 55 inch seat pitch. You get 2 free checked bags, all food, drinks, entertainment complimentary, but you still need to pay for WiFi and for extra blanket/pillow: "Virgin America offers a limited number of standard pillows & blankets to First Class guests on all flights"
2. Know the fees required to upgrade
The cost to upgrade on a long haul flight from Main Cabin to First Class is $299 each way ($79 for short haul and $139 for medium haul), and from Main Cabin Select to First Class $169 ($39 for short haul and $69 for medium haul). Upgrading a long haul from Main Cabin to Main Cabin Select is $129 ($39 for short haul and $69 for medium haul). See Virgin America's complete list of fees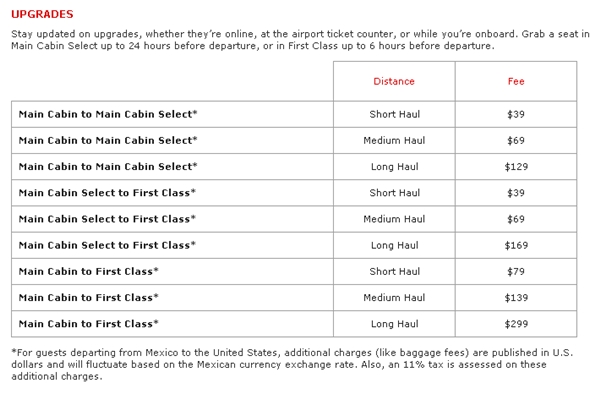 3. Look for flights where there's plenty of First Class availability
Make sure to click the "View Seats" link of any flight you're considering, and try to book a flight where none of the First Class seats have been taken yet. Of course, if your flight is a long ways out, there's no guarantee it will stay that way, so that leads to my fourth tip.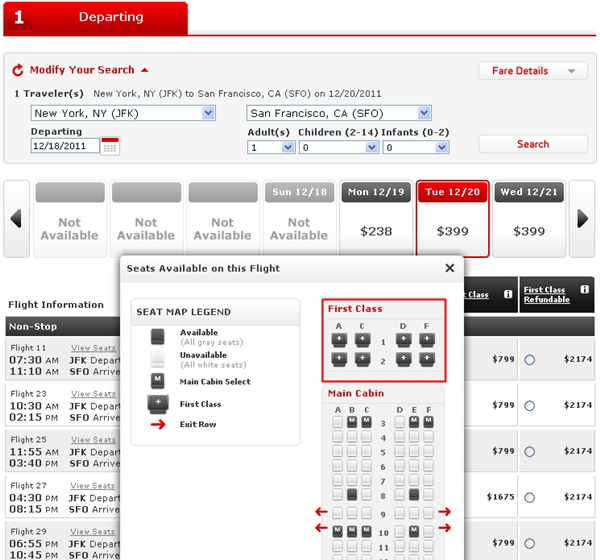 4. Take an early morning flight
If possible, take an early morning flight. Very few people take 7am flights if they can help it. And unlike the legacy carriers, such as United, American and Delta, there are likely to be fewer business folks flying Virgin and forced to take the early morning flights. That means that you stand a higher chance of being able to upgrade to First!
5. Look for flights where there's plenty of Main Cabin Select availability
This is a corollary to the first point: you want to avoid heavy competition for First Class upgrades. While of course Main Cabin passengers can also upgrade to First Class, they face a bit of a dilemma, as I'll describe below.
6. Set your alarm for a little over 6 hours before your flight
Ok, so this is the part I like least. Virgin America only opens up First Class upgrades 6 hours before the time of departure. So, sorry to say, but for that 7am early morning flight, you'll want to go online at 1am to try to snag your First Class upgrade. I completely understand if on reading this you decide it just isn't worth it, especially if you're not good at getting back to sleep.
7. Don't count on calling the Virgin America call center for your upgrade
See my intro—about an hour later and I'm still on hold (for a completely separate reason related to the voucher codes I'm using, not upgrades).
8. Decide your risk tolerance, if you're trying to upgrade from Main Cabin to First Class
Here's the dilemma, if you've purchased a Main Cabin seat but are trying for a First Class upgrade: 24 hours prior to departure, you can check in online and, if there are any Main Cabin Select seats available, you'll be given the option to upgrade to one of them. But note: if you do this, you *won't* have the option to upgrade online to First Class 6 hours prior to departure. You'd have to try to do this via the call center (good luck with that!) or at the airport—and run the risk that the First Class upgrades have already been snapped up online by either Main Cabin Select passengers who have upgraded, or by other Main Cabin passengers who did not upgrade to Main Cabin Select and instead waited to check in until 6 hours before departure, in hopes of grabbing a First Class upgrade.
So you'll need to pick what you're most comfortable with: be assured of a Main Cabin Select Seat (if any are available 24 hours prior, when you check in) or wait until 6 hours before departure to check in, and take your chances that you may have to sit in coach if you don't manage to get an upgrade.
While I'm not facing this dilemma, since my vouchers are already for Main Cabin Select, if it was me, I'd probably risk getting stuck in coach and try for First Class at 6 hours out, assuming there seemed to be good availability in First Class. But if there were only a couple First Class seats available and the rest of the flight was pretty full? Probably not—someone else would probably manage to grab those upgrades before I did.
Oh, and the Virgin America call center? Yep, still on hold with them–over an hour and a half later. About to give up and call it a night…I just hope those First Class seats work better than Virgin's call centers do.
Related Posts
Virgin America First Class Review
Virgin America Main Cabin Select Review
Virgin America New Flights to Hawaii
Virgin Atlantic 65K Credit Card Bonus Offer Worth It?
Need Award Booking Help? Our fee is as low as $75 per ticket if you book your hotel through us.
If you enjoyed this, join 150,000+ readers: please follow TravelSort on Twitter or  like us on Facebook to be alerted to new posts. 
Become a TravelSort Client and Book Your Hotel with Virtuoso or Four Seasons Preferred VIP Amenities!