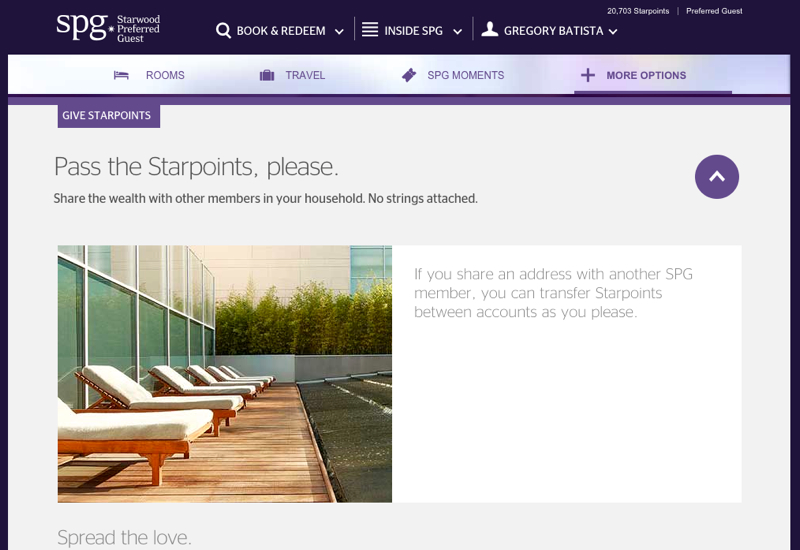 Starwood Preferred Guest Starpoints can be transferred between accounts of spouses or others in your household, as long as they live at the same address. This is a great benefit, since even other transferable points currencies such as Chase Ultimate Rewards points only allow you to transfer to a spouse or domestic partner, and AMEX Membership Rewards points can only be transferred to those who are authorized users of your card.
Most frequent flyer miles, of course, cannot be transferred for free to anyone else, with only a few programs allowing family pooling (see Transfer Frequent Flyer Miles Between Family Members?)
Why Transfer Starwood Points to a Spouse's or Household Member's Account
Starpoints are best used for transfers to airline frequent flyer programs, since there is a 25% points bonus when you transfer in increments of 20,000 points–see SPG Airline Partners: Transfer Starwood Points to Miles. Because of this, it makes sense to transfer small amounts of points from a spouse or household member, say anything under 20,000 points, so that you can consolidate the SPG points in a single account and earn that 25% bonus for transfers.
Another reason to transfer points is to avoid account expiration. For example, I recently logged into Award Wallet and saw that my husband's Starpoints would expire later this year. Time to transfer them to my SPG account.
How to Transfer Starpoints to a Spouse's or Household Member's Account
1. Log into Your SPG Account
2. Go to SPG Redeem More Options
To to the "Pass the Starpoints Please" and click on "Transfer Points"
3. Complete the Transfer Form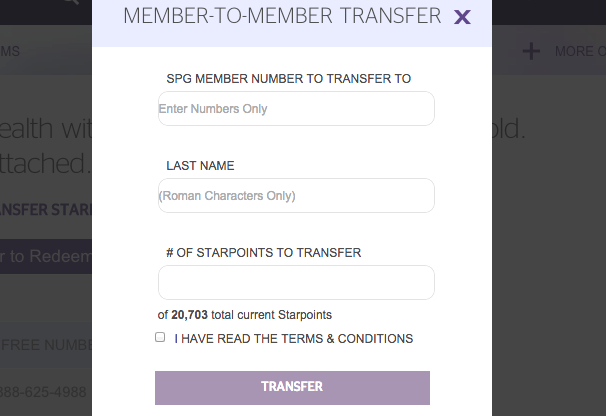 FAQ
When Do SPG Points Expire?
Starpoints transfer after 1 year of no activity.
Does the Transfer Have to be to a Spouse or Partner?
No; the transfer can be to anyone in your household with the same address on file with SPG for the past 30 days.
Does the Transfer Have to Be in Increments of 1000 Points?
No, the transfer can be any number of points.
How Long Does the Starpoints Transfer Take?
The transfer takes up to 5 business days, so if there's a weekend involved, it could take up to 1 week.
Have you transferred Starwood Points between accounts to avoid points expiration or to take advantage of the transfer bonus to airline frequent flyer programs?
Related Posts
SPG Airline Partners: Transfer Starwood Points to Miles
Top 10 Best Ways to Use SPG Points
Best Frequent Flyer Programs of 2015
Which Travel Credit Card to Replace an SPG Business AMEX for Lufthansa Awards?
SPG: Free WiFi for All Members Combines with Starwood Luxury Privileges
Need Award Booking Help? Our fee is as low as $75 per ticket if you book your hotel through us.
If you enjoyed this, join 200,000+ readers: please follow TravelSort on Twitter or like us on Facebook to be alerted to new posts.
Become a TravelSort Client and Book Your Hotel with Virtuoso or Four Seasons Preferred VIP Amenities!