TravelSort reader Andrei asks: "I understand members with thousands of miles or points can transfer them to friends and family-[how do I do this] and is there a way to buy these miles and points?
I'd like to break this down into three parts:
1. Transferring points between different frequent flyer accounts
2. Transferring miles between different frequent flyer accounts
3. Cheapest ways to buy or acquire miles and points (included when discussing each type of points or miles)
How to Transfer Points Between Different Frequent Flyer Accounts
Chase Ultimate Rewards Points
Transfer to:
Another user's account in any of the partner programs: United, British Airways, Korean Air, Hyatt, Marriott, Priority Club, Southwest, Amtrak
Another user's Ultimate Rewards account: you need to go to the Ultimate Rewards portal, select the card you want to transfer points from, and select "Combine points":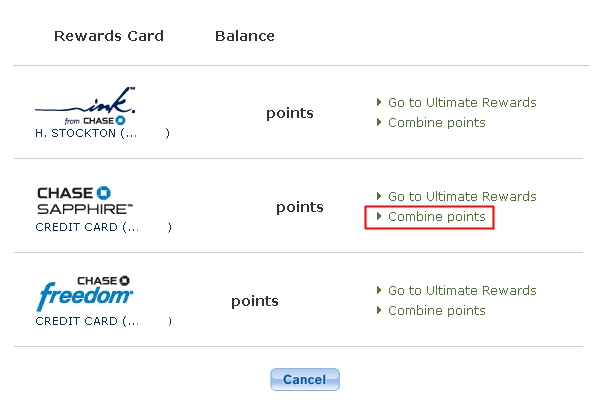 Next, you'll see a pop up window with the account you previously selected in the "Transfer from" field. Select "Other" from the dropdown next to "Transfer to" then enter the credit card or debit card number of the Ultimate Rewards associated account you want to transfer to, along with the cardholder's last name. Then specify the number of points you want to transfer and click "next", and on the next screen, confirm.
Time:
Virtually instantaneous: another Ultimate Rewards account, United, British Airways, Hyatt, Priority Club, Southwest
Marriott: Can be anywhere from virtually instant to ~48 hours
Korean Air: about a week
Amtrak: Can be virtually instant, but Chase says to allow up to 4-6 weeks
Singapore Airlines: ~1 business day (Singapore time) but allow up to 2 business days
Cost: none
Can you buy or advance Ultimate Rewards points?
No, at this time you can't buy Ultimate Rewards points outright, or do a points advance the way you can with Membership Rewards points.
Category bonuses can be another good way to earn points from your existing cards, especially from an Ink Bold or Ink Plus card, thanks to 5X for all Amazon spend, 5X for all Whole Foods spend, and 5X for other office supply store spend as well as telephone, Internet and cable spend. Check out our chart comparing the Chase Freedom, Sapphire Preferred and Ink Bold for various purchases.
American Express Membership Rewards Points
Transfer to:
Time:
Most any program that is worthwhile transferring points to is virtually instantaneous, except ANA, which can take 2 days or so.
Cost:
Foreign frequent flyer programs (Aeroplan, ANA, British Airways, KrisFlyer, etc.): none
U.S. frequent flyer programs, e.g. Delta: exise tax of $0.0006 per point, maximuum of $99 for a transfer. So if you transferred 100,000 points to Delta, you'd pay $60.
Can you buy or advance Membership Rewards Points?
Yes: you can buy 1000 Membership Rewards points for $25, which works out to 2.5 cents each–not such a good deal. You used to be able to advance points, but AMEX ended Membership Rewards Points Advance June 30, 2013.
Best ways to acquire Membership Rewards Points
The best ways are via credit card signup bonuses and category bonuses:
AMEX Platinum: Unfortunately, no category bonuses for the Platinum, so it's not a good card for everyday spend. Look out for targeted offers in the mail. Here's an example of an AMEX Business Platinum 100K Targeted Offer I received.
American Express Premier Rewards Gold: Although for smaller purchases it makes more sense to get 4.5x-7.6x using the Ink Bold and Office Depot or Staples, airfare spend offers 3x points, bested only by the Chase Freedom 5x for Q4 (October-December) 2012. And for large purchases, you may want to be able to rely on AMEX purchase protection.
Also be on the lookout for additional ways to earn Membership Rewards points. For example, via AMEX Retention Bonuses Offers.
Starwood Preferred Guest (SPG) Starpoints
Transfer to:
Other Starwood accounts and other frequent flyer accounts of members of your household living at the same address. That said, some SPG members have been successful transferring their Starpoints to the SPG and frequent flyer accounts of other relatives not living at the same address; so your mileage may vary
American AAdvantage appears to have mixed results: some SPG members have reported not being able to transfer their Starpoints to another person's American AAdvantage account
Time: Anywhere from a few days to a couple weeks. This is a real problem when trying to redeem for awards, as often availability will have changed by the time the transfer goes through, so you're forced to transfer prospectively to airline programs, which impedes flexibility and incurs the risk of program devaluation.
Cost: none
Can you buy or advance Starpoints?
You can buy 1000 Starpoints for $35, so 3.5 cents per point–quite expensive. At this time you can't advance Starpoints the way you can AMEX Membership Rewards points.
Best ways to acquire Starpoints
The best ways are via the American Express Starwood Preferred Guest credit card signup bonus and by staying at Starwood hotels as an SPG elite (Gold or Platinum) member: you earn 5x Starpoints per dollar spent at Starwood hotels as an elite member; otherwise, 4 Starpoints per dollar spent at a Starwood property. Note that the cash component of Cash & Points awards do not earn Starpoints, although award stays, including free night and Cash & Points stays, do count toward status. See Do SPG Cash & Points Award Stays Earn Elite Status?
How to Transfer Miles Between Different Frequent Flyer Accounts
Unfortunately, the short answer to this for most frequent flyer programs is: you can't, at least not cost effectively. There are a few workarounds, however:
1. Household Accounts
Some programs, notably British Airways, offer household accounts. You and your immediate household (all residing at the same address) can set up a household account to pool your miles. Note that only the person who is set up as the Head of the Household can invite and remove members, so make sure that the person in your household who normally tracks and redeems miles and points is set up as the Head of Household (spoken from experience!)
2. Redeem an award in the name of the person you wanted to transfer miles or points to
Since you can redeem your own miles and points for awards for someone else, in many cases this accomplishes the goal you were trying to achieve by transferring your miles or points to that person. Sometimes there has been an issue with the credit card used to pay taxes and fees, so if possible, use the credit card of the person you're redeeming the award for to pay for any taxes or fees.
3. Accrue points and transfer them to your family member or friend's frequent flyer account
This is why it's ideal to build up plenty of Ultimate Rewards points, Starpoints and Membership Rewards points; they offer greater flexibility than miles for a given frequent flyer program, and you want to maintain that flexibility as long as possible to guard against devaluation in any given frequent flyer program. And this flexibility also includes the ability to transfer them to another person's account (with the possible exception of Starpoints to American AAdvantage miles, see above).
4. Show them how to earn their own miles and points
Now, this will only work well if they're in the U.S., have good credit, pay off their credit cards every month and aren't too daunted by having and using a few different credit cards. But if these are all true, as the saying goes, "Give a man a fish and he'll eat for a day. Show him how to fish and he'll eat for his entire life."
Finally, while you can transfer miles from one frequent flyer program to another using points.com, it is not recommended–rates are atrocious. Try to figure out how to accomplish your goals using one of the options above.
Related Posts