Admittedly I have it pretty easy when it comes to redeeming miles, given that I'm only earning and redeeming miles for myself, and sometimes a family member. Award availability dictates where I travel, as I'm always chasing the best value.
Families don't have that luxury for a variety of reasons. For one, their schedules are often more restrictive in that they have to plan travel around holidays, school breaks, etc. Second, while it's often possible to find one or two award seats on a given flight, finding three or more seats can be a real challenge. Beyond that, families have to earn a lot more miles in order for everyone to be able to travel on an award flight. While adults can take advantage of lucrative credit card sign-up bonuses, kids typically can't, making it a lot harder to earn enough miles for that next free trip.
With that in mind, I figured I'd share some tips for maximizing miles and points for family travel.
Have both parents apply for credit cards individually
In many cases married couples will share a credit card, whereby one person is the primary cardholder, and then the spouse is an additional cardholder. While that's fine for everyday spend, both spouses should sign up for credit cards individually if at all possible. This is because you only earn a sign up bonus for each primary cardholder on the account. In other words, if you signed up for a credit card with a 50,000 point sign-up bonus and added your husband as an authorized user, you'd earn a total of 50,000 bonus points. But if you each signed up for the card individually, you'd earn 100,000 points.
Along the same lines, many credit cards offer annual threshold bonuses for achieving certain spend amounts. For example, the Premier Rewards Gold card offers 15,000 bonus points when you spend $30,000 per calendar year. By both spouses having the card, you can earn that bonus twice, assuming you meet the spend requirements (though of course annual fees do apply).
It's also worth considering the minimum credit card spend required before applying for the cards, though. If a card has a $3,000 minimum spend and you only spend an average of $1,000 per month, you may not want to both sign up for the credit card at the same time. Instead you might want to consider the timing of the applications so you can always achieve the minimum spend requirement with ease.
Accrue points in flexible programs
Probably the biggest challenge with family award travel is finding flights with multiple award seats. As a result, accruing points in flexible programs that can be easily transferred is key. For example, by accruing points with American Express Membership Rewards, Starwood Preferred Guest, or Chase Ultimate Rewards, you can transfer points to airlines in any of the three major alliances. When it comes time to plan your travel, it will be essential to have the flexibility to transfer to a variety of programs, especially if you're planning on traveling over a busy period.
As I've noted before, Membership Rewards and Ultimate Rewards points transfer virtually instantly to frequent flyer programs; SPG points, however, take anywhere from a couple days to a couple weeks, so it's not possible to put a flight on hold, transfer SPG points, then ticket.
Currently, for the 3 above point programs, the best credit card sign up bonuses are with Chase:
Chase Sapphire Preferred (50K bonus after $3K spend in first 3 months, 2x points for all travel and dining spend, no foreign transaction fees)
Ink Bold with Ultimate Rewards (50K bonus after $5K spend in first 3 months, no foreign transaction fees, See Chase Ink Bold Business Credit Card Review)

Sign your kids up for frequent flyer accounts
Perhaps it sounds obvious, but it never ceases to amaze me how often parents don't sign their kids up for frequent flyer programs. Nowadays most airlines allow one-way award tickets, so for as little as 12,500 miles (sometimes less) you can book a one-way trip. Furthermore, even if your kids aren't frequent flyers, it's so easy to keep a mileage account from expiring nowadays, even through something as simple as purchasing an iTunes song through a mileage mall. So while you think your kids' miles may never add up, you'd be surprised by how quickly they can be redeemed for an award ticket.
Know which airlines allow household accounts
While there aren't any major US frequent flyer programs that allow you to "pool" your miles in a family account, there are some foreign airlines that do.
For example, British Airways and British Midland both allow you to create a household account, whereby members of the same household can pool miles. British Airways allows up to seven people living at the same address to join a household account, while British Midland allows up to eight people.
Along similar lines, Membership Rewards and Ultimate Rewards points can be transferred to anyone's frequent flyer accounts, while Starwood Preferred Guest points can be transferred to someone else's Starwood Preferred Guest account within your household. This makes it easy to also "pool" miles in these programs.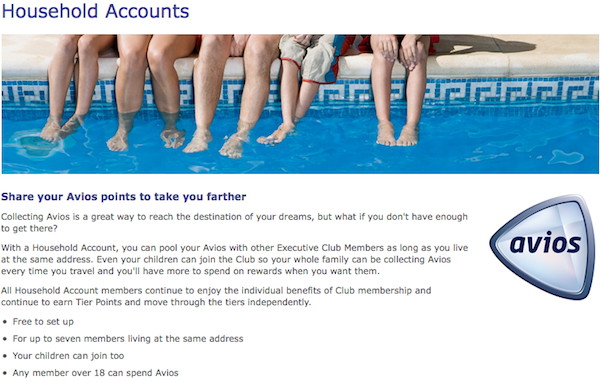 Take advantage of companion tickets

Some airlines offer free companion tickets on both revenue and award tickets, which can be really helpful in reducing the cost of travel for families.
For example, British Airways gives a companion award certificate to anyone that spends $30,000 on their co-branded Chase Visa card per year. While British Airways imposes fuel surcharges on award tickets, they do have fairly good award space, so in many instances remain the best option.
On the revenue ticket front, Alaska gives those with their co-branded Visa Signature card a $99 companion certificate, whereby the second passenger flies for $99 plus tax on any revenue fare, including paid first class, discounted coach, etc.
Certificates like the above can substantially reduce the cost of travel, especially if both parents have the vouchers (another benefit of signing up for credit cards individually as opposed to one person being an authorized user).
Know the routes with the most award space
At the end of the day, knowing the routes with the best award space will help you to efficiently spend the miles you worked hard to earn.
All of the alliances have certain routes that are "gold mines" when it comes to availability. Many routes don't have quite as much award space in advance as they used to, but there are still good options.
For example, Air France (SkyTeam) has a ton of business and coach award space between Washington and Paris. It's probably the single route with the most transatlantic award space.
Lufthansa (Star Alliance), on the other hand, has excellent award space in business and coach between Detroit and Frankfurt, Charlotte and Munich, and Newark and Dusseldorf, just to name a few.
American (One World) has excellent award space between New York and London in coach and business class, making for one of the best award options to London.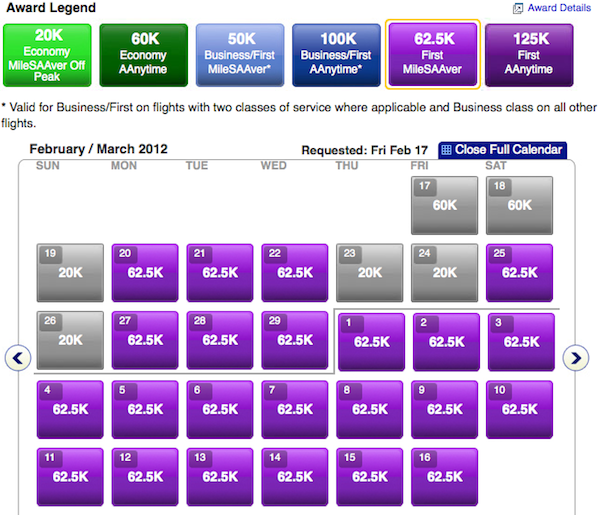 To Asia, ANA (Star Alliance) probably has the best award space between Los Angeles and Tokyo Haneda in coach and business class, while United also has excellent award space between Seattle and Tokyo in business and first class.
For more on routes with excellent award space, see my previous posts about the airlines and routes with the best award space to Europe and airlines and routes with the best award space to Asia.
You might also be interested in TravelSort's post The Best Airlines for Kids and Families.
Consider flying on separate flights
While this may be a non-starter for many families, if you're willing to have one parent fly with one child on one flight and another parent with the other kid(s) on another flight or even another airline for the same dates, it opens up more award flight options. This is what Hilary did for one leg of her family's award flights to Bali on Cathay Pacific, and also for Hawaii—her husband will fly with their son on one leg of the Bali trip, and she'll fly with their son for all legs of their Hawaii trip.
There you have it, those are my top tips for maximizing award travel for families. For those of you that travel with families, are there any tips/tricks you've found to be especially useful?
Related Posts
The Best Airlines for Kids and Families
Top 10 Reasons to Fly First Class with Kids
Redeeming 800K Miles and Points This Year: Why We Don't Save Our Miles
The Best Airports for Kids and Families
Need Award Booking Help? Our fee is as low as $75 per ticket if you book your hotel through us.
If you enjoyed this, join 200,000+ readers: please follow TravelSort on Twitter or  like us on Facebook to be alerted to new posts. 
Become a TravelSort Client and Book 5-Star Hotels with Virtuoso or Four Seasons Preferred Partner Amenities!