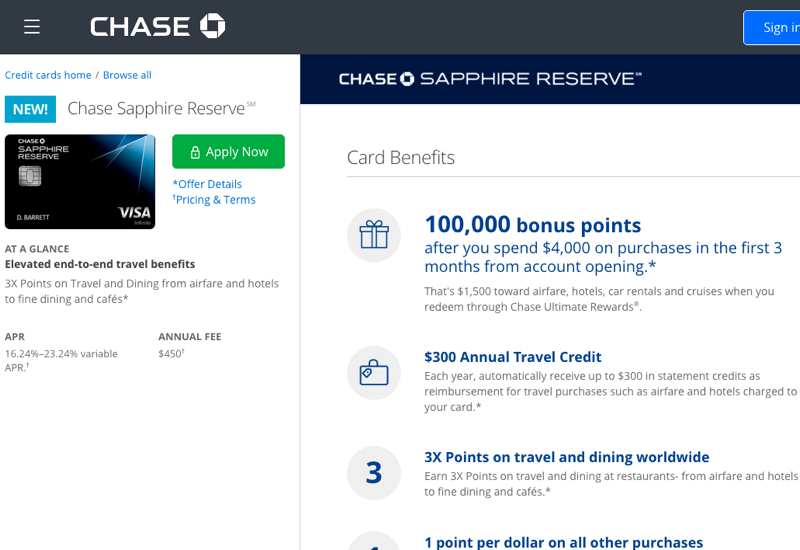 I was just approved for the Chase Sapphire Reserve card, and am over 5/24. There are a number of others who have also been approved for the Sapphire Reserve despite having more new accounts in the past 24 months than I have, so it's definitely possible. Here are some tips to maximize your chances of being pre-approved for the card, and then what to look for before applying.
Of course, if you've opened 4 or fewer new credit cards (including authorized user accounts) over the past 24 months, and have a good credit score, you can disregard the following and simply apply online for the Sapphire Reserve.
Maximize Your Chance of Pre-Approval for the Sapphire Reserve If Over 5/24
1. Opt-In for Credit Card Offers
I couldn't remember if I'd opted out of credit card offers long ago, so just to make sure, I opted back in, both by calling Chase at 888-868-8618 and the OptOut Prescreen number, 888-567-8688. Select option 2 to opt in.
2. Use Your Chase Credit Cards Regularly
As I'll discuss below, I'm convinced that regularly using my Chase cards, with significant use of my Ink Plus (the current version of which I've held for 3 years, and use for nearly all my business expenses) was an important factor in my pre-approval. If Chase sees that you already have some Chase cards but aren't using them much, that's a red flag of an unprofitable customer who will grab the bonus and churn the card.
3. Hold On To Some of Your Chase Cards
While it can be tempting to just get a credit card for their signup bonuses, this is getting harder as the banks focus on increasing profitability from existing clients, and limiting exposure to unprofitable customers. AMEX signup bonuses are once in a lifetime (including AMEX Business Cards), new Citi Signup Bonus Rules are One Bonus per 24 Months per Points Type, and with a few exceptions, Chase denies most new credit card applications over 5/24: if you've opened 5 or more new credit cards over the past 24 months.
There's no reason not to hold on to no annual fee cards such as the Chase Freedom, which also offer great rotating 5X categories. And personally, I find the 5X benefits of the Ink Plus far exceed the $95 annual fee. Many folks also find the annual Category 4 free night and Hyatt Platinum status reason enough to keep the Hyatt Visa. As with using my Chase cards frequently, I believe that holding on to my Ink Plus and Chase Freedom helped with my pre-approval status.
4. Update Your Income
A few days ago I updated my income on the Chase site. While I don't think income is as much a factor as people originally thought for this card, since I've seen reports of grad students and others with more limited incomes approved for the card, all else equal, a higher income likely helps since Chase sees greater potential for your credit card spending and potentially to provide other Chase products to you.
Maximizing Your Chance of Approval for the Sapphire Reserve If Over 5/24
1. Go to a Chase Branch to Check for Pre-Approval
Generally you'll need to visit a Chase branch to check if you're pre-approved for the Sapphire Reserve, although a few people who don't live near a Chase branch have been able to
2. Check at a Different Chase Branch in a Few Days
Some people have initially been told at one Chase branch that they had no pre-approvals for the Sapphire Reserve, only to go to a different Chase branch a day or two later and find they were pre-approved. It's not clear whether the first banker didn't check correctly, or whether perhaps something changed with their pre-approvals between their visit to the first branch and their subsequent visit. Either way, don't give up after a first visit; wait a few days and try checking at another Chase branch.
3. If Pre-Approved, Check to See Whether You're Offered a Specific APR or a Range
If you're pre-approved, the Chase banker will be able to print out pre-approval documents that include an APR disclosure. Look to see if there's a specific APR there, or just a range. You want there to be a specific APR before applying; if there's a range, then there's a higher chance you won't be approved for the card. (HT: Reddit)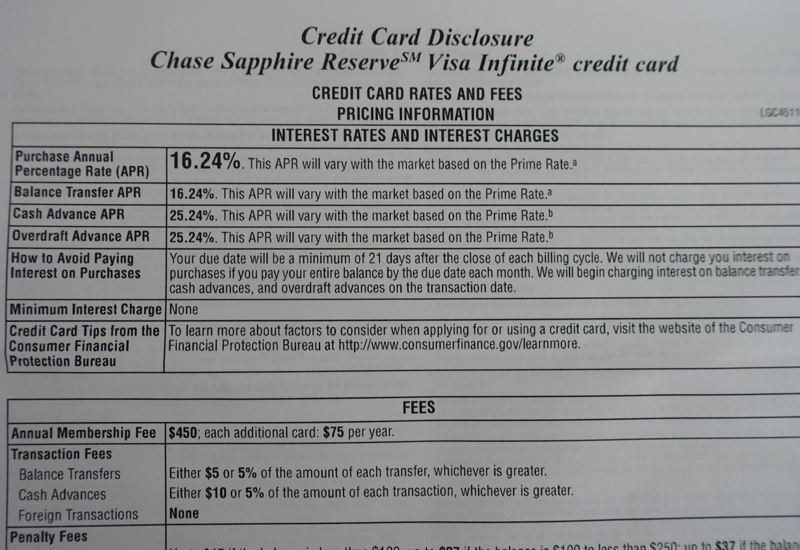 My Situation
I assumed I wouldn't be pre-approved for the Sapphire Reserve, since I'm at 12/24, including some fairly new Chase cards–the British Airways Visa and the Hyatt Visa this year and the Sapphire Preferred and United MileagePlus Explorer Business card last year. We also don't have any Chase Checking or Business accounts, nor is our mortgage with Chase, since First Republic gave us a better rate. And we are not Chase Private Clients, although if my husband isn't able to be pre-approved for the card, we may shift some of our assets over, as long as we can keep them in our current fund allocation with the shift.
Interestingly, despite all that, the reason given (look at the "Notice About this Offer section, part B) for my approval was "Qualified Chase Relationship: You were selected for this offer based on your existing relationship with Chase." Since my current relationship is only via Chase credit cards, I assume that my heavy usage of my Ink Plus card for virtually all my business expenses over the past few years has helped. I do use other Chase cards, particularly the Chase Freedom and Sapphire Preferred, regularly, but the Ink Plus sees the most usage.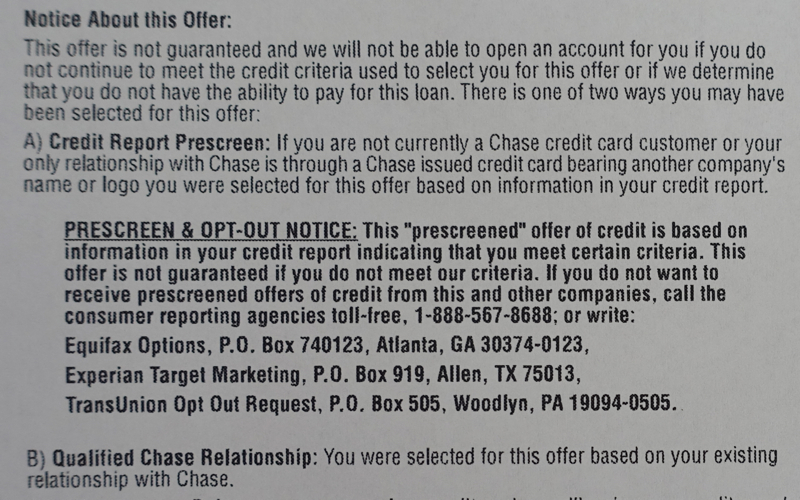 Chase Private Client
If all else fails–you're otherwise a great candidate for the Sapphire Reserve but are over 5/24 and haven't been able to get a pre-approval over the next couple months despite being opted in and with strong usage of your existing Chase cards, you may want to see about becoming a Chase Private Client. While usually $250,000 with Chase is required, there have definitely been exceptions for lower amounts, when you have a good rapport with the CPC banker and there is scope for growing your amounts with Chase. My understanding (and current CPC clients, feel free to correct in the comments) is that you can have index funds via Chase and there isn't an annual fee that Chase imposes, so this need not be a costly option, although there is the time required to set it up.
Do be aware that while CPC clients do have an enhanced chance of getting the Sapphire Reserve despite being over 5/24, it's not guaranteed for them either.
If you were pre-approved for the Chase Sapphire Reserve despite being over 5/24, what do you think helped?
Related Posts
How to Check If You're Under Chase 5/24 to Qualify for the New Sapphire Reserve
Best Ways to Use 100K Ultimate Rewards Points?
100K Chase Sapphire Reserve Card Launched August 21, 2016
Best Travel Rewards Credit Cards
How to Become a TravelSort Client
Need Award Booking Help? Our fee is as low as $75 per ticket if you book your hotel through us.
If you enjoyed this, join 200,000+ readers: please follow TravelSort on Twitter or  like us on Facebook to be alerted to new posts. 
Become a TravelSort Client and Book 5-Star Hotels with Virtuoso or Four Seasons Preferred Partner Benefits!