Over the past few weeks I've written posts about how to find award space on Star Alliance and how to find award space on OneWorld, so it's time to round out the series with a post about how to find award space on SkyTeam. Let me start by saying that it's no coincidence that I saved finding SkyTeam award space for last – there's no doubt in my mind that SkyTeam has the least useful tools for finding award space, and even the tools that exist are mostly broken and require serious creativity.
SkyTeam consists of airlines like Delta, Air France, Alitalia, KLM, and Korean Air. If you're a TravelSort reader, chances are that if you have SkyTeam miles they're with Delta (since they're the most valuable in the alliance, in my opinion), so we'll go through this post with that assumption in mind. Delta SkyMiles are commonly referred to as SkyPesos given how devalued they are compared to the mileage currencies of other US airlines, and it's for good reason, as you'll discover below if you haven't already through firsthand experience.
Partner Airlines
Before getting started, it's helpful to mention all the SkyTeam Alliance members, so you know the partner airlines you can book with: Air France, Alitalia, Aeroflot, Aeromexico, Air Europa, China Airlines, China Eastern, China Southern, Czech Airlines, Kenya Airways, KLM, Korean Air, TAROM, and Vietnam Airlines. Don't forget "Secret" Out of Alliance Award Redemptions as well, such as V Australia.
Award Chart
The first tool you'll need to understand Delta's award structure is their award chart. They'll first ask you to select the country you're originating in. Once you select that you'll see they have three award levels for each class – low, medium, and high. The prices displayed are all one-way (even though Delta charges the same for a one-way award that they do for a roundtrip), so as you get started searching for award availability make sure you keep the chart readily available for reference, because you'll sure need it.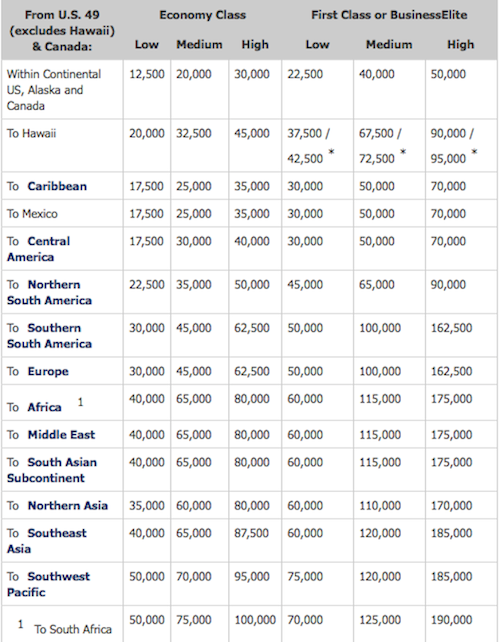 A couple more pointers:
You can't book Premium Economy or First Class awards on SkyTeam partners. So if your goal is flying in international First Class, you're out of luck with SkyTeam awards.
Partner awards book at the low level, but if you're booking a partner award and include a domestic segment on Delta that's at a medium level, the award will price as a low award plus a medium award, which will significantly increase your award cost. So you'll want to keep domestic segments at the low level.
Stopovers
Delta allows one stopover or one open jaw on an award ticket between regions
You can book stopovers online, so you will get charged if you ticket via an agent
Changes and Cancellations
To change an award, you'll have to redeposit the miles and rebook. Be aware that in the course of rebooking, the award may be repriced higher, or availability may disappear altogether
Delta charges a $150 fee to redeposit miles, unless you have Platinum or Diamond Medallion status
If you don't have status, set a Delta alert for a schedule change, which should then enable you to redeposit and rebook without charge
Keep in mind you won't be able to get SkyMiles back if you redeposit an award with 72 hours of departure. This is one reason Hilary gives for hating SkyMiles in 6 Reasons Delta SkyMiles AMEX Cards Aren't Worth It
So let's go through the various tools I use for searching SkyTeam award space:
Delta's Website
On the award front, Delta's website is as dysfunctional as it gets, and something tells me Delta likes it that way (after all, members can't get good value out of their miles if they don't know how to use them).
Now go to their search tool, which can be accessed by clicking "SkyMiles" on the top right of the homepage, then "Use Miles," and then "Award Ticket Reservations," which will bring you to the search tool. Up front it helps to know that Delta's website displays award availability on Delta, Air France, KLM, and Alitalia, so that you know what to expect. Korean Air award availability can't be searched on Delta's website, or anywhere else online for that matter. The only way to search Korean Air space is by calling Delta SkyMiles (which definitely isn't the most competent call center out there).
The only way you'll get any real use out of Delta's search tool is to search segment by segment. Delta is the opposite of most airlines – through them it's a lot easier to find international award availability at the "low" level than domestic availability at the "low" level. This is because many of their partner airlines are good about releasing award space (like Air France and Alitalia), and all partner award inventory offered to Delta is at the low level, while Delta likes to price availability on their own flights at the medium or high level.
Given that the international segment is a lot more important than the domestic segment to many (I ultimately don't mind buying a separate domestic ticket to the international gateway), I suggest starting by searching the international segment for availability first. I also suggest always searching availability as one-ways. This is because if you search for a roundtrip ticket and one direction books into the "low" level and one into the medium or high level, you won't know which direction books into which category, so will have a hard time building on it. Furthermore, Delta's website screws up the pricing of roundtrip awards all the time.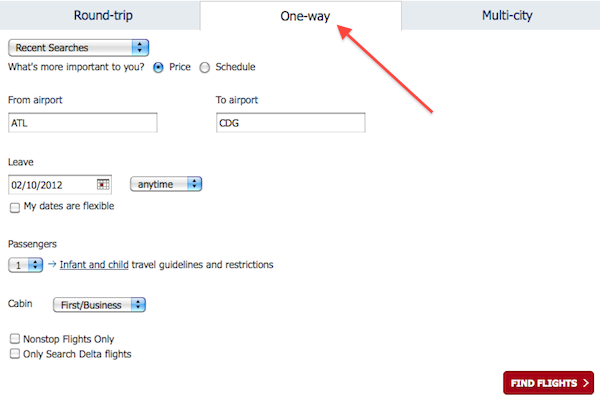 So if you want to go from Tampa to Paris, for example, I would start by searching for availability to Paris out of Atlanta, Detroit, Minneapolis, and New York which are the connection points that will get me from Tampa to Paris on SkyTeam in one stop.
As soon as I identify a business class option for 100,000 miles (which is the low level), I would start to look for award space from Tampa to Atlanta.
One thing that's key is that there may not be "low" level award space from Tampa to Atlanta in first class, so be sure to always check coach space as well. I don't mind flying coach from Tampa to Atlanta as it's only a one-hour flight, especially if it will save me a lot of miles.
Then continue building the itinerary segment by segment until you have an itinerary that books into the low level the entire way. Once you have that itinerary, I suggest putting it all together using the multi-city search tool. As you go through the pages it will present you lots of options so be sure you select the flights you found at the low level, and then when it prices it should price correctly.
The one other thing that's useful about the Delta search tool is that they have an award calendar that will give you a 30 day view of award availability, showing whether the available space is at the low, medium, or high level. This can be incredibly useful, though I still suggest searching the outbound and return separately as one-ways to get the best results. If you're flexible with dates you might actually find Delta SkyMiles to be incredibly valuable using this method.
ExpertFlyer.com
I still find ExpertFlyer to be the most useful tool for researching Air France and KLM award space, and perhaps that's just out of habit.
If you're an ExpertFlyer member (it's a subscription service) you can log-in and click on "Awards & Upgrades." Then select the airline you want to search award space on and the appropriate fare classes. So if you want to search Air France award space, select "Air France" as the airline and then click on "Business – Classic Awards & Upgrades (O)." Make sure you always choose the "classic" option and never the flexible option, as that would be the equivalent of a high level award, which would be much more expensive.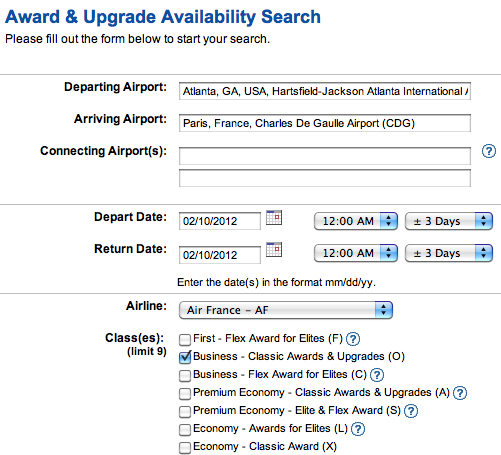 Then select your preferred date, and keep in mind that ExpertFlyer lets you search availability for a week at a time by clicking "+/- 3 days."
Make sure you only search availability for one segment at a time, or else you won't get accurate results. So if you want award space from Tampa to Paris, you'll only want to search for award space from Atlanta, Detroit, etc., using ExpertFlyer, and find award space for the domestic segment out of Tampa using delta.com.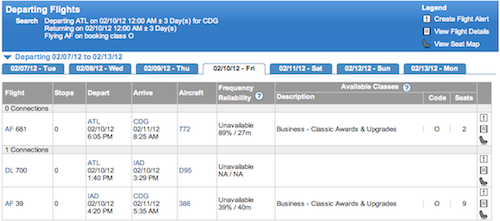 It's also worth noting that Air Europa belongs to SkyTeam, which is a not-so-well known airline based in Madrid. They fly to New York and Miami and actually release two business class award seats on many flights, so if you want to go to Spain that might just be your best bet. You can find their award space on ExpertFlyer, and I find it to be one of the best kept secrets when it comes to SkyTeam award availability.
One last ExprtFlyer tip: when you're searching for availability a week at a time, be sure you click on "refine search" when you start a new search instead of starting all over. That way your previous search is saved, and all you have to do is change the date range you want to search. It will save you a lot of time.
Air France's Website
Air France's website is handy for searching award availability on Air France and KLM given that they have a calendar view. In order to use the tool you have to be a Flying Blue member (registration is free) and log-in with your credentials.
Once you're logged in click on "Book Your Award Tickets" which will bring you to their search tool.
Enter your preferred origin, destination, dates, and cabin, and click on "search." On the next page you'll be given a calendar display of award availability. As long as the option with the lowest number of miles is displayed, you should be able to book this through Delta or any other SkyTeam member.
On the next page you'll see availability, and once again as long as it displays "Classic Award," this should be bookable.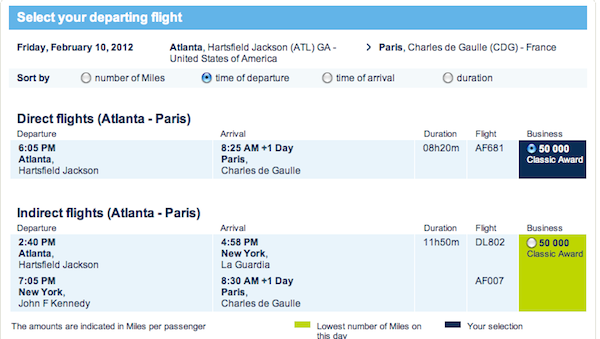 When You'll Need to Call an Agent
You can book Delta, Air France, Alaska and KLM awards online; for most other awards you'll need to call and pay the $25 phone booking fee (fee is only waived for Diamond Medallion Members)
You can call an agent and hold an award for free, without paying the $25 phone booking fee (but must be an award you can ticket yourself online). See also Comparing Award Ticketing Fees and How to Avoid Them
If you do call and get an agent that isn't very knowledgeable or helpful—as always—thank them politely, hang up, and try again. You may need to do this several times for some of the more obscure partners, such as China Eastern or Vietnam Airlines
So those are the basics. Finding SkyTeam award space is the ultimate test of patience, though there are some great bargains to be had if you know how to find them.
If you have any questions just post them below and I'll get to them as soon as I can.
Related Posts
Delta Devaluation: SkyMiles Becomes Revenue Based
Delta Sky Club Lounge Access for Guests and Kids?
6 Reasons Delta SkyMiles AMEX Cards Aren't Worth It
Delta Brings Westin Heavenly Bed to BusinessElite
Top Tips for Using Delta SkyMiles for Asia Award Tickets
How Much is a Mile Worth: Value of a Delta SkyMile
Need Award Booking Help? Our fee is as low as $75 per ticket if you book your hotel through us.
If you enjoyed this, join 200,000+ readers: please follow TravelSort on Twitter or like us on Facebook to be alerted to new posts.
Become a TravelSort Client and Book 5-Star Hotels with Virtuoso or Four Seasons Preferred Partner Amenities!