Last week I shared tips for researching Star Alliance award availability, which generated quite a bit of interest. A lot of people requested a similar post about OneWorld and SkyTeam, so here we go!
Before I get into the analysis, there is one thing I should mention, since it confused quite a few people. When you're booking an award ticket, you always book the ticket through the airline with which you have miles. Beyond that, you always use the award chart for the airline with which you have miles. In other words, if you want to use US Airways miles to fly on Lufthansa, you would call US Airways to book and also look at the US Airways award chart to determine how many miles the ticket would cost you.
With that out of the way, let's talk about OneWorld. Here's the bad news about this – I covered the Star Alliance first because it's the easiest. They offer three easy to use tools which are all more or less comprehensive. OneWorld, on the other hand, requires you to look in different places depending on what you're trying to do.
So let's go through the various tools I use when searching for OneWorld award space.
American Airlines' Website
American's website is great at searching award space for travel on American Airlines. While their website doesn't display award availability for any of their partner airlines, I find them to have one of the most accurate and flexible award search tools among any US airline for finding space on their own flights.
When you're on American's website just click on the "AAdvantage" tab on the top and click on "Redeem Miles." On the next page click on "Redeem Now," and it will let you start searching for space. You don't even have to be an AAdvantage member!
The search tool allows you to switch between coach, business, and first class, and also allows you to search an entire month at a time, all at the click of a button. When you're on the results page just click on the "Show Full Calendar" button at the top right and you can see 30 days worth of availability within seconds.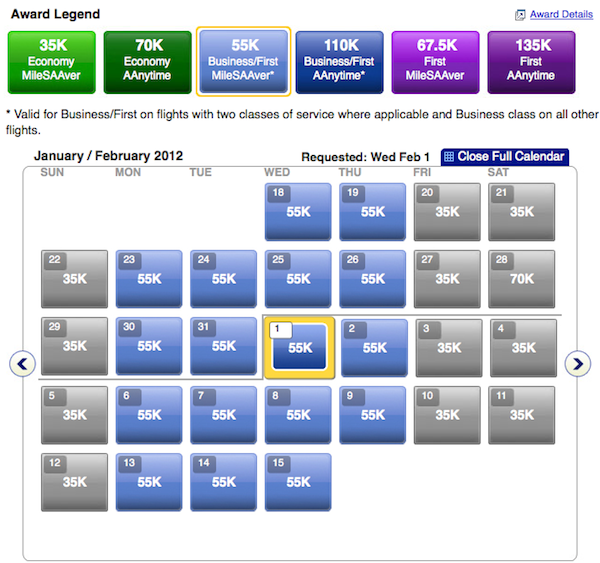 Make sure, however, that you focus your search on "MilesAAver" awards, as these are the low level, saver award tickets. "AAnytime" awards, on the other hand, are double the price, so stay away from those.
"MilesAAver" Availability you find through American's website should also generally e bookable by any of their partner airlines. In other words, if you find MilesAAver award availability through American, British Airways should also have access to those seats.
British Airways' Website
British Airways' website is hands down the most thorough and accurate, though unfortunately it's an absolute pain to use. First of all, you'll have to be a member of Executive Club to use the tool. You can become a member here and it only takes a minute or two to join.
Once you're a member you'll need to click on "Executive Club" on the top right, and then in the drop down menu on "Spending BA Miles." From there on the center of the page on the left you have to click "Book Using BA Miles."
This brings you to the main search page, which looks simple on the surface, because it simply asks you to enter your origin, destination, and preferred class of service.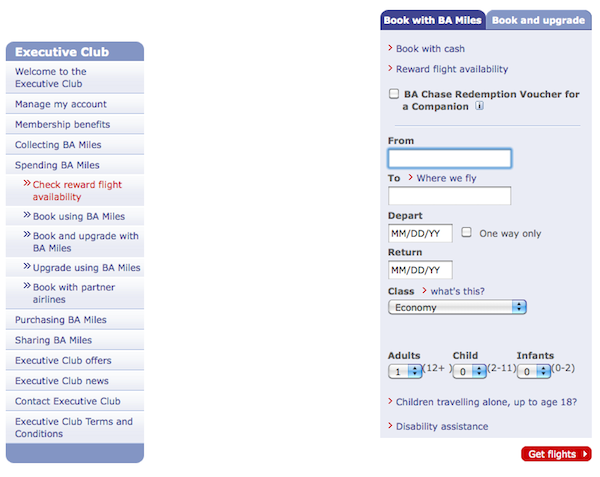 But here's what makes the system so tough to work with – if there's award space on British Airways, they'll only display that to you. Yes, even if they see award space on OneWorld partner airlines, they won't show it to you unless there's no space on British Airways, so you have to trick the system. Some might say that makes sense given that the airlines would rather fly you than pay someone else to fly you, but the issue is that they typically charge substantially more to fly with British Airways than a single one of their partners. Purely as an example, travel in first class on British Airways from Chicago to Hong Kong via London costs 360,000 miles, while it only costs 150,000 miles if you were to fly Cathay Pacific direct.
Anyway, back to the actual search tool. Once you're on the page where you enter your origin and destination, I suggest searching segment by segment as much as possible to get the most accurate results.
So to put this into an example, say you want to search one-way award availability from Chicago to Hong Kong in first class on February 1 of next year. You would enter your origin, "ORD," and your destination, "HKG." Then in the dropdown menu you would select "first class," and then click "Search."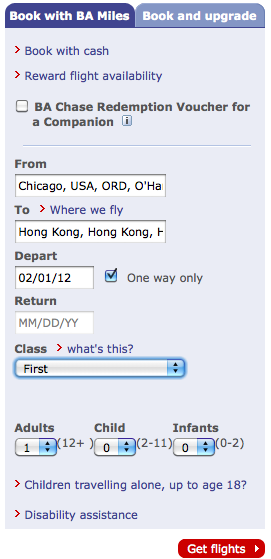 The next page might say "Choose Your Stopover," and if it does, just hit "continue." It will only let you choose London as a stopover, which isn't a practical option unless you want to fly British Airways.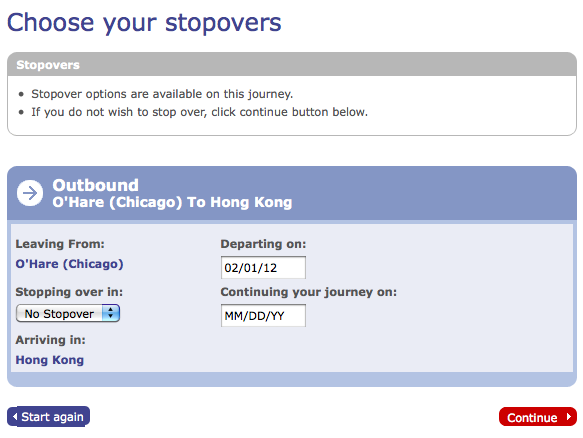 On the results page you'll see there's an option, though unfortunately it's on British Airways through London. I preferred space direct to Hong Kong on Cathay Pacific.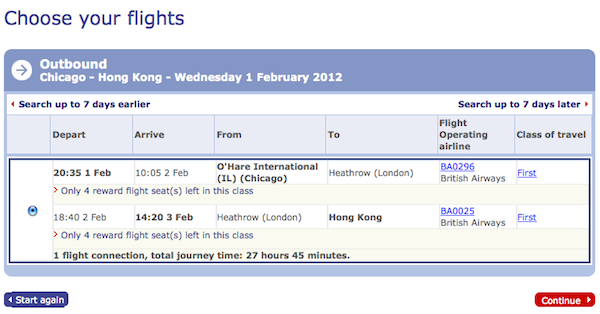 So how do you get it to display that space? There are a couple of options. As you'll see on the search page, there's a link that says "Search 7 days later" When I click that, I notice that the next date with availability is February 4. That means British Airways has no availability on February 2 or 3, so if I search those dates it should display me Cathay Pacific availability, if there is any.
So at this point click "Start Again," and then enter the same information as you did earlier, except for February 2 instead.
Again you'll get the "Choose My Stopover" page, so just click "continue" on that page. We previously knew that British Airways didn't have any award availability, so as you'll see, it will display a calendar with award availability for you.
You don't want to fly British Airways in this case, so on the left side you should see a tab that reads "Partner airlines." Just click the "Search" button that appears immediately below it.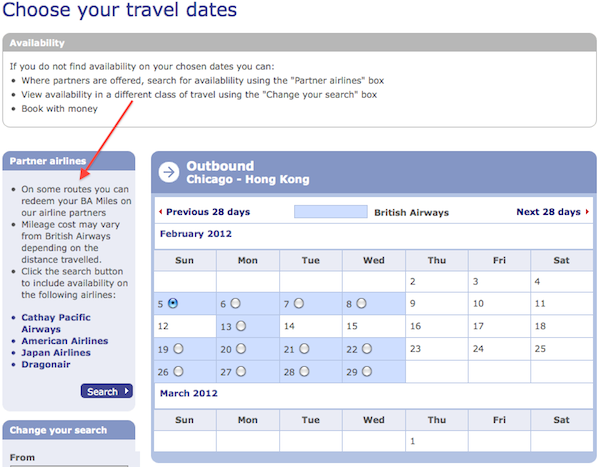 Once you do, you should notice two first class award seats on the nonstop Cathay Pacific flight.

Once you're "in" the partner system, you can continue using it by just clicking "search 7 days earlier" or "search 7 days later," both of which will now display partner award availability, if there is any.
So as you can see it's a rather time consuming process. The one other "trick" to minimize the chances of British Airways showing you their space is to always search for roundtrips, and have one direction be during a busy travel period where British Airways likely doesn't have their own award availability. That should maximize your chances of being offered space on a partner airline.
Qantas' Website
Qantas' website returns more error messages than you could ever imagine when searching for awards, though other than that is quite useful. In order to use Qantas' award search tool you first have to be a member of their frequent flyer program, which can be done here.
Once you're a member simply log-in on the main page using your frequent flyer number, last name, and PIN. Once logged in you should see the option of choosing between "Flight Bookings" and "Award Bookings." Click the "Award Bookings" tab, and type in your origin and destination. Be sure to click the box that says "Flexible with dates" to maximize the results you get.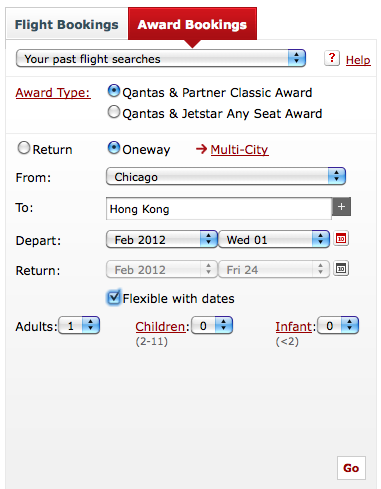 Once you click "Search" you should see a calendar view of availability. By default the website shows only coach award space, so along the top you'll have to check the box for "Business" or "First," depending on which cabin you desire.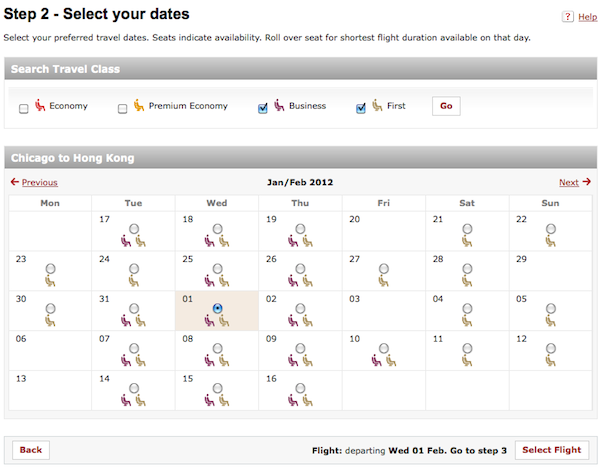 Using the same details as earlier (first class from Chicago to Hong Kong around February 1), you'll notice that the calendar returns a lot of dates with first class options – as a matter of fact, only a few dates on the calendar don't have first class available. With that in mind you can click on each individual date, and then at the top click on the "Select Date" link again if you want to see what award availability looks like for a different date. Keep in mind that these aren't all nonstop flights – some might route you through Tokyo, some through Shanghai, or some through other gateways in the US.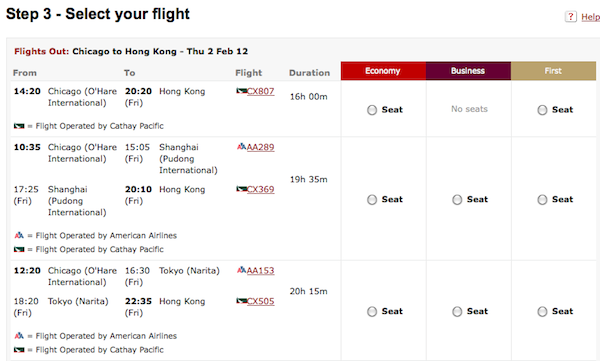 The problem I have with the website is that half the time I get error messages, so if you can get a "smooth" experience, consider yourself lucky. One other thing worth noting is that for whatever reason they display more Iberia award space than American Airlines and British Airways have access to. Dozens of times I've seen the Qantas tool show Iberia business class award space, while it's not really there. Other than that, both the British Airways and Qantas tools display just about all the OneWorld airlines, so are equally useful depending on which interface you prefer.
ExpertFlyer.com
While you can ultimately search all OneWorld award availability for free, I should mention ExpertFlyer (which is a subscription service), which I sometimes find useful for searching OneWorld award availability. Once you're logged in simply click on "Awards & Upgrades" at the top left, and then you can search award availability on a few different OneWorld airlines, and even some of their partners.
ExpertFlyer displays Qantas award space, and they allow you to search a week at a time (you can search any date plus or minus a week). Since the British Airways and Qantas tools are pretty clunky, this is my preferred method for searching Qantas award availability.
On a sidenote they also display award availability for travel on Air Tahiti Nui and Alaska Airlines, both of which are airline partners of several OneWorld airlines. So while they're not technically part of OneWorld, this is a good place to search for space on them.
There you have it, that's my rundown of OneWorld. Much like last time, if you have any questions let me know and I'll get to them as soon as I can.
Related posts:
Maximizing Awards Using American AAdvantage Miles
Use American AAdvantage Miles for Etihad First Class
Best American AAdvantage Miles Bonus Offers Available Now
How to Find Star Alliance Award Seats
How to Book a "Crazy" Award Routing
If you enjoyed this, please follow TravelSort on Twitter, like us on Facebook or become a Member to be alerted to new posts.