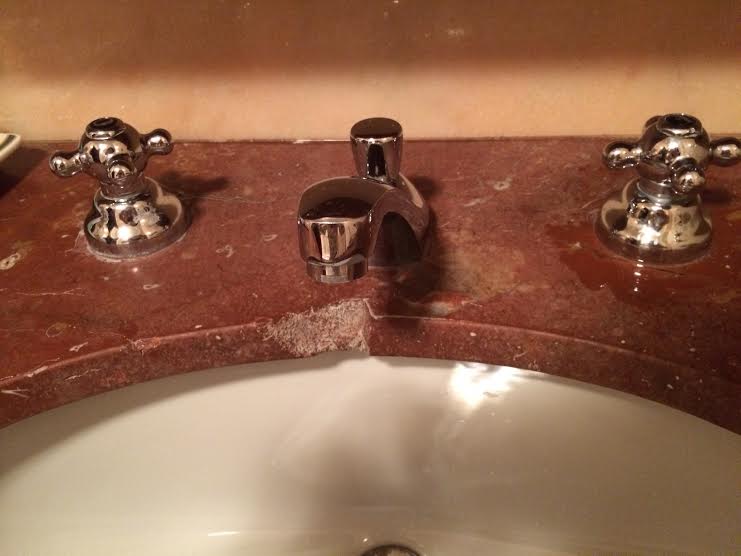 How do you complain to a hotel to remedy a room problem or service failure? Should you even bother complaining if your stay is short or the problem is actually not the hotel itself, but other guests, a power failure, or another externality? How about if your hotel stay is an award stay instead of a paid stay, or at a significantly discounted rate?
A TravelSort reader writes: "I redeemed 45,000 SPG points for a short 2 night stay at [Starwood European Hotel] and received a Premium Deluxe Room without a view, which is fine for our family. The room, however, has a visibly damaged vanity top. Is this acceptable, or am I being picky?
Not looking forward to spending a lot of valuable time complaining and moving rooms on such a short stay, and we plan to be out most of the day sightseeing. What would you do in this situation?"
Before I get to my actual response to this reader, here are my general tips for how to complain to a hotel so that your complaint is addressed:
1. Focus on Issues the Hotel Can Resolve
If there's a general power outage in the area (e.g. downtown NYC, during Hurricane Sandy) then there's really no point in complaining to the hotel, which is likely just trying to keep all its guests as safe as possible while Con Edison works on restoring power.
On the other hand, even problems caused by other guests, such as a rowdy party going on next door that prevents you from sleeping, is something the hotel can and should resolve by sending security up to get the neighbors to be quiet. And of course room maintenance, cleanliness and staff service levels are all core issues that the hotel should be made aware of and address.
2. Pick Your Battles: Be Reasonable
Hotels run the gamut from basic motels to luxury 5-star resorts, and so do guests, from those who regardless of hotel type just want a place to sleep, to those who will run a finger over the top of a wardrobe to check for dust. That said, I would definitely take into account the type of hotel you're booked into and the level of inconvenience you experienced before devoting time and energy to a complaint, especially while on a short stay.
Being reasonable also applies to the compensation, if any, that you request. A bit of dust somewhere does not warrant a free night, but the hotel will probably be willing to move you to a better cleaned room.
3. Be Polite But Firm
Put yourself in the manager's shoes: would you be more inclined to help a guest who is polite to you and brings up a key maintenance or service issue, or one that appears to be a chronic complainer who seems to be never satisfied and is a cheapskate simply angling for an upgrade that s/he would never pay for?
You're more likely to reach a satisfactory resolution to the problem(s) you experienced if you're very clear and succinct in describing the problems and present them politely, but with a firm request for resolution and/or compensation.
4. Complain Early and In Person
If you encounter serious room or service problems at a hotel, you don't want to wait until after your stay to write a complaint letter–you have a much better chance of getting your issue addressed if you bring it to the hotel's attention right away, as soon as you notice it.
5. Complain to the Right Person
Unless you can easily resolve your issue with the relevant department (for example simply requesting more towels from housekeeping) I recommend going in person to the front desk, and asking to speak with the front desk manager or manager on duty about your complaint. Since the manager may not be immediately available, it may take a few minutes of waiting or a need to come back later that day, but you're more likely to get the help you need, since front desk associates are often limited in terms of their authority to make things right.
6. Tweet if the Hotel Has an Active Twitter Presence
Some hotel chains, such as Starwood and Hyatt, have especially good and responsive Twitter presences. It can help to tweet both the hotel (if it has its own Twitter account) and @SPG for a Starwood hotel or @Hyatt Concierge for a Hyatt property.
Back to this reader's question about the chipped marble vanity. The hotel in question is a 5-star luxury hotel, and this reader is staying in a room costing 500 EUR per night. While I think it's reasonable to expect the vanity to be in better repair, it's not something I would personally take the time to complain about, if everything else about the room was satisfactory.
On the other hand, if there were other things about the room, for example if it was not cleaned properly, or if certain other items weren't working well such as air conditioning or tub or sink not draining properly, etc., then I would bring it to management's attention and politely but firmly request a refund of some of the points used to book the stay. It really depends on the issues involved–the key is to be reasonable and proportionate to the inconvenience actually experienced.
As I noted above, when voicing the complaint, I would first ask to speak with the manager on duty, and if the hotel management wasn't helpful, I would also tweet @SPG and the hotel.
What are your tips for how to complain to a hotel? Were you happy with the resolution?
Related Posts
How to Complain to Airlines and Hotels and Get Compensated?
Top 10 Hotel Downgrade Compensation Tips
Need Award Booking Help? Our fee is as low as $75 per ticket if you book your hotel through us.
If you enjoyed this, join 200,000+ readers: please follow TravelSort on Twitter or like us on Facebook to be alerted to new posts.
Become a TravelSort Client and Book 5-Star Hotels with Virtuoso or Four Seasons Preferred Partner Amenities!