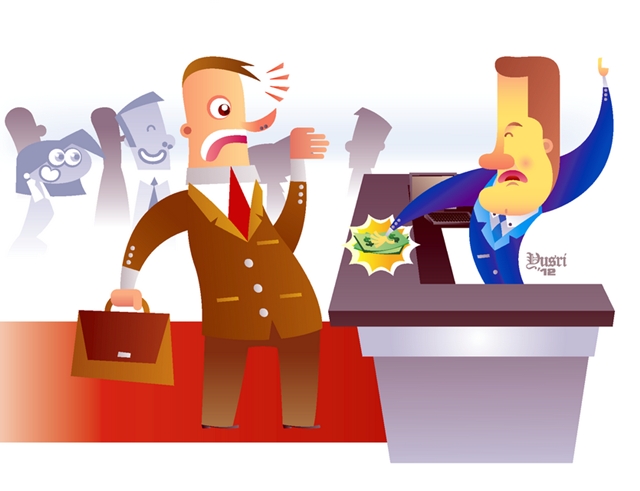 Some hotels get how to respond to complaints and negative reviews. And some just don't. In the second category is an Italian hotel that my clients recently stayed at and had several issues with. I won't go into all the gory details, but let's just take a simple complaint that the maple syrup at breakfast was artificial, at a hotel that markets itself as a 5-star hotel. Here's their complaint:
"Breakfast food quality and service was not in keeping with a luxury hotel; for example, the syrup was artificial maple syrup rather than pure maple syrup, which a true luxury hotel would offer."
And the hotel's response: "We are surprised by the comments about breakfast food quality since our breakfast is generally highly appreciated by our international clientele as many guest comments and reviews show. I am also attaching pictures about the maple syrup showing it is an original product made in Canada."
There are several problems with this response:
Non-responsive to the client's complaint: the complaint is of an artificial maple syrup product instead of a 100% pure maple syrup, and the hotel's response fails to acknowledge the client is absolutely right. In fact, the label that the hotel sends specifically indicates that the mixture is sugar water, with just 6% actual maple syrup in it. It's irrelevant that the product is "original" and "made in Canada"–there are a ton of other "original" and "made in Canada" foods that also aren't worth eating, not to pick on Canadians, since the same is true everywhere.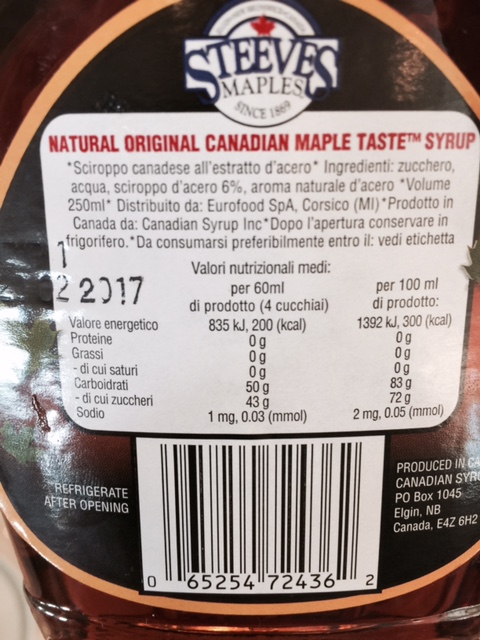 Fails to acknowledge other guest comments that corroborate the client's complaint; a few other guest reviews state:

"breakfast is chaotic and not much more than a regular buffet-staff have attitude and are inattentive"

"most luxury hotels…make your eggs as you like them included in the price, the [hotel] charges 4 EUR for a boiled egg"

"breakfast was fairly typical of this type of establishment…good, if not great"

"Restaurant serves average food in a country where food is way above average–disappointing"

"Food quality average"
Defensive, with no apology or empathy shown towards the guest's experience
In contrast, here is an example of a true luxury hotel response from Four Seasons Firenze when I wrote regarding a sculpture my son had made during a kid's activity, and that was never found. First, my email:
"Dear

Four

Seasons

Firenze

Concierge Team,
We stayed at the hotel July 8-9, and my son participated in a kids' sculpture activity on July 8. He made a star and a soccer player, which were to be sent to our room after they had dried and hardened.
Unfortunately, they were not delivered and were not found by the time we had to check out on July 9. The front desk promised to send them to us at our home address after they were found, but so far we have not received anything and my son keeps asking about them.
Could you please follow up and see if they were found, and send them to us at: [address]"
And here's the hotel's reply:
"Dear Mrs Stockton,

We have been delighted to welcome you and your son in July.

I sincerely apologise for the late reply regarding your son sculpture.

We have followed up internally but unfortunately we were not able to locate the sculpture. It was shocking news to hear this and we truly apologise.

It is never been our intention to create such confusion and we have certainly followed up internally to make sure this does not happen again.

If possible, please let me know if your son is a soccer fan. we would like to make it up to him with a new shipment to your home address.

My sincere apologies once again and please consider myself at your full disposal for any future assistance."
This is the kind of response you hope to receive, and here's what it gets right and why it works so well:
1. Sincere and Specific Apology for the Disappointment
The Four Seasons apologizes for taking a couple of days to respond, and for not finding my son's sculpture. Contrast this to the first Italian hotel, which does not in any way apologize for the client's disappointment with the breakfast quality or the artificial maple syrup.
Even in a less clear cut case, where the client is disappointed with something such as the hotel's decor that could legitimately be enjoyed by other clients with a different aesthetic sense, a hotel should always at least acknowledge the disappointment, by saying something such as "I'm very sorry to hear of your disappointment with [client's disappointment]…."
That way, at least the client (and other potential guests, if the response is posted on TripAdvisor or another review site) hears that your hotel does care about a guest's disappointment. Just about the worst thing you can do is deny the client's disappointment or claim the client shouldn't have been disappointed.
Another thing to keep in mind is that you want to be as specific as possible. While it's tempting to cut and paste a generic response to every bad review, don't. do. it. It's insulting to the guest who took the time to provide feedback, and is as bad or worse than not writing anything, since it screams loud and clear "my hotel doesn't care enough to actually improve things for guests, we're just in damage control mode."
2. Acknowledgement of What Went Wrong and Steps the Hotel Took to Rectify the Issue
Acknowledging what went wrong is just as important as apologizing for the disappointment. While it's not easy for most people and companies to take accountability when they mess up, it's crucial in any effort to save a client relationship and to encourage other potential guests to look past a scathing review.
In fact, in one survey, over 80% of respondents indicated that an appropriate management response to a bad review improved their impression of the hotel, while over 60% said that an agressive or defensive management response to a bad review made them less likely to book the hotel.
3. Plan to Ensure the Same Disappointment Does not Occur for Other Guests
In addition to taking responsibility for the problem we experienced, the Four Seasons Firenze indicated that an internal follow-up was done to ensure the problem doesn't happen again.
4. Goodwill Gesture
Most guests appreciate a goodwill gesture by the hotel, which is why I always recommend discussing major stay issues with the Manager on Duty and if needed, escalating to the General Manager if the Manager on Duty isn't able to resolve it. You're most likely to be able to salvage a stay this way, and hotels also prefer to try to help you at your time of stay rather than receive a 1 or 2 star review on TripAdvisor after the fact.
Depending on the nature of the issue, the hotel can then try to fix the problem, move you to a different room if your issue is with something in your room that can't be easily fixed or changed, or provide some kind of goodwill gesture.
In the case of the first Italian hotel, if it had truly been a 5-star hotel, it would have not only admitted that the maple syrup was artificial and apologized for the disappointment, it would have procured some pure maple syrup and presented it to the guest at breakfast.
Even luxury hotels are in the competitive hospitality industry, and many potential guests consult their TripAdvisor and other online review sites, family and friends that have stayed, and their travel advisor when deciding where to stay. Client feedback is a valuable way to improve a hotel's product and service offering in this competitive environment, and many prospective clients do take the time to read hotels' responses to negative reviews.
As I wrote to the first Italian hotel, "I am grateful for client feedback, as I'm sure are you, since it enables us to provide better service." Unfortunately it doesn't seem that hotel shares this view, given the highly defensive nature of its reply. I can't recommend a hotel with this kind of arrogant attitude towards guests; in fact, my client mentioned that they specifically did NOT contact the hotel's Guest Relations Manager based on the tone of the letter they received in the room, after their complaint. While some mistakes and issues are inherent to running a hotel, a hotel that truly cares about guests will respond in the ways I mentioned above and always seek to improve, instead of further antagonizing the client.
If you've ever complained or negatively reviewed a hotel, were you satisfied with the hotel's response?