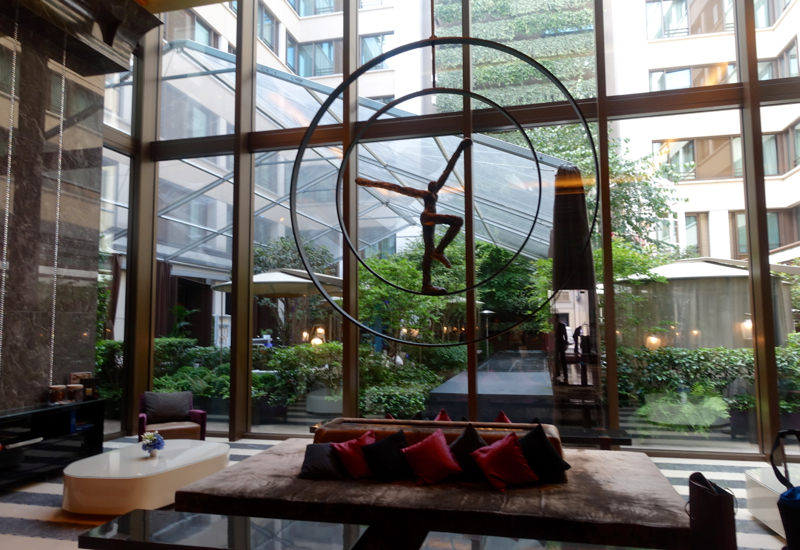 This Mandarin Oriental Paris is a hotel review I've wanted to do for some time now. It's one of just 16 French hotels with the "Palace" designation, awarded to recognize the finest 5 star hotels. The Four Seasons Hotel George V, Paris also has this designation, which is well deserved, although so does  the Park Hyatt Paris Vendome, which in my view is not at the same level either in amenities or service standards. Clients have also enjoyed the Grand-Hôtel du Cap-Ferrat, a Four Seasons Hotel, just 30 minutes outside Nice and a little over 1 hour from Cannes, on the French Riviera.
But back to this Mandarin Oriental Paris review. For the prior posts in this Paris trip report, please see:
Review: Pur' Paris Restaurant, Park Hyatt Paris
Hotel Review: Park Hyatt Paris-Vendome
La Cuisine de Philippe Paris Review
Review: Paris Muse Discovery Walking Tour for Families
TravelSort Clients enjoy these Mandarin Oriental Fan Club benefits when reserving stays at the Mandarin Oriental Paris:
USD 100 Food & Beverage or Spa Credit, per room per stay
Daily full breakfast for two persons
Complimentary High Speed Internet Access during stay
Personalized welcome amenity
One category room upgrade, subject to availability at time of check-in
There's also a special Fan Club offer now, until December 28, 2016, offering a guaranteed upgrade at time of booking (room to room or suite to suite category). Note that September 3-October 8 travel dates are excluded, so you would need to be staying prior to September 3 or from October 9-December 28 to take advantage of the confirmed upgrade at time of booking.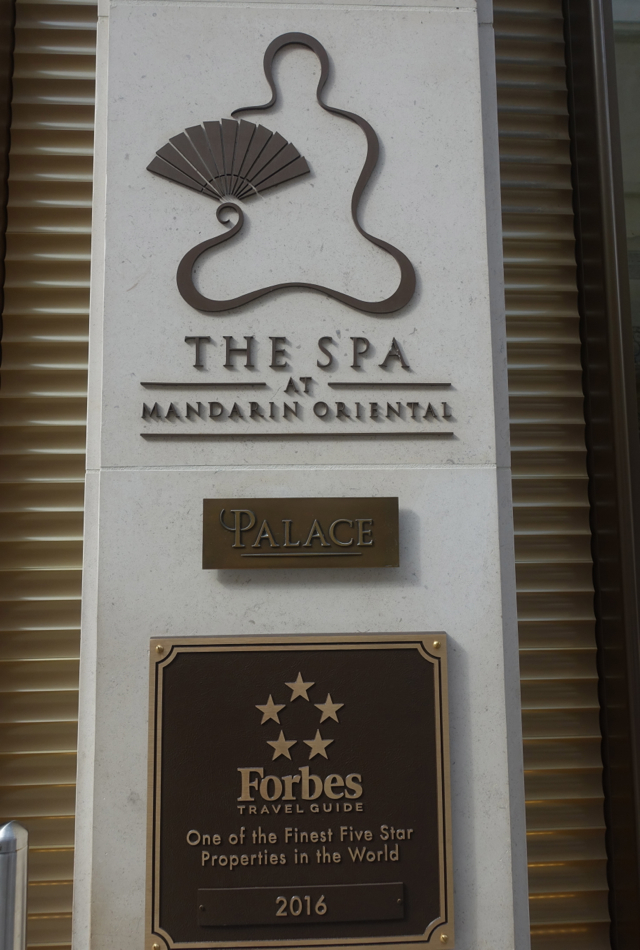 Mandarin Oriental Paris Location and Check-In
The Mandarin Oriental Paris is located at 251 rue Saint-Honoré, about a 15 minute walk to the Louvre, and a 12 minute walk to the L'Orangerie Museum or to the Opera Garnier, with its magnificent Chagall ceilings. If you're arriving on the RER B from Paris CDG Airport, take the RER B, then transfer to the RER A at Chatelet les Halles and take it to Auber. The Mandarin Oriental Paris is about a 10-15 minute walk from Auber Station.
The closest Paris Metro stations to the hotel are Metro Station Concorde (lines 1, 8, 12), just a 4-5 minute walk from the hotel, and Metro Station Madeleine (lines 8, 12, 14), about a 6-8 minute walk.
We simply walked over from the Park Hyatt Paris, about an 8 minute walk away given we had our luggage with us. We were warmly welcome, and even offered a glass of champagne, which I declined since it was still late morning and I was focused on getting to our next destination–our lunch at La Cuisine de Philippe.
Unfortunately our check-in seemed to take a long time, but that was at least partially my fault, since the front desk was apparently doing its best to speed up the final checks on our room, and I hadn't told them that we needed to leave for the restaurant. Once I did explain this, they profusely apologized and escorted us to the bellman to ring for a taxi (which we later ended up ditching due to horrible midday traffic–we got there on the Paris Metro, far faster).
Here's the central lobby, by the front desk–very comfortable seating, so much so that some fellow Americans who had been on a red eye flight had a young son who nearly fell asleep on the couch before being roused to go to their room.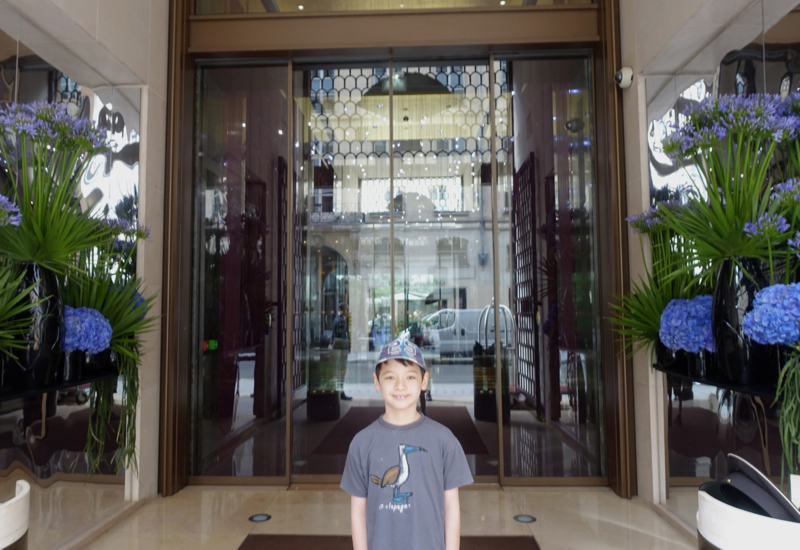 Mandarin Oriental Paris Mandarin Room
We were booked into a Deluxe Room (420-474 square feet), but the hotel kindly upgraded us to a Mandarin Room (452-560 square feet) and added an extra bed for my son, which was appreciated, even though we are usually ok sharing a king bed. Mandarin Rooms overlook the Garden Courtyard, so while there were no city views, we enjoyed a great night's sleep. I also liked that the room had much better natural light than the rooms we've been in at the Park Hyatt Paris, which are too dark for my taste.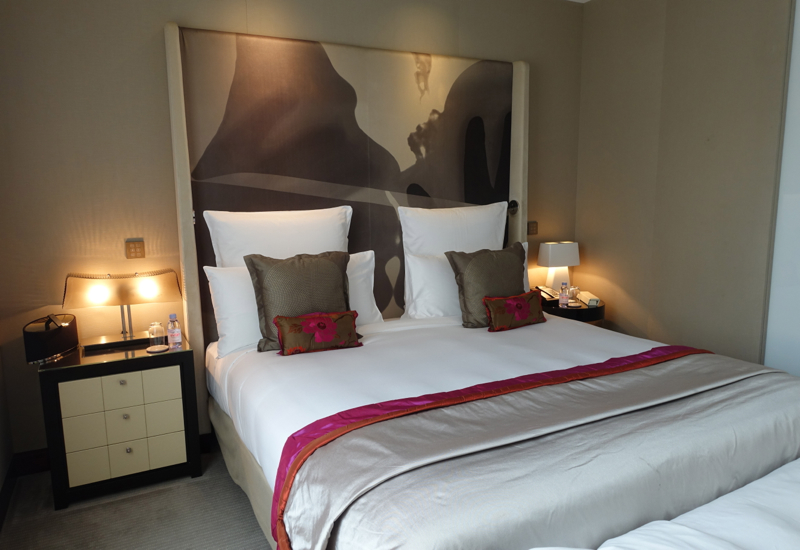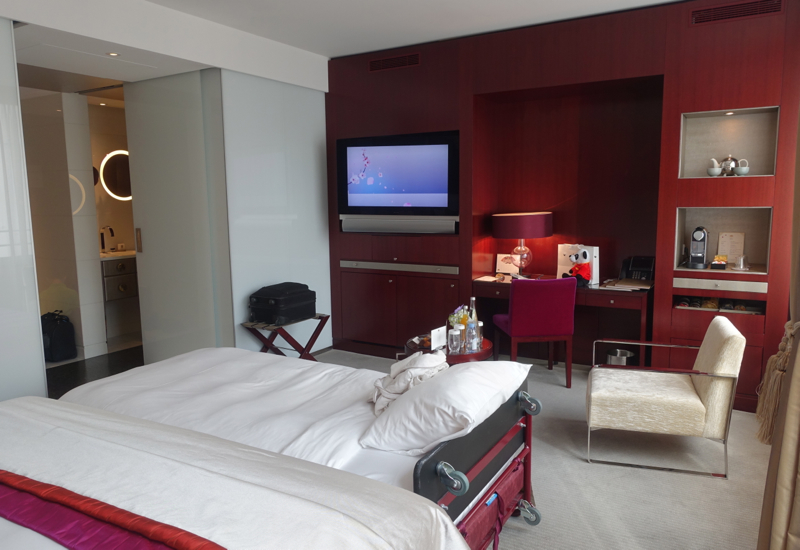 I was especially happy to see some lovely welcome amenities on the coffee table for us: not only Evian bottled water (which is all we were given at the Park Hyatt Paris) but also some fantastic Alain Milliat Passion Fruit Nectar that was only very slightly sweetened (in fact it was too tart for my son) but which I loved. I swear the hotel must have researched me to know how much I enjoy passion fruit.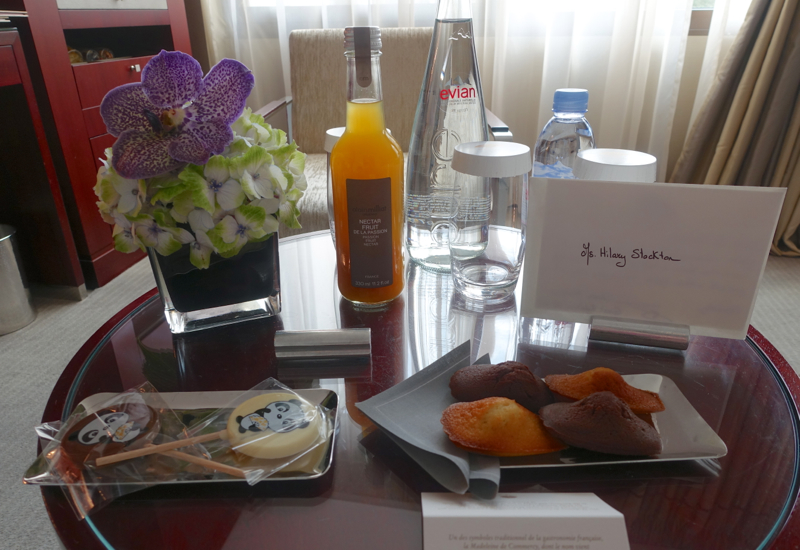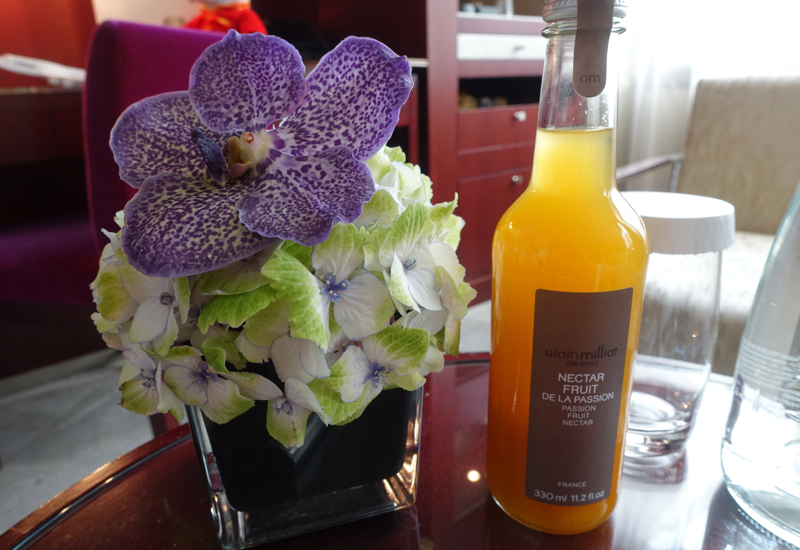 There were also some scrumptious madeleines, both vanilla and chocolate: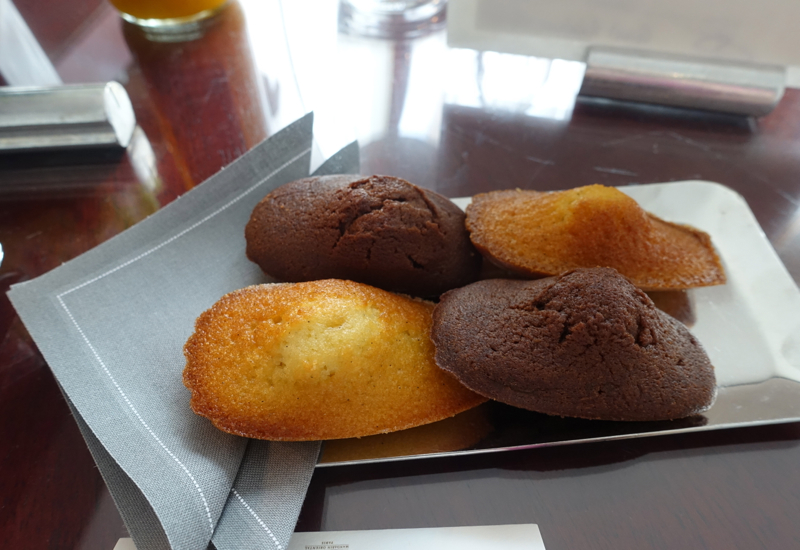 And my son was happy to see a Mandarin Oriental plush panda for him, along with his very own Frette bathrobe and slippers: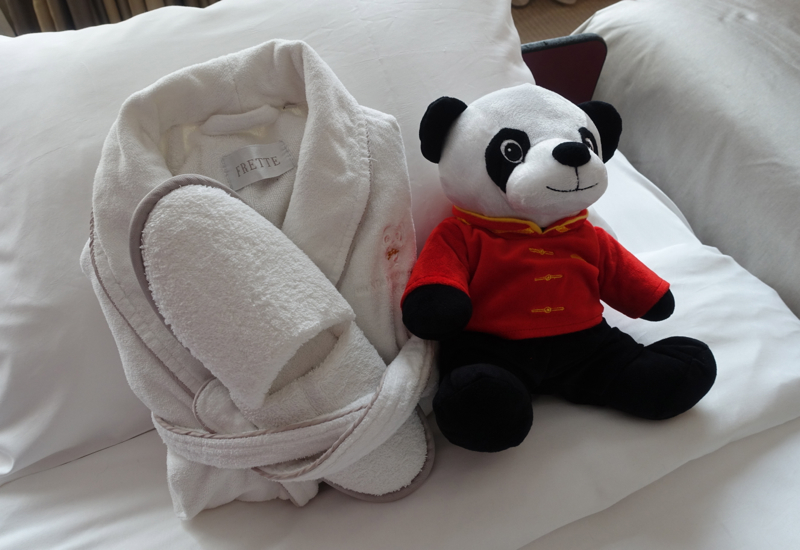 There was also a Nespresso Machine, although we didn't have occasion to use it, though I definitely would have on a longer stay.
The bathroom features dual vanities with his and hers sinks across from each other, and these were nicely supplied with diptyque amenities and other toiletries (shaving kit, comb, cotton balls, etc.). The vanities in our room were on the left upon entering.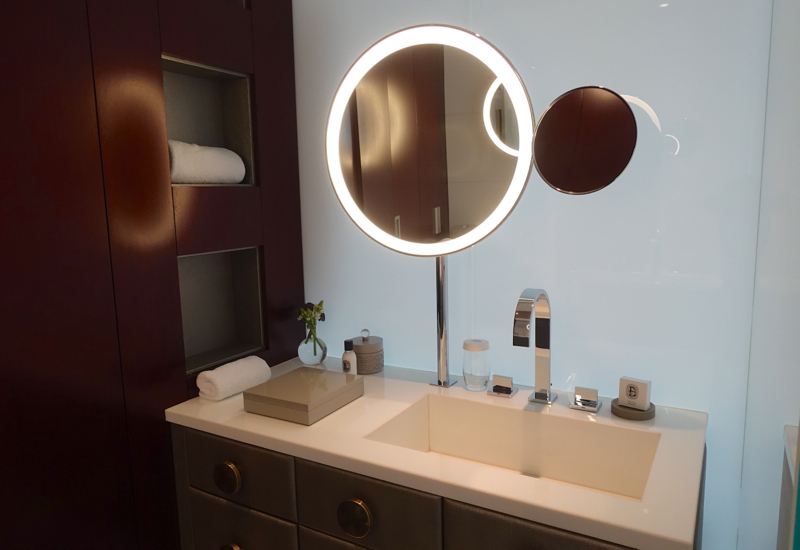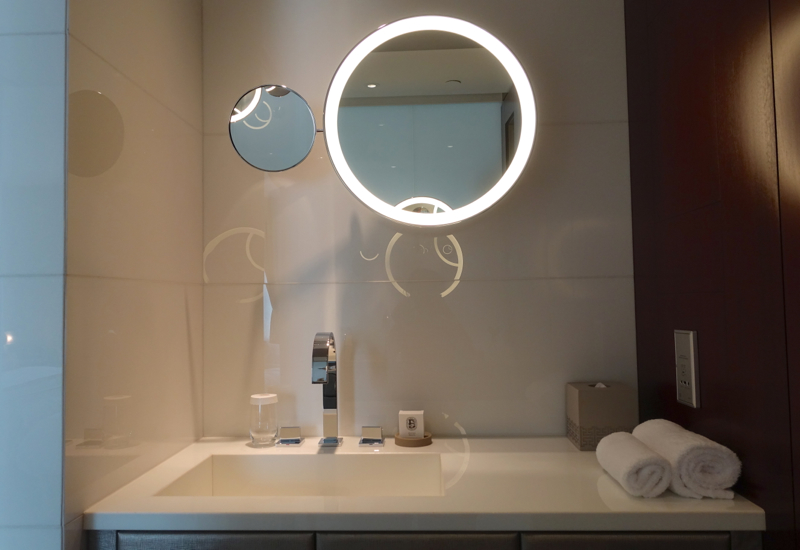 On the right after entering was the main part of the bathroom, with a deep soaking bath on the left and a mirror with embedded TV: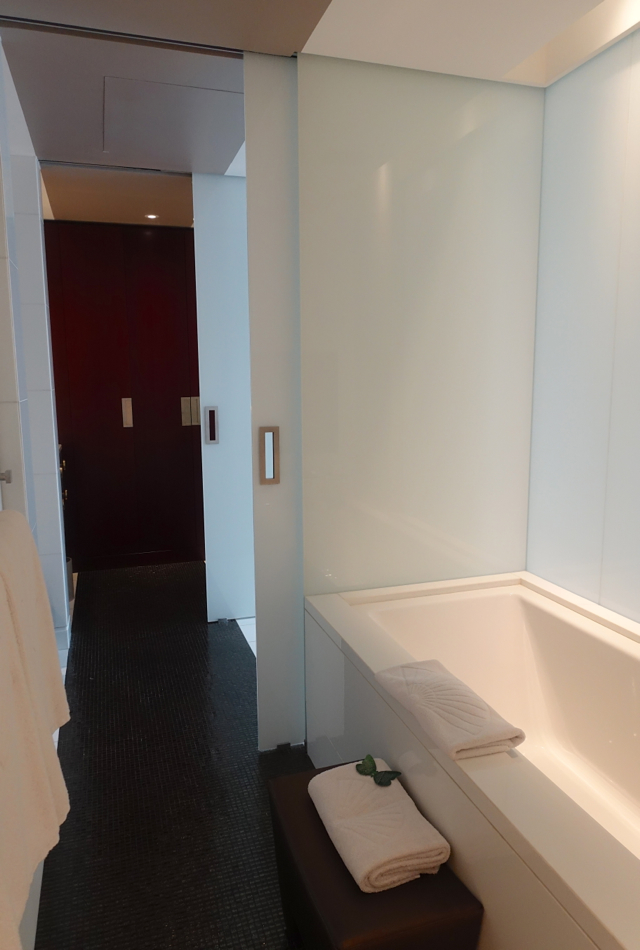 Across from it was a separate toilet chamber: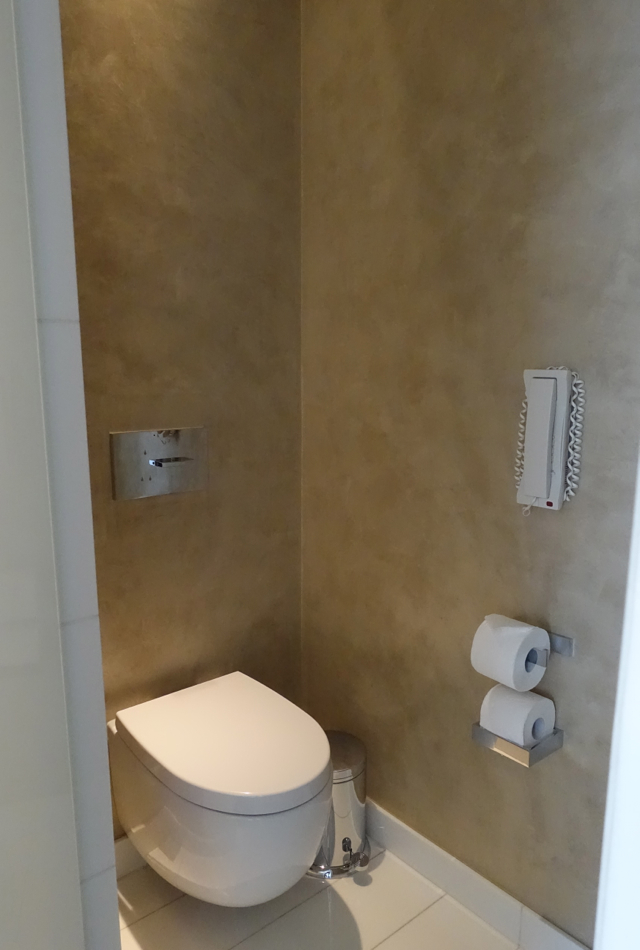 And past the bathtub was a large walk-in rain shower: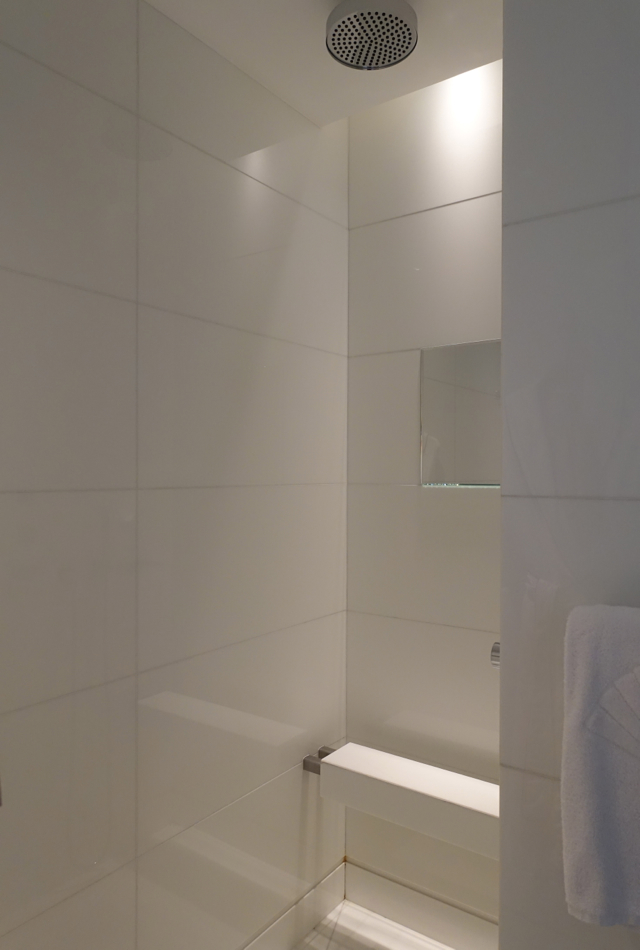 The diptyque bath products smelled great and just as importantly, are free of any phthalates, parabens, sodium laureth sulfate, and artificial colors, which are all too common in even many "luxury" bath products.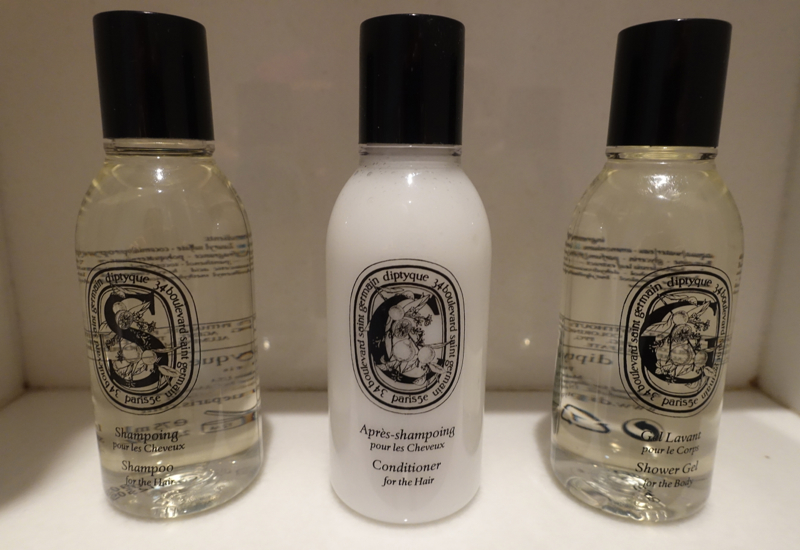 Mandarin Oriental Paris Swimming Pool
One of the amenities we most look forward to in luxury hotels is a swimming pool, and thankfully, the Mandarin Oriental Paris has a large swimming pool in its spa area. It was thankfully a large enough pool that adult swimmers were able swim and relax apart from my son's antics.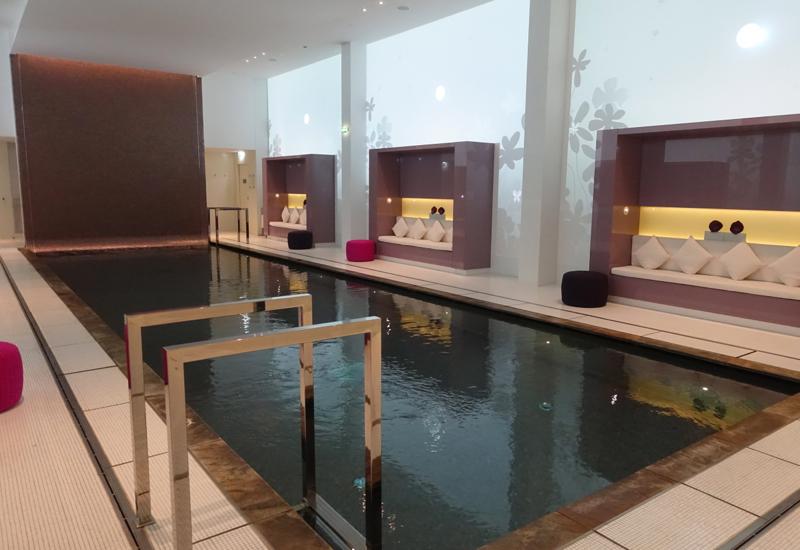 Mandarin Oriental Paris Restaurants
The Mandarin Oriental Paris offers several dining options, including Sur Mesure Par Thierry Marx, with 2 Michelin Stars–I'll have to try it in the future.
Sur Mesure Par Thierry Marx is open Tuesday – Saturday for lunch 12noon – 2pm and for dinner 7:30pm – 9:30pm. As with most of Paris' finest restaurants, it has an annual closure, which is July 24 – August 23 in 2016.
Camelia is the hotel's all-day dining restaurant, open for breakfast starting at 7am, and also serving lunch and dinner until 11pm.
Bar 8 serves cocktails and snacks 11am – midnight Sunday and Monday, and until 2am Tuesday-Saturday.
Cake Shop serves pastries 11am – 8pm daily.
The Verdict
For clients who want to be walking distance to the Louvre, L'Orangerie, Opera Garnier and Tuileries, I recommend the Mandarin Oriental Paris. I much prefer the rooms to the Park Hyatt Paris, and the service and amenities, while not quite at the level of the Four Seasons Paris (I did feel the communication at check-in could have been better, and the doorman should in my view have advised us to take the metro from the outset, instead of waiting so long for a taxi that then became mired in traffic) is still at a higher level than the Park Hyatt Paris, where the Concierge on our prior visit completely messed up our dining reservation, reserving us at a restaurant that was in fact not open that night. I'm also of the view that a true luxury hotel in Paris should have a full size swimming pool, which the Mandarin Oriental Paris, Four Seasons George V Paris, The Peninsula Paris, Le Royal Monceau Raffles Paris, etc. all have.
There's also the matter of welcome amenities, and the Mandarin Oriental truly personalized our welcome amenities to ones we'd like (passion fruit drink and madeleines for me, cute lollipops and a cuddly plush panda, child size bathrobe and slippers for my son…compared to the Park Hyatt Paris Vendome, where the only amenity was bottled water.
I also appreciated that the hotel accommodated a late check-out.
If you've stayed at The Mandarin Oriental Paris, what was your experience?
Related Posts
Le Cinq Restaurant Review, Four Seasons George V Paris
Review: Pur' Paris Restaurant, Park Hyatt Paris
Review: Mandarin Oriental Boston
Disclosure: We paid a media rate for our stay. The opinions expressed in this article are mine.
Need Award Booking Help? Our fee is as low as $75 per ticket if you book your hotel through us.
If you enjoyed this, join 200,000+ readers: please follow TravelSort on Twitter or  like us on Facebook to be alerted to new posts. 
Become a TravelSort Client and Book Your Hotel with Virtuoso or Four Seasons Preferred Partner Amenities!