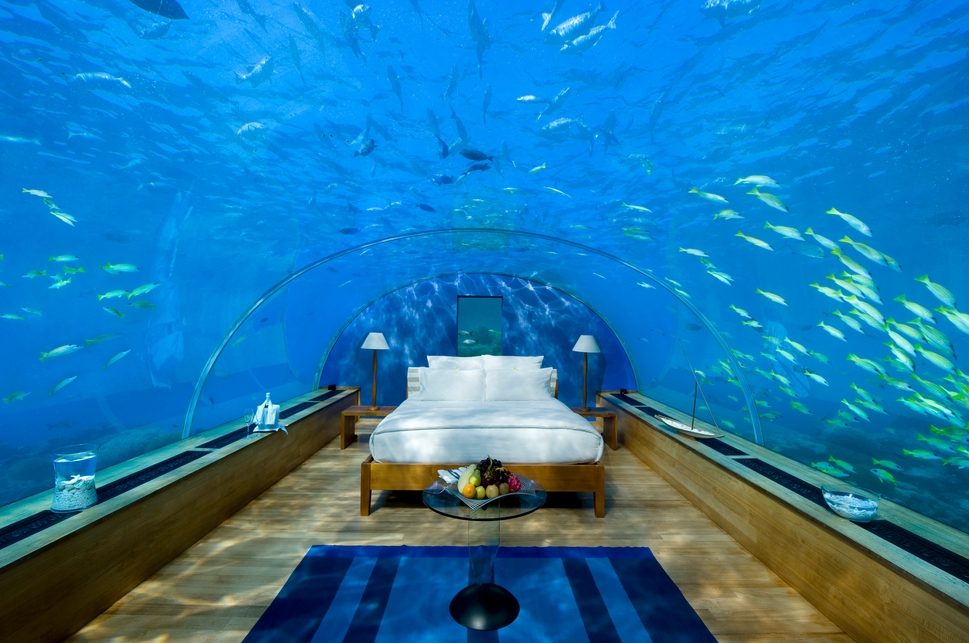 With the recent hotel award chart devaluations from Hilton, Starwood, Marriott, Priority Club and Wyndham, I've been getting quite a few emails about what the changes are, the timeline, future hotel booking strategy, etc. Everyone will have a slightly different take based on the hotel points they've accumulated and their own travel preferences, but here's a FAQ to summarize the changes and help you figure out what to do, by when.
Why All These Hotel Loyalty Program Devaluations Now?
Most of these hotel chains typically implement award chart adjustments around March every year. Often it's simply announcing which individual hotels will be moving up or down a category in the award chart, but this year, for Hilton, Starwood, Marriott, Priority Club and Wyndham it's far more substantial, making the programs a lot less valuable for many members who want to redeem for the most aspirational or high end properties.
The underlying reason is economic. Hotels are filling more rooms more of the time and at higher price points. And unlike airline frequent flyer programs, the hotel loyalty programs market themselves as not having blackout dates. Since the major hotel chains primarily franchise their hotels, they reimburse hotel owners for award nights that are redeemed. The actual amount paid varies both by the category of the hotel and the occupancy of the hotel when it is redeemed, so that an award night redeemed at the Conrad Maldives over New Year's, when the hotel is booked out or at least 95% capacity, is close to the ADR (Average Daily Rate).
Since hotel awards are for the most part very easy to redeem, even for expensive properties, and there are increasing amounts of points in circulation thanks to the cobranded credit cards, the hotel chains are improving their bottom line by devaluing award charts, with the intent to decrease demand for the most expensive award night redemptions and decrease corporate payouts to the hotel owners for these properties.
When Do I Have to Book By to Use the Current Award Chart?
March 4, Starwood: Last day to redeem SPG points at 2012 award chart levels; new award chart in effect March 5. See Starwood Cash and Points Devaluation and FAQ
March 13, Wyndham: Last day to redeem Wyndham points at old award chart levels. Note that Wyndham is positioning its new award chart as decreasing the points required, but that's only possible because a little over a month ago Wyndham drastically increased the points required from 16,000 to 45,000 points for some properties. I'm not a Wyndham person and have already transferred my points into airline miles, back when there was a United bonus.
March 15, Marriott: Last day to book using Marriott's old award chart. The new Marriott award chart will have a new Category 9 at 45,000 points per night, and over a third of Marriott properties will go up by at least one category. Click on the pdf link on this page to see the Marriott properties changing categories
March 18, Priority Club: Last day to ask Priority Club to book your hotel at the rate of the old award chart. The new award chart has 9 categories.
March 27, Hilton: Last day to book using the old HHonors award chart. See Hilton HHonors Massive Devaluation on March 28: Redeem Points Now
How Far in Advance Can I Make My Hotel Award Night Reservations?
Typically, 1 year in advance. That said, it's actually possible to make online reservations at Hilton's Conrad properties over one year in advance online, throughout 2014 and even into 2015. Technically the reward certificates aren't valid so far in the future, but you're able to get confirmation and these will likely get honored (although no guarantee). Since you can only make GLON award bookings online and not AXON award bookings, it would be best to make an award booking of 6 nights to get the 25% discount.
What if I Can't Use All My Existing Hotel Points?
In general hotel points offer terrible transfer rates to airline programs; the one exception is with Starwood Preferred Guest (SPG) Starpoints, where you can receive a 25% transfer bonus with transfers in increments of 20,000 points. Most of the transfers to airline miles are at 1:1, so 20,000 SPG points gets you 25,000 airline miles. Note that it can take 1-2 weeks or even longer in some cases for transfers, so this isn't a good option if you need miles quickly. But back to the question, the terrible hotel point to airline mile transfer ratios mean that this should be a very last resort in terms of burning hotel points.
If you've made all the speculative hotel award reservations you can and think you may use, consider providing gifts to family and close friends, in case their upcoming 2013-2014 travel could benefit from a hotel redemption–you'll at least be spending your points on people you care about. You could also consider donating points to your favorite charity.
And at the end of the day, it's good to have some points left even with the devaluation, in case you need a cheap airport or transit hotel somewhere, as many of the lower end properties haven't increased or in some cases have even decreased on the award chart.
Which Hotel Credit Cards Are Still Worth Getting?
I would focus on the credit cards that award you free nights. In order of value (if redeeming at high end properties):
Is It Too Late to Get a Credit Card to Use Even Pre-Devaluation?
Actually this was my first thought when I heard of the Hilton HHonors devaluation earlier this week. I immediately applied for and got instant approval for the HHonors AMEX (no fee) which will give me access to an AXON award, and I received the card yesterday. I plan to make minimum spend of $750 today and the points will likely post within a week or two, plenty of time to use them towards an AXON HHonors award.
It gets a bit trickier with the Bank of America and Bank of Hawaii Hawaiian Airlines cards, since unfortunately it can take awhile to get the card, for miles to post, and it also takes time to transfer Hawaiian Airlines miles 1:2 to HHonors points. I'll keep readers posted on whether my strategy of getting these cards works out, but you can certainly try it yourself, just be aware there's more risk in getting the bonus miles earned into HHonors points before the March 28 devaluation.
Are Any Hotel Credit Cards Worth Using for Everyday Spending?
Personally I tend to only use hotel credit cards in these situations:
Earn the signup bonus
Spend at the respective hotels, since that is your main category bonus. Don't forget that you can sometimes earn points for dining, even if not staying at the hotel. I've done this at Hyatt, both at The Shop at Andaz Fifth Avenue and at Wall & Water at Andaz Wall Street
Use the SPG AMEX card for OPEN savings on Hyatt paid hotel stays
Use the Hyatt Visa internationally if the machine or business only accepts an EMV chip card. See Best EMV Chip Travel Credit Cards in the U.S.
SPG AMEX card on a non-bonus category purchase, if I don't have any AMEX Prepaid or gift card bought or refilled with the Ink Bold or Ink Plus that I can use. SPG points are the most valuable hotel points, since they can transfer 1:1 to a number of airlines with a 25% bonus. See Starwood Preferred Guest Airline Transfer Partners: Turn SPG Points into Miles
Is Maintaining Hotel Elite Status Worth It in Light of the Devaluation?
I may be the wrong person to ask as I've never viewed it as worth it to do a lot of mattress running for hotel elite status; I'm only willing to do 1-2 max "extra" stays I wouldn't otherwise have. I know many folks will continue to find value in earning SPG Platinum and Hyatt Diamond status, but in my view you'd have to be staying at these hotels a lot for the perks to be worth it, and I view the suite upgrade as most valuable. Sorry, but I can *always* find better breakfast at a more authentic place in any given city than whatever the hotel offers its top elites for free.
If you're U.S. based, there's no reason not to pick up complimentary mid-tier status with a hotel co-branded credit card if you expect to stay at the hotel over the next year. See Is Mid-Tier Hotel Elite Status Worth It?
What Should My Hotel Strategy Be Going Forward?
Ultimately you know best which hotels you prefer staying in and at which price point. This blog is targeted toward those who prefer luxury travel, and this is what I'd recommend:
1. Maximize Point Redemptions Pre-Devaluation
Focus on maximizing your existing Hilton, Marriott, Priority Club and Wyndham points for pre-devaluation redemptions for 2013-2014. As noted above, it may even be possible to book online for some later 2014 and even 2015 stays at certain Hilton properties
2. Use Post-Devaluation Points for Airport Hotels and Transit Stays
Since many of the low end hotels haven't been affected much if at all by the award chart changes, these are good candidates to use for airport hotel and transit stays, especially if you're not using paid stays at these properties to earn elite status
3. Use Free Nights from Hotel Credit Cards for the Top Properties
You can still get a free award night every year with the Priority Club Visa, the Fairmont Visa comes with two free nights at any Fairmont (note though that top properties such as The Plaza in New York are capacity controlled) and the Citi Hilton HHonors Reserve card comes with two free weekend nights that are also good at any property. Hyatt hasn't devalued their award chart, and those two free nights are also good at any Hyatt, including Park Hyatts. And while I don't particularly value Club Carlson, many will find value from the ability to book a two night stay and only pay points for one award night, if you have a Club Carlson Visa.
4. Stay at Non-Chain Hotels
If you enjoy luxury hotel stays, you already know that many of the very best properties are boutique or part of a chain that does not offer hotel loyalty points, such as Aman Resorts, the Four Seasons or Mandarin Oriental. You only live once, so don't constrain yourself to the chains. And if you're a TravelSort member, you can book many of these properties at wholesale prices-contact us if you'd like recommendations for a given destination, or if you also need our award booking service for your trip.
What are your thoughts about the spate of hotel award chart devaluations, and what's your strategy going forward?
Related Posts
Hilton HHonors Massive Devaluation on March 28: Redeem Points Now
Top Hotel Credit Cards for Signup Bonuses, Perks and Spend
Starwood Preferred Guest Airline Transfer Partners: Turn SPG Points into Miles
Is Mid-Tier Hotel Elite Status Worth It?
Need Award Booking Help? Our fee is as low as $75 per ticket if you book your hotel through us.
If you enjoyed this, please follow TravelSort on Twitter or like us on Facebook to be alerted to new posts.
Become a Member to find your perfect luxury or boutique hotel at up to 50% off: TravelSort Hotels