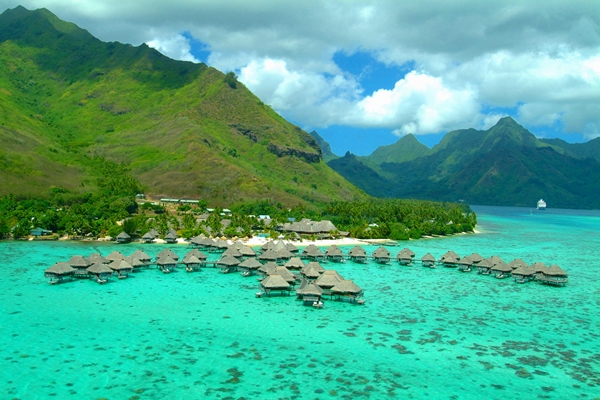 10/15 Evening Update: Although standard reward availability has been restored at resorts such as the Grand Wailea, per FlyerTalk member zowiebowie the French Polynesia resorts, Moorea and Bora Bora Nui, will no longer offer an standard rewards; all rewards going forward will be premium rewards, at over double the previous point cost:
I just called and tried to book a four night AXON stay at the Hilton Moorea. The CSR initially told me that the total for four nights would be 125,000 points, but then when she checked the availability she said there were no standard rooms available, and hence no AXON. She then volunteered to ask her supervisor for help with the booking. After several minutes on hold, she returned and said that the Hilton Moorea no longer offered any standard rooms at all. I asked her to try the Bora Bora Nui, but she said the same thing: only premium rooms at that hotel.
This directly contradicts the single (!) post by a Hilton HHonors representative on the FlyerTalk thread (redacted below):
While rolling out this reward program, we did experience a technical glitch with a small handful of hotels which caused these properties to appear to have no standard rooms. We are working on resolving this issue so that standard rooms can continue to be booked with Hilton HHonors points at these properties. In addition to the three new reward products, Hilton HHonors members can continue to redeem their points to enjoy free standard rooms at the more than 3,750 hotels worldwide with no blackout dates. There have been no changes to the Standard Room Rewards product, allowing members to continue to redeem standard rooms at category one hotels through category seven hotels, like select Waldorf Astoria Hotels & Resorts.
[bolding is mine]
So which is it Hilton? If there are no changes to the Standard Room Rewards Product, why are the Moorea and Bora Bora Resorts directly contradicting this? It seems there are at least a few possibilities:
1. The French Polynesia Resorts made a unilateral decision to get rid of Standard Room Rewards, which is not blessed by Hilton HHonors. If they're able to do this with no consequences, what's to stop other resorts from following suit?
2. The Hilton HHonors representative was either wrong (misinformed) or knowingly being disingenuous; she should have stated that there have been some changes to the Standard Room Rewards product, in that Moorea and Bora Bora would no longer offer these rewards
3. The Moorea supervisor who responded that there is no longer standard reward availability at that property and the Bora Bora resort is wrong, and Hilton still needs to fix the technical glitch
While optimists can hope it is 3., I'm betting it's either 1. or 2.
Your thoughts?
10/13 Evening Update: Apparently there have been some major technical glitches at work. Per Flyertalk member jztravel, here's what he heard consistently from the Manager of Guest Relations for Hilton Corporate in Dallas, the Manager of Hhonors for Hilton Coporate in Dallas and the VP of Hhonors:
"There are some technical issues preventing standard awards from showing at these properties. I have been told it is a top priority for them to have it fixed and they have ensured me that there WILL be standard award availability at these properties on an on-going basis. As can be expected, some properties will only show premium availability if standard rooms are sold out, but rest assured, when the dust settles, standard awards will be available…From what I can tell, Hilton corporate has been working to fix the issue, but since it was isolated to a few properties, the frontlines, including Diamond desk, and the FP properties themselves knew nothing of the issue."
It's still incredible to me that Hilton hasn't done a better job of communicating to its members, and ensuring a consistent message from its frontline reps. Even if they didn't know how to fix it, the message could have been something to the effect of "We apologize for the availability problems; there are glitches in our system and we're working to fix them."
Original post follows:
Hilton HHonors is rapidly becoming a textbook case on how not to "enhance" (aka devalue) your loyalty program. Over the past few days, it's become apparent that a number of Hilton resorts, such as the Hilton Bora Bora Nui Resort and Hilton Moorea Lagoon Resort & Spa in French Polynesia, the Conrad Sanya in China, and the Conrad Maldives, among others, now lack standard Standard Reward redemption as well as "AXON" (discounted reward stays using the Hilton HHonors cobranded AMEX card) and GLON (discounted reward stays for Hilton HHonors elites). Instead, effective October 3, only Premium Room Rewards are available at these properties, effectively devaluing HHonors points for many, especially those who were saving points for aspirational awards at these resorts.
Prior to October 3, bungalows at Hilton Moorea were 50,000 HHonors points per night, and 4 nights were available for 145,000 points as an AXON award, as Hilton Moorea is a Category 7 hotel.
Now, the Premium Reward is 105,822 HHonors points for a King Garden Bungalow Pool, or 127,254 HHonors points for a King Deluxe Garden Bungalow Pool (I couldn't even get the lower King Garden Bungalow room category to appear when running multiple searches on different dates in 2012). So by only making Premium Rewards available, this more than doubles the points previously required, and almost triples the points required compared to the previously available AXON rewards. Also see our prior post How Much are Hotel Points Worth?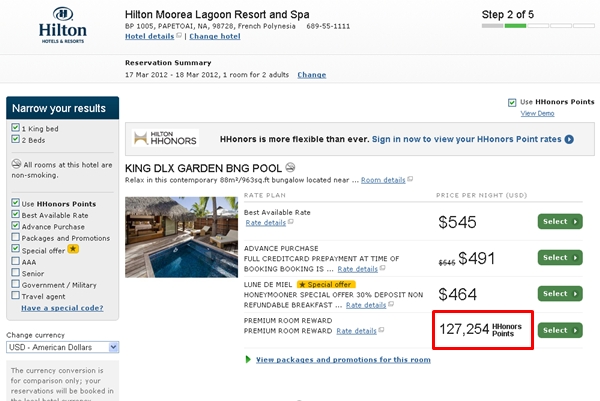 Now, it's still not wholly clear whether this devaluation is all intentional or whether there are some unintended consequences with the introduction of Premium Rewards (more expensive rewards that are available for all dates), but so far the picture doesn't look good.
Here's what FlyerTalk member JasonVR heard back from Hilton HHonors after asking whether some hotels were only offering Premium Rewards, and not making any Standard Rewards available:
Hello Mr. jasonvr,
Thank you for your message to Hilton Reservations and Customer Care. It is my pleasure to assistyou today regarding your concerns with Premium Rewards.
We apologize for the inconvenience this has caused. With the new Reward offerings provided by HHonors, some of our hotels only offer Premium Rewards. Because rooms at some of our Resorts offer additional features or are not standard hotel rooms (i.e. bungalows) all room types for these hotels are now considered Premium Rooms and the point values will now reflect this new change.
[bolding added by jasonvr]
Another member, luv2go, noted that a friend of his who is a Hilton HHonors Diamond saw that there were King Garden Bungalows at the Hilton Moorea available for a paid stay during the dates he wanted, but when he tried to book one using points, he found that there were "no rooms available for redemption." Here's what he heard back from the Hilton Moorea:
First and foremost, thank you for considering the Hilton Moorea Lagoon Resort and Spa, for your next holiday destination. I am very pleased to assist you with your question about room category for reward stay.
The standard room for Hilton redemption stay is the garden bungalow with plunge pool. Also as the Hilton Honors Loyalty program has changed since October the 3rd, only few units are available at the basic redemption level.
However not all travel dates are available as we had already reached the maximum threshold (on specific travel dates), of rooms available at basic redemption level. This is the reason why maybe you may have to book your stay at a much higher points redeemable depending on your travel dates.
Should you need any further assistance, I remain at your entire disposal
[bolding is mine]
So at the very least, there's some inconsistency between what individual resorts are saying and what Hilton HHonors Global is saying. And since there have been reports of all award booking being shut down, it may still be the case that Hilton HHonors execs are sorting through the mess and will backtrack on some of the October 3 changes to provide some level of Standard Reward redemption.
Now, I'm a bystander in all this since I don't even stay at Hiltons or even have an HHonors account, but this does unfortunately illustrate part of why I've never bothered with any hotel point programs, except for Starwood's Preferred Guest Program (which I like for its flexibility and multiple airline partner; see the SPG Airline Partner Transfer Chart).
There's always risk in building up a lot of points up in any loyalty program, airline or hotel, but so far most significant airline program devaluations have not come without warning. Aeroplan gave several months of notice, and provided the new award chart so flyers knew how much awards would increase. British Airways Executive Club Changes are more frustrating, since they have not provided the new award chart, and let flyers and bloggers put 2 and 2 together on the fact that the Oneworld award chart would be devalued, but at least there was a 90 day notice.
It really shouldn't come as a surprise to the Hilton HHonors execs that sudden changes that would make HHonors members pay double, triple or more in points per night for Category 7 properties would have members up in arms, closing their credit card accounts and even calling Hilton HHonors the "Delta Skymiles" of the hotel industry. The changes would have been lambasted regardless, but what really exacerbates this or any similar move is having no lead time. It's all well and good to keep in mind that one should be ready to redeem all miles or points from a dedicated airline or hotel program within a few months, if that program announces a massive devaluation, but what about when the devaluation isn't even announced? While many programs have in their terms and conditions that they own the miles or points (see Think You Own Your Frequent Flyer Miles? Think Again on the WSJ Middle Seat Blog) this is obviously not how members of the programs think of them. While loyalty programs have the legal right to unilaterally make these program changes, doing so without notice or open communication needlessly raises the shackles and squanders the goodwill of many of their most loyal program members.
If you enjoyed this, please follow TravelSort on Twitter, like us on Facebook or become a Member to be alerted to new posts.
Photo: Hilton Moorea
Hat Tip: Mommy Points