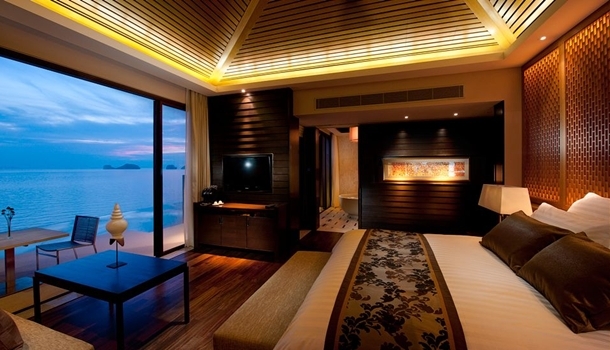 Hilton HHonors has announced a massive devaluation that will take effect on March 28, 2013. How bad is it? Well, as an example, the only Hilton hotel I have any interest in staying at, the Conrad Koh Samui, is going from a Category 7 hotel at 50,000 HHonors points for an award night to a Category 10 hotel at 80,000 HHonors points per award night in February and March, and 95,000 HHonors points per award night the rest of the year.
Yes: 10 categories of hotels instead of 7, and almost double the points for a standard award night at some of Hilton's top properties.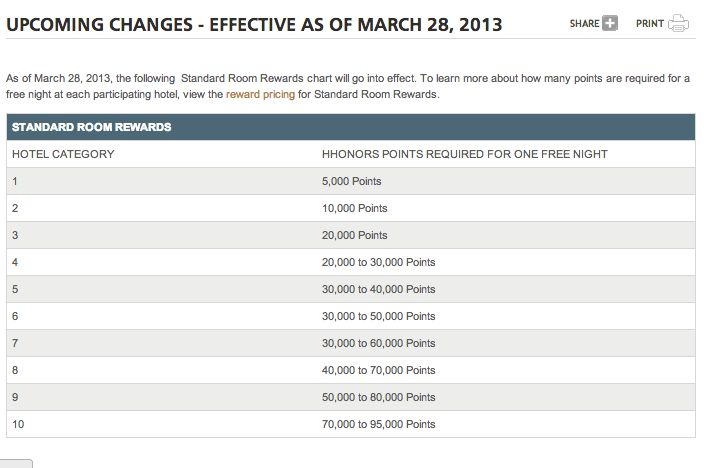 Specifically:
10 Hotel Reward Categories ("to account for all of the new hotels and resorts that have opened…")
Seasonal Hotel Reward Pricing ("amount of points needed for a Standard Room Reward and a Points & Mone Reward will vary during certain times of the year")
5th Night Free ("Members with Silver, Gold or Diamond elite status will get a free night when they book a Standard Room Reward stay of five or more consecutive nights")
Only 3 months ago in Hilton HHonors: Use Citi and AMEX Cards to Maximize Points I ranked the best credit cards to earn Hilton HHonors points with. I didn't have any of these cards, but planned to eventually apply for them, once I had a redemption in mind.
Ironically, this massive Hilton HHonors devaluation has forced my hand. Even though my last credit card applications were in December, I decided to apply for the following cards in order to try to earn and redeem some HHonors points *before* this devaluation. I may well not get all of them in time, but here's what I applied for and why. None of these cards earns me a referal, I'm simply sharing my strategy as someone who currently has zero Hilton points and is trying to earn and burn before this devalution goes into effect:
Bank of America Hawaiian Airlines Business Visa: 35,000 bonus Hawaiian miles after first purchase transfers to 70,000 HHonors points. I specifically was seeking a card that would give me miles after first purchase, in order to maximize my chance of getting the miles, transferring them to HHonors points and redeeming before the devaluation takes effect. $50 per company and $25 per card fees are not waived.
Bank of Hawaii Hawaiian Airlines Visa Signature Card: 20,000 bonus miles after first purchase, and additional 15,000 Hawaiian Miles after spending $1000 in 4 months. 20,000 bonus miles would transfer to 40,000 HHonors points. $79 fee is not waived.
Hilton HHonors AMEX: 40,000 HHonors points after $750 spend in the first 3 months. I'd aim to complete spend in the day or two after getting the card, to try to get the points to post before the devaluation. This a no annual fee card, so I'd keep it and never cancel it to help with average age of account. The key reason to get it is that it allows AXON awards, so that I could use 145,000 points for 4 nights at a Category 7 Hilton hotel under the current award chart, instead of 200,000 points. I'm assuming that AXON awards will go away under the devaluation, replaced by the 5th Night Free for all HHonors elites, although no word on that yet.
If you're sitting on lots of Hilton HHonors points I highly recommend you make some speculative bookings for dates you may use them. Keep in mind that while you'll get the points back if you cancel within the allotted time, any changes or additional award nights you add starting March 28 will be under the new devalued award chart.
What are your plans for HHonors points if you have a huge stash of them?
Related Posts
Hilton HHonors: Use Citi and AMEX Cards to Maximize Points
Need Award Booking Help? Our fee is as low as $75 per ticket if you book your hotel through us.
If you enjoyed this, join 100,000+ readers: please follow TravelSort on Twitter or like us on Facebook to be alerted to new posts.
Become a TravelSort Client and Book Your Hotel with Virtuoso or Four Seasons Preferred VIP Amenities!