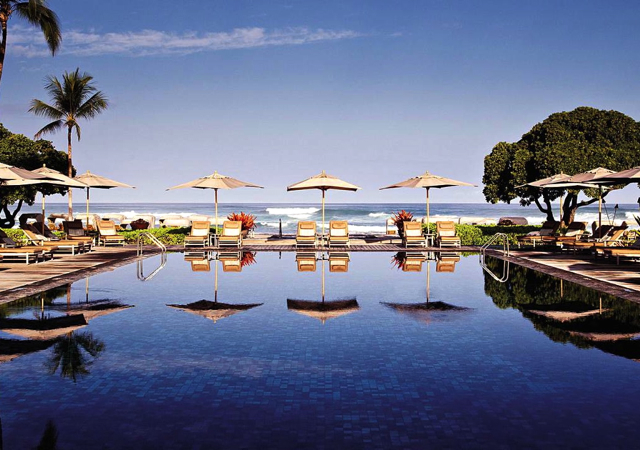 Is Hawaii for Christmas and New Year's a good idea? A TravelSort reader writes "My family and I would like to spend Christmas and New Year's in Hawaii. I know you're from Hawaii, so what's the weather like, and is it a good time to go?"
To be honest, in a word: no. The weather is likely to be fine, as Hawaii's tropical weather goes (expect warm, humid days with occasional passing rain showers) so that's not the issue. Rather, the week before Christmas and after Christmas, including New Year's, is the busiest tourist season in Hawaii, so everything is more expensive and crowded. Here are 6 reasons I would recommend against visiting at this time, along with recommended other times of year to go.
1. Expensive Airfare
It's no wonder that those dedicated to going to Hawaii around Christmas and New Year's make their travel plans a full year ahead. At this point, in May, even an economy class ticket from the West Coast will likely run you over $1000 per person, and over $2000 per person for business class.
Business class / first class is already sold out for many nonstop routes to Hawaii from the East Coast for certain days, and expect to pay over $3500 per person for the nonstop business class tickets that are left. United, for the dates depicted, is charging over $6000. Currently you could get to Bali in Business Class more cheaply, say on Korean Air.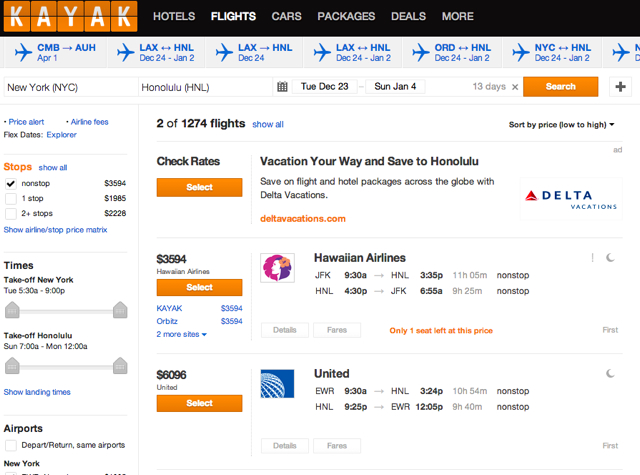 2. Lack of Award Tickets
It goes without saying that the airlines don't release much award space to Hawaii for the holiday period, because they don't have to–they'll sell those tickets. Here's what the award calendar looks like at this point on United for December to January: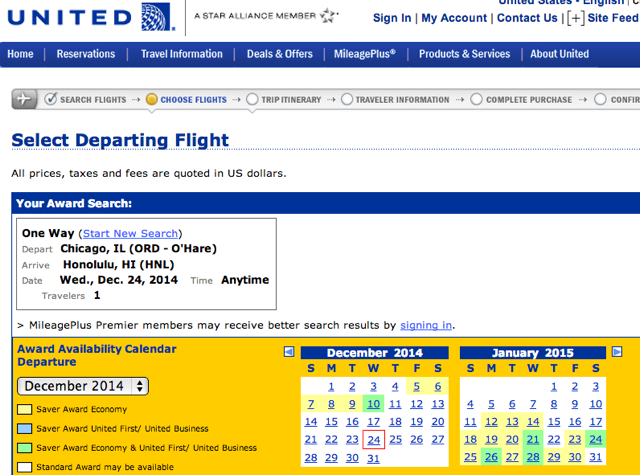 So I would frankly avoid this period for award tickets, if you have any flexibility in when to go to Hawaii. Also see Best Frequent Flyer Miles for Hawaii Award Tickets and Cheap Interisland Flights: Miles and Points or Paid Ticket? for Hawaii award booking tips.
3. Expensive Hotels
Even clients of mine who will happily pay over $3000 per night for the right luxury suite are shocked when they see prices for Waikiki beachfront hotels over the Christmas to New Year's period. For example, suites at The Royal Hawaiian, a Luxury Collection hotel (but a far cry from the quality of the Four Seasons Maui or Four Seasons Hualalai), are over $3000 +tax per night. For the Tower Ocean Suite, that's over $1400 + tax per night more than if you were to book that same suite in, say, October.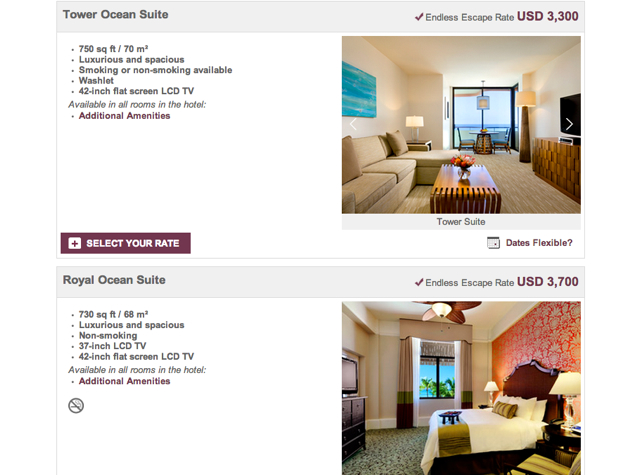 4. 10 Night Minimums at Top Luxury Hotels / Wait Lists You Won't Clear
If luxury hotels in Waikiki are expensive, the top luxury hotels in Hawaii are simply unavailable, even if you try to book a full year in advance.
My top luxury hotel recommendation in Hawaii is the Four Seasons Hualalai, booked with Four Seasons Preferred Partner benefits (See Honeymoon in Hawaii: Which Island and Which Hotels?), and the most popular Hawaii hotel I book for clients is the Four Seasons Maui at Wailea. Both hotels have 10 night minimum stays during the festive period, and in any case, you are very unlikely to be able to spend Christmas and New Year's at either property if you haven't been coming there for years at that time, since repeat guests have priority. A few at the very top of the wait list may clear it, and will be held to booking a minimum of 10 nights during this time. It's simply supply and demand, and no different from some Caribbean properties or, say, Amanpuri in Phuket.
5. Crowds
Waikiki Beach has already been way too crowded for years, in my opinion (and growing up in Hawaii, I can count on two hands the number of times I've been to Waikiki–it really is not typical Oahu). But even outside of Waikiki, at the most popular resorts on Maui, the Big Island and Kauai, you'll find resorts running at full occupancy, with all the inconveniences that entails. Make your dining reservations, spa appointments, golf tee time reservations, etc. far in advance to avoid disappointment. And prepare for more crowded pools, beaches and less attentive service.
6. Many More Kids, Even at Luxury Resorts
Of course, if you have kids, this may actually be a positive as they're more likely to meet kids their own age to play with. But if you're on a honeymoon or anniversary trip and would prefer not to have a ton of kids around, Christmas and New Year's is really not a good time to go since it's also during every school's winter break.
Best Times to Go to Hawaii
If you have flexibility and are hoping to visit Hawaii during a less expensive and less crowded time, late September to early December (excluding Thanksgiving week) is a good time to go. Hotels are often at their least expensive during this time. The downside? Technically it is hurricane season, and it's also not a good time to go if you were hopinig to do any whale watching, since the whales are in Hawaii primarily December to April.
While rates do come down after New Year's, it's still winter time in the continental U.S., Canada and Asia, so rates are higher than you might expect through January, February and March. Schools also have various weeks for Spring Break during March-April, so while any given week won't necessarily be as busy or crowded with kids as Christmas/New Year's, expect to see plenty of families during March-April, and again in summer.
What's your favorite time to vacation in Hawaii?
Related Posts
Four Seasons Maui and Four Seasons Hualalai Preferred Partner: When to Book for the Best Deal
Four Seasons Preferred Partner Benefits
Best Frequent Flyer Miles for Hawaii Award Tickets
Honeymoon in Hawaii: Which Island and Which Hotels?
Need Award Booking Help? Our fee is as low as $75 per ticket if you book your hotel through us.
If you enjoyed this, join 100,000+ readers: please follow TravelSort on Twitter or like us on Facebook to be alerted to new posts.
Become a TravelSort Client and Book Your Hotel with Virtuoso or Four Seasons Preferred VIP Amenities!