On our way back from Hawaii, we stopped a couple nights in the Bay Area to visit some friends, and decided to stay one night at the Grand Hyatt San Francisco which is centrally located right on Union Square, steps from Macy's, Bloomingdales, and other shops, although we weren't in SF for that. We arrived in the evening, and didn't wait at all to check-in. Check-in was fine, if perfunctory–I personally found the Hyatt Regency San Francisco Airport Hotel front desk staff more friendly and welcoming.
We had booked a Bay View Double Room, but of course at night there were no views to speak of–some city lights, but nothing spectacular–so we focused on the room itself.
The two Hyatt Grand beds were very comfortable, with a nice plush pillow top mattress and soft sateen cotton sheets. They took up much of the room, which wasn't huge, at 328 square feet, but still decent by San Francisco standards. Note that double rooms do not accommodate an extra rollaway bed.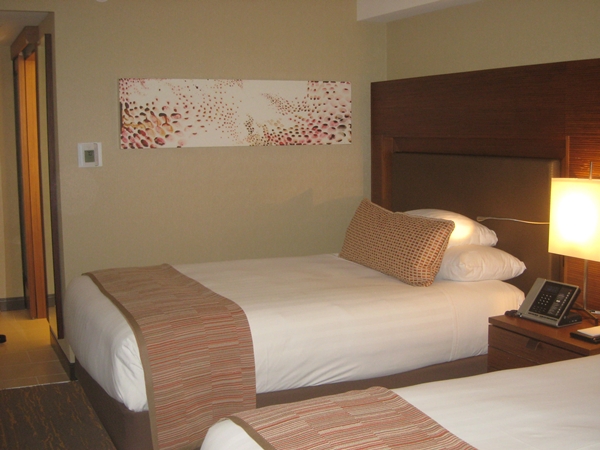 The work desk was large, and while it would have been nice to have a more ergonomic chair, I was able to get about an hour of work done at it without any discomfort. There's a wall-mounted 37 inch HDTV, which we didn't use, but my understanding is that the available channels aren't yet HD.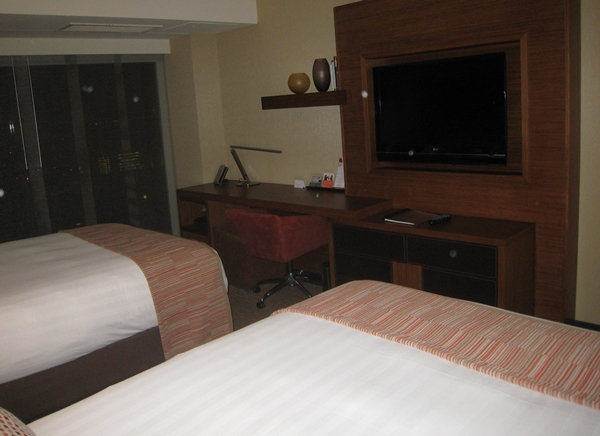 The bathroom was standard, although a bit more nicely designed, than the Hyatt Regency San Francisco Airport, with a custom porcelain sink, but I wouldn't go so far as to call it "spa like" which is how the hotel terms it.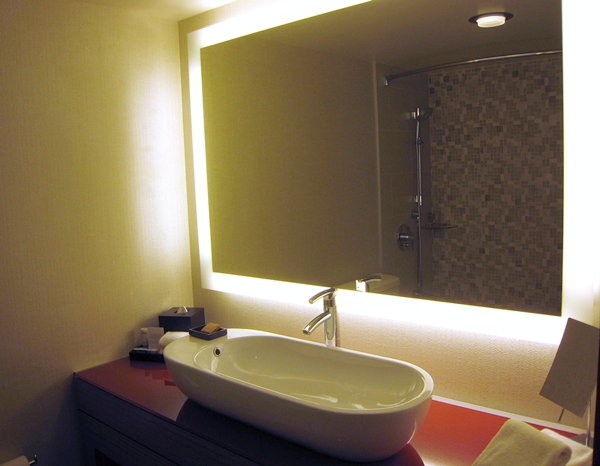 There was a shower-tub combo with Grohe bath fixtures. Water pressure was normal, but not especially powerful, and I would have preferred Westin's Heavenly Bath dual showerhead.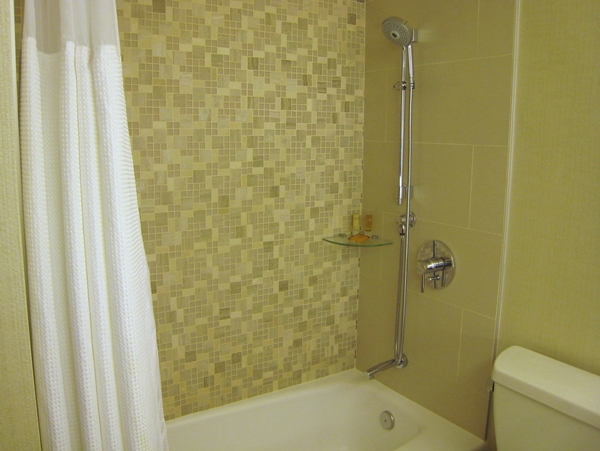 The same Portico bath amenities that are at the Hyatt Regency San Francisco Airport were here at the Grand Hyatt. Although I like the actual smell of white ginger, I personally found these bath amenities to have an overpowering artificial and cloying smell, and recommend you bring your own favorite bath amenities rather than depend on these.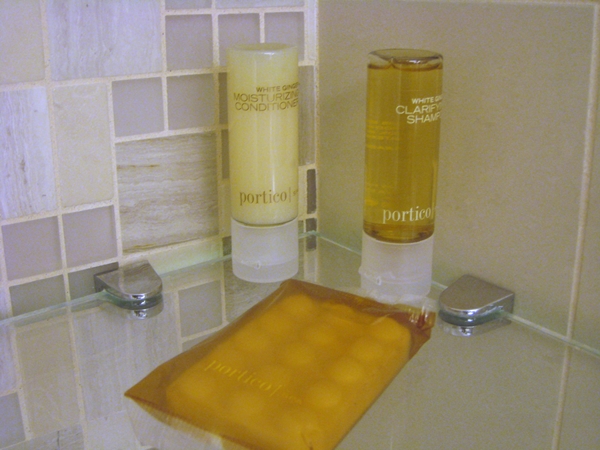 In the morning, we were able to finally enjoy the view. Since there are quite a few buildings between the Grand Hyatt and the Bay, it wasn't the most spectacular view, but it was quite nice, and we were lucky enough to have a clear, sunny day to enjoy it.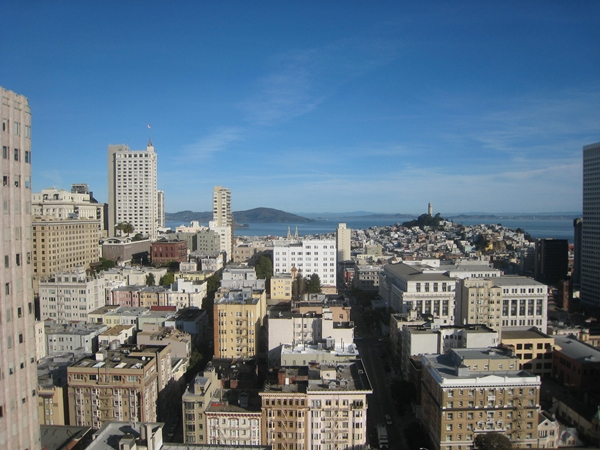 Although we had to get up fairly early anyway, I noticed that housekeeping was already banging on doors before 8am. Granted, this is a business-focused hotel, but even if you put a privacy sign on your door, you might be woken up by housekeeping knocking on neighboring doors–something to be aware of if you like to sleep in.
Verdict: If you want to be in the Union Square area in a newly renovated hotel, the Grand Hyatt San Francisco is a great bet, with its newly refreshed rooms. Book a Bay View Room and request a high floor for the best views. If you or a family member has allergies, there's also the option to book a PURE hypo-allergenic room.
Tip: You can earn 3 Hyatt points per dollar spent at all Hyatt properties with the Hyatt Visa although if you have the SPG Business AMEX, you could instead get a 3% discount on Hyatt spend via American Express OPEN, in addition to 1 SPG point, so you may do better with the latter. The Hyatt Visa gets you 2 free nights at any Hyatt in the world; I recommend saving them for high end properties such as Park Hyatts, however, rather than the Grand Hyatt San Francisco.
If you enjoyed this, please follow TravelSort on Twitter or like us on Facebook to be alerted to new posts.
Become a Member to find your perfect luxury or boutique hotel at up to 50% off: TravelSort Hotels