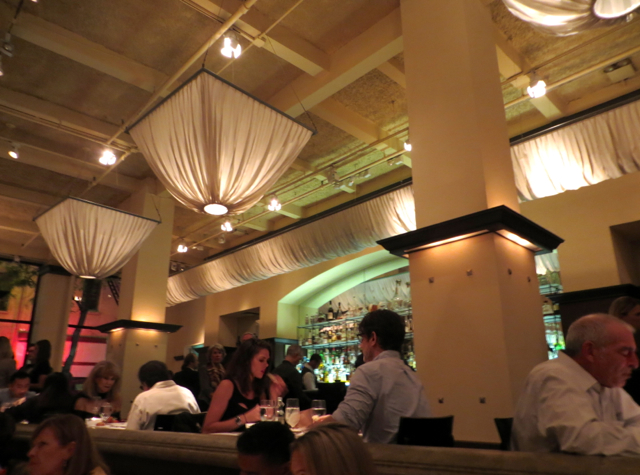 This Gotham Bar & Grill Restaurant Review is one of our many NYC Restaurant Reviews. Visiting New York? See all of our posts tagged NYC.
Getting There
Gotham Bar & Grill, from Chef Alfred Portale, is easy to reach, since it's at 12 East 12th Street (an easy address to remember) near Union Square Park / 14th Street, which is reachable via the 4, 5, 6, L, N, Q, R and W trains. Or, just walk a few blocks over from the 14th Street stops for the 1, 2, 3, or F, P, V trains. You could also walk over from the 14th Street and 8th Avenue stop for the A, C and E trains.
The Scene
Gotham Bar & Grill has a lively buzz, similar to ABC Kitchen, although a more dressed up feel–you won't see any servers (or patrons) here wearing mismatched jeans and workshirts or truly artsy outfits.
My husband did a bit of a double take looking around Gotham Bar & Grill, it was just so…white. Yes, there were a few Asians, but even I had to admit that it was a bit weird just how Caucasian it was, at least when we went for dinner. It was a full house when were there, and tables were close together, such that you could easily overhear neighbors conversations (and I caught my husband grimacing, remarking under his breath that he was sick of the guy next to us throwing in "IRR" at every opportunity).
The Menu
Gotham Bar & Grill has been in NYC for years–I remember being taken here for lunch as part of grad school interviews in NYC over a decade ago. I was a little shocked to see just how much the prices are for dinner, compared to, say, the Tavern menu at Gramercy Tavern.
The Weekly Market Menu was as follows when we dined: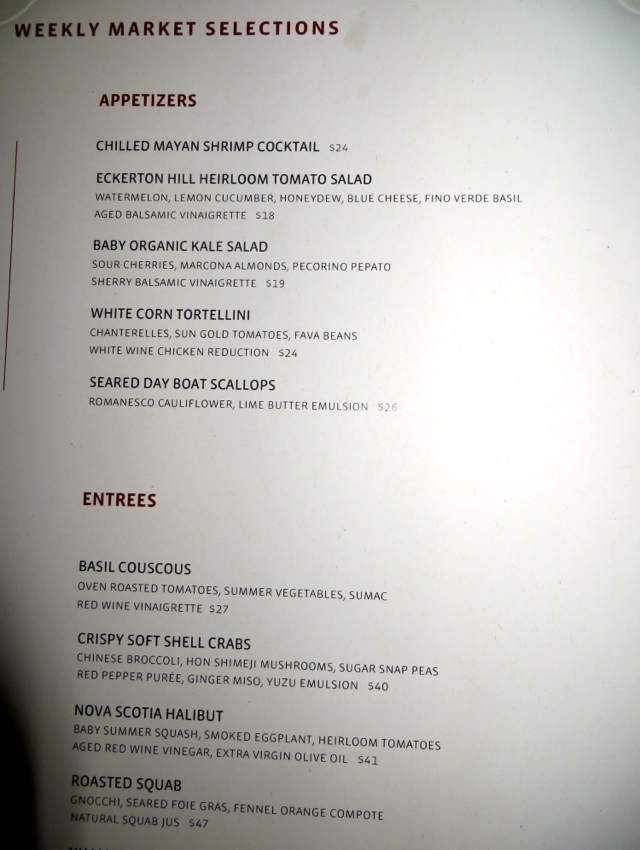 Here are the appetizers from the regular menu: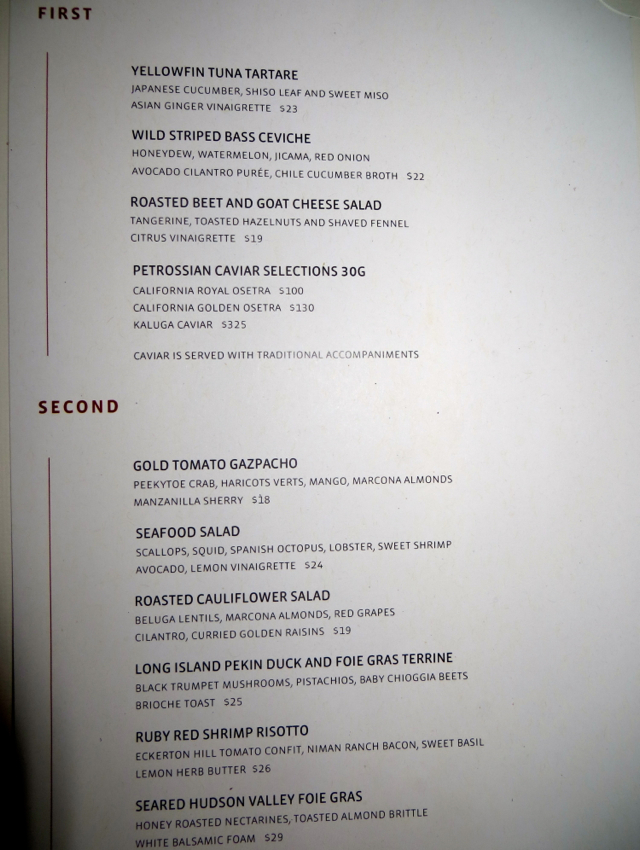 And the entrees from the regular menu: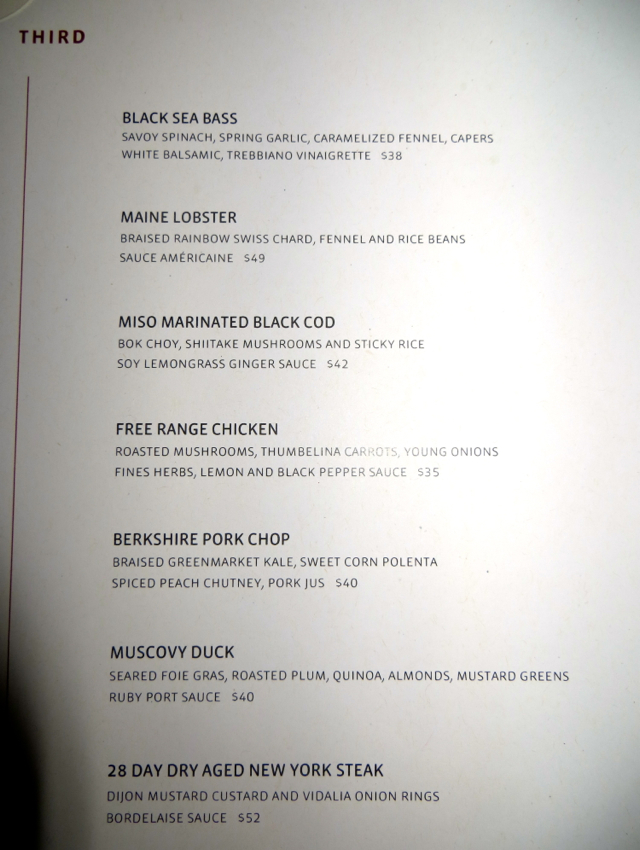 We decided to share the Seared Hudson Valley Foie Gras, which was a good idea given its richness, which was complemented quite well by the honey roasted nectarines, punctuated by toasted almond brittle and white balsamic foam. Nicely executed, but overall not terribly memorable, and have had better both in the U.S. and in France.
Much more impressive, in my view, was my entree of Crispy Soft Shell Crabs with red pepper puree, ginger miso and yuzu emulsion. The yuzu emulsion was the perfect complement to the light and crispy crab. It was easily one of the top 3 softshell crab entrees I've ever eaten, right up there with the Softshell Crab with Kaffir Lime and Chilli that I enjoyed at Thiptara at The Peninsula Bangkok (see 7 Things to Eat in Bangkok)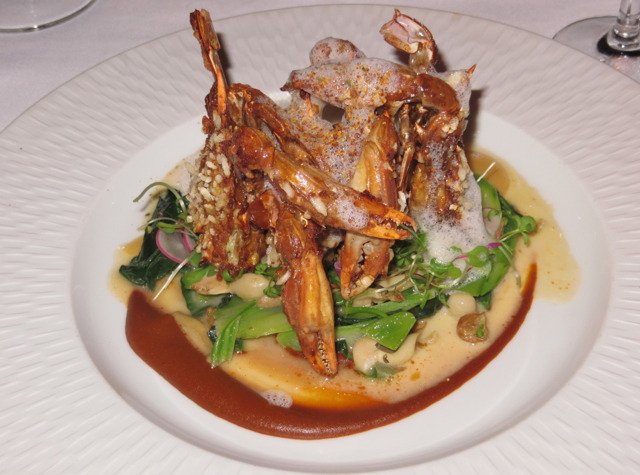 My husband ordered the Berkshire Pork, which, while not as revelatory as the soft shell crab, was excellent: cooked just to medium, flavorful and juicy, with a tender sweet corn polenta and spiced peach chutney: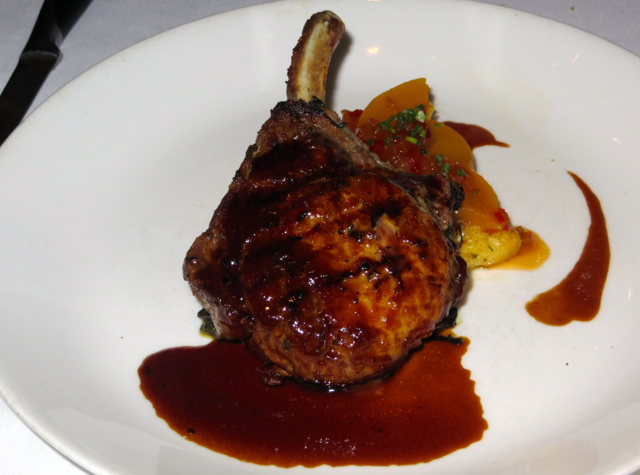 Somehow we were hungry enough, even after our entrees and shared appetizer, to both want to order dessert. Our server mentioned that there was also a special key lime pie for two, but since I don't care for that dessert, we stuck to the regular dessert menu: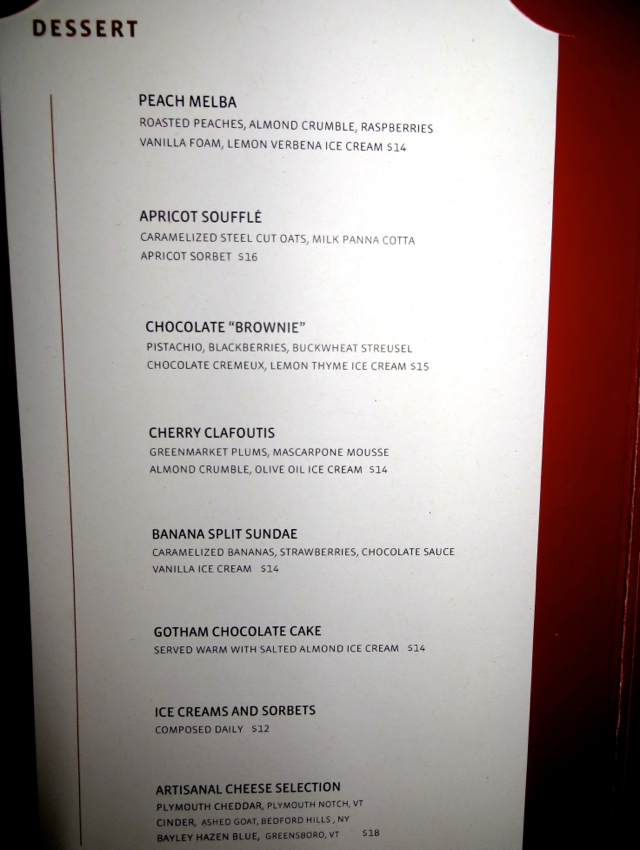 For dessert, I chose the Gotham Chocolate Cake, a moist and very rich cake that came with salted almond ice cream. Simple but oh so good–there's something about dark chocolate and salted almonds that goes so well together.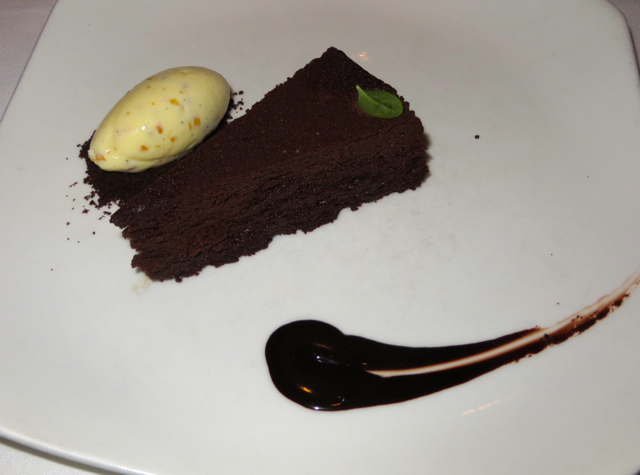 My husband selected the Chocolate "Brownie" which wasn't as simple as you might think, with its additions of pistachios, blackberries, buckwheat streusel, chocolate cremeux and lemon thyme ice cream.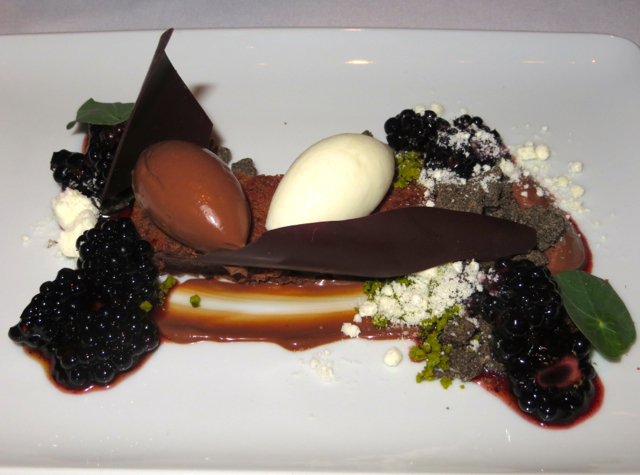 Afterwards, we were brought some housemade financiers (little almond paste cakes): plain, chocolate and pistachio. We brought them home to the munchkin as a special treat.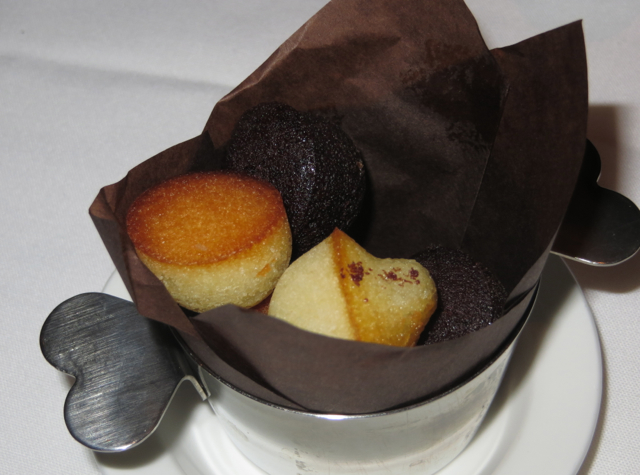 The Service
Our server couldn't have been more friendly and pleasant. He was happy to make recommendations for both food and wine when we asked for them, and while other servers provided our bread and water refills, he regularly checked on us to see how we were doing. When I expressed surprise that the Gotham Chocolate Cake wasn't molten as I had remembered (admittedly from a lunch over a decade ago, so I could well have misremembered) he quickly offered to bring me something else, although I didn't take him up on it.
The Verdict
I was much, much happier with the quality of food and service for our recent dinner at Gotham Bar and Grill than I was for a Restaurant Week lunch last year, which was so forgettable I didn't even bother writing about it. Guess the "A Team" is on board for dinner, and the "B Team" does Restaurant Week Lunch. So, while I cannot recommend it for Restaurant Week lunch, I can recommend Gotham Bar and Grill for dinner, with the caveat that I just don't find it to be good value relative to some other restaurants, such as the Tavern at Gramercy Tavern.
The problem is that you can't make a reservation for Gramercy Tavern, so if you want to avoid a wait and dine well in the Union Square area, the way I see it your choices are:
Gramercy Tavern: Great food, service and value, but no reservations
ABC Kitchen: Great food, distracted to inept service, decent value, make reservations far in advance
Gotham Bar and Grill: Great food and service at dinner (if NOT Restaurant Week), expensive and poor value, make advance reservations
If you've dined at Gotham Bar & Grill, what was your experience?
Related Posts
ABC Kitchen NYC Restaurant Review
Gramercy Tavern NYC Restaurant Review
Eleven Madison Park, NYC Restaurant Review
Where to Eat in NYC: The Best Places New York Restaurants Right Now
Best NYC Midtown Lunch Restaurants
Need Award Booking Help? Our fee is as low as $75 per ticket if you book your hotel through us.
If you enjoyed this, join 90,000+ readers: please follow TravelSort on Twitter or like us on Facebook to be alerted to new posts.
Become a TravelSort Client and Book Your Hotel with Virtuoso or Four Seasons Preferred VIP Amenities!