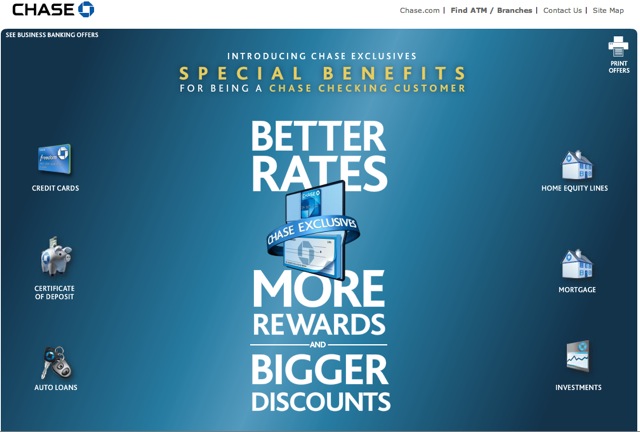 Regular readers know how much I use my Chase Freedom card, thanks to Chase Exclusives bonuses available due to having a Chase checking account: the 10 + 10 bonuses, meaning 10% bonus points per dollar spent plus 10 bonus points per transaction, in addition to the rotating 5X categories. The Chase Exclusives program ended for new cardholders as of 11/11/12 (see Get Chase Freedom Exclusives Bonuses While You Can) but those who already were enrolled in Chase Exclusives before that date were grandfathered in.
Well, unfortunately Chase will be switching everyone, including those grandfathered into Chase Exclusives, to a new less lucrative program: 10% Annual Bonus for all points earned.
Here's why this is a less lucrative program for me and others with similar spend patterns:
I currently use my Chase Freedom card for 2-6 small transactions per day, resulting in about 1000 extra bonus points per month thanks to the 10 points per transaction bonus
While the new 10% annual bonus does give extra points since it applies to the 5X bonus, that's only 200 extra bonus points per month (since I currently already get 10% on base spend)
Assuming the 10% annual bonus also applies to Ulitmate Rewards Mall bonuses, for my spend patterns, that's only an additional 20-50 extra bonus points per month I'm not getting now
Net Result: I would lose 750 or more points per month if my current spend patterns remained constant, for a loss of 9000 Ultimate Rewards points per year.
I first got concerned when I read
this Flyertalk thread
of Chase Exclusive members (grandfathered) who had gotten a letter from Chase. Here's the
letter
DALKOR13 received.
So I called the number on the back of my Freedom card to ask if I was grandfathered in to the current Chase Exclusives, or 10 + 10 program, and would remain in it. The rep assured me that it wouldn't change for me.
I then got it in writing via Secure Message, which confusingly even seemed to imply that I would both stay in the current Chase Exclusives program and also be eligible for the 10% annual bonus:
Secure Message from Chase
Thank you for contacting Chase about your rewards program.
I wish to inform you that if you already have a Freedom credit card and a Chase checking account prior to
11/11/2012, then your account will switch over to the Chase Exclusive rewards program within the regular time
frame of one to three billing cycles.
Card members who have opened a checking account or a Freedom credit card after 11/11/2012 will not switch over to the Exclusive program. It will remain as a Freedom account.
However, from the year 2013, card members having an open Chase checking account, and a Freedom credit card will
earn an additional 10% bonus on all points earned for the year 2013, as long as the checking account is open till
12/31/2013.
As per the rewards program terms, you will continue to earn the following rewards:
1 point per $1 on all purchases
2 points per $1 on travel purchases booked through
Ultimate Rewards, or if the Customer books with a Spanish
Service Specialist (Booking fee is waived for Spanish
Customers)
10% extra points on every dollar spent
10 bonus points on every purchase
5% Quarterly Spending Categories on up to $1500 spent in
categories (Quarterly Activation Required)
You can earn the 10% Annual Points Bonus on all points earned on purchases, including the points earned in
the 5% quarterly bonus categories if they have an open Chase checking account at the end of the year.
If you have any further questions, please reply using the
Secure Message Center.
Thank you,
Well, that of course seemed too good to be true, so I called again. This time, given my persistence in getting a definitive answer, the representative contacted Chase Marketing. And it was the answer I feared: everyone, including those of us grandfathered into the current Chase Exclusives program, is eventually being switched over to the new 10% annual bonus.
The representative did say that I'll be in Chase Exclusives for the rest of 2013, and only switch over to the new 10% annual bonus in 2014, and I asked her to notate that in my account.
FAQ
I'm Currently Enrolled in Chase Exclusives But Haven't Gotten a Letter Yet–Will I Be Switched Over to the New Program?
Yes, eventually. Apparently the switch will occur in batches, the first of them starting on or about April 1, 2013.
Is There Some Way to Remain in the Current Chase Exclusives Program?
Unfortunately, no. Believe me, I tried, since I got oral and written assurances to the contrary, but everyone is being switched over.
Will I Get the 10% Annual Bonus If I Close My Card Before the End of the Year?
No–you must have an open and active Freedom card at the end of the year to qualify for the 10% annual bonus. But since the Freedom is a no annual fee card and only has a 10,000 signup bonus, there's really no reason to close the card–you may as well hold on to it to help with average age of accounts and improve your credit score.
Actually the New Program is Better for Me Anyway!
Great! It's not for me, but if you don't have many small transactions yet do have a lot of spend via the Ultimate Rewards Shopping Portal at high bonus amounts, I can understand you may either be indifferent to or welcome the change.
What are your thoughts about the coming change to Chase Exclusives–better, worse, or the same given your spend?
Related Posts
Get Chase Freedom Exclusives Bonuses While You Still Can
Chase Exclusives Bonuses: Maximize Chase Freedom Ultimate Rewards
Activate Chase Freedom 5X Q1 2013 Bonuses for Drugstores, Gas Stations and Starbucks
Need Award Booking Help? Our fee is as low as $75 per ticket if you book your hotel through us.
If you enjoyed this, please follow TravelSort on Twitter or like us on Facebook to be alerted to new posts.
Become a Member to find your perfect luxury or boutique hotel at wholesale rates: TravelSort Hotels