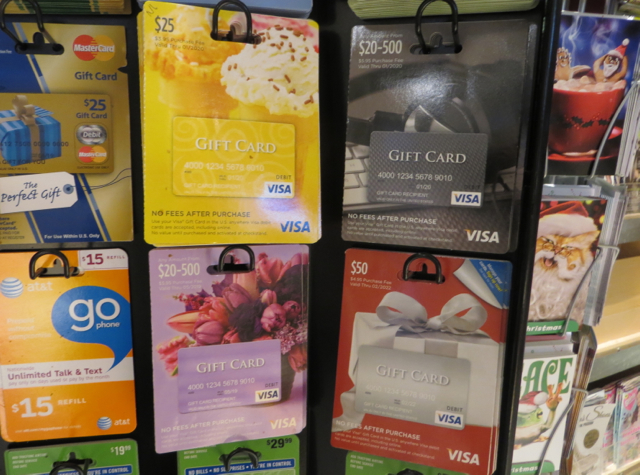 There's a gift card deal at A&P, Pathmark, Food Emporium, Waldbaums, Superfresh and Food Basics: buy a $500 gift card (such as a $20-$500 Visa) with a $5.95 per card fee, and get $60 off grocery shopping, in the form of 3 $20 coupons. You could do this 2-3 times over the course of the promotion to earn $120-$180 or more in coupons for free groceries.
I'm in NYC so I pass Food Emporiums all the time, although I confess I've never gone inside one until now, after a friend pointed out this week's Food Emporium ad to me with the gift card deal. I usually do all my shopping at Whole Foods (especially now that I can earn 5X points on all Whole Foods spend) and at Trader Joe's. But Food Emporium, and no doubt A&P, Pathmark, etc. have the basics, so even if you just need to stock up on paper towels, cleaning supplies, laundry detergent, batteries and the like, you can likely find a good use for $60 in free groceries. Of course, if you're feeling ambitious and want to cook something, feel free to check out some of my recipes.
Here are the details:
Valid through Thursday 12/12

Buy $500 in gift cards, receive $60 in coupons (3 $20 coupons)

Buy $200 in gift cards, receive a $20 coupon

Buy $100 in gift cards, receive a $10 coupon

Buy $50 in gift cards, receive a $5 coupon

Coupons may not be doubled, and there is no cash back (must spend at least the value of the coupon)

Limit one coupon per transaction

Exclusions apply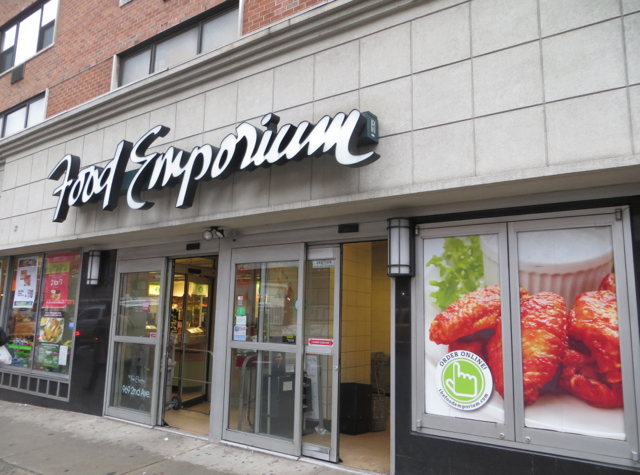 I went to my nearest Food Emporium, a couple blocks away, and there were plenty of $20-$500 Visa and AMEX gift cards. As usual, similar to buying Vanilla Reloads, my ID was checked, then I swiped a credit card that I was working to meet minimum spend on.
Right after I signed, the three $20 coupons printed. The expiration is 12/26, so that gives me 3 weeks to use them. At least for Food Emporiums in NYC, these are the exclusions:
Pharmacy prescription items
Alcoholic beverages
Cigarettes/tobacco products
Milk (NY only)
Gift Cards and certificates
Money orders or money transfers
Postage stamps
Tokens
Transit passes
Lottery tickets
Any other items that are legally prohibited in the state where the transaction occurs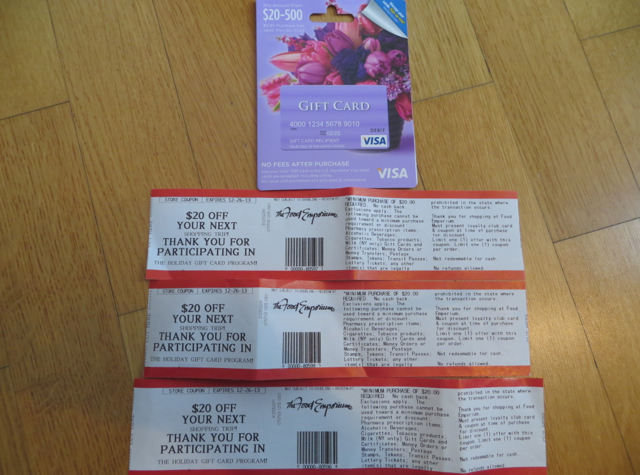 Top Credit Cards to Use
1. Any Credit Card for Which You're Working on Meeting Minimum Spend
This is really the highest value use, if you're working on minimum spend for a good credit card signup bonus. For me, this was a new credit card which had a $5000 minimum spend. Also see Meet Minimum Spend on Credit Cards: Top 20 Tips
2. AMEX Blue Cash Preferred: 6% Cash Back on Groceries (up to $6000 per year)
Assuming $505.95 in spend, this is ~$30.
3. AMEX Premier Rewards Gold: 2X Points on Grocery Spend
If you value AMEX Membership Rewards points somewhere around 1.8 cents per point, that equates to ~$18.
4. SPG AMEX
If you value SPG points at ~2.2 cents per point, this will also equate to ~$11 for the 506 points earned.
Using or Liquidating the $500 Visa Gift Card
1. Use it on Amazon Payments
You can use gift cards on Amazon Payments; this is how I plan to liquidate the $500 Visa gift card
2. If There's a Walmart Nearby, Load it onto Your AMEX Bluebird
You can now set a PIN for Visa gift cards, allowing them to be used as debit cards. Simply go to www.gitcardmall.com/mygift, register, and set the PIN. You can then go to a Walmart ATM to load it onto your AMEX Bluebird, with a maximum load of $1000 per day, $5000 per month. Also see
Gift Card PIN: Use as Debit Card to Load AMEX BlueBird or Get Cash Back
.
3. Spend it Anywhere Visa is Accepted
You can of course spend the gift card anywhere Visa is accepted. This is my least favorite option, however, since I prefer to earn miles or points and category bonuses for actual spend on goods and services.
Do you plan to take advantage of this deal to earn $60 or more in free groceries while helping meet minimum spend?
Related Posts