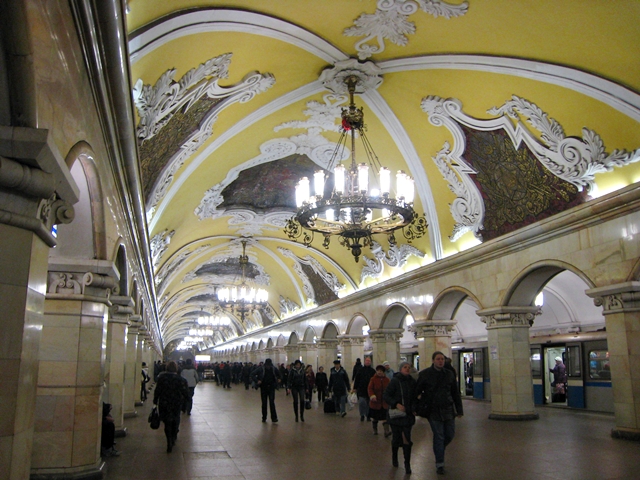 These Getting Around Moscow by Metro Tips are part of a trip report including First Class and Business Class to Moscow on Lufthansa, with reviews of luxury hotels and dining in Moscow and St. Petersburg, Russia.
For the prior posts, see:
Lufthansa First Class Award Booked 15 days in Advance
Lufthansa New First Class Review
Review: Lufthansa First Class Lounge in Munich
3-Year Russian Visa Application Requirements and Tips
Radisson Royal Moscow Hotel Review
8 Things to Eat in Moscow, Russia
Les Menus par Pierre Gagnaire at Lotte Moscow, Restaurant Review
In addition to friends, the delicious food, and amazing cultural events, one of the things I miss most about Moscow is the Moscow Metro, or subway. Just so you know, this is not some lightweight transit system–about 2.4 billion people ride it annually, making it the 3rd most used subway system in the world after Tokyo and Seoul, and ahead of Beijing, Shanghai and NYC. But don't be intimidated–its efficiency is incredibly useful to visitors as well as local commuters.
1. Take the Metro, Not a Taxi
It still amazes me that so many people drive or take taxis in Moscow, only to sit in gridlock for…potentially an hour or two. True, some of them are sitting in comfort in the latest SUVs and luxury Rolls Royce or Mercedes models, but still. Unlike, say, NYC, Moscow is arranged in concentric rings, so you can't just take an expressway to bypass midtown traffic; if you have business in the city center, you'll likely end up waiting in traffic. Plus, if you're not fluent in Russian, you're likely to get ripped off on taxi rides. I've had some rides with a kind driver who was going the same way and I negotiated a reasonable fare with (not a professional taxi driver) but you really can't count on this, especially if you have time sensitive meetings or a tour starting somewhere.
So be smart and take the Moscow Metro, using my tips below.
2. Bring a Moscow Metro Map
Don't forget to bring a Moscow Metro map with you, especially if you don't speak or read Russian since signs in the subway (except for in the subway cars themselves) are only in Russian. Ideally, your map will have both the Russian names and the English transliterations, helping you to match them up, unlike this version, which is only in English: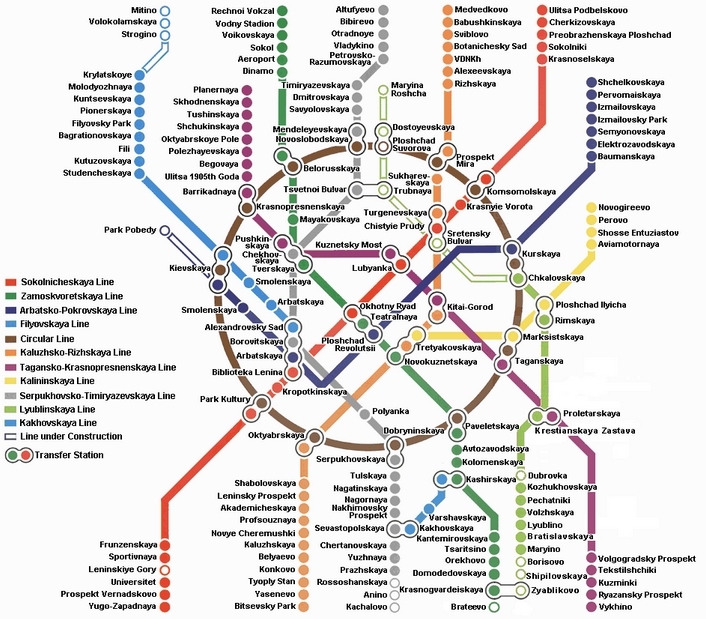 3. Buy a Multi-Ride Card
Unless you're sure you'll only be using the Moscow Metro once during your stay, save yourself waiting in line (and a few rubles as well) and get a multi-ride card at the window. No, credit cards not accepted-bring cash (Russian Rubles). See No ATM Fees: Bank Checking Accounts That Refund ATM Fees. If you don't speak Russian, just hand over the correct amount of money and hold up fingers, or try your hand at a little Russian. For 5 rides, say "Na pyat' pozhalusta" and for 10 rides, say "Na daysets pozhalusta."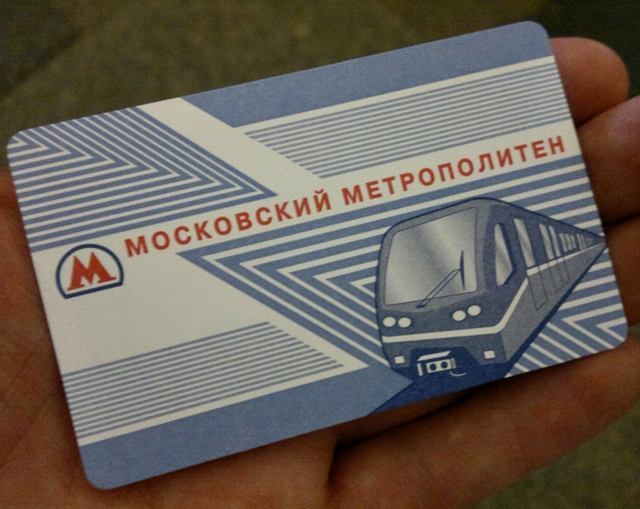 Oh, and don't even think about not paying. It may seem to the uninitiated that since there are no turnstiles, there's nothing to stop you from going through without swiping your card. Wrong! You're in for a VERY painful surprise if you attempt this, or if your subway card is out of rides or doesn't work correctly.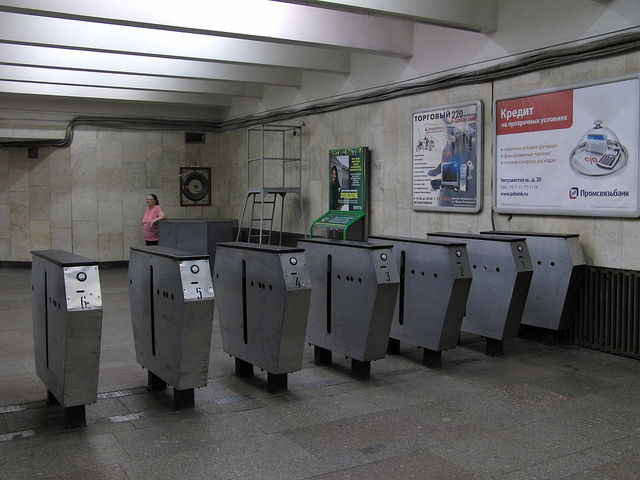 The newer stations, thank goodness, have transparent barriers that open and are a lot more user friendly.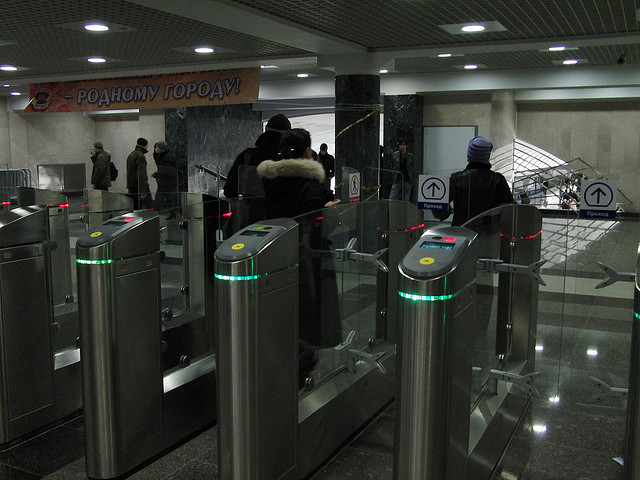 4. Follow the Escalator Rules: Wait on the Right, Walk on the Left
Moscow escalators for some of the stations are quite long (although not nearly as long as those in St. Petersburg) so you'll find quite a few people walking quickly down the left hand side. If you're not one of them, make sure you wait on the right, if you don't want to get yelled at or shoved aside.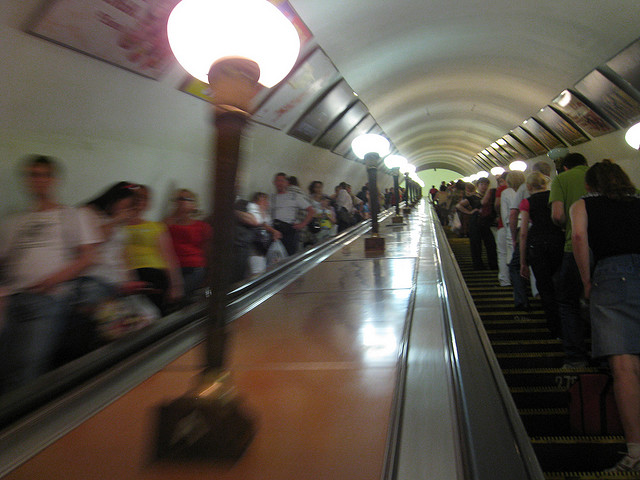 5. Learn the Cyrillic Alphabet to Recognize Station Names and Street or Landmark Names
Unlike St. Petersburg, for some reason Moscow doesn't have any English transliteration on the signs in the stations; only on the subway map you see in the subway cars. The various lines are color coded, which is helpful, but you still need to know which platform to stand on for your train, so that you don't go the wrong direction. For the circle line, at least, even if you go the wrong way, it will just take longer, but you'll still eventually get to your station.
You also want to be able to recognize the various street and landmark names when exiting a station, since there are usually multiple exits and you want to exit close to your final destination.
6. No Need to Rush for a Train; Another Will Be There in a Minute or Less
Unlike, say, NYC, during most times of day you really don't have to worry about a protracted wait for the next train. You can even see the elapsed seconds since the most recent train, as well as current local time, on wall mounted clocks on the far left wall as you wait on the platform. Very rarely have I waited more than 1.5 minutes for a train, and often I've waited only 50-55 seconds. Now, if only the NYC subway ran with that kind of efficiency!
7. Do Not Attempt to Hold the Subway Doors
If you value your body parts, don't even think of holding the subway doors. Don't say I didn't warn you.
8. Do Not Stand Near the Doors Unless You Plan to Get Out at the Next Station
It may sound strange for anyone who's witnessed a big mob of Russian passengers all attempting to board a plane at once (for some reason in that context Russians just don't do lines or queues) but in the Moscow metro, it's a lot more organized than the NYC subway. Basically, you just don't stand near the doors unless you plan to get out at the next station, and even if it's super crowded people still reshuffle themselves to allow the people who are getting off at the next stop to exit the train.
So if you're in the path towards the door and someone behind you asks you something, the chances are at least 95% that the person is asking you if you're getting out at the next station. Either nod or say "Da" if you're planning to get out at the next station, or allow that person behind you to get closer to the door if you're not getting out at the next stop.
9. Don't Count On Getting the Subway Between 1am and 5am
The one downside of the Moscow Metro is that, unlike the NYC Subway, it's not open all night. So if you're out late partying, count on walking or getting a taxi.
10. Enjoy the Beautiful Subway Stations
I love that in the midst of all the zealous demolition and putting up sleek new buildings, Moscow at least hasn't changed its historical subway stations, and new and renovated ones, such as Mayakovskaya, continue the tradition of great subway art. They remain one of the most beautiful pieces of history from Soviet times, albeit ones that are used by 7 million or more people daily.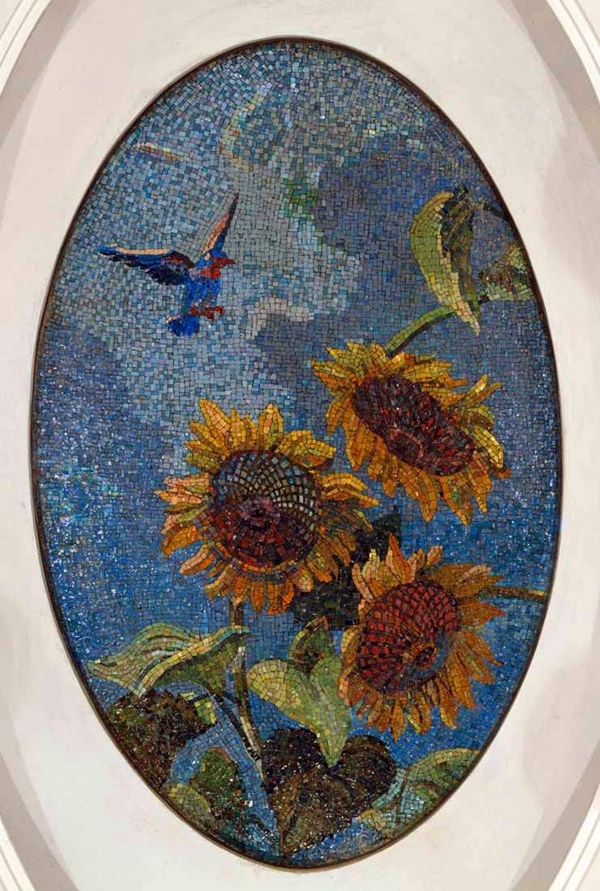 Related Posts
Moscow Metro Tour with Happy Moscow Tours
The Most Beautiful Subway Stations in the World
Sapsan Train Moscow to St. Petersburg Review and Booking Tips
Top Luxury Hotels in Moscow, Russia
Need Award Booking Help? Our fee is as low as $75 per ticket if you book your hotel through us.
If you enjoyed this, join 200,000+ readers: please follow TravelSort on Twitter or like us on Facebook to be alerted to new posts.
Become a TravelSort Client and Book 5-Star Hotels with Virtuoso or Four Seasons Preferred Partner Amenities!
Photos: Hilary Stockton, feserc, Vokabre, whatleydude