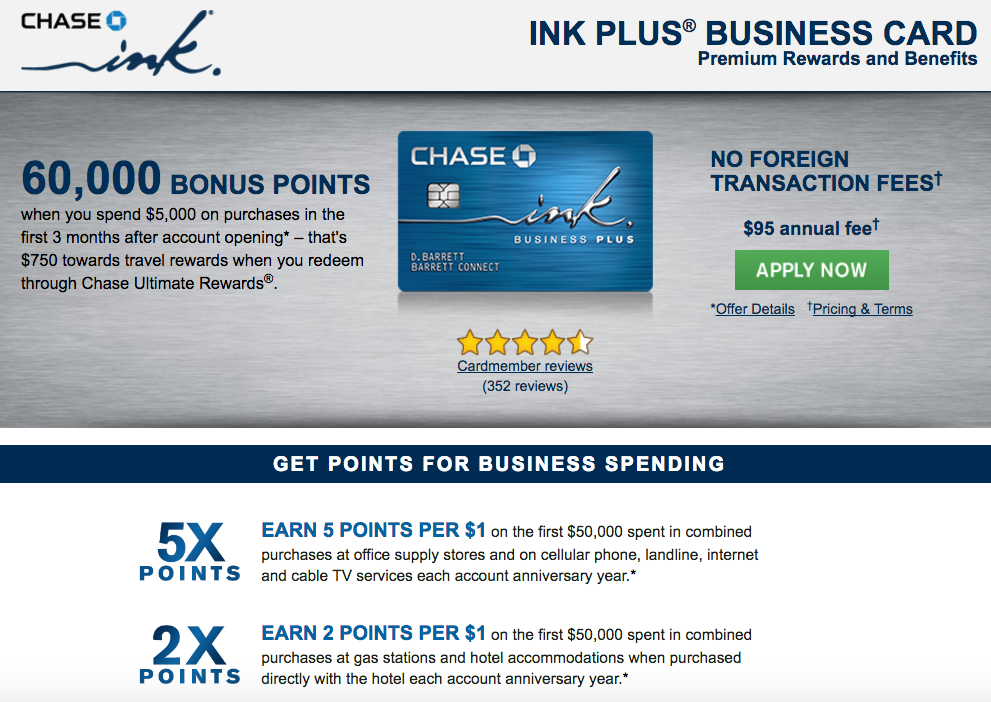 You may want to get the Ink Plus now if you've been eying the 5X category bonuses. The Ink Plus 5X categories are so valuable to me that it's the card I've used for more spend than any other, and together with the new 100K Sapphire Reserve, these are the two cards I plan to put the most ongoing spend on due to their category bonuses.
That's because currently the Ink Plus 5X categories are:
Internet
Cell phone service
Office supply stores
It's the last category that gets the most use, because in addition to regular office supplies that I need to purchase, Amazon and Whole Foods gift cards bought at office supply stores enable me to earn 5X on all Amazon spend and 5X on all Whole Foods spend. Many have speculated that this is too good to last, and Doctor of Credit on
Reddit
notes that his Chase source, who has been reliable in the past, tells him that Chase will be changing the 5X to 3X for new Ink Plus and Ink Cash card applicants. Ostensibly, there is no plan yet to change 5X for existing cardholders.
The new 3X category would be for ALL categories that are currently 5X or 2X, so all the following would earn 3X:
Internet (down from 5X)
Cell phone service (down from 5X)
Office supply stores (down from 5X)
Hotels (up from 2X)
Gas (up from 2X)
There may also be another category or two added that earns 3X, such as shipping and/or advertising. The maximum total spend that can earn a bonus would be $100,000, which is similar to the current Ink Plus, since the maximum office supply store/cell phone service/cable/internet spend that can earn the 5X is $50,000 in spend, and gas stations/hotel spend similarly is capped at $50,000 to earn the 2X bonus.
Note that the Ink Plus is included within Chase 5/24, so if you've opened 5 or more credit card accounts in the past 24 months, you're unlikely to be approved for the card unless you have a Chase pre-approval or are a Chase Private Client. And there's also no guarantee how long current cardholders will be grandfathered for the 5X.
Do you plan to get the Chase Ink Plus or Ink Cash before the 5X category bonuses are removed for new card applicants?
Related Posts