Update:
Staples no longer allows bonus points for online gift card purchases. You can still earn 5X points by purchasing gift cards in Staples stores using your
Ink Bold
or
Ink Plus
Usually I don't pay much attention to the Ultimate Rewards Mall bonuses, which change a bit every month. That's because I rarely buy stuff from the merchants in the mall, even the more general department store ones. I have a few favorite vendors and products, and they aren't anywhere in the Ultimate Rewards Mall. This month, though, I'm paying attention: Staples bonus is 5X in May, and that, combined with the Ink Bold card, enables you to get over 7x Ultimate Rewards points back on virtually everything you buy! Here's how:
1. Make sure you have the Ink Bold Charge Card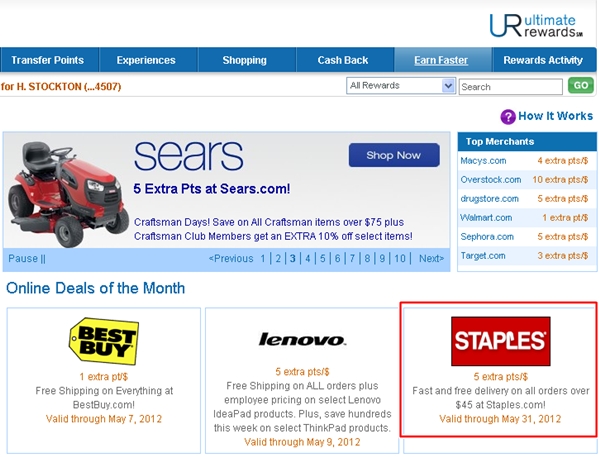 3. Click on "Start Shopping."
Also, make sure you weren't already on Staples and don't have anything in a basket; if you were on the Staples site, best to clear cookies just in case, to ensure you get the 5x points for going through the Ultimate Rewards Mall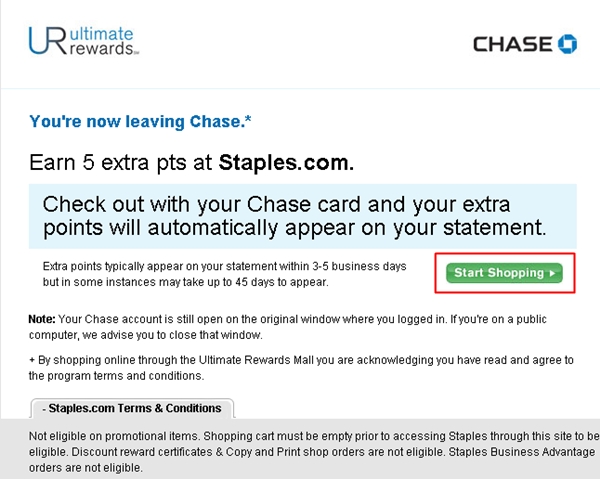 4. Search for "Visa."
You'll see three denominations offered, for $25, $50 and $100. It would of course be great if there was a larger denomination than $100, but that's the largest available for now, so enter the number of gift cards you'd like, and complete your order. Shipping is free, and at least for me, there were no taxes on the purchase either.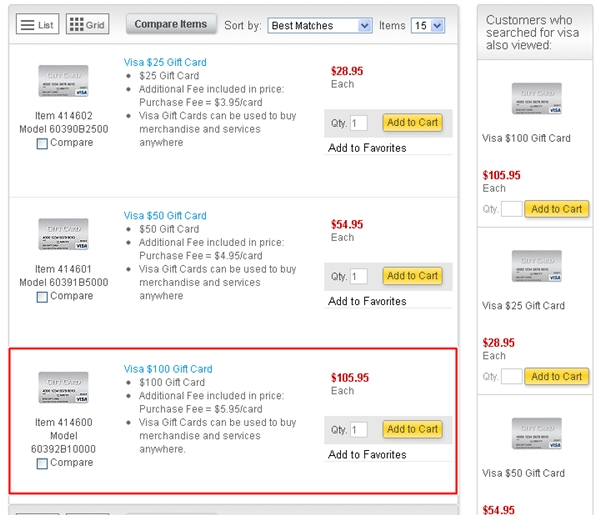 5. Register cards online and use.
Once you receive the cards in the mail, you should go ahead and register them online, so that you can use them for online transactions, as well as in-person ones. And be careful to keep track of and not lose the cards! $100 are definitely more of a pain to deal with, at least for me, than the $500 gift cards that you can pick up at Office Depot. But the higher return is enticing. Does it even make sense to only get 2x spend on dining or travel with the
Chase Sapphire Preferred Visa
, 3x with the
American Express Premier Rewards Gold
or even 5x on groceries with the current Freedom quarterly bonus? It's awfully tempting to try to get over 7X points on everything, although as a practical matter, you want to temper that with some circumspection. I would definitely recommend putting a number of more ordinary business purchases on the Ink Bold, and not just gift cards. And of course for little purchases of about $1.50 or less (or about $4 or less if grocery) you're still better off using your
Chase Freedom Visa
, if you have a Chase checking account and receive the Chase Exclusives bonuses. See
Chase Exclusives Bonuses: Maximize Chase Freedom Ultimate Rewards
Here's an updated version of the prior chart I did, reflecting the 7.6X return (if you, as I do, value Ultimate Rewards points at 2 cents each) compared to the Staples and Office Depot in-store card purchases:

Related Links: