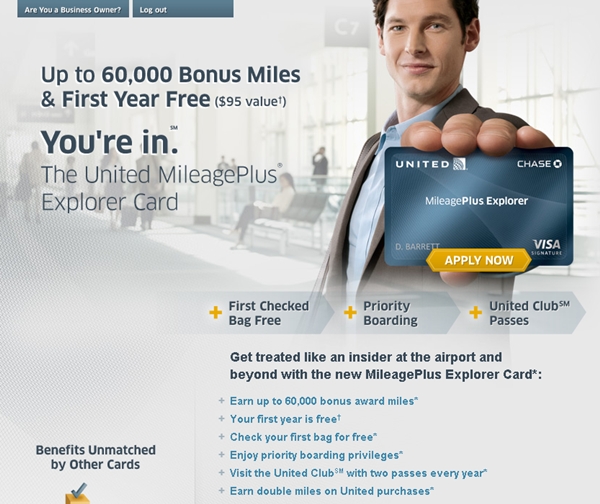 I recently signed my husband up for United MileagePlus and transferred some Ultimate Rewards points to his account, and was surprised to see a 60,000 bonus miles offer for the United MileagePlus Explorer Card.
Up until this, I've largely ignored the card, which launched late summer last year. I was actually encouraged to promote it via my affiliate links, but declined to, since I didn't find the bonus (25,000 miles for first card use, 5000 for adding additional cardholder, and 10,000 for spending a whopping $25,000 on the card annually) that compelling. I wouldn't add another user or put $25K/year on this card, so it really is just a 25,000 mile bonus–ho hum.
Also, the perks seemed quite standard for a frequent flyer card:
2 miles for every $1 spent on United and Continental tickets (I get 3 Membership Rewards points per $1 spent on airfare using the AMEX Premier Rewards Gold Card)
First checked bag for cardholder and companion is free (I don't fly United/Continental often enough or check baggage often enough for this to matter)
Priority boarding (ditto–don't fly United/Continental often enough for this to matter)
2 free passes to the United Club VIP Lounge (only 2 passes, and hard to get excited about domestic lounges)
60,000 bonus miles got my attention, even though, as expected, 10,000 of those would require a $25K annual spend. No matter–50,000 bonus miles with first use of the card is great. My own guess (since I have no inside information) on why Chase is doing this is that even with the fanfare and various promos that accompanied the launch of the MileagePlus Explorer card, the applications/approvals fell well short of targets, so they decided to first target MileagePlus members via snail mail (that's been happening for a few months) and now also opened it up to members with at least some MileagePlus miles in their account, to boost their numbers.
At any rate, since I'm a bit maxed out on Chase cards right now (BA Visa, Chase Sapphire Preferred, Chase Freedom, and soon
Ink Bold Charge Card
) and also have had a United MileagePlus card once before, I asked my husband to apply for the United MileagePlus Explorer Card. Here's what to do:
1. Make sure you have some miles in your United MileagePlus account. For example, when I logged into my own account, I didn't see the 60,000 offer because I have 0 miles with United at the moment, having transferred them all to Continental in order to keep my United miles from expiring (see
How to Transfer Expiring United MileagePlus Miles to Continental
)
2. If you don't have any miles (as my husband didn't, since I'd just signed him up as a new member) you can either transfer Continental OnePass miles over, or you can transfer Ultimate Rewards points 1:1 to United MileagePlus, which is what I did. I transferred over the minimum amount, which is 1000 Ultimate Rewards points = 1000 United MileagePlus miles. Although the transfer is fast, I wouldn't say it's instant. After logging out and logging in there were still 0 miles in my husband's account, even though the 1000 points were instantly deducted from my Ultimate Rewards account. It took 3-4 minutes until they showed up in my husband's MileagePlus account.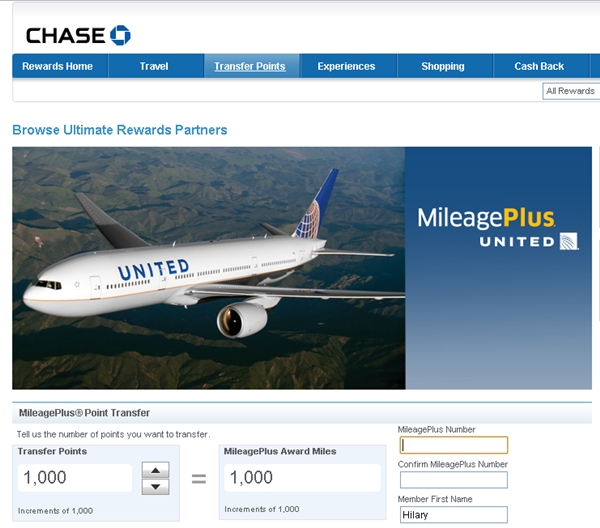 3. Log into your United MileagePlus Account. If you have miles in your account, you'll see the 60,000 bonus miles offer for the United MileagePlus Explorer Card on the right: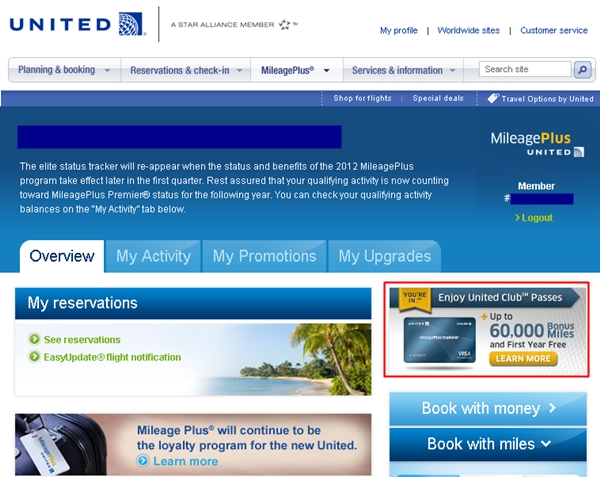 4. Apply for the card–you'll need all the usual info: address, phone, SSN, home/work history, etc. In my husband's case he got instant approval: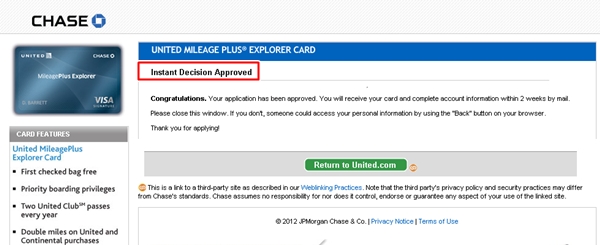 If you don't get instantly approved, try calling the Chase reconsideration number,
888-270-2127. Some people report having to call 3-4 times, if the first agent or two deny them. Another number some have used to get help with a bonus bump is
800 436 7961; I wouldn't count on trying to get the 60,000 bonus, however, if you've previously had a United MileagePlus card. You may get lucky, of course, but technically the bonus for the new MileagePlus Explorer Card is for users who have never had a United MileagePlus card.