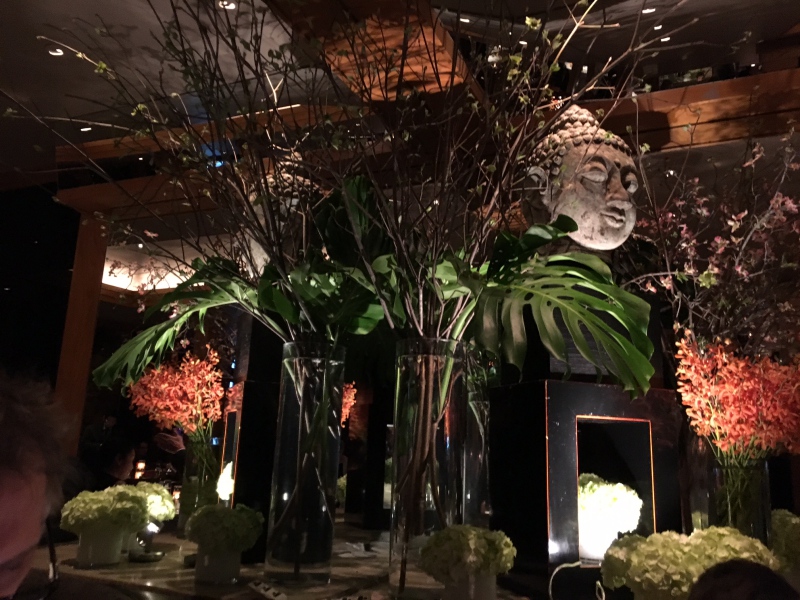 Restaurant Gary Danko is where we go when we have just 1 night in San Francisco and are celebrating a special occasion, in this case an early birthday. While San Francisco has a number of other Michelin-star restaurants, I personally haven't had as good an experience at any of them (including 3-Michelin star Quince) as I've had at Gary Danko. And judging from how consistently popular the restaurant is, it seems I'm in good company.
Visiting San Francisco? See all of our posts tagged San Francisco.
Getting to Restaurant Gary Danko
Restaurant Gary Danko is located at 800 North Point Street, at Hyde Street, in San Francisco's Fisherman's Wharf neighborhood. I don't care for this part of town at all, and Gary Danko is the sole reason I'm ever in this area. Since we were staying at the St. Regis San Francisco, we took a right out of the hotel and caught a #30 bus from Mission and Third Street to North Point and Hyde Street. It couldn't be easier, and even with the bus stops probably only took about 7-8 minutes longer than a taxi.
The Scene
Gary Danko is unabashedly romantic, which I love: roses on the candlelit tables, white tablecloths, servers in sharp suits. As with our prior visits, our son was the only kid in the restaurant, but he was warmly welcomed. We were in the dining room to the right after entering, and all other tables in our area were couples or in one case a table of two couples.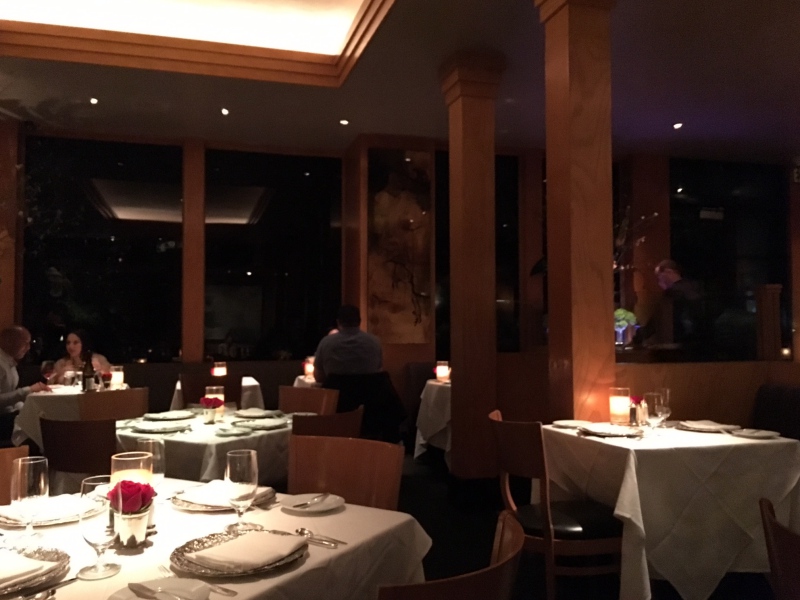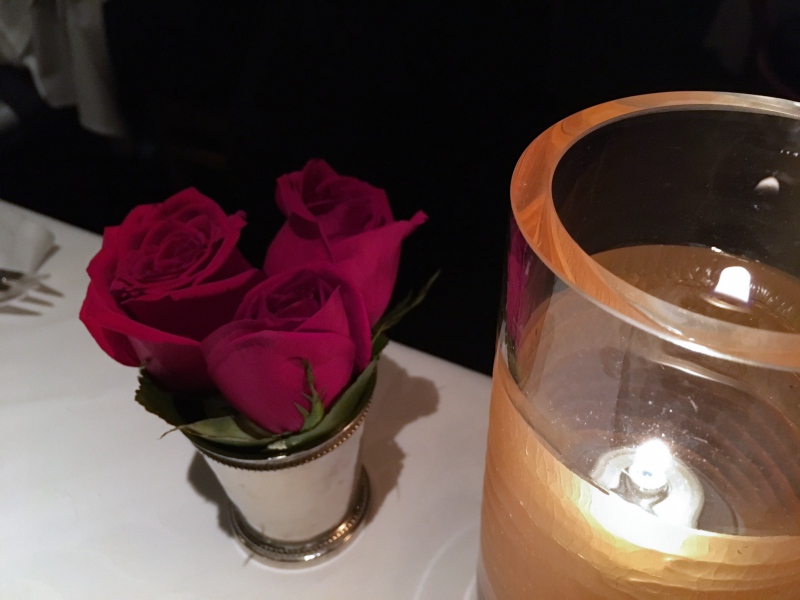 Gary Danko Menu and Food
Gary Danko offers a 5 course tasting menu for $120 (extra $90 for wine pairings) but we always select 3 courses from the full menu, which at time of writing costs $87 per person. 4 courses are available $106. Unlike most other restaurants' 3 or 4 course menus, you can actually select from any section for your courses. You could select an appetizer and two mains, a main course and two desserts, or, if you just happen to be a professional athlete or have the appetite of one, you could select 3 main courses for that $87, which is incredible value given the quality of the preparations and experience.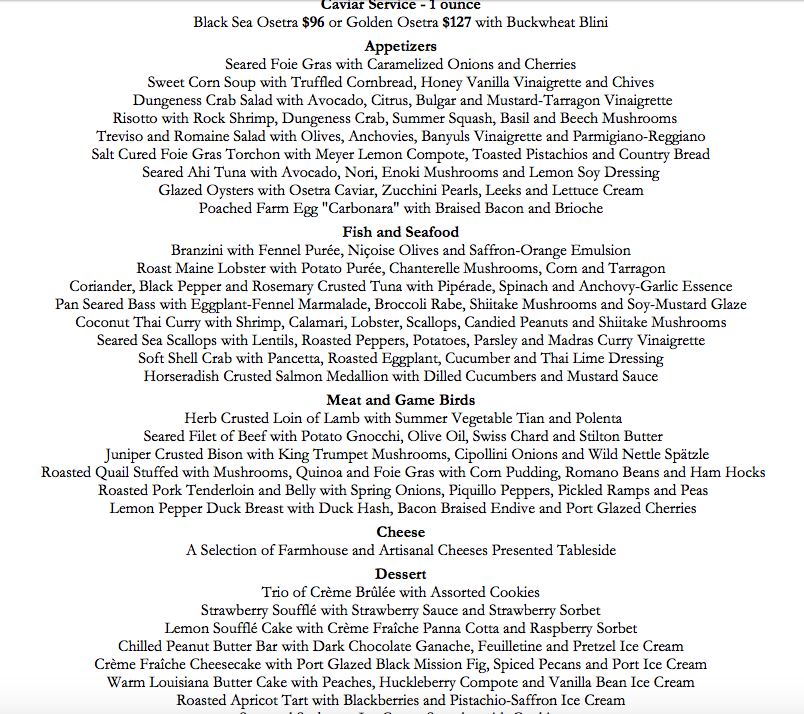 We started off with a creamy seafood soup amuse bouche: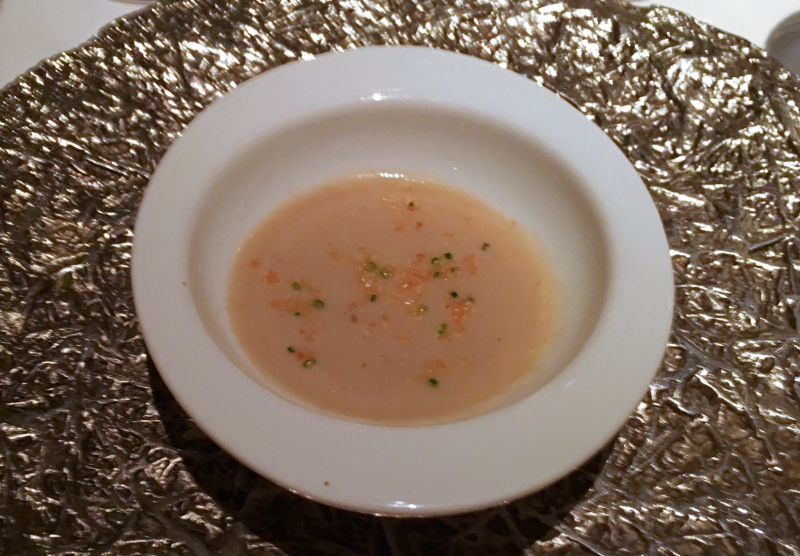 As an appetizer, my husband chose the Foie Gras Torchon with Meyer Lemon Compote and Toasted Pistachios, accompanied by country bread, and was very happy with it.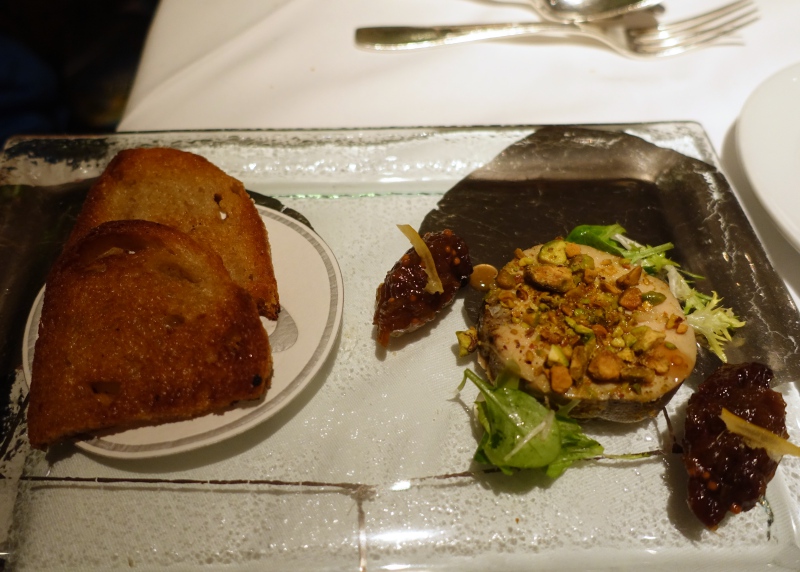 Our son happily devoured all of his Poached Farm Egg "Carbonara" with Braised Bacon and Brioche: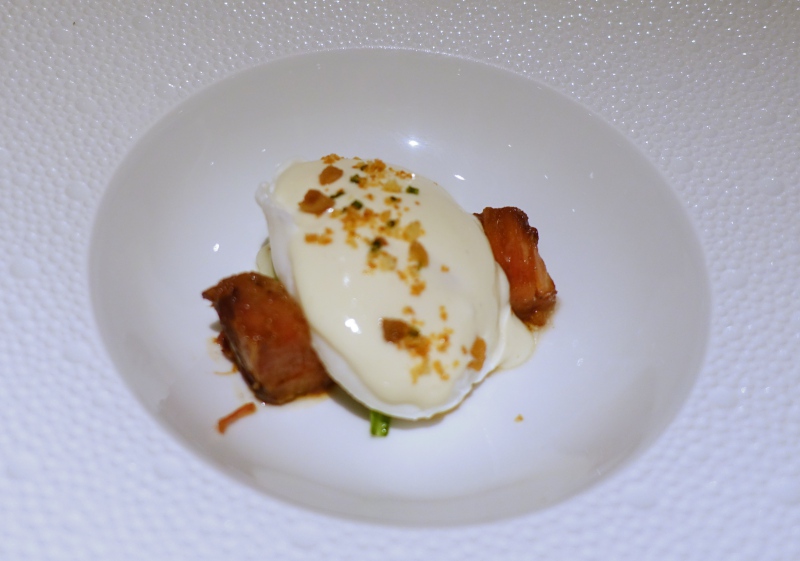 I chose the Roast Maine Lobster with Potato Puree, Chanterelle Mushrooms, Corn and Tarragon, with its perfectly cooked, fresh, sweet lobster nicely complemented by the sweet corn and tarragon.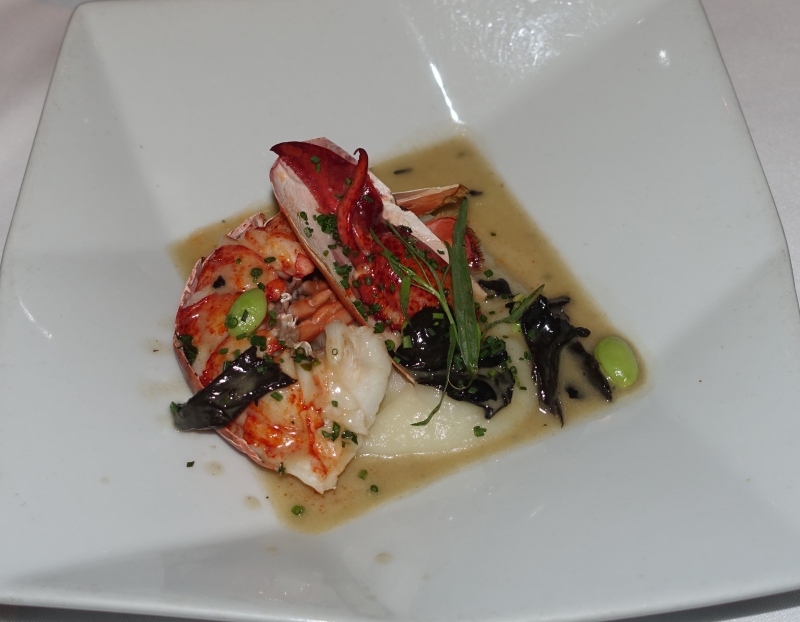 Our main courses were very generously sized, and we ended up bringing portions of them back with us, to enjoy the next day. I couldn't resist ordering a perennial favorite, the Lemon Pepper Duck Breast with Duck Hash, Bacon Braised Endive and Port Glazed Cherries, which was every bit as delicious as I'd remembered it.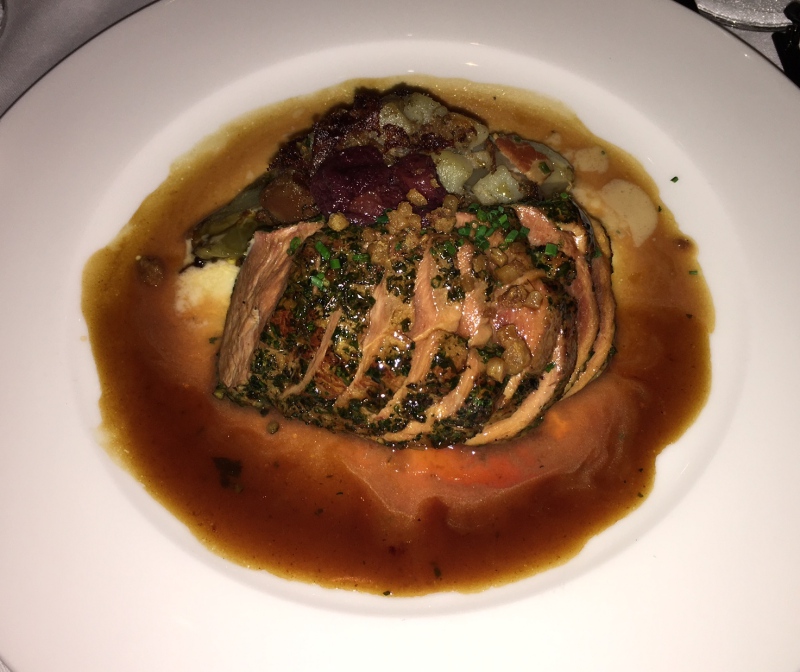 Our son chose the Herb Crusted Loin with Summer Vegetable Tian and Polenta, and it was perfectly cooked, although not as exciting in its flavors as the other dishes.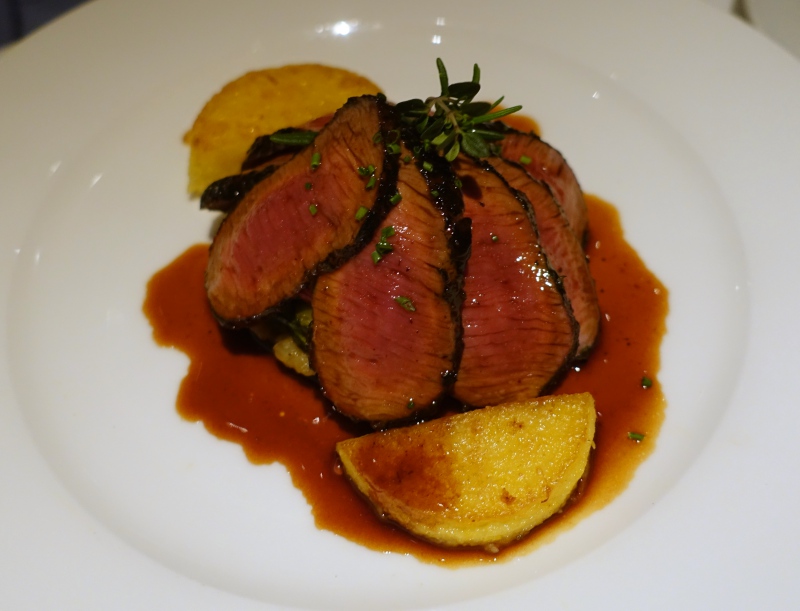 My husband's Juniper Crusted Bison with King Trumpet Mushrooms and Wild Nettle Spaetzle could have been at home in modern Nordic restaurant. It's the kind of dish I'd love to serve dinner guests if I had more time on my hands, and easy access to bison (or nettles, for that matter).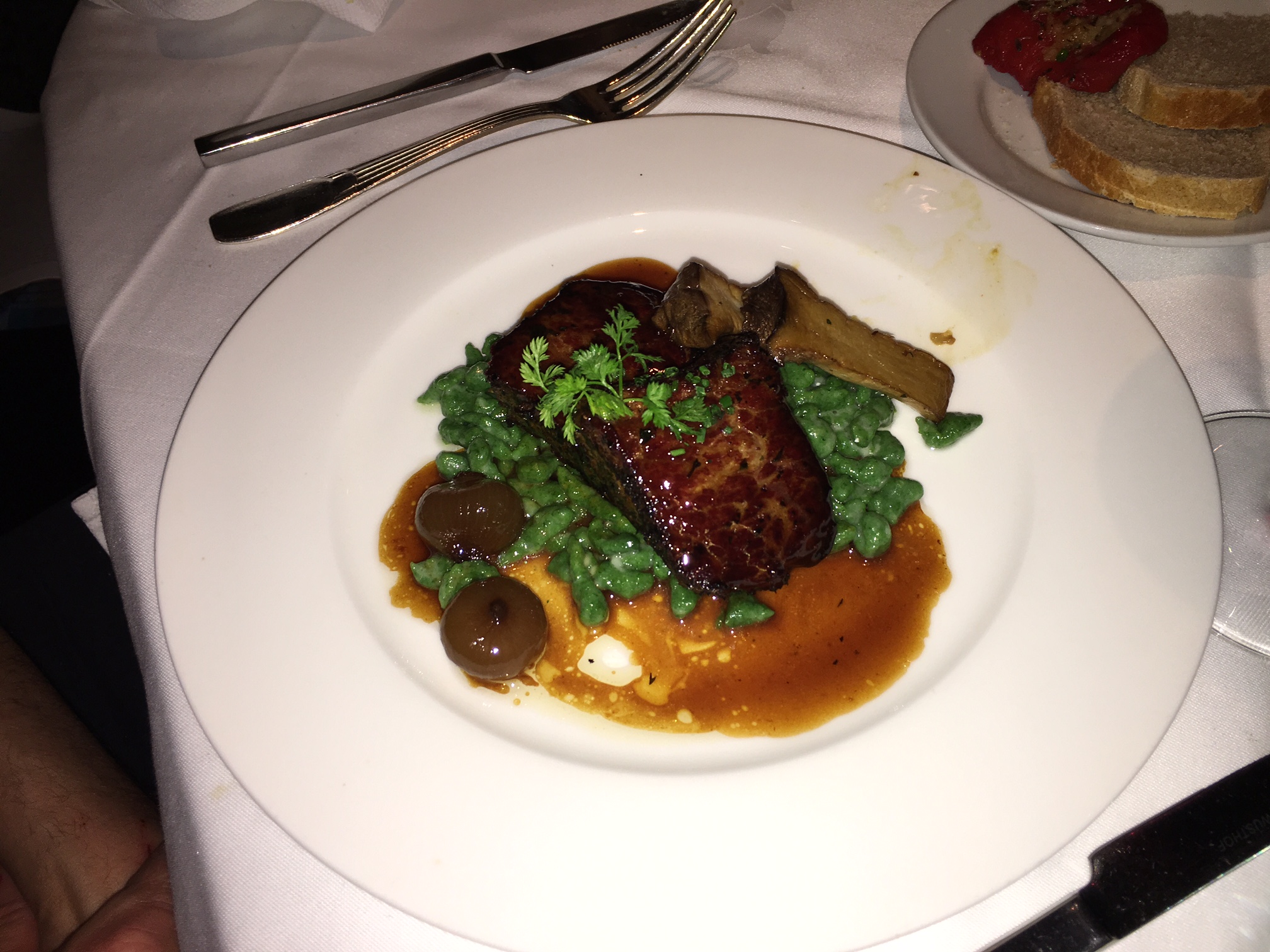 If you're not a dessert person, Gary Danko is a great place to enjoy a cheese course, as you can select the cheeses yourself from the cheese trolley; this is what my husband and son did.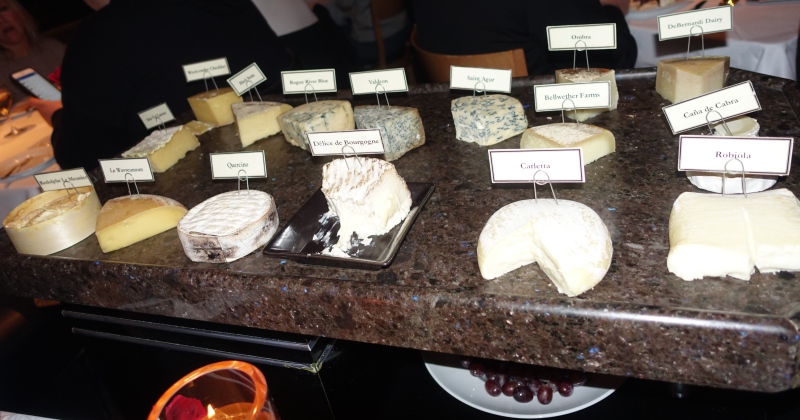 Meanwhile, I'd ordered the baked chocolate souffle with two sauces, which are poured tableside. While it's not technically hard to make souffles, I rarely have time to make my own, and Gary Danko makes an excellent chocolate souffle.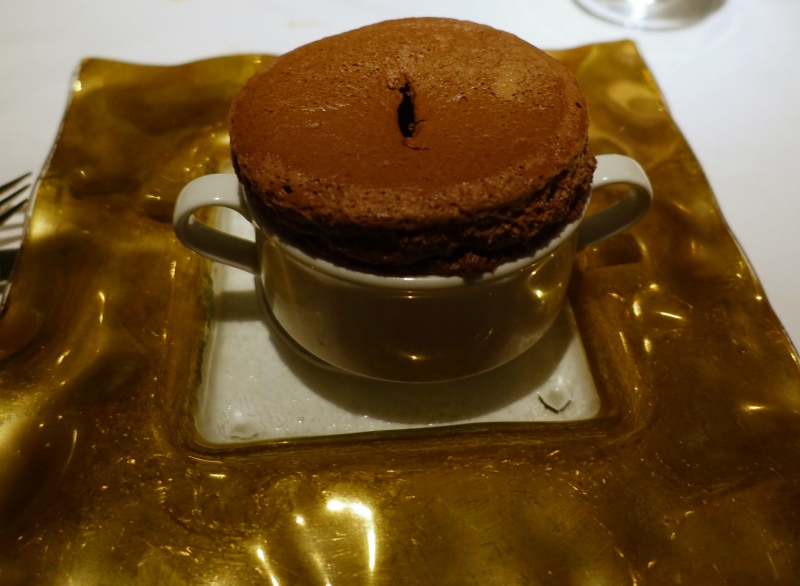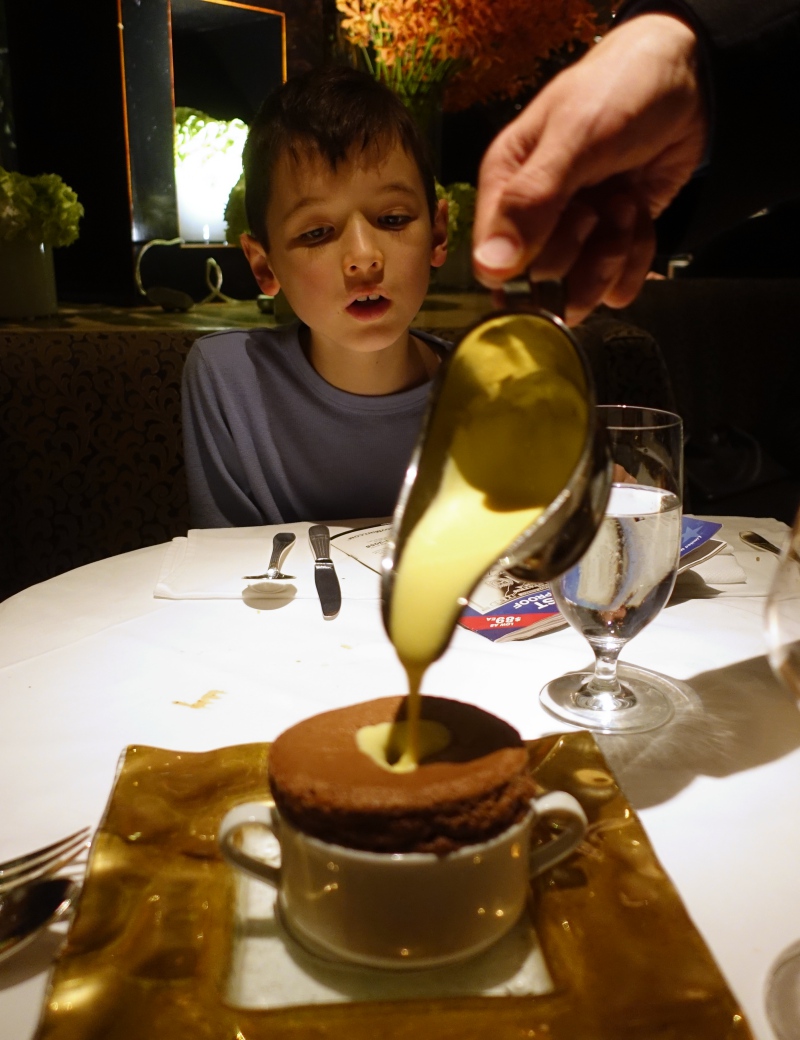 And in honor of the early birthday we were celebrating, a further complimentary dessert arrived, with a candle: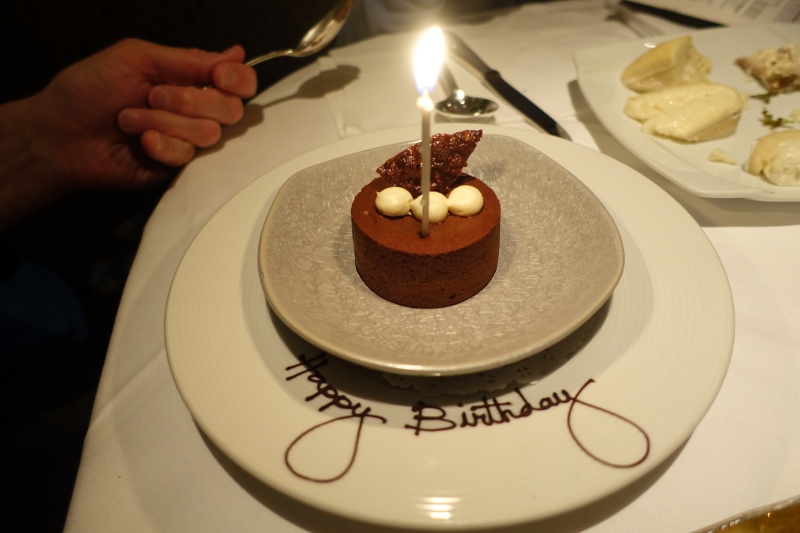 There were even mignardises, but as we were completely full at this point, we asked to take these with us. Even the next day, they were superb, and better than many restaurants' mignardises.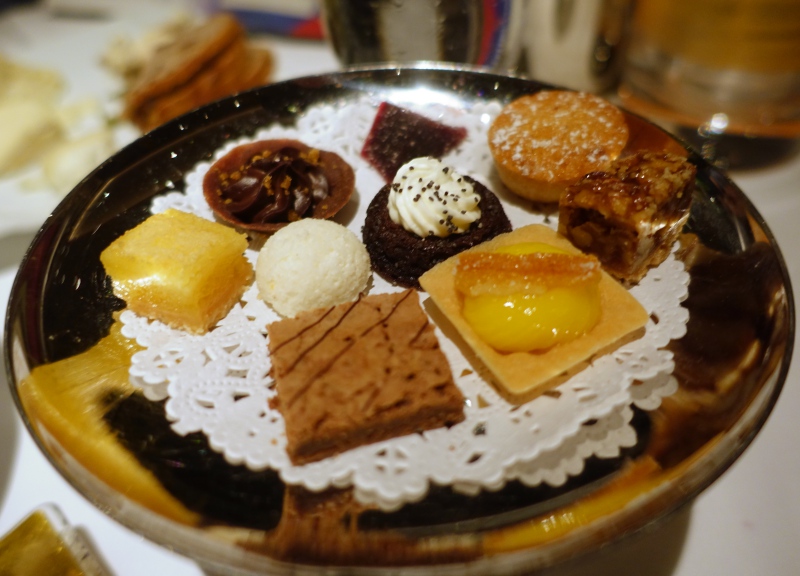 We were even given a further parting gift, banana cakes with cream cheese fillings: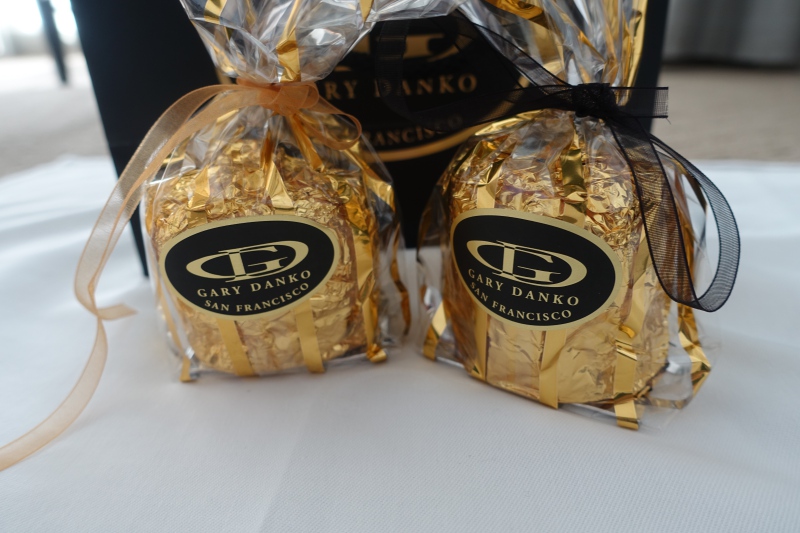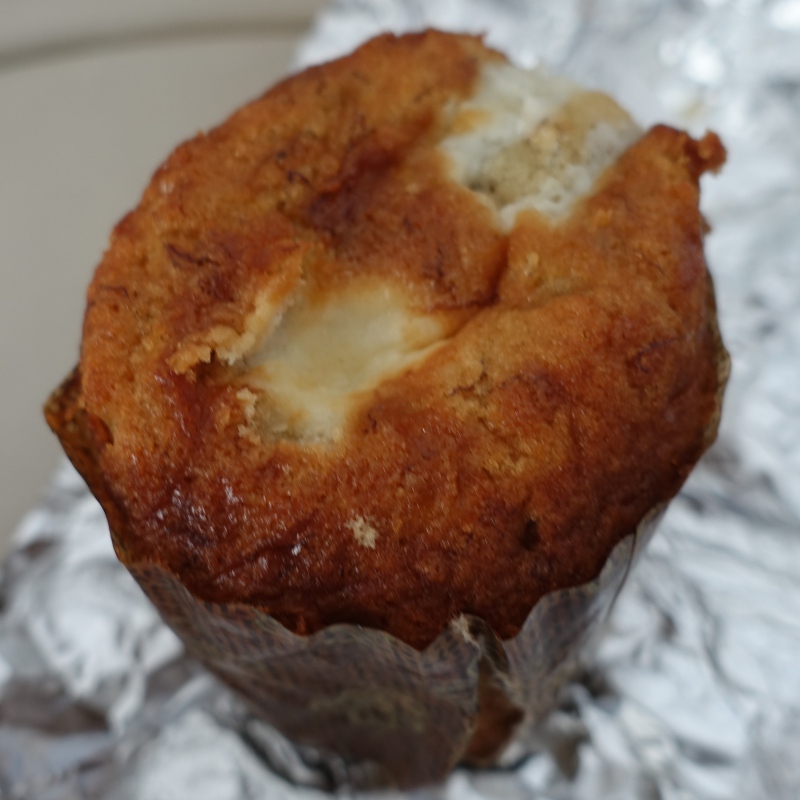 The Verdict
Honestly, I'd rather have a meal at Gary Danko than at some other 2-star Michelin and even 3-star Michelin restaurants I've been to, such as The Modern in NYC and Restaurant Gordon Ramsay in London. It's not the place for those into molecular gastronomy or who want to be "challenged" by the flavor combinations. But if you're seeking a well-rounded fine dining experience with a loved one, in a romantic setting, with delicious dishes, polished but friendly service, that won't leave you still hungry afterwards, I highly recommend Gary Danko. It's one of the few restaurants I truly miss from my years in the Bay Area, that I haven't managed to replace here in NYC. And no, I don't know Chef Danko nor have I ever been comped a meal, I'm just a fan.
If you've had dinner recently at Gary Danko, what was your experience?
Recommended Posts
Review: St. Regis San Francisco, 2017
Review: Loews Regency San Francisco
Review: American Express Centurion Lounge San Francisco SFO
Review: American Airlines A321 First Class San Francisco to New York JFK
Chase Private Client Arts and Culture Card Benefits 2017
Disclosure: We paid for our own meal at Restaurant Gary Danko.
Need Award Booking Help? Our fee is as low as $75 per ticket if you book your hotel or cruise with TravelSort.
If you enjoyed this, join 200,000+ readers: please follow TravelSort on Twitter or  like us on Facebook to be alerted to new posts. 
Become a TravelSort Client and Book 5-Star Hotels with Virtuoso or Four Seasons Preferred Partner Benefits