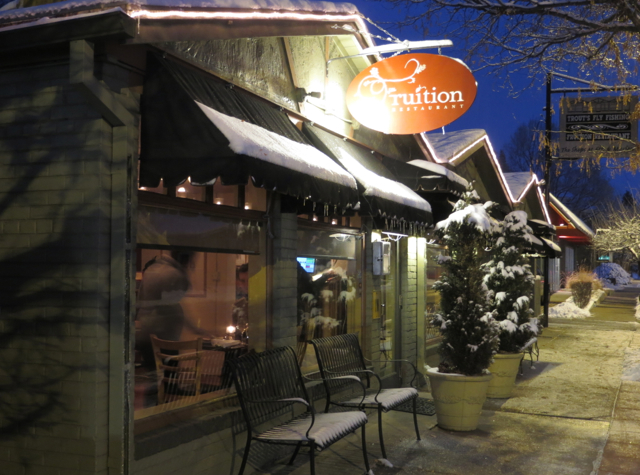 This Fruition Denver restaurant review is part of a Denver trip report. For the prior posts, see:
Hyatt House Denver Airport Hotel Review
Ritz-Carlton Denver Hotel Review
Club Lounge, Ritz-Carlton Denver Review
Getting There
Denver isn't exactly a great city for public transportation, so I recommend that you drive to Fruition, which is located at 1313 East 6th Avenue. Use a map rather than GPS, since the Four Seasons Denver courtesy car that picked us up was delayed due to incorrect GPS directions.
To get a little exercise, the munchkin and I did actually walk to Fruition from the Denver Art Museum, and it took about 40 minutes due to the snowy conditions.
The Scene
While ostensibly one of Denver's best restaurants, Fruition is fairly low key. No white tablecloths here–just regular wooden tables and chairs, and local couples out for a good meal. The munchkin was the only kid, but no one seemed to mind, and I wouldn't hesitate to bring well-behaved kids here. Just ensure you have a reservation, since Fruition does book up, especially on Friday and Saturday nights.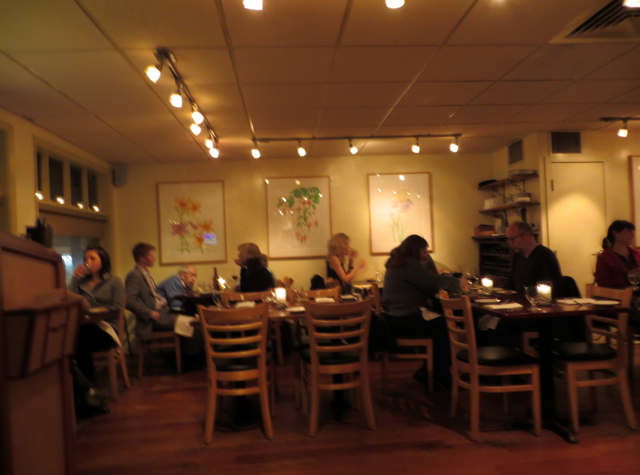 Fruition Menu and Food
Fruition's menu changes seasonally, so we experienced a winter menu. There are just 7 choices for appetizers, and 6 for mains (not counting the vegetarian option) but a number of dishes sounded wonderful, making it tough to decide.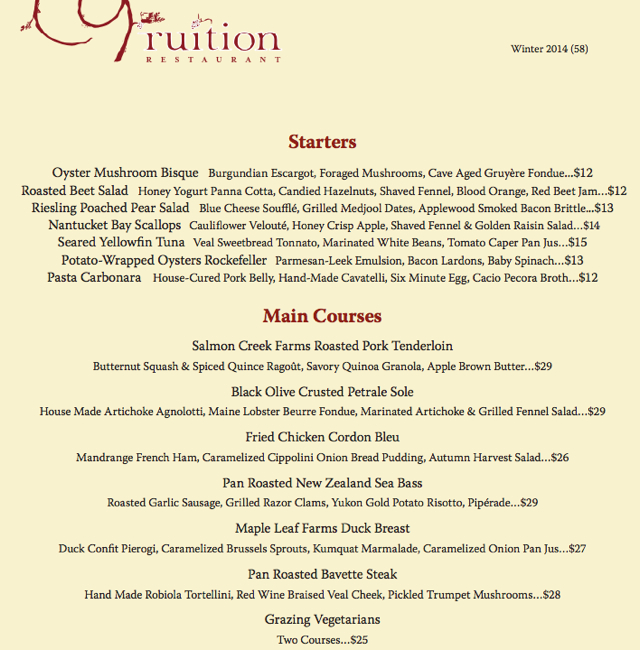 The munchkin was more decisive than I, however, and immediately zeroed in on the Pasta Carbonara, and also chose the Maple Leaf Farms Duck as our main. We decided to share, so as to leave room to sample desserts.
After ordering, we were served bread (just two choices, white or wheat) from a bread basket, and a ramekin of butter. I liked that the butter was already softened and easily spreadable, but I thought the bread could have been better. While I'm not expecting ethereal warm buttery housemade rolls akin to Eleven Madison Park or an entire bread cart as at Bouley, I don't think it would be too much to ask for the bread to be warm and for there to be another variety, perhaps an olive bread or walnut bread, or foccaccia.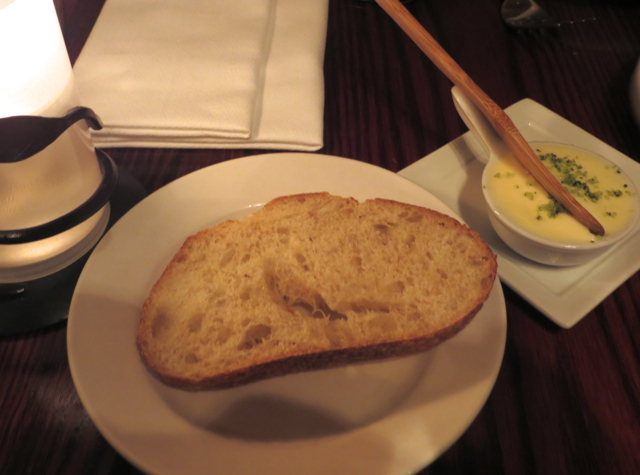 After what seemed quite awhile, due in part to how hungry we were, our Pasta Carbonara appetizer arrived. In retrospect, I should have ordered two of these, given the dainty portion size, although would it have killed Fruition to provide more pasta as part of the dish? In any case, the mingled flavors of the pork belly, egg, and cacio pecora broth were wonderful, and the munchkin happily devoured 90% of this dish.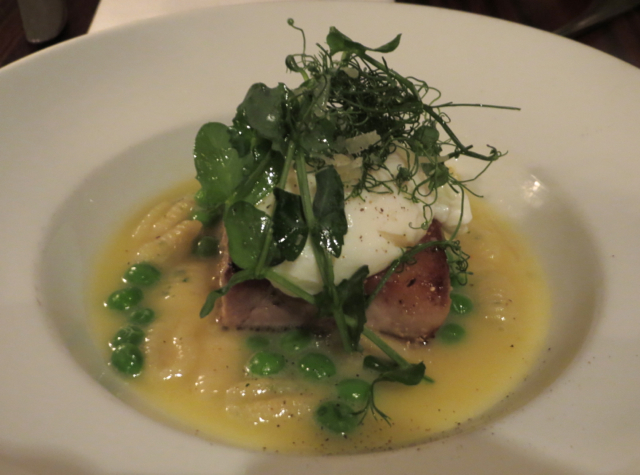 Our main, the Maple Leaf Farms Duck Breast with duck confit pierogi, caramelized brussels sprouts, kumquat marmalade and caramelized onion pan jus was even more spectacular. While the munchkin made a face at the kumquat marmalade, which was too astringent for him, I thought the tartness was just the right counterpoint to the richness of the duck. And both of us enjoyed the duck confit pierogi hidden underneath the duck. One of the best duck dishes I've had in recent memory.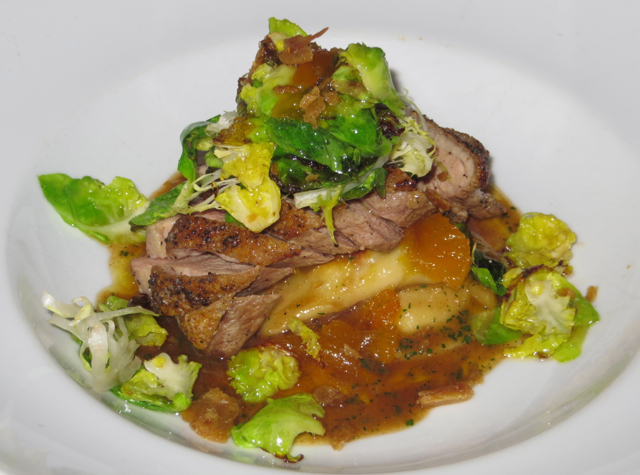 Compared to our appetizer and main dish, the desserts were rather anticlimactic, although admittedly I can be a harsh dessert critic. The dessert features comfort food classics, with only slight updating, and weren't as inspired, in my view, as the rest of the menu. Since the Shepherds Halo cheese is made in-house, at Fruition Farms, we opted to try that. We also asked our server for his recommendation, and he raved about the Warm Deep Dish Pecan Pie with Golden Raisin Toffee and Maple Bourbon Ice Cream, so we ordered that as well.
The Shepherds Halo cheese was just a small piece, accompanied by a sea salt pretzel knot, onion jam and some shaved fennel. The cheese was no better, in my view, than French Bucheron cheese that I get at Whole Foods. It was fine, but nothing to write home about, and the munchkin didn't like it at all.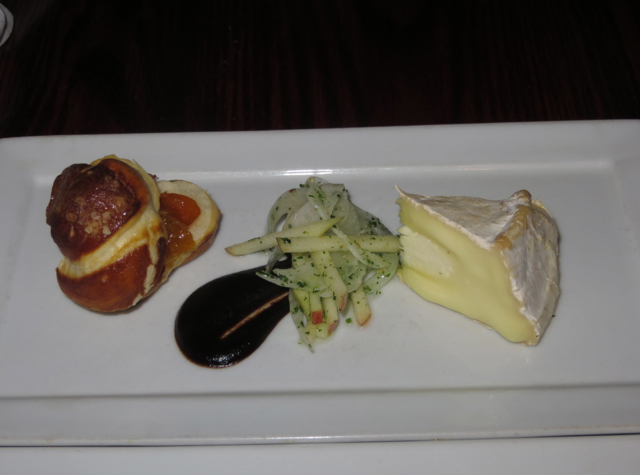 The Warm Deep Dish Pecan Pie was better, and the munchkin loved it, but I wouldn't go out of my way to order it again. This is one restaurant where I'd be sure to fill up on delectable appetizers and entrees, and have dessert at home or forego it altogether.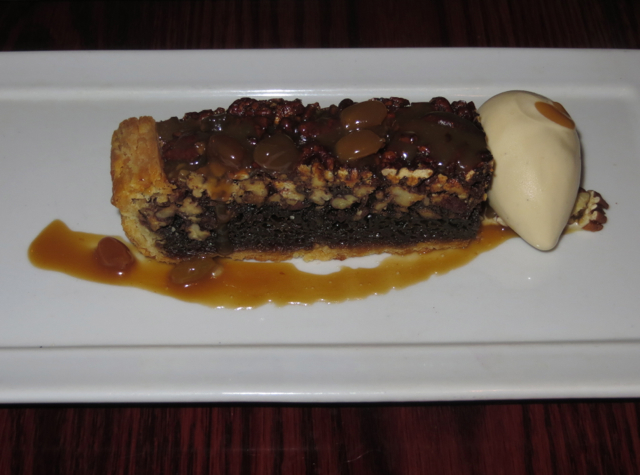 The Service
The service at Fruition may be good as Denver restaurants go, but it wouldn't cut it in NYC with a restaurant of this price point. It may simply be that there aren't enough servers for the restaurant, when it's busy, but there were long periods, particularly after our main dish, when our plates sat on the table, uncleared, and no one was checking on us or apologizing for the wait, and it was even difficult to flag someone down.
I also would caution against being seated in the place we were seated, which was close to the door. Each time the door opened, a cold blast of air hit us. By the time we wanted to move, however, other tables were already taken.
That said, servers were friendly, and I do have to give kudos for offering me a taste of the two wines by the glass I was considering, even if after that the wrong wine was brought (although quickly changed out).
The Verdict
Ultimately I was a bit disappointed in Fruition. The food itself was delicious, and for food alone I thought it was fairly priced by NYC standards. But the service we received wasn't as attentive or as polished as I would expect at this price point, particularly given its nondescript Denver location. I do ultimately recommend it for its food, but expect significant lulls and potential lapses in service so as not to be disappointed.
Related Posts
Ritz-Carlton Denver Hotel Review
Club Lounge, Ritz-Carlton Denver Review
Best Credit Cards by Spend Category
Need Award Booking Help? Our fee is as low as $75 per ticket if you book your hotel through us.
If you enjoyed this, join 90,000+ readers: please follow TravelSort on Twitter or like us on Facebook to be alerted to new posts.
Become a TravelSort Client and Book 5-Star Hotels with Virtuoso or Four Seasons Preferred Partner Amenities!