Why Go
For the frenetic energy that is at once old-world and strikingly new. Pass through the stone walls into Jerusalem's Old City and you're suddenly thrust into another world, all sweat and spices, shouts and squabbles. Unlike the demure exterior, where the Old City still resembles a staid heritage inside, inside its walls, there's a bustle of action. And for foodies, a ton of that action revolves around food. Holes in dark walls reveal sizzling falafels and pomegranates being crushed for fresh juice, just two delectable culinary experiences that travelers should partake in while visiting.
Jerusalem is home to the most living and breathing World Heritage site out there, where Hassidic Jews sail through the graffitied alleyways of the Arab Quarter and delivery boys speed down cobbled ramps with reckless abandon. And while musty rugs, ubiquitous incense, and mobs of tourist groups might be a part of the picture, these alleyways manage to charm, no matter how packed they may be. Outside of the more old-style quarters, a newer Jerusalem entices with world-class cuisine and fancy cocktails. It's an excellent melting pot of world religions and even epochs, and one that travelers will not find duplicated anywhere else in the world.
Insider Tips

• Visit Jerusalem in spring (March to May) or autumn (October to November), when the weather is pleasant for strolling. Summers are stiflingly hot; temperatures reached 105 last year. Winter days are short and often rainy, so bring warmer clothes and an umbrella if traveling in those months.
• Fly into Ben Gurion International Airport, near Tel Aviv. The bus service from the airport to Jerusalem is cheap, frequent, and takes about 45 minutes.
• To get to the Old City from Jerusalem bus station, turn left and walk straight along Jaffa Road for 20 minutes until you reach Jaffa Gate. If you get lost within the city walls, walk upwards and the alleys will generally lead back to the gate.
• Jerusalem is relatively safe to visit, but always check with your embassy before departing.
• Dress respectfully and religiously neutrally in order to avoid hassle.
• Women should exercise caution if walking the Old City streets alone at night. The city is deserted and disorienting after dusk, and there have been a few cases of harassment, particularly for those who appear more obviously out of place.
• For a reflective and more solitary experience, rise early and visit religious sites well before the tour group throngs have even begun their buffet breakfast.
• On Shabbat, which lasts from Friday at sundown until Saturday at sundown, the Jewish side of the city closes down along with with the rest of the country. The Egged Bus Service (www.egged.co.il/eng) does not run, and taxis cost double.
Where to Stay
Jerusalem is packed with pilgrims at any time of year, so it is wise to book accommodation before you go. Those who need a less expensive place to stay should consider the Citadel Hostel (St. Marks 20, Jaffa Gate, tel. +972-2-628 52 53). This a rambling stone house is half a millennium old and offers an oasis from the nearby market on David Street, where frantic sellers push Kaballah bracelets and novelty t-shirts. Citadel lacks atmosphere and the dorms are dingy, but sleep on the roof and life looks beautiful. At dawn, church bells ring and Islamic calls to prayer sing, as the sun warms the crumbling stones of the Old City, and that kind of view and experience might make dirt-cheap accommodations seem worth it.
For a better night's sleep within the city walls, Christ Church Guesthouse Hotel is charming, with a friendly volunteer staff and wholesome food available at its cafe. The rooms are small, but the hotel is reasonably priced and has a secluded courtyard, making it just the place to unwind after a packed day of sightseeing.
Outside the Old City, the King David and the American Colony Hotel offer classic five-star luxury. The chic design and jet-set crowds at Mamilla Jerusalem Hotel have attracted praise from style magazines across the globe, making it the perfect pick for fashionistas who are more interested in New Jerusalem than Old Jerusalem. If sleeping at Mamilla is not an option, enjoy a cocktail on the rooftop terrace as the Old City glows in the distance.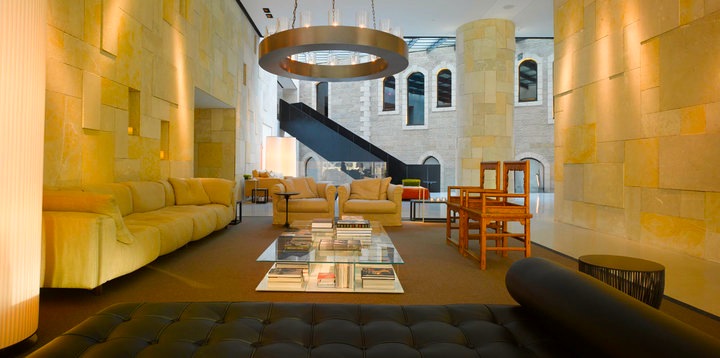 Where to Eat
Relax at a mosaic table for a moment and watch souk life from the sidelines at Cafe Rimon, just inside Damascus Gate. The Arab owner demonstrates how to dash Sumak, a spice as warm as cinnamon, onto the Armenian pizza before rolling it like a crepe. Enjoy the tomatoed naan with Christian Palestinian Taybeh beer or Israel's own Goldstar, and there you have it – all quarters of the Old City together on one plate!
Hummus can be found on almost any street in the Old City, and it is far from humble. When made properly, hummus is as creamy and comforting as rice pudding. And topped with toasted pine nuts, with a boiled egg for dipping, it is heavenly. The best hand-mashed hummus in the Old City is at Abu Shukri on Via Delarosa – no menus, they only serve what they do best. Lina, in the Christian Quarter, is the only hummusiya that comes close to Abu Shukri's perfection. It fills up fast for lunch, but you will not have to wait long for a table. The etiquette in Israeli hummus joints is to dip, devour, groan with delight, repeat, stand up, get out.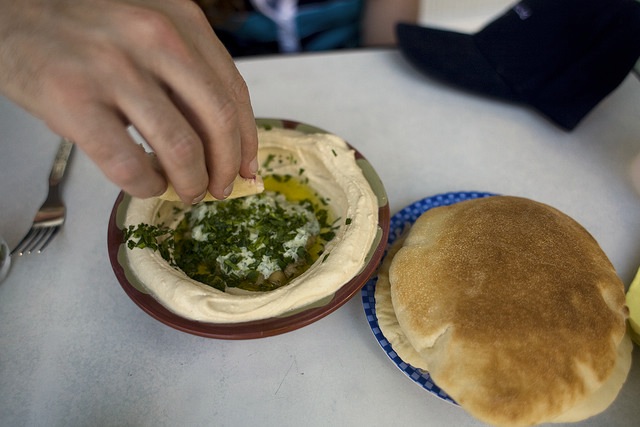 Serving elegant Italian and innovative local dishes, the menu at Chakra changes every month, while the specials menu changes daily, according to the availability of fresh produce in the neighboring markets – a sign that Chakra is serious about food. And what they create is seriously good, but it is Chakra's warmth and elegance that sees it frequently voted as the best restaurant in Jerusalem. Inside is lively with a view to the open kitchen, while the patio outside has a charming view to Meir Sherman park. Take your pick, but be sure to book well in advance.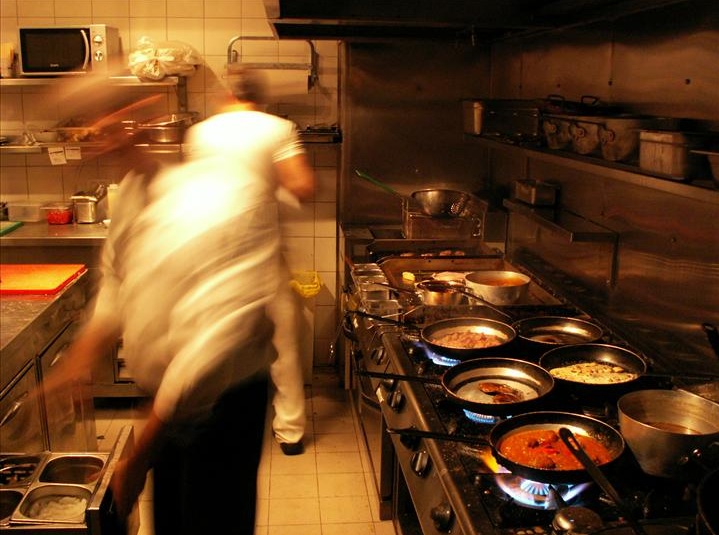 The food at Mona is even better. It serves Mediterranean haute cuisine to a hip clientele inside the cosy stone walls of the old Jerusalem artist's house. Always packed, this place is reservations only; the salmon tartare is especially good.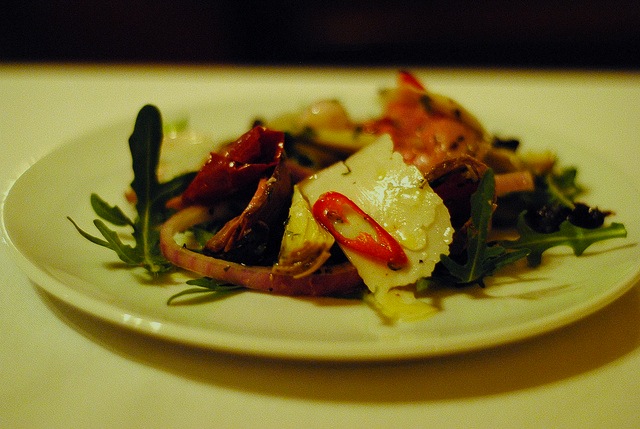 While Mona doubles as a bar for creatures as disheveled as they are beautiful, the hipsters at Uganda Bar tend to be simply disheveled. A live music venue/comic store, Uganda also serves some of the best hummus in West Jerusalem.
If you would rather not stray far from the Old City, the alley between Rivlin Street and Hillel Street is packed with great bars and lively restaurants. The sweetest nuttiest smell hangs in the air from the corn on the cob stall, but if you are looking for a heartier meal you cannot go wrong with the steak at El Gaucho.
What to Do
Jerusalem's largest and most colorful food market is Mahane Yehuda, a 15-minute walk from the Old City along Jaffa Road. 250 stalls hawk fish, meat, fruit, and vegetables. Hessian sacks groan with cashews and walnuts, tables are rich with mountains of spices, and bakeries sell marzipan treats and honeyed Halva. Visit on Friday, when the market is at its most vibrant, since Jewish locals are busy buying the final touches for their Shabbat meals. Pick up bargain bread just before it closes for the weekend at 3pm.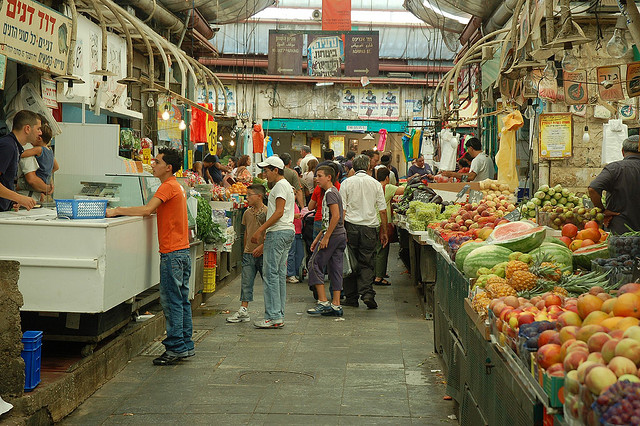 Sandemans free tour of the Old City is a great three-hour orientation of Jerusalem for when you first arrive. The guides are passionate and effortlessly detail the history of Jerusalem along the way. The tour runs at 11AM and 2:30PM, from Sunday to Thursday, and begins at Jaffa Gate. Tips are appreciated.
Cycle the cobbled alleyways of the Old City by moonlight with Jerusalem Biking. The sense of peace on viewing holy sights while the rest of the city sleeps is enchanting. The groups are small, and the two guides who lead and tail the tour are passionate and engaging, detailing the history of the city they love along the way. After three hours biking streets old and new, collapse happily into bed at midnight. The tour costs 200 NIS per person, including bike and helmet hire, and it is worth every Shekel.

Every pale brick of the Wailing Wall (also known as the Western Wall or Kotel) is showered with kisses and cries from Reform and Orthodox Jews alike. For those who are unfamiliar with the site's history, this is one of the most holy spots in all of Judaism, a place where pilgrimages have been occurring for centuries upon centuries. The energy here is real, as is the airport type security that must be passed through in order to enter the plaza, so expect things to be crowded. Traditionally, prayers are written onto pieces of paper and then folded and placed into the cracks between the stones of the wall.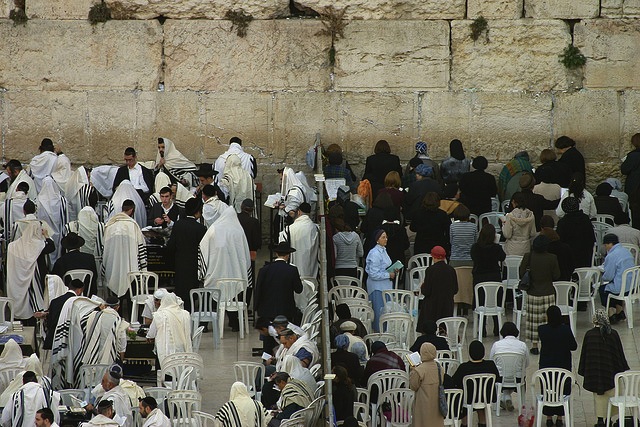 Travelers heading to Jerusalem should also expect x-ray machines at the entrance to the Temple Mount. A holy site three major religions, it's known as the Noble Sanctuary to Muslims. The spot marks Mohammed's ascension to heaven next to Allah and for security reasons, only Muslims can enter for prayer. Non-Muslims who attempt to pray here will be removed by the police, so don't get overzealous while visiting. Startlingly beautiful from the outside, the rising gold and cerulean blue of Jerusalem's most iconic building stands out against so much desert sand.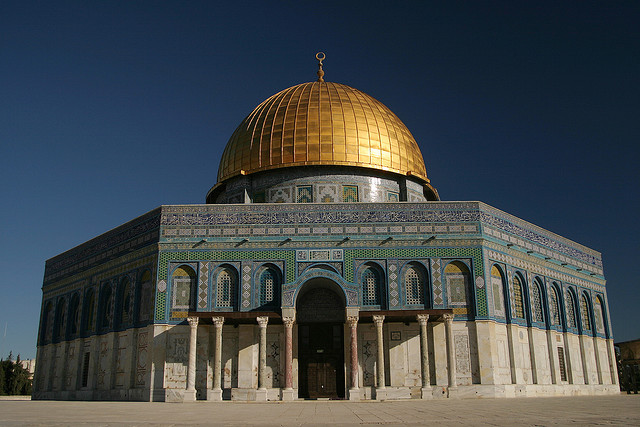 Throughout Shabbat, buses continue to run from the Arab bus station opposite Damascus Gate. Take this opportunity to visit Bethlehem, 30 minutes through hills of olives in the West Bank (4NIS). In order to avoid checkpoints on the way into town, take Bus 21. With its wide streets, calm people and a fresh breeze, Bethlehem has everything Jerusalem's Old City lacks. The Nativity Church on Manger Square houses a cave of golden lamps, tapestries and candles burning. Pilgrims yearning to see the floor of the stable where Jesus was born cram in here, so arriving early might mean beating the rush.
If you can spend a day or more in Palestine, visit the old souk in Hebron for a stark insight into everyday tensions between Palestinians and Israeli settlers. Security is unavoidable on the way back to Jerusalem, so be sure to bring your passport and take a taxi (18NIS) to the checkpoint at Bethlehem. Instead of being stressed out about the hold-up coming back into Jerusalem, take the time spent stalled by the wall to take in some Palestinian street art, or catch some of Banksy's most famous work in the West Bank, including his dove of peace, on the sidewall of Saca Souvenir Store a few minutes walk from the checkpoint in Bethlehem.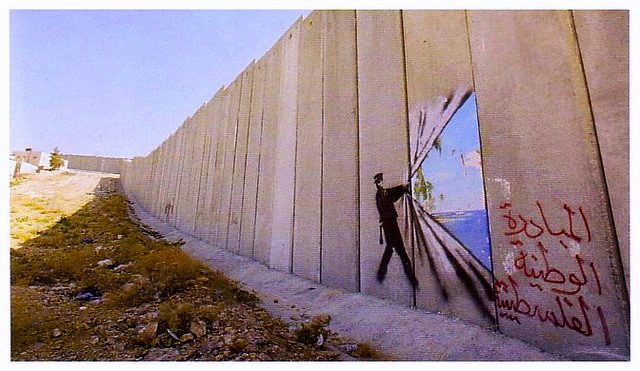 Photo credit: rusticus80, Emile Raguso, beggs, Wall in Palestine, david55king