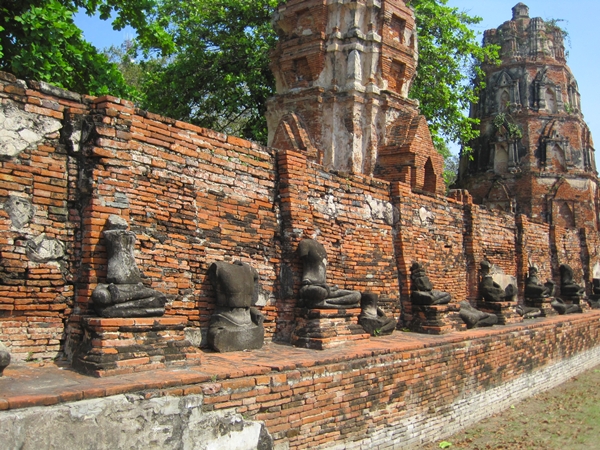 Why Go
Ayutthaya, Thailand was one of the greatest civilizations of the east. Evidence of the city's wealth was present in the large number of structures which included opulent palaces and Buddhist temples. Yet after 400 years, Ayutthaya met its downfall at the hands of the Burmese. The city was so thoroughly ransacked that it had to be moved to Thonburi. Today, visitors to Ayutthaya can have a glimpse city's former glory through the age-old ruins in Ayutthaya Historical Park, a UNESCO World Heritage Site. Without a doubt, a visit to Ayutthaya will give you the chance to experience the great heights human creativity can reach, and the destruction humans can cause.
Insider Tips
Not a lot of Thais can speak or read English, so bring a Thai language map or print out the names and addresses of your hotel, train station, planned attractions to visit, etc. in the Thai alphabet. This will prove helpful when trying to ask for directions or when trying to communicate to a taxi or tuk tuk driver where you want to go.
If you're planning to go on an organized tour, book a tour when you're already in Thailand. Booking tours in Thailand is always cheaper. Most of the tours offer pick-ups at the hotel, giving you a breezy way to go around. You can book tours at the airport, hotel or at a travel agency.
Because of its proximity—around 52 miles north of Bangkok—Ayutthaya is usually visited as a day trip from Bangkok. So it might be more advisable to book a hotel in Bangkok instead of Ayutthaya, if you're also planning to spend time in the Thai capital. If you do want to stay longer in Ayutthaya, the city has several hotels and affordable guesthouses.
Not interested in an organized tour? Then the best and cheapest way to get to Ayutthaya is via train from Bangkok's Hualamphong Railway Station (หัวลำโพง) where there are regular trains to the city. The trains are clean and third class seats cost around US$ 0.70. No reservation is needed for third class seats and you can buy tickets for the 1½ hour journey at the Hualamphong Station reservation office which is opened from 8:30-4:00PM.
Another affordable way to go to Ayutthaya is by bus from Bangkok's Northern and Northeastern Bus Terminal (หมอชิตใหม่). Fare is around US$1.65.
If you're planning to go around the Ayutthaya without a tour guide, you can either go around by tuk tuk or taxi. There are official tourist tuk tuks by the train station which offer fixed charges for around US$7-10/hour, but the price is negotiable. Look for the official tourist sticker on the tuk tuk to make sure that it isn't a scam.
Another enjoyable way to get around Ayutthaya is by bike. You can rent bikes near the train station for around US$ 0.70. Before riding out, make sure the bike is working properly since they are usually not properly maintained.
Nearby Ayutthaya is Bang Pa-In or the Summer Palace, formerly the vacation home of the Thai Royal Family, though it is now only used for ceremonial reasons. A trip to Bang Pa-In is included in most organized tours to Ayutthaya, but you can also take a taxi there from Ayutthaya for around US$5. If you're using the train, there are a few trains that stop at Bang Pa-In before Ayutthaya. Be sure to check the train schedule since trains to Bang Pa In are infrequent and you may have to catch the earliest train if you want to make the most out of your day.
Wear the proper attire when visiting temples in Thailand. Shorts and sleeveless shirts are not allowed. If you must wear something sleeveless, bring a cardigan so you can put it on whenever you enter the temple. Footwear is also disallowed in the temples so make sure you're wearing shoes that are easy to take off.
Thailand has a hot and humid climate so always drink water to avoid dehydration. It's not advisable to drink tap water in Thailand so it's a good idea to carry a bottle of mineral water around.
Don't flash your valuables, be vigilant and practice common sense to avoid theft. There are also thieves on motorbikes in Thailand who grab pedestrians' bags, so avoid carrying your bags on the side of your body that's facing the street.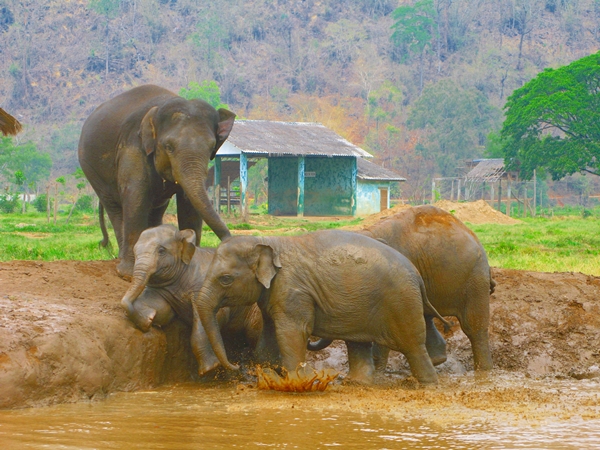 Where to Stay
For a truly unique Thai experience with a cause, Elephantstay (34 Royal Elephant Kraal) gives you the opportunity to take responsibility for one of the world's largest mammals. This includes: caring, feeding and bathing the elephant. Elephantstay is a non-profit organization focused on the preservation of Thailand's most beloved creatures. Cost of the stay goes to the preservation of the elephants. The minimum stay is for 3 days and 2 nights; the package for 1 person is at around US$400 and each additional day costs US$116. Included in the package is lodging at an air-conditioned tropical bungalow. There is free Wi-Fi and guests eat at a communal area near the river to get a feel for the traditional village lifestyle.
If a guesthouse is what you want, Prom Tong Mansion (23 Pathon Soi 19) is a Swiss-run bed and breakfast with clean rooms, private bathrooms and free Wi-Fi. Rates for air-conditioned rooms start at around US$27 while rooms with only household mechanical fans start at US$20. This includes a Western–style breakfast of bacon, crepes and scrambled eggs.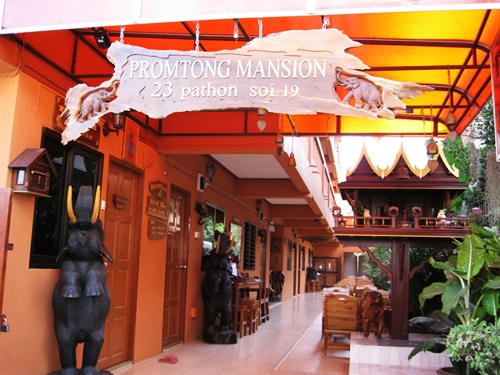 Ayutthaya Garden River Home (54 M00 7 Bangkrasun, Bang Pa-In) is perfect if you prefer accommodations with an elegant and relaxing atmosphere. The wellness resort is surrounded by natural scenery and is adjacent to the Chao Phraya River. Health and wellness buffs will be glad to know that the dishes served here are prepared with organic ingredients. There is also an in-house spa with massage and spa services. Rooms are clean and tastefully designed with distinctly Thai flourishes. Rates start at US$126 and some include breakfast.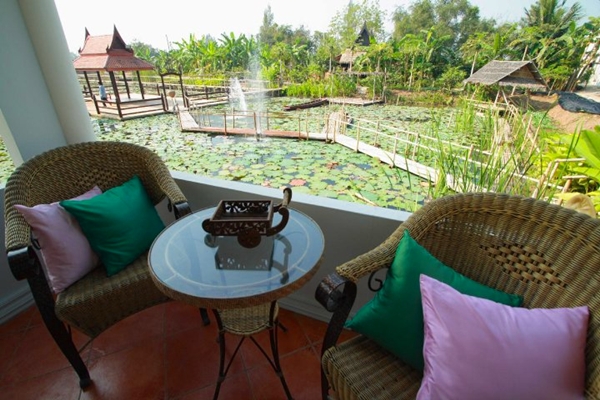 What to Eat
Thai cuisine is an experience in itself! Known for its vast array of spicy and tasty dishes, there are plenty of chances for you to sample Thai cooking at Ayutthaya.
Malakor (Chee Kun Road) is a charming and quaint restaurant located in an open-air wooden house. Food is good and prepared with fresh ingredients. Prices are reasonable and a budget of US$2-5 per person will suffice. Be sure to order Pad Med Ma Muang or Thai cashew fried chicken with vegetables. It's not as spicy as other Thai dishes, which is great for those unused to spicy cuisine. Also, get a seat at the southern side to get a view of Wat Ratburana, which looks especially stunning at night.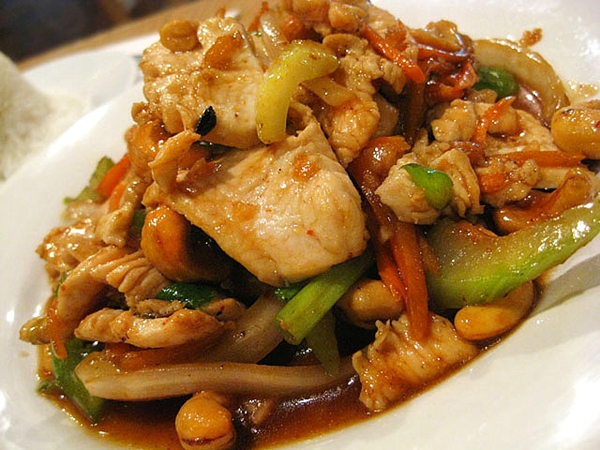 Go to Chang House (14/10 Naeresuan Road, Soi 1) if you're interested in visiting a bar. Aside from Thai dishes, Indian and Western food are also served here for a budget of around US$1.65-5 per person. Since this is a bar, remember to practice common sense and safety tips especially during evenings when people start to drink and get rowdy.
Also consider Bann Kunpra (48 M00 3, U-Thong Road), a restaurant set in an antique and tranquil house. Bann Kunpra serves Thai-Western fusion food for on a US$2-9 budget per person.
Don't limit yourself to the above restaurants. Try sampling Thai cuisine whenever you can, including signature Thai dishes such as Pad Thai and Tom Yum Goong. Be sure to also try cool Thai desserts like coconut ice cream to help refresh yourself after hours of walking under the sun.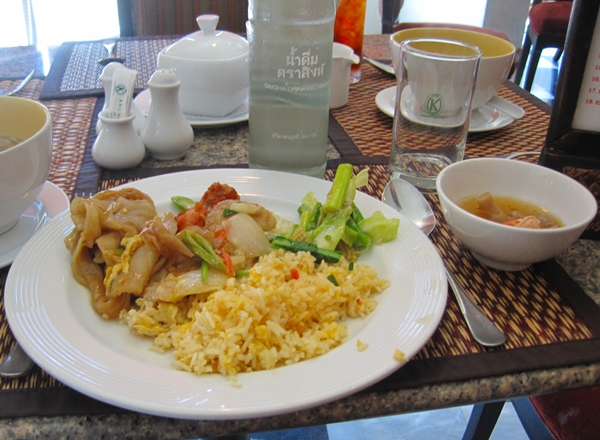 What to See and Do
Arguably, the best sights in Ayutthaya are its ruins, many of which are wats or Thai monasteries. Despite being the remains of once glorious structures, the ruins are picturesque and resonate with history. Unfortunately, it's not possible to visit all of them in one short trip. So below are five of the most interesting sites you can visit during an Ayutthaya trip, enough for any visitor to get a feel for its culture and history:
1. Bang Pa-In (พระราชวังบางปะอิน)
Before heading to Ayutthaya city proper, visit nearby Bang Pa-In. Summer palace to the Thai royal family, Bang Pa-In is a large and scenic complex by the Chao Phraya River which dates back to 17th century. Bang Pa-In has large and beautifully landscaped grounds decorated with animal topiaries.
Inside the complex, you can find evidence of Chinese influence, such as the Chinese style mansion Wehart Chamrun. Some parts of the complex are also very European such as the neo-classical marble statues on the bridge connecting the outer court and middle court.
Also check out Aisawan Thipya-Art or the Divine Seat of Personal Freedom, a floating Thai pavilion right in the middle of a pond by the outer palace. The pavilion was used by King Rama V to relax and rest. Today it contains the statue of King Chulalongkorn. Another interesting sight is the Ho Withun Thasana or Sage's Tower, the colorful lookout which the King used to observe his subjects.
Admission Fee: US$ 3.30
Hours: 8:00AM-4:00PM daily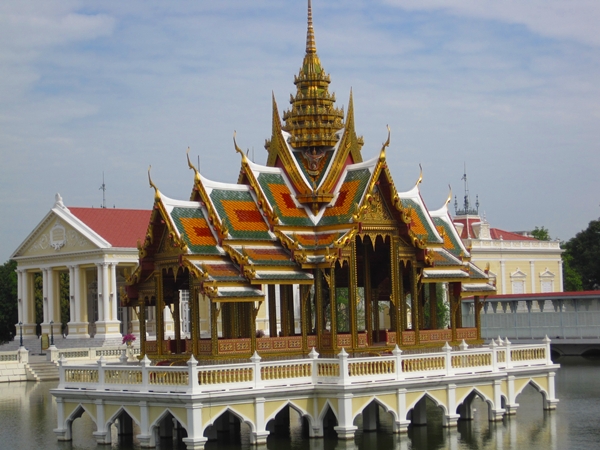 2. Wat Phra Mahathat (วัดพระมหาธาตุวรมหาวิหาร)
Wat Phra Mahathat is best known for having one of the most unusual yet fascinating sites in Thailand, a Buddha head protruding from the ground, entwined with the roots of the Bodhi tree. The head is highly revered and visitors who want to take a photograph with it are not allowed to be higher than the head.
The head isn't the only thing worth seeing in Wat Phra Mahathat, a large complex containing the vestiges of a monastery greatly damaged by the Burmese. Visitors will probably see rows of headless Buddha statues and crumbling temple foundations. Yet regardless of the past destruction, Wat Phra Mahathat looks incredibly majestic, giving its guests a glimpse of its former grandeur.
Admission Fee: US$1 for courtyard entrance, US$0.67 for the museum
Hours: 8:00AM-4:00PM daily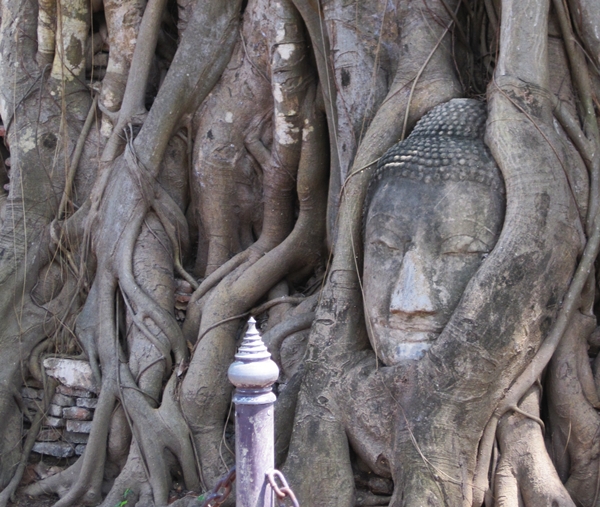 3. Wat Phra Si San Phet (วัดพระศรีสรรเพชญ์)
Wat Phra Si San Phet is the biggest temple in Ayutthaya and is one of its most popular attractions. The temple has several notable chedis—Thai stupas—which are often featured in Ayutthaya's promotional photographs, making it the attraction most often associated with the city.
Also located in Wat Phra Si San Phet's grounds are the remains of the Grand Palace of Ayutthaya. There are a few remaining pavilions but most of its buildings have been burned.
Admission Fee: US$1.67
Hours: 8:30AM-5:00PM daily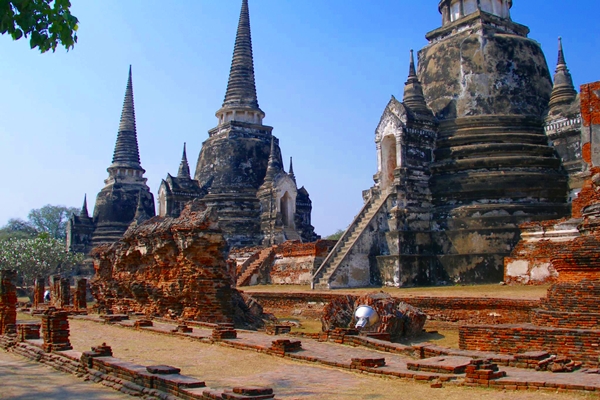 4. Wat Lokkyasutharam (วัดโลกยสุธาราม)
Seen the giant reclining Buddha at Wat Pho in Bangkok? Here's another enormous reclining Buddha for visitors to see, albeit made out of brick and mortar, and located outdoors. The reclining Buddha covered with a saffron colored robe is the main attraction of Wat Lokkyasutharam. Originally constructed centuries ago when Ayutthaya was still the kingdom's capital, the Buddha had to undergo two restorations in the twentieth century, one of which was, interestingly, funded by an alcohol factory.
Admission Fee: None
Hours: 8:30AM-4:30PM daily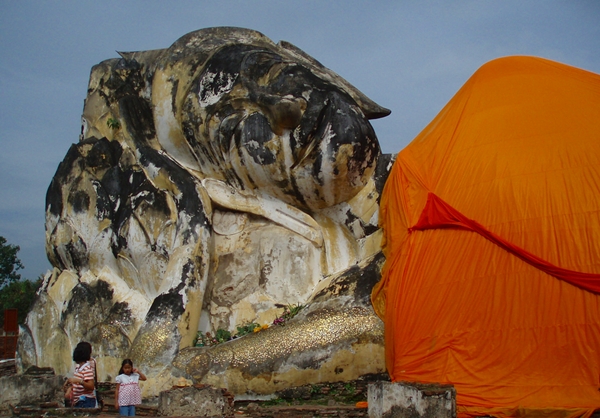 5. Viharn Phra Mongkol Bophit (พระมงคลบพิตร)
A most impressive edifice used to stand on the present sermon hall's site before it was destroyed a fire. Though the current renovated building is no longer as splendid as the original, it houses one of largest bronze Buddhas in Thailand which continues to inspire awe in its visitors.
Admission Fee: None
Hours: 8:00AM-5:00PM daily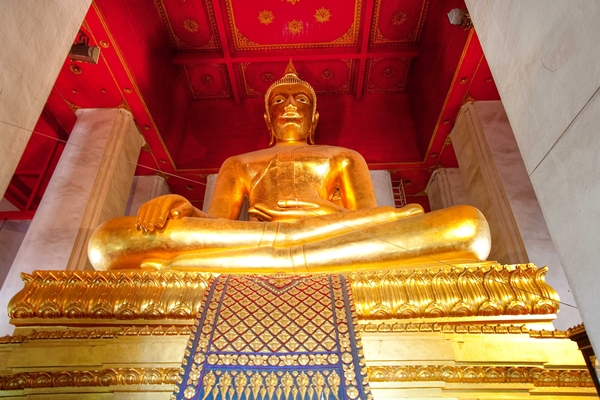 Related Posts
Royal Barges Museum and Bangkok Canal Tour
Review: Four Seasons Koh Samui
Need Award Booking Help? Our fee is as low as $75 per ticket if you book your hotel through us.
If you enjoyed this, join 100,000+ readers: please follow TravelSort on Twitter or like us on Facebook to be alerted to new posts.
Become a TravelSort Client and Book 5-Star Hotels with Virtuoso or Four Seasons Preferred Partner Amenities!
Photos: Patricia Julian, AnnieGreenSprings, jasonlam, Argenberg, kopretinka, clayirving