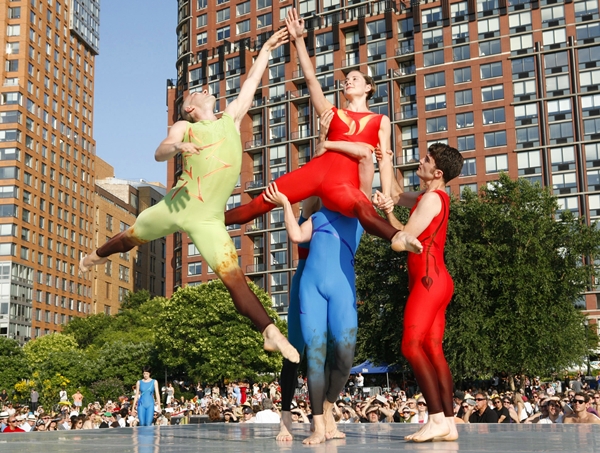 While there's always plenty going on in New York City, the city really shines in the summer when much of that entertainment is available outdoors. Although it's hard to narrow it down from the hundreds of events on offer, here are our picks for what not to miss:
The largest summer arts festival in Lower Manhattan, the River To River Festival encompasses art, theater, music, dance, and film, performances in a variety of public spaces. While there's only 1 week left for the 2011 season, which runs to July 16, 2011, some of the events, such as the New York Classical Theatre's production of Henry V, have additonal performances after the festival ends.
Free tip: The performances are free, but some do require tickets, so check the description and get there with plenty of time to spare if a ticket is needed.
Shakespeare in the Park is a magical experience, set outside under the stars in the Delacorte Theatre in Central Park and often with celebrity actors, such as Al Pacino, Anne Hathaway and the like in recent years. Magical, that is, if you can get tickets. Lines are incredibly long, with scalpers taking a number of the tickets to resell on Craigslist. There is a separate line for senior citizens and those with disabilities, and there is also an online lottery for tickets Our advice: if you can afford it, become a Summer Supporter with a $350 donation to receive 2 reserved tickets. You can of course also go onto Craigslist, but this is riskier as you may end up paying for fake tickets, with no recourse.
Free tip: In recent years, lines for free tickets have started even before midnight the day before tickets are released, especially for popular Friday and weekend performances. Either get there very early and have a friend you can share the waiting with, or take your chances with the online lottery.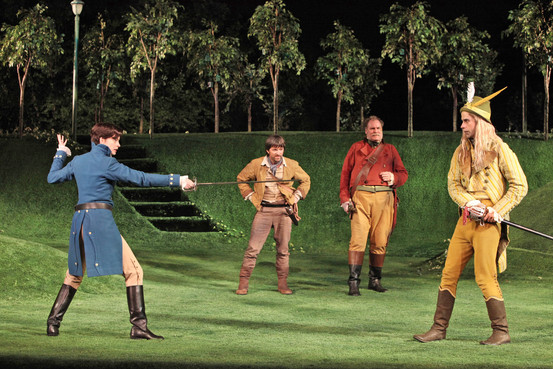 Lincoln Center is not just for ballet, opera and symphony fans; it hosts two fantastic summer festivals, one of which is Midsummer Night Swing. It features everything from Big Band Swing to Salsa, Samba, and most recently, even an 80s Dance Party, all outside at Damrosch Park
Free tip: While you'll need tickets to take part in the pre-performance dance lessons and strut your stuff on the dance floor, many dance lovers simply dance in the plaza outside the dance floor, for free.
The other Lincoln Center summer festival is completely free: Lincoln Center Out of Doors annually features unique music and dance performances, several of them U.S. or world premieres, outside in the Hearst Plaza, Josie Robertson Plaza, or Damrosch Park. Highlights in 2011 include the Eiko & Koma premiere of Water, with dance choreographed specifically for the festival and the 28th Annual Roots of American Music Festival, which will include soul, rockabilly, bluegrass and other performances.
Free tip: All events are free, but get there early for the best spots to view the performance.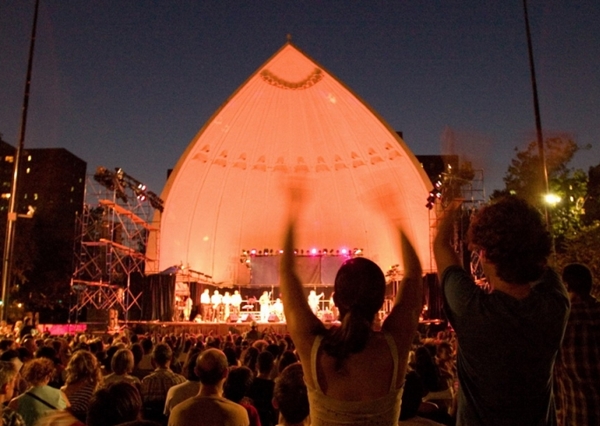 Whether you want to don your best vintage clothing and swing dance on the dance floor or not, the annual Jazz Age Lawn Party held for one weekend in late June and another in late August is the perfect low-key outing for a clear summer day. Pack a picnic and take the free ferry to Governors Island, where Michael Arenella and his Dreamland Orchestra will transport you to a Gatsby affair with their 1920s tunes and dance performances. There are even Charleston lessons, a bathing beauties contest, a 1920s Motorcar Exhibition, etc.
Free tip: Tickets are only $10/person or $7 in advance (which also saves you waiting in line at the event) but if you just want to watch, you can remain outside the fence to listen to the music and watch the dancing.