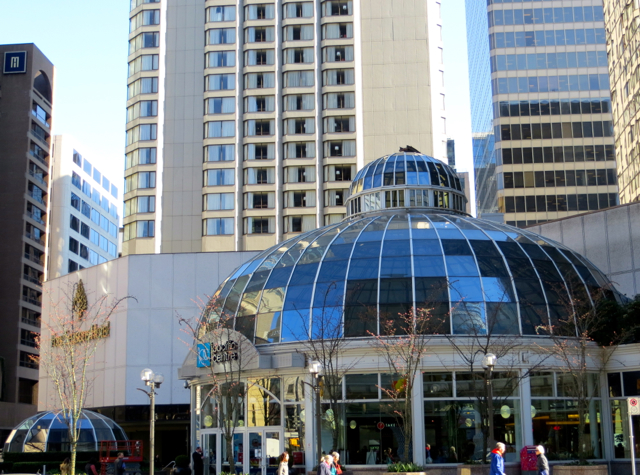 This Four Seasons Vancouver Hotel Review is part of a trip report including Cathay Pacific First Class to Vancouver, plus reviews of luxury hotels, food, and family friendly things to do in Vancouver and Seattle. Prior posts include:
Cathay Pacific First Class NYC to Vancouver
Four Seasons Seattle Hotel Review
Chihuly Garden and Glass: Must-See in Seattle
Toulouse Petit Seattle Restaurant Review
Theo Chocolate Factory Tour in Seattle, Washington
Getting There
The Four Seasons Vancouver is located downtown, and is connected to the Pacific Centre. Since it's just across the street from the entrance to the Skytrain, which goes to Vancouver's YVR Airport, it's easy to get to the airport for just a few dollars. Since, however, we arrived just before 2am on our Cathay Pacific First Class NYC to Vancouver flight, we took a taxi to get to the hotel, which was about $35 (remember to use a credit card with no foreign transaction fees).
Four Seasons Vancouver: Four Seasons Preferred Partner Benefits
TravelSort Clients are able to have us book the Four Seasons Vancouver with Four Seasons Preferred Partner benefits:
Daily full American breakfast for two people per bedroom, served through In-Room Dining or in the hotel restaurant (including buffets)
Food and beverage credit of USD100
Upgrade of one category, based on availability at time of check-in (excluding signature suites)
Complimentary high-speed Internet access
Check-In
Given the ungodly hour of our arrival, it was no surprise that there was just one associate at the front desk, but she was amazingly upbeat for having to work at such an hour. Since we had booked a standard Superior City View Room, I asked about a potential upgrade to a room with a better view, and she offered a Deluxe Preferred View Room at a nominal upgrade fee. Since that room type only comes with a King Bed and we'd need a rollaway for the munchkin, however, I decided to stick with the Superior City View Room I had booked, with its two double beds.
Right after coding our room keys, she got a red wagon and wheeled it to the munchkin, inviting him to pick a toy. Even at 2:30am, his eyes lit up, and he finally decided on a cute toy that would be perfect for outdoor fun in Stanley Park (stay tuned for that review!). Then it was past the lobby lounge and upstairs to our room, and to bed.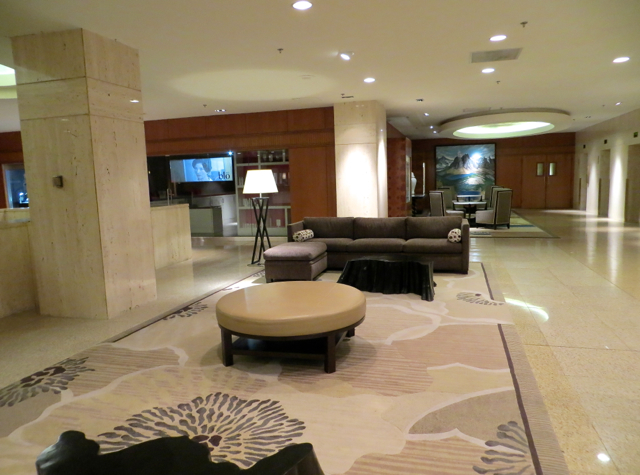 Room
The Four Seasons Vancouver is an older hotel, having been built in 1976, although it was renovated just a few years ago, in 2009. So I knew not to expect ultra-modern, and was pleased with the comfort of the room, particularly for the price I paid.
As regular readers know, I place a high premium on sleep comfort, and the Four Seasons bed did not disappoint. Both the munchkin and I slept incredibly soundly on the plush Four Seasons pillowtop mattresses and Frette linens. The one thing I did do, however, to ensure that the morning light didn't wake us up by coming through a chink in the drapes (since they're the type that draw close, not a true black out blind) was to use one an empty wastebasket to pin them firmly against the window. Usually I bring large binder clips with me for this purpose, but this trip I'd forgotten them.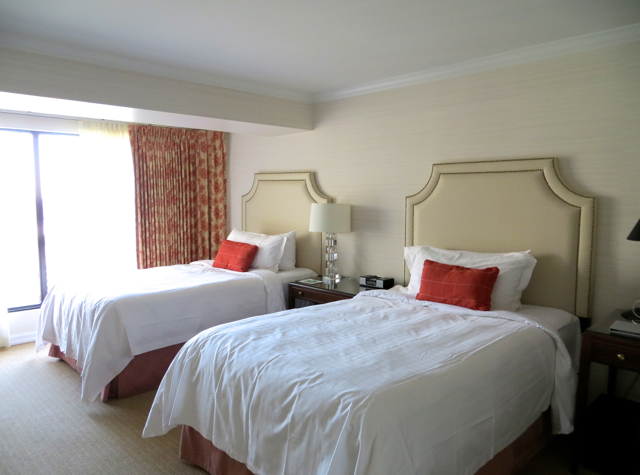 Across from our beds was a sitting area, although we didn't have occasion to use it as we weren't in the room much: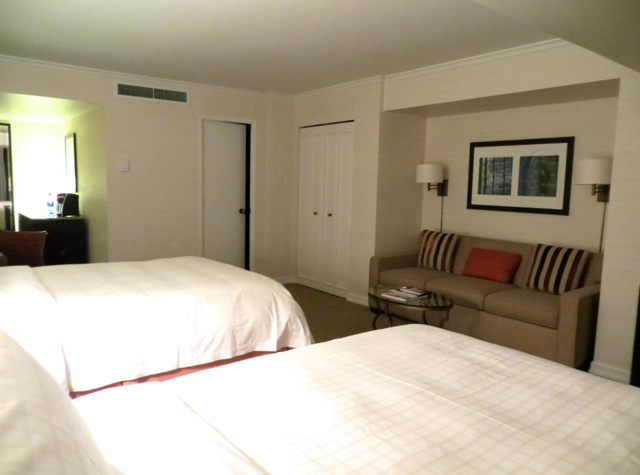 The bathroom was a bit on the small side, with a bathtub/shower combo, but the provided robes were very soft and comfortable: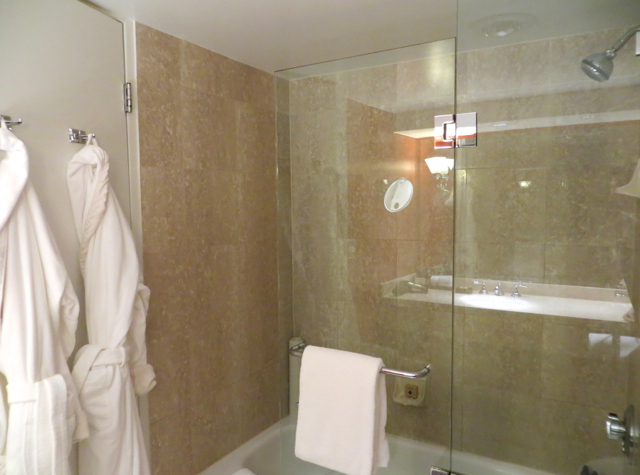 And the bath amenities were Four Seasons standard, L'Occitane–definitely worthy of taking with me 🙂 The little things matter, and I must say it makes a difference to me that Four Seasons continues to use L'Occitane (or even Bulgari, if you're staying at the Four Seasons George V in Paris) rather than a cheap substitute. Not to name names, but I was disappointed to see Ritz-Carlton branded amenities at the Ritz-Carlton Singapore, for example.
The only real disappointment was the Keurig Coffee Maker. I know others will disagree, but in a luxury hotel, I'd prefer not to have an in-room coffee maker if it's going to be Keurig–either provide a Nespresso, or just a hot water kettle and fine quality teas such as Mighty Leaf. I always bring my own high quality espresso powder and teas anyway, for cases such as this.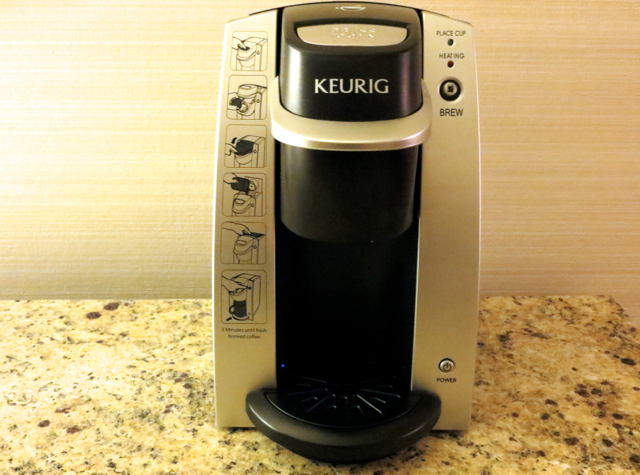 In addition to the in-room coffee machine, there is complimentary coffee and tea in the Lobby (right across from the elevators) for early risers: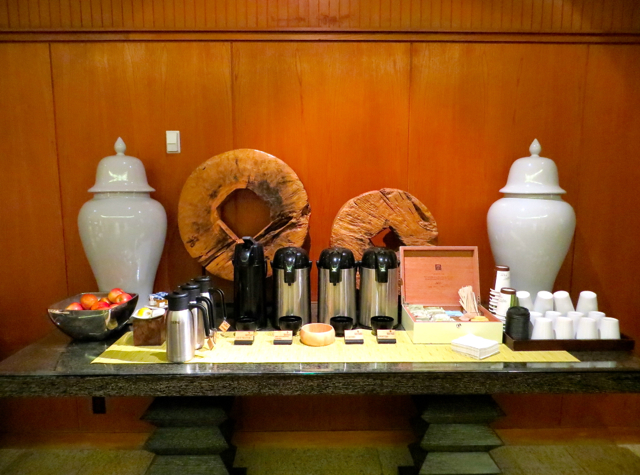 In the morning, we finally got to see what the view looked like, and even from this Superior City View Room on the 18th Floor, there was great natural light and a pretty nice view: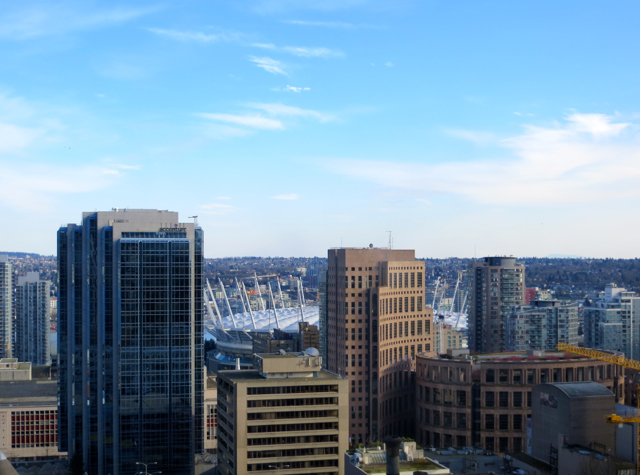 Pool and Fitness Center
One of the best and most unique aspects of the Four Seasons Vancouver is its indoor-outdoor heated swimming pool on the 4th floor. Not surprisingly, the munchkin couldn't get enough of swimming around, mostly in the outdoor section. There are even plastic beach balls and kickboards to borrow, although since he's not a proficient swimmer yet, I was glad we brought his water wings.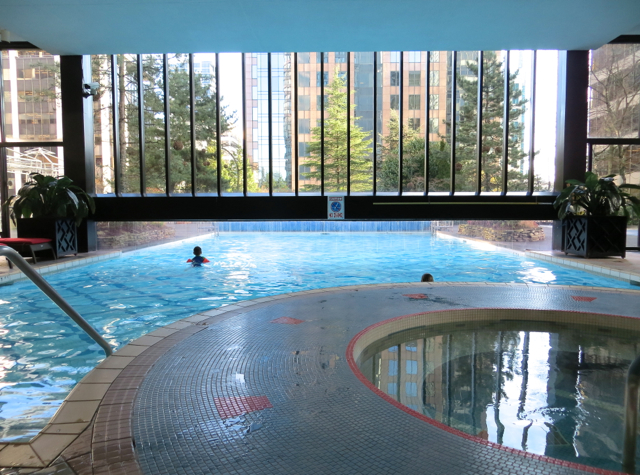 There's also a jacuzzi we enjoyed, and there are lounge chairs and tables to hang out at. During the morning, there's complimentary tea, coffee and fruit.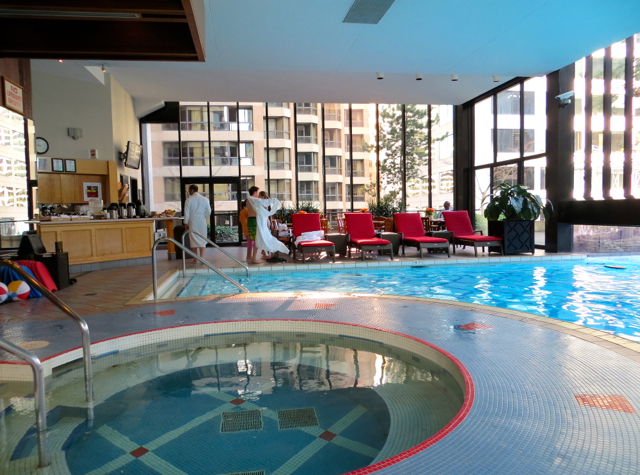 And here's part of the fitness center, although frankly we got plenty of exercise walking around Vancouver so we didn't use any of the machines.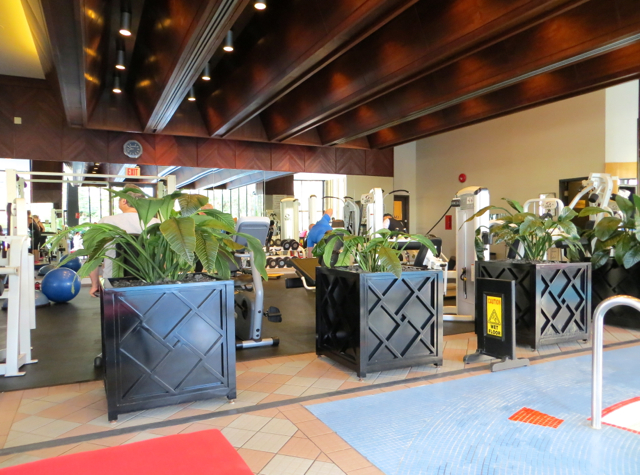 Kids in the City Program
One of the reasons I chose the Four Seasons Vancouver is that, during school holidays, they offer a "Kids in the City" program. Since you are supposed to sign up either the day before or very early that morning with the concierge and we only had one full day in Vancouver, I emailed the Concierge to sign the munchkin up for the craft activity that day and also a behind the scenes kitchen tour.
He had a lot of fun making some cool Easter crafts at one of the tables by the pool area, and he especially enjoyed creating his own chocolate dipped strawberry critter edible masterpieces: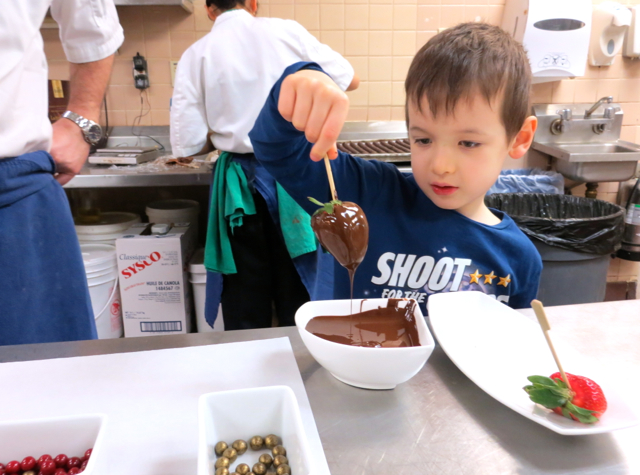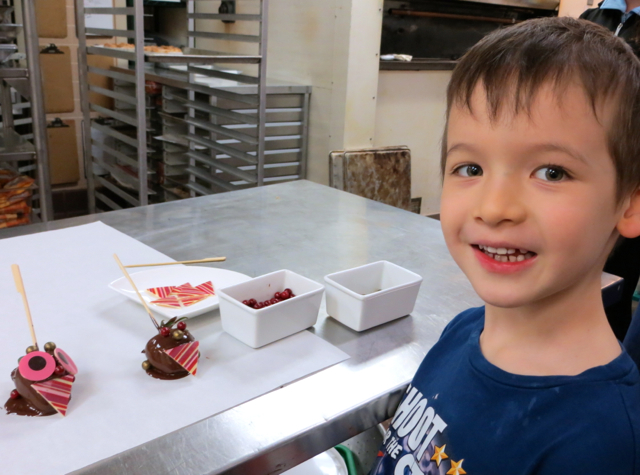 Concierge
We stopped by the Concierge desk after we our morning Kids in the City activities to plot out our afternoon. I'd heard there was an Easter Train ride in Stanley Park, and given my son's obsession with trains, that sounded right up his alley. The Concierge was able to phone and, using my credit card, purchase tickets for me so that I could avoid the line and just had to sign and pick them up once we got to Stanley Park–very convenient!
She also helped me figure out which bus to take to Stanley Park, and to get a restaurant I'd made our dinner reservation for. Since the munchkin was looking a bit glum waiting around as I got directions, the other concierge actually took the time to entertain him with a math game on the Concierge Desk's iPad. While normally I'm against much screen time, in this instance I was touched and grateful that the concierge took it upon herself to keep him happy–it really went above and beyond.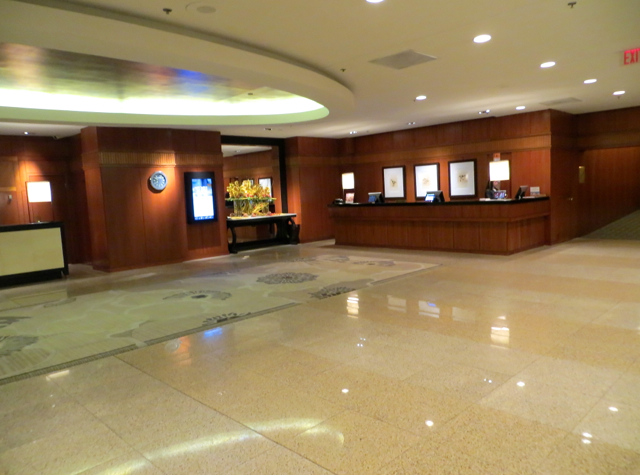 The Verdict
The Four Seasons in general known for offering some of the very best and most personalized service in the industry, and I have to say that the Four Seasons Vancouver was exceptional even by Four Seasons standards. I don't think I've ever been personally greeted as much as I was here, and I'm certainly not a VIP–I stayed in a standard room and paid for it myself–yet I felt very taken care of, by genuinely friendly staff. As I mentioned above, even standard rooms are very comfortable if not the most modern, and when the biggest thing I can think of to criticize is the Keurig coffee machine (instead of Nespresso), the hotel is a winner. It's especially wonderful for families with kids, given the pool, Kids in the City activities, and complimentary kids' meals at Yew Restaurant (more on that in a future post)
Disclosure: I paid for this stay and our meals at the Four Seasons Vancouver myself.
Related Posts