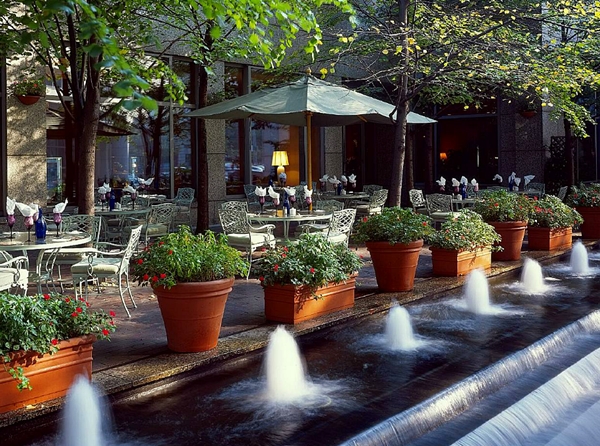 Update: The new Four Seasons Philadelphia will open open in 2018, and will be located at the top of the Comcast Technology Center, at 1800 Arch Street. The review below is of the former Four Seasons Philadelphia location.
Some time back, we had a family reunion to attend in the Philadelphia area, so we stayed at the
Four Seasons Philadelphia
. Sure, there were cheaper options, but since we were traveling with our young son and wanted a really good night's rest, it was hard to beat the allure of a Four Seasons bed and a little pampering sandwiched between fairly long drives getting there and back.
Fortunately, given how directionally challenged my husband and I sometimes are, map directions worked perfectly and we arrived without incident. We were helped out of the car by the valets, and ushered into the hotel's marble lobby. As we checked in, I asked if they might have a complimentary upgrade they could offer, to a bedroom separate from the sitting area so that it would be possible for our son to nap without all of us being in the dark. The front desk associate was kind enough to oblige, as the hotel was not full, and put us in an Executive Suite, with a separate living area and bedroom. She also warmly welcomed our son, who was only a toddler at the time, and invited him to choose a toy from a special kids' area. My son's eyes widened as he saw a plush football, and giggled as he got his chubby hands on it.
We got to our room, and were thrilled with the extra space. While even a Moderate Room at the Four Seasons Philadelphia (which we had in fact reserved) is a very generous 500 sq ft. (which is already twice the size of some small NYC hotel rooms) Executive Suites are 750 sq ft., with a nicely appointed living area (sofa, lounge chairs, coffee table, desk, large flat screen TV) and a bedroom with a King bed. My one quibble was that the marble bathroom was rather small and not as luxurious as you'd expect for a Four Seasons. But as we hadn't planned any long soaking baths there (no time due to the reunion) it wasn't an issue for that stay. Some might not care for the Federal-style, classical decor, but it fit well with what I imagined 5-star luxury in historical Philadelphia would be. It would be incongruous, say, in Silicon Valley, but definitely not here.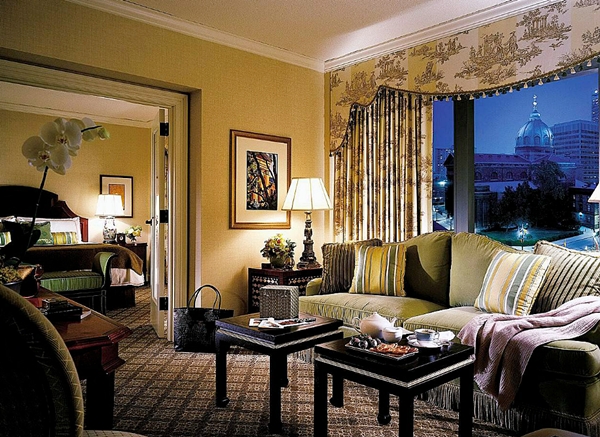 Since it was early afternoon, we settled our son for his nap. The great thing about hotels is their blackout drapery, which ensured our son could sleep well and not be woken up during light sleep by afternoon sun. After making sure he was asleep, we set up our "monitor" (ok, so regular baby monitors don't have the range we need, so we used our two cell phones) and slipped out, famished, in search of lunch.
Fortunately, the Swann Lounge was still serving lunch, and even better, they were willing to indulge me (with a smile, no less) as I asked if they could make something not on the menu–a Philadelphia cheese steak for each of us. I was curious, never having had one, and figured that even if not on the menu, it would probably be a really good version, at the Four Seasons. Sure enough, it was utterly delicious and hit the spot.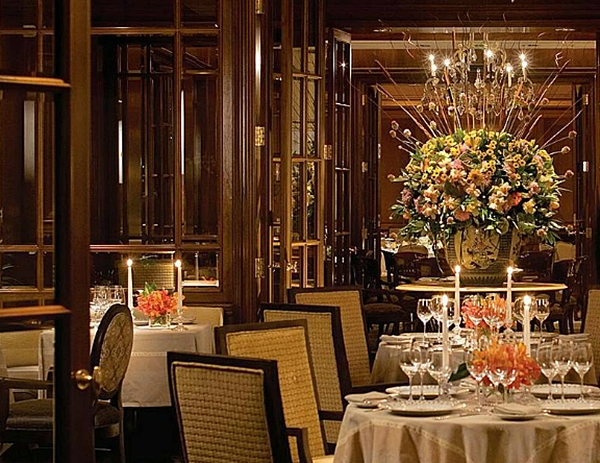 We were out at our family reunion for the night, so didn't have dinner at the hotel, but the next day we had an early breakfast (there is no such thing as a late breakfast as a parent of a young kid, unless it's a second breakfast) at the Fountain Restaurant, which received 5 stars in Forbes Travel Guide 2010. We just had pastries, cereal, jam and juice, but what made it super special for our son was that he was brought a blue Four Seasons balloon–he couldn't have been happier!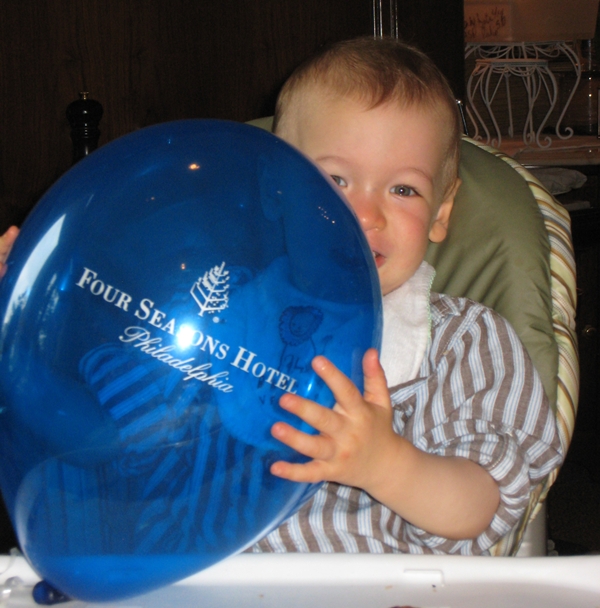 The hotel also has a pool, whirlpool and fitness center, but they are for guests 13 and older. We actually didn't have time to visit them anyway, but it could be a bit disappointing for families that were counting on some pool time with their kids. It's understandable that the hotel would want to ensure tranquility for childless guests, but it would be nice if there was a certain "kids' time" for the pool that was communicated to all guests, given how much many children love the water. Then again, maybe the hotel doesn't even enforce the 13 years and older rule–worth checking.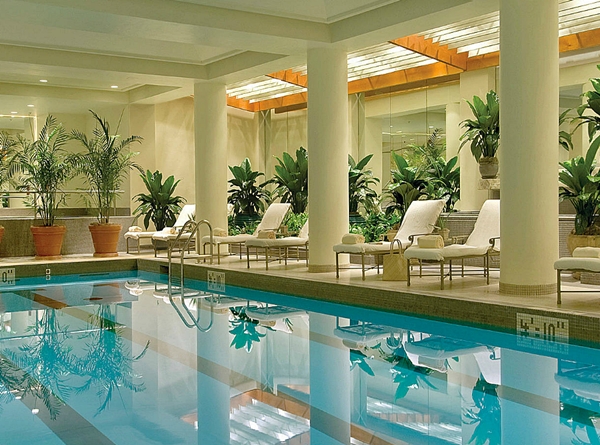 While we have stayed at several Four Seasons around the U.S. and the world, many of our visits were pre-child, so we were very pleasantly surprised at just how child-friendly the Four Seasons Philadelphia was. While as a parent you worry sometimes that no matter what the Web site says and even if your child is behaving well, hotel staff may be smiling while clenching their teeth, or otherwise giving you the sense that the hotel does not really welcome children. Plus, let's remember that the Four Seasons Philadelphia is primarily a business hotel, with a minority of leisure travellers.
We needn't have worried at all in this case–the Four Seasons Philadelphia would absolutely be my first choice in Philadelphia traveling as a family, assuming the location was convenient enough to wherever we needed to be. I will say that the Four Seasons Philadelphia is not the most convenient hotel for visiting the Liberty Bell or other historic sites, which are a good 20 minutes away by car, so if you'll be doing a lot of sightseeing you may not want to stay here.
And my son? He still has fun throwing around and cuddling that plush football from the hotel.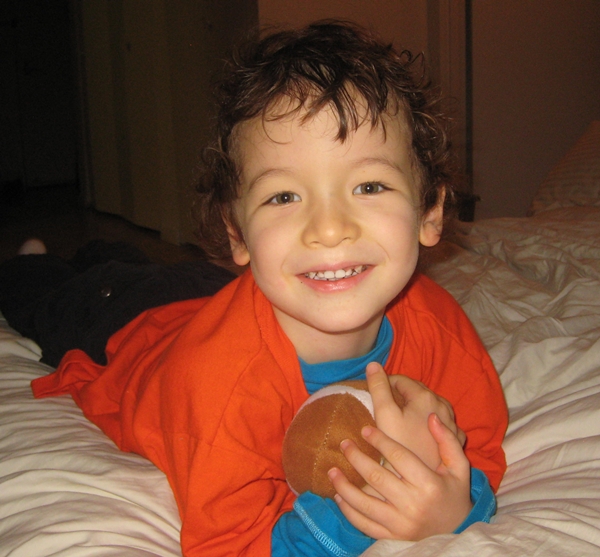 Related Posts