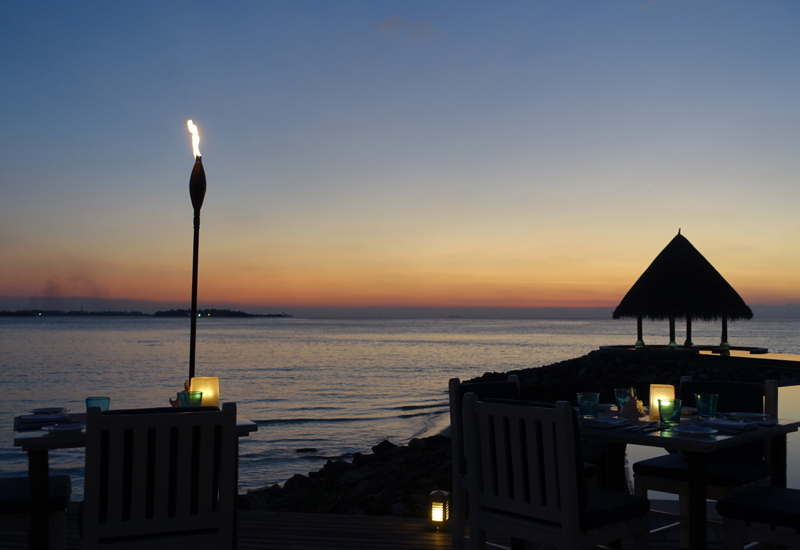 This Four Seasons Maldives at Kuda Huraa Restaurant Reviews and Menus post is part of a trip report including Four Seasons Landaa Giraavaru in the Maldives as well as luxury hotels in Southeast Asia and Etihad First Class and Business Class. For the prior posts, please see:
Review of Etihad's Lounge at Washington Dulles Airport (IAD)
Etihad First Class 787-9 Dreamliner Review
Review: Wingtips Lounge JFK for Etihad First Class Passengers
Review: Etihad First Class 777-300ER NYC to Abu Dhabi
Review: Etihad Business Class Lounge Abu Dhabi AUH Terminal 1
Four Seasons Maldives at Landaa Giraavaru Review
Four Seasons Maldives at Landaa Giraavaru Restaurant Reviews and Menus
Four Seasons Maldives at Landaa Giraavaru Activities: Top 10 Things to Do
Interview with Armando Kraenzlin, General Manager of Four Seasons Maldives at Landaa Giraavaru
Review: Four Seasons Maldives at Kuda Huraa
Surfing in the Maldives at Four Seasons Kuda Huraa
Review: Four Seasons Maldives at Kuda Huraa Sunset Water Bungalow
Review: Four Seasons Maldives at Kuda Huraa Sunset Water Bungalow
TravelSort Clients receive these Four Seasons Preferred Partner benefits, when reserving the Four Seasons Maldives at Kuda Huraa:
Upgrade of one category, based on availability at time of check-in (excluding signature suites and villas)
Daily full American breakfast for two people per bedroom, served through In-Room Dining or in the hotel restaurant (including buffets)
Spa credit of USD100 once during stay (not applicable to products)
Complimentary basic Internet (up to 2 devices) in all guest rooms, complimentary premium Internet (up to 4 devices) in all suites.
Four Seasons Maldives at Kuda Huraa Restaurants
The resort has 4 restaurants:
Baraabaru Indian Restaurant, open for dinner nightly 7pm-10:30pm, except on Tuesdays. On Sunday nights, a special Ghar Ka Khana ("homestyle cooking") buffet is offered.
Reef Club, open daily for lunch 11:30am-4pm and for dinner 7pm-10:30pm, closed Thursday evenings
Cafe Huraa, open for breakfast buffet and all-day dining, including dinner. A special Asian dinner buffet is offered every Tuesday.
Kandu Grill, open daily for lunch 11:30am-6pm and dinner 7pm-10:30pm, closed on Sunday
Cafe Huraa
Cafe Huraa is where you'll enjoy breakfast each morning (complimentary if reserved with Four Seasons Preferred Partner benefits) unless you opt for in-room dining (also included as a preferred partner benefit). It's open air, and there's a view of the pool, which we enjoyed.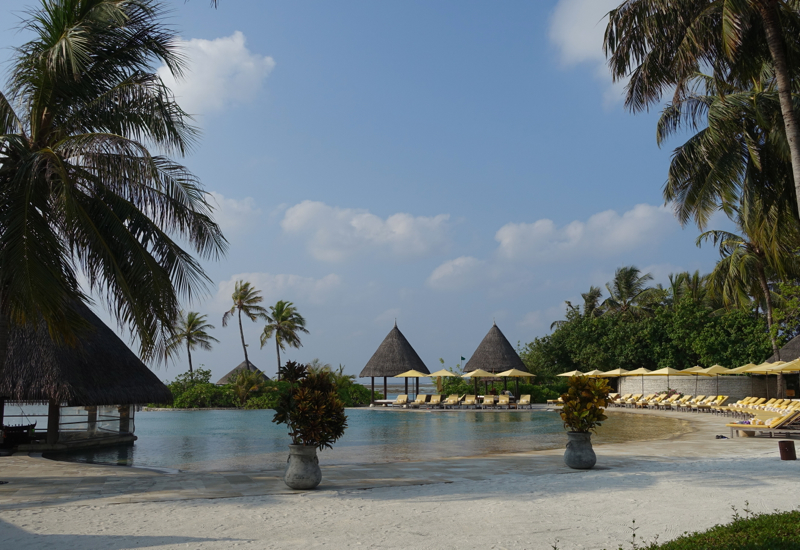 Breakfast Buffet at Cafe Huraa
The breakfast buffet featured an excellent assortment of fresh fruit, salads, smoked fish, Maldivian, Asian and Western savory dishes, and breads and pastries, in addition to an eggs cooked to order station and a pancake and waffle station, as well as a fresh squeezed juice station.
Here are our favorites from breakfast at Cafe Huraa:
1. Strawberry Chocolate Chip Pancakes
One of the nice things about a pancake station is that there are often more possible combinations than you might see on a regular menu. So when my son asked for strawberry chocolate chip, the chef smiled, and was happy to whip it up for him, which was served with real maple syrup. I don't go the Maldives for pancakes, but I took a tax bite and had to admit they were excellent.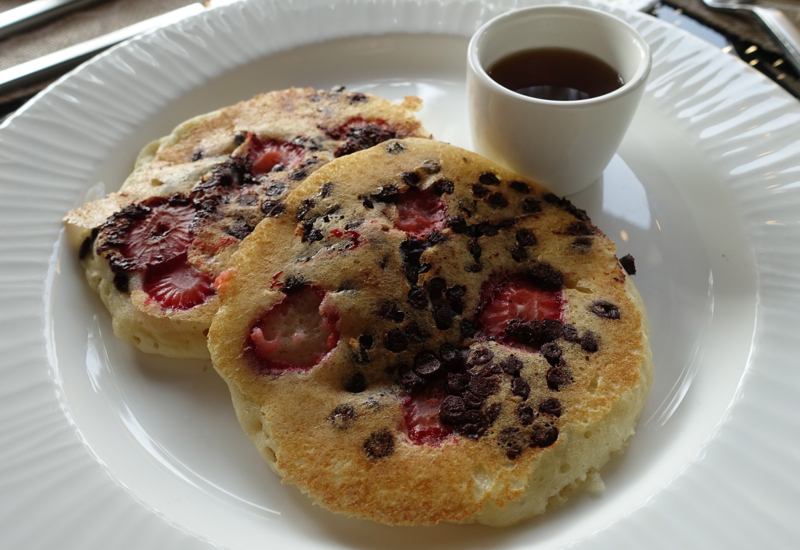 2. Maldivian Tuna Curry with Roshi
One food I do look forward to in the Maldives is Maldivian tuna curry with roshi, and this was a great version, with an addictively spiced curry sauce and fresh, warm roshi. My family thinks I'm crazy to have curry for breakfast, and I think they're crazy not to, it's so good.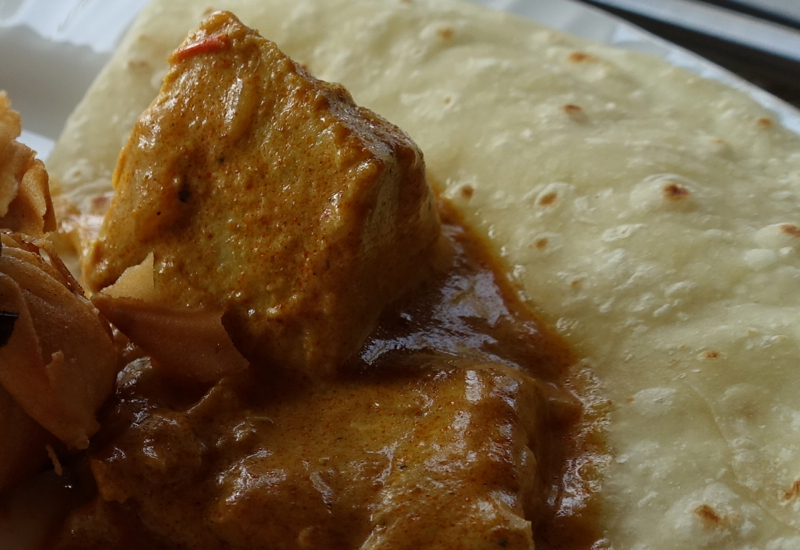 3. Yogurt with Strawberries and Housemade Granola
My morning staple is yogurt, and the strawberry yogurt at Cafe Landaa was good, although made even better with the addition of some fresh strawberries and housemade granola.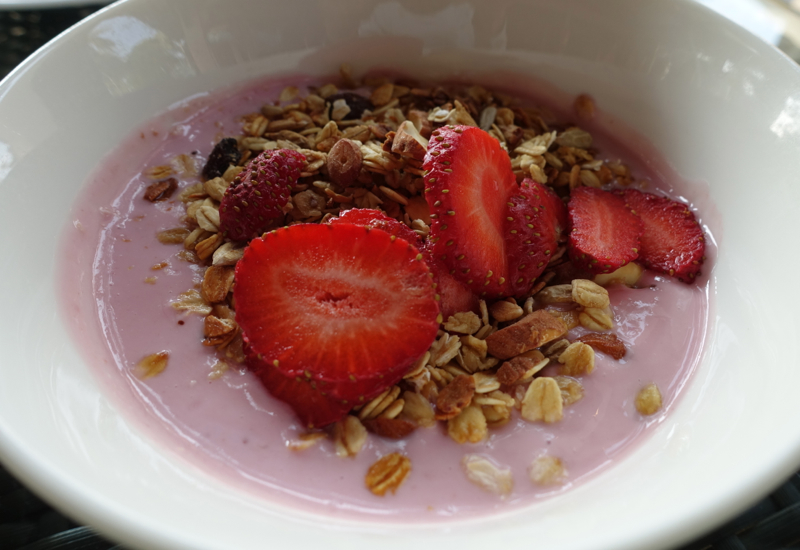 4. Fresh Passionfruit
Being from Hawaii, I used to pick passionfruit when I was little, although I think at the time I thought it was too tart. Fast forward a few decades and my favorite tropical fruit, apart from champagne mangos, is fresh passionfruit. I was in heaven being able to enjoy excellent fresh passionfruit each day at Kuda Huraa.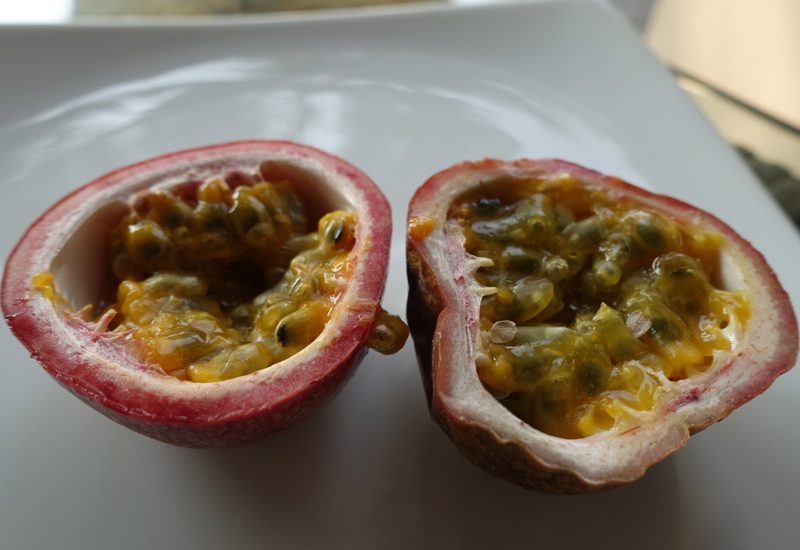 5. Made to Order Omelets
Again, omelets aren't exactly something I go to the Maldives for, but I shared one with my son one of our mornings and it was perfectly made, with just the right amount of cheese. I wanted mine spicy, so they even brought me some birds eye chilis on the side for my portion, since my son isn't up to eating anything spicy yet.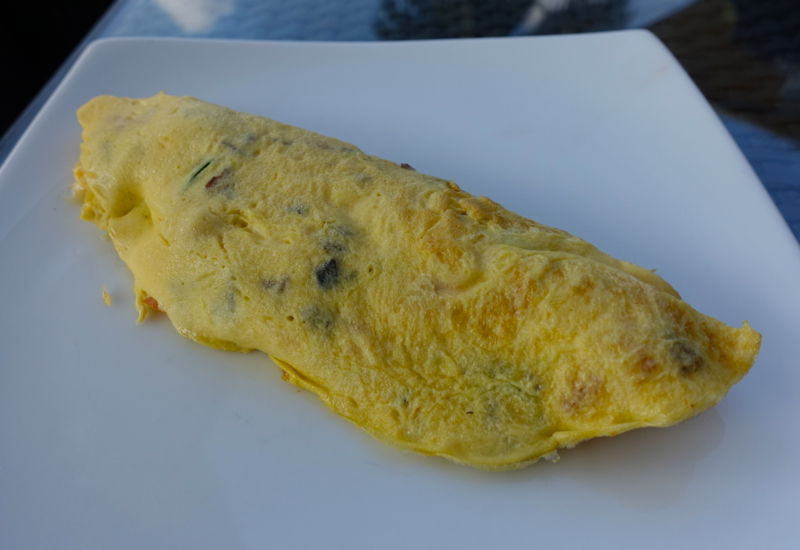 6. Fresh Squeezed Juices
A fresh squeezed juice station made it easy to ask the chef to concoct a special juice to your liking. I enjoyed my orange pineapple juice, and my son loved his freshly squeezed apple juice.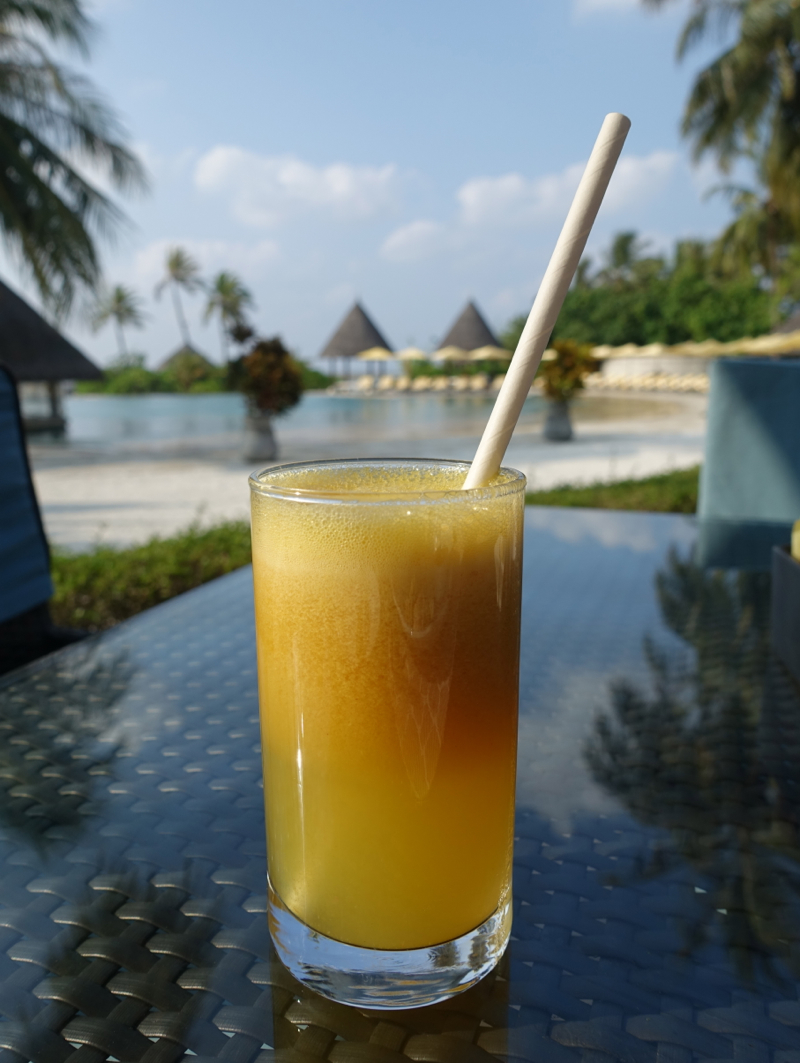 7. Housemade Danish Pastries with Passionfruit Jam
Pastries at pretty much every Maldivian resort have to be made fresh on site, since they wouldn't travel well if they had to bring them in. And honestly, the two Four Seasons properties make the best pastries of the 5 Maldivian resorts we've been to. Maybe they're just made closer in time to when they're served, but the pastry is flakier and crispier, which is no mean feat given the tropical humidity. They didn't really need any additional adornment, but I loved having them with the housemade passionfruit jam.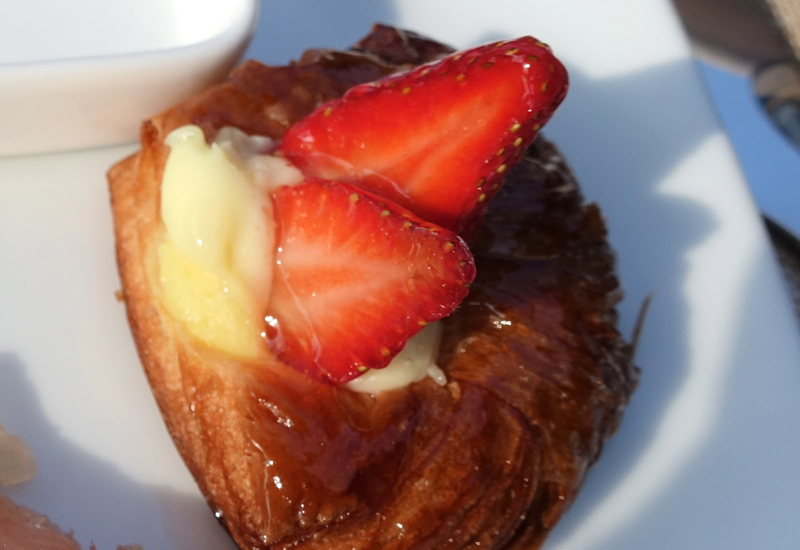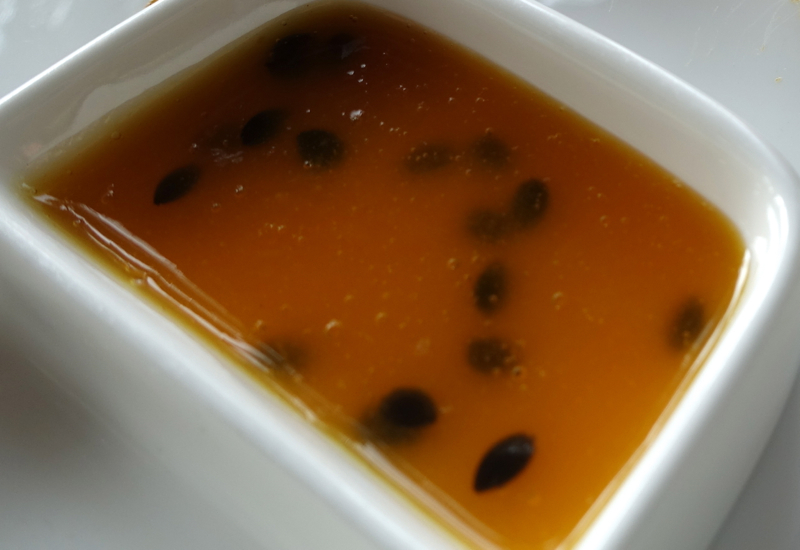 Dinner at the Reef Club
The Reef Club features Italian cuisine, with beautiful ocean views. I recommend dining on the early side, to be able to enjoy the gorgeous sunset: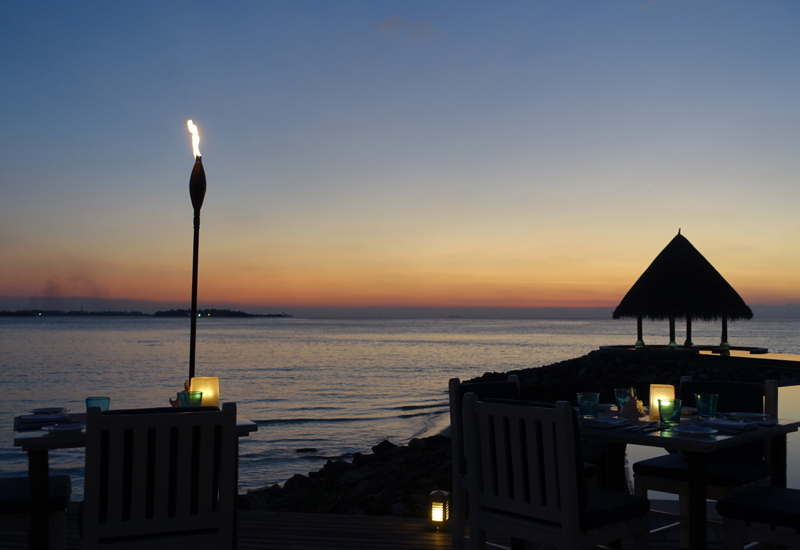 There were many tempting choices on the menu, from the Lobster Salad to the Baked Whole Reef Fish and Pan Roasted Veal Chop with Pan Roasted Mushrooms.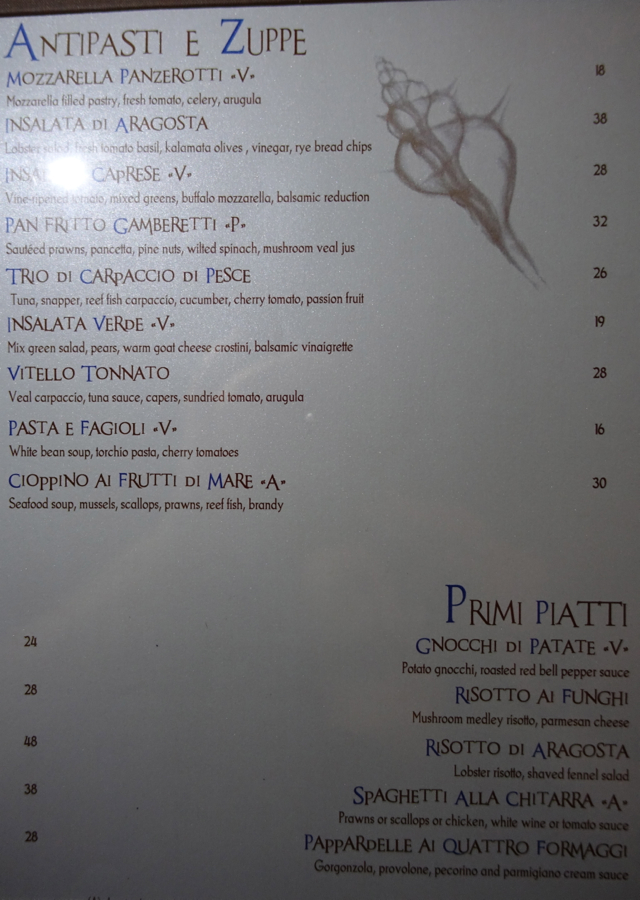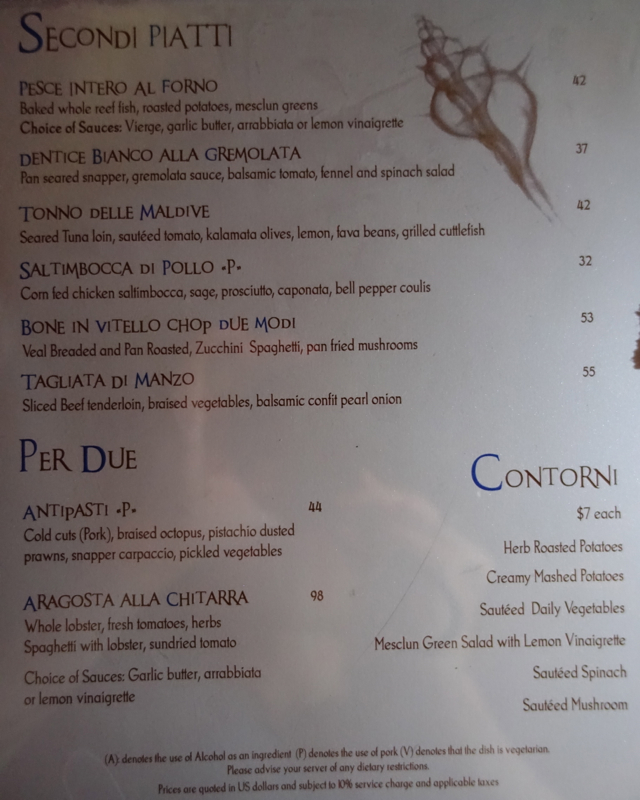 As the munchkin was famished, the fresh baked house bread with olive oil for dipping was a welcome beginning: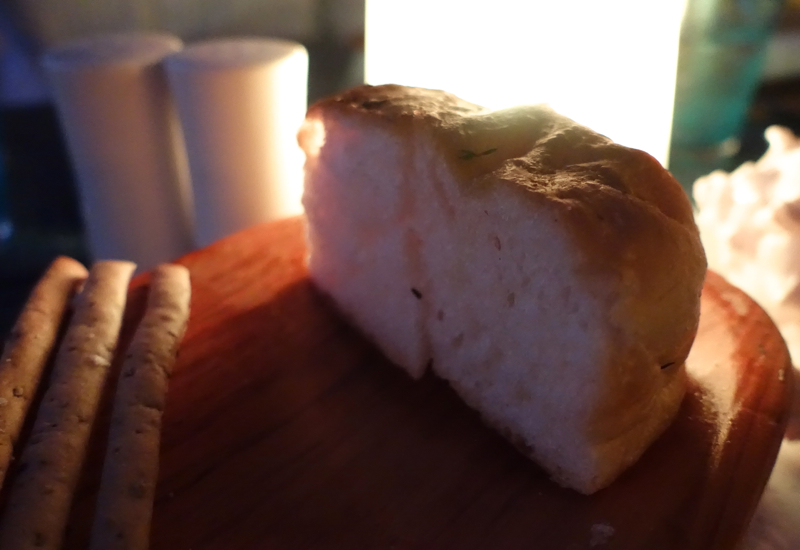 While I didn't manage a photo of it, my son loved his pizza. And I was very happy with the Trio of Carpaccio I'd ordered, which came with tuna, snapper and reef fish carpaccio, beautifully plated with fresh passion fruit, cherry tomatoes and cucumber. It was almost like being served a painting, and it tasted even better than it looked.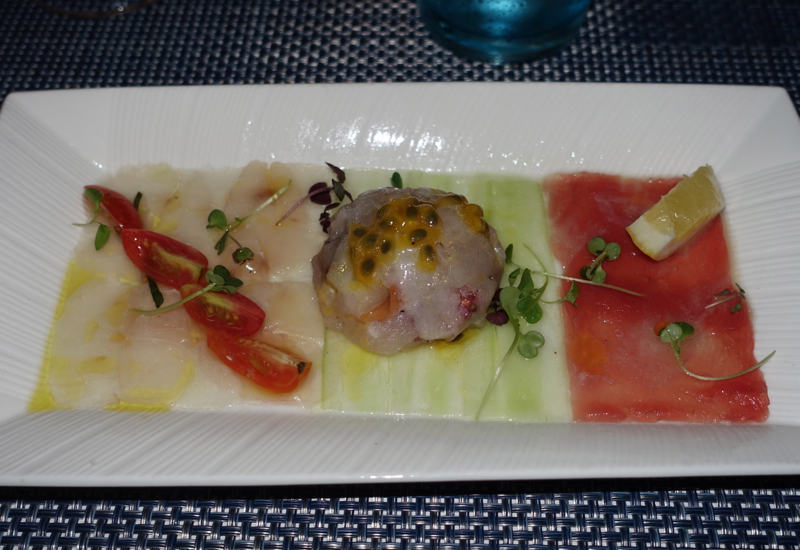 For an entree, I decided on the Lobster Risotto, which was cooked perfectly al dente as risotto should be, and immensely flavorful, with nice juicy chunks of lobster. Julienned ribbons of fennel provided a nice contrast and crunch.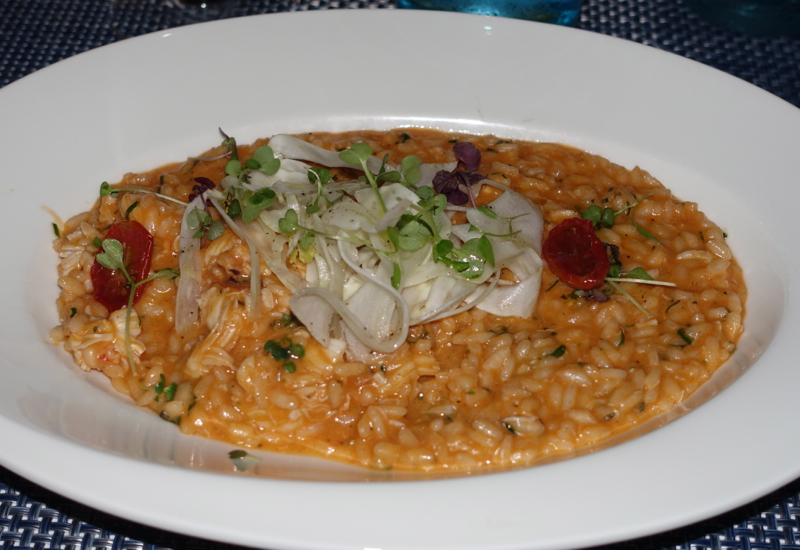 Indian Buffet Dinner at Baraabaru
Our second night was Sunday, so Baraabaru was serving a bountiful Indian buffet dinner. While pricey, I'd heard great things about Baraabaru, which is ranked among the best Indian restaurants in the world, so we decided to go, having worked up an appetite from our busy day of surfing, spa-going and a turtle safari.
The entrance had been lit and adorned in festive fashion: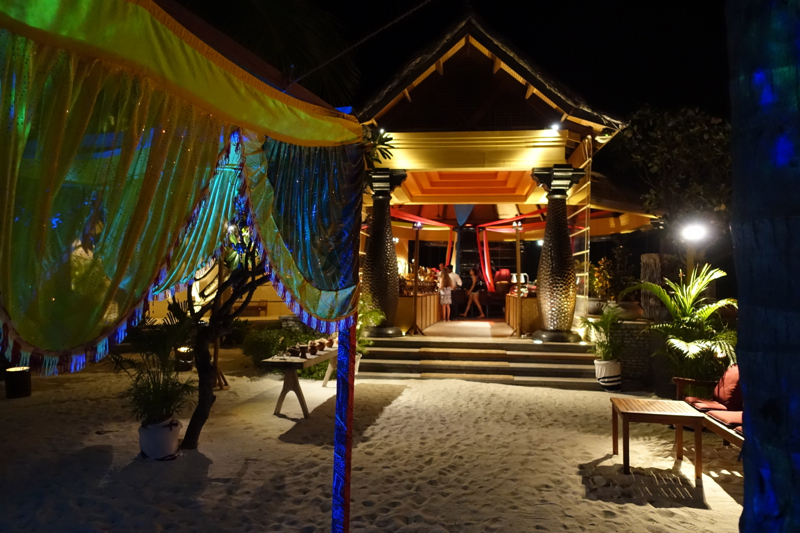 And the outdoor deck took on a magical air, with musicians playing traditional music as we were led to our table by the ocean: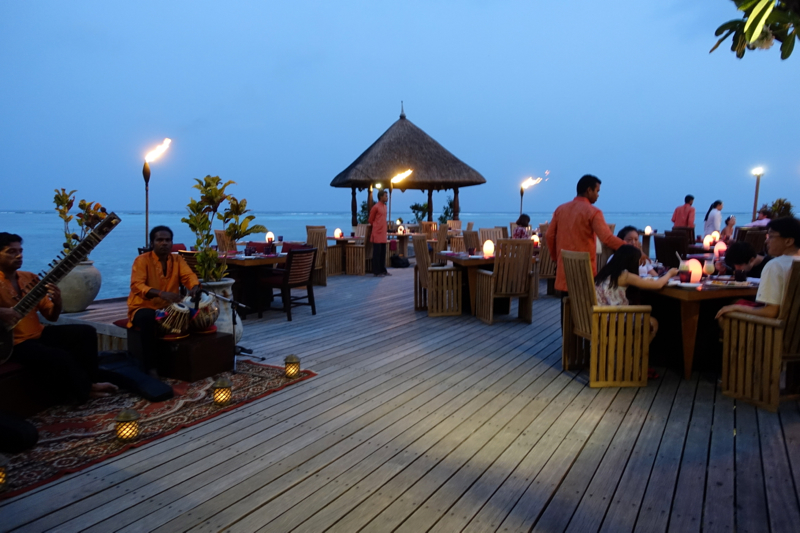 We were welcomed with refreshing towels for our hands and mini mango lassis. These were so good, that later, I asked if my son could have another one, and he was thoughtfully brought a larger size.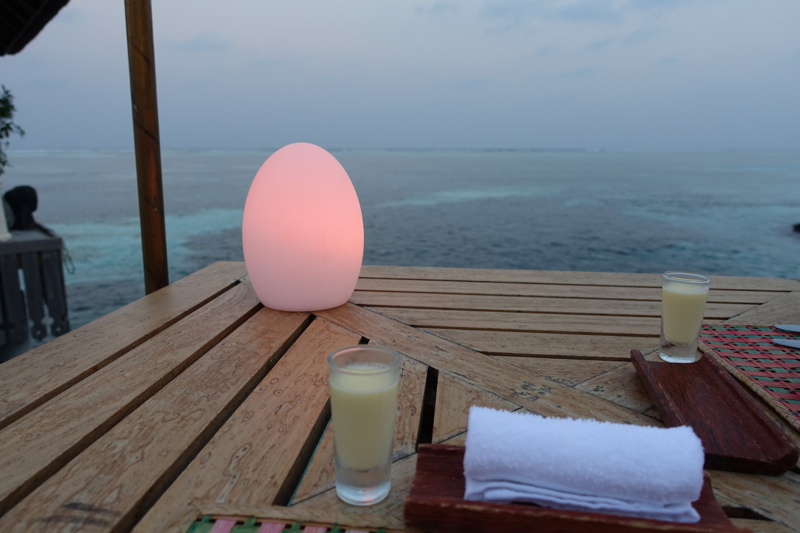 We were truly spoilt for choice with all the fragrant curries, salads and tandoori dishes on offer. This is the extensive array of curries, which ranged from vegetarian dal and palak paneer to butter chicken, tikka masalas, lamb vindaloo, spiced prawns and more: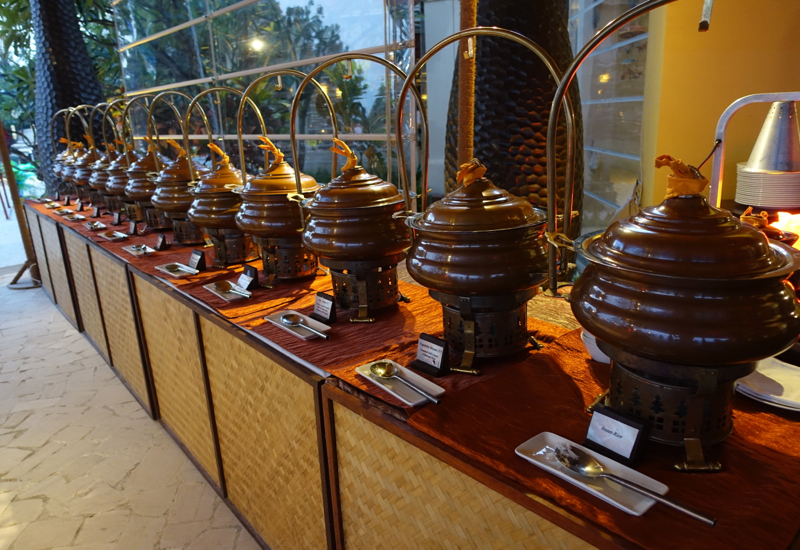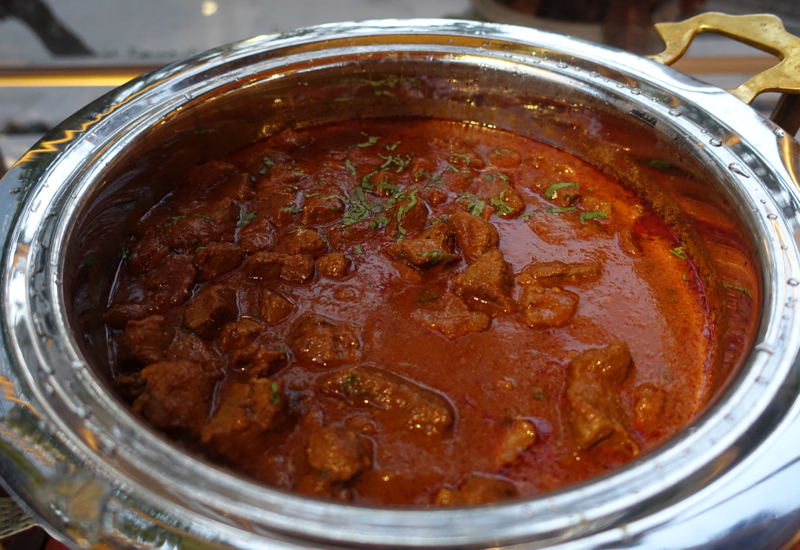 From the tandoor there was whole tandoor fish, tandoori lobster and prawns, chicken, lamb and paneer. Photos of our plates simply don't do justice to how delicious all these dishes were. I especially enjoyed the tandoori lobster, paneer, lamb vindaloo and butter chicken: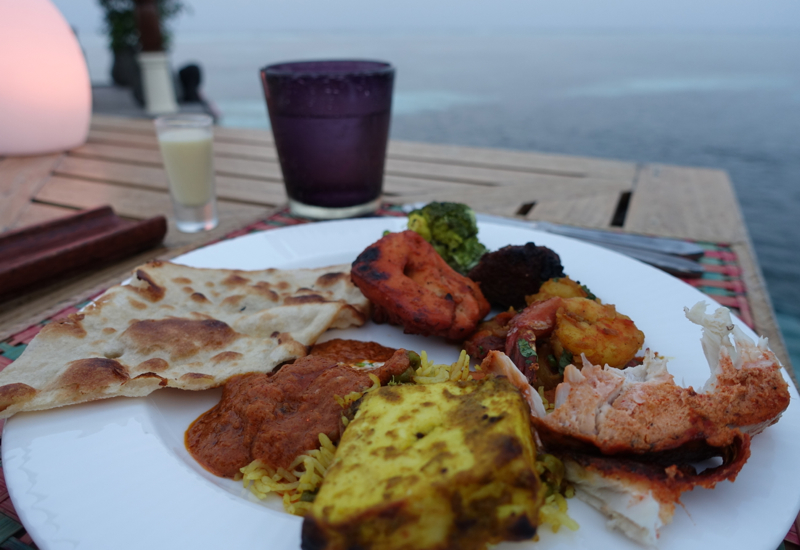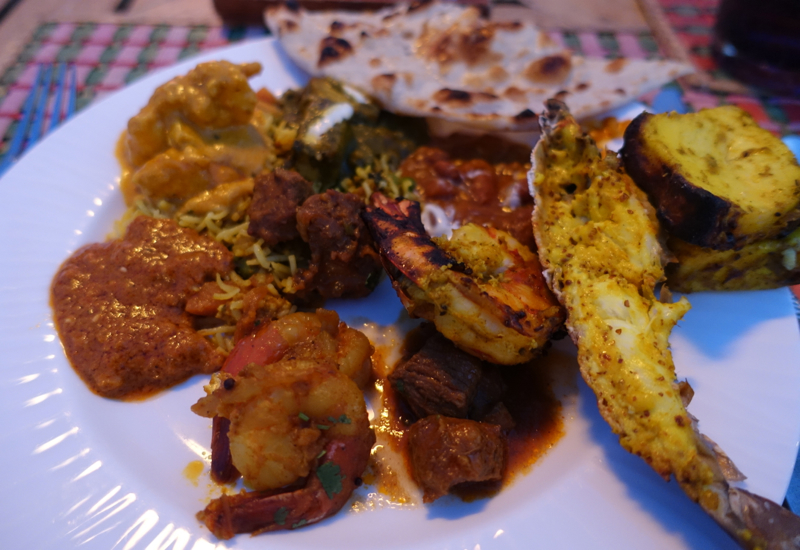 It would have been easy to simply fill up on all the savory food, but we saved a tiny bit of room for dessert. My favorite was the baked mango yogurt pudding, while my son enjoyed this as well as the traditional gulab jamun, which he tried for the first time.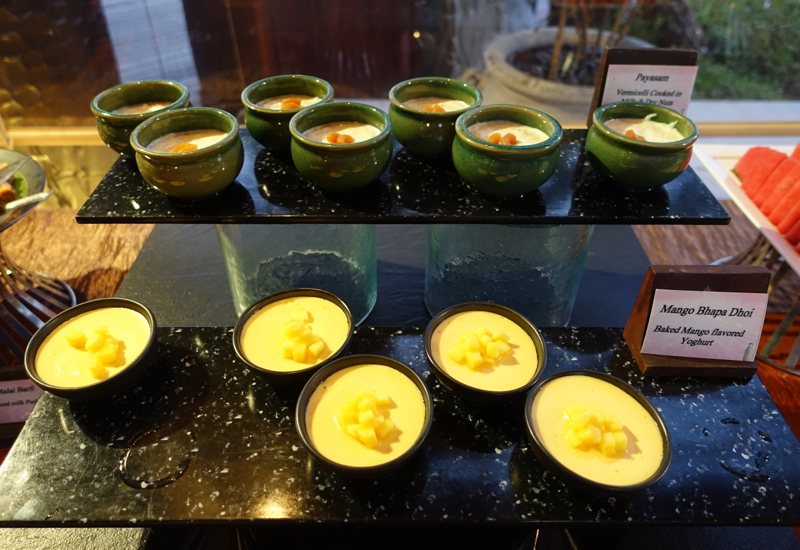 If you've dined at Four Seasons Maldives at Kuda Huraa, what were your favorite restaurants and menu choices?
Related Posts
Review: Four Seasons Maldives at Kuda Huraa Sunset Water Bungalow
Four Seasons Maldives at Landaa Giraavaru Restaurant Reviews and Menus
Review: Four Seasons Maldives at Kuda Huraa
Surfing in the Maldives at Four Seasons Kuda Huraa
Disclosure: I paid for my stay, which was booked with Four Seasons Preferred Partner benefits, so breakfast was complimentary. I also paid for our special Indian buffet dinner at Baraabaru, and was hosted for dinner at the Reef Club. The views expressed in this post are my own.
Need Award Booking Help? Our fee is as low as $75 per ticket if you book your hotel through us.
If you enjoyed this, join 180,000+ readers: please follow TravelSort on Twitter or like us on Facebook to be alerted to new posts.
Become a TravelSort Client and Book with Four Seasons Preferred Partner Perks!