The Four Seasons Hong Kong is known for being not only one of the best luxury hotels in Hong Kong, but also one of the best Four Seasons in the world, so we'd been eagerly anticipating our stay. I arrived on an earlier flight to Hong Kong in Cathay Pacific Business Class, and when I arrived it was prior to check-in, so I left my luggage. I then asked the concierge for directions to a dim sum place I wanted to try, and he was able to give me very detailed directions, which I appreciated as it was my first time in Hong Kong.
After dim sum, I returned and although it was 1pm, still an hour before the usual check-in time of 2pm, the front desk staff were able to check me in, and had even kindly upgraded me from a Deluxe Peak View Room to a Deluxe Harbour View Room.
The room was spacious, at almost 500 square feet, but my eyes were immediately drawn to the window. Even though it was a somewhat cloudy day (due to a passing typhoon) I still enjoyed gazing out, and my son was fascinated by all the boats: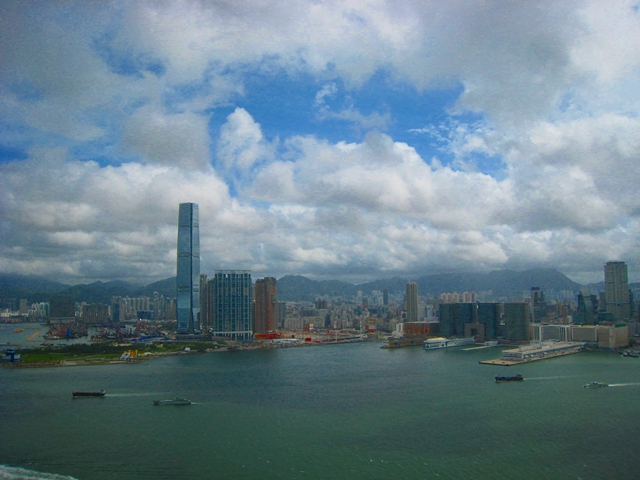 The King bed was centered in the room and incredibly comfortable when we went to sleep that night.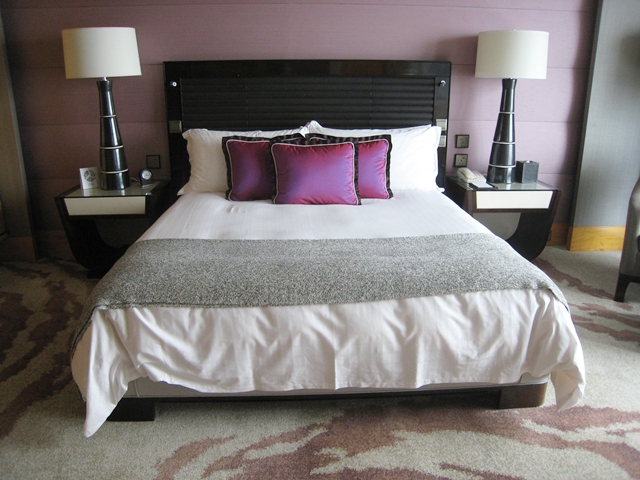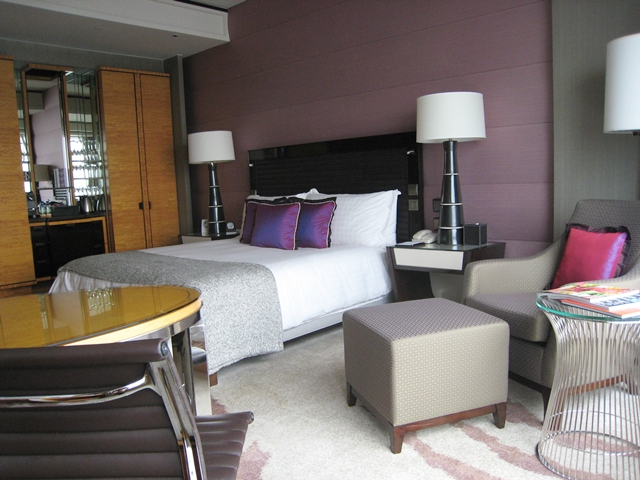 Between the bed and the window was a chaise lounge, which we didn't use, and a desk, which we did use, with the chair facing the window so we could enjoy the view. There was a large flat screen TV directly opposite the bed, although as usual (since we don't have a TV at home and aren't used to watching it) we didn't use it.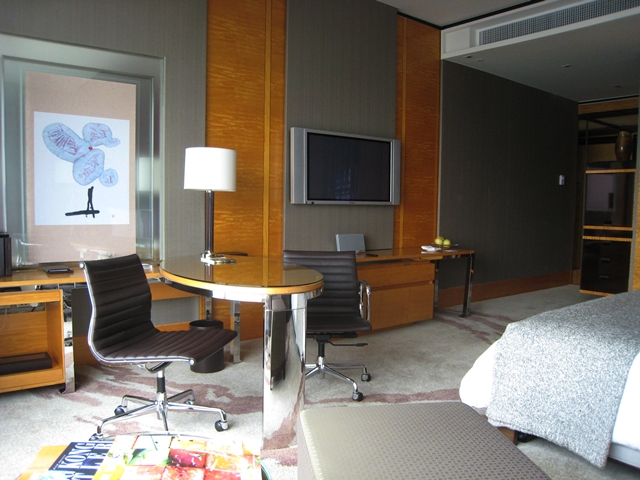 The bar area was impressively equipped with a stemware and china–you could have entertained some guests for drinks or tea, and there was a Nespresso machine as well as an excellent selection of whole leaf teas: Pu erh, Jasmine, English Breakfast, Tie Guan Yin and Long Jing.
The munchkin's favorite part was definitely the large soaking tub in the marble bathroom. He didn't sleep much on the 16 flight to Hong Kong, so as a result of the jet lag, was rather cold and constantly wanted to take warm baths.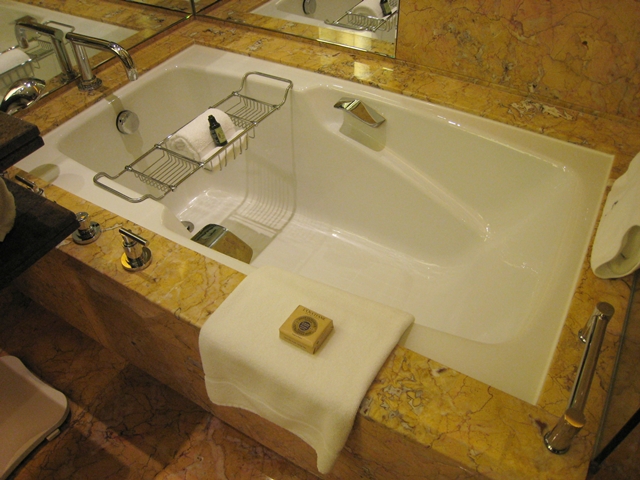 Fortunately, the Four Seasons supplied him both with his own bathrobe, child size bath slippers, and two Four Seasons rubber duckies. This was in addition to a very cute stuffed panda bear–the Four Seasons definitely knows its way to a child's heart!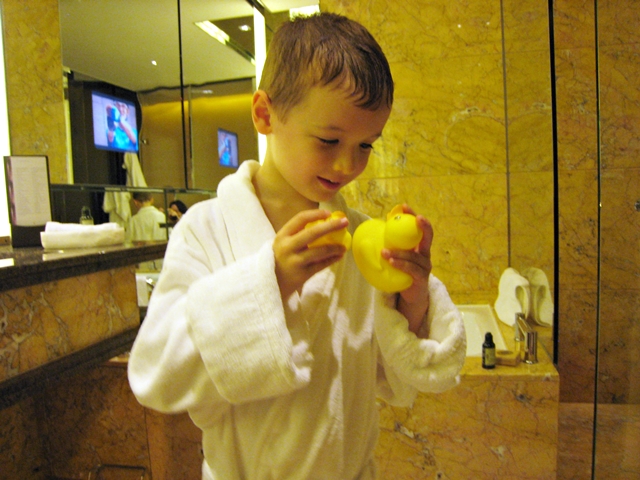 In addition to the large soaking bath, the bathroom included his and hers sinks, a separate WC, and a glass enclosed shower. Bath amenities were L'Occitane, as usual for the Four Seasons: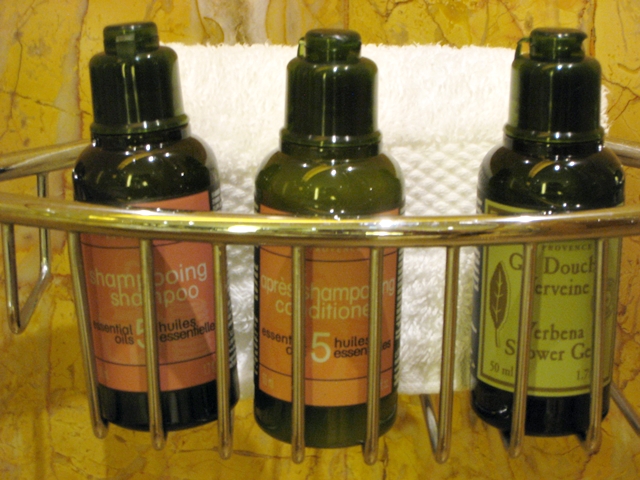 We had reserved access to the Executive Club Lounge, which offers afternoon tea, dinner and dessert buffet, and an extensive breakfast buffet on the very top floor, with magnificent views of Victoria Harbour. We went up for afternoon tea, and the munchkin was over the moon when the attendant told him they had watermelon juice. My husband and I both had tea, and we enjoyed the raisin scones with clotted cream and jam, tea sandwiches, fresh fruit (pineapple, watermelon, papaya), vanilla bean raspberry parfaits, and macarons. Service could not have been more professional or friendlier–some Executive Clubs don't welcome children, but staff at the Four Seasons clearly do. Of course as parents we also make sure our son is well behaved when he's there, or in any restaurant, but it makes it that much more pleasant when staff are smiling at him and treating us so well.
Later that evening, after my husband and the munchkin were in bed (both were ready for an early night, after their long flight) I took my computer up to the Executive Lounge to get some work done and have dinner. The Four Seasons may call it a "light supper" but it's extensive enough to be a very filling meal. There was excellent smoked salmon and foie gras, salads, mini quiches, and dumplings, which I couldn't resist even having had dim sum for lunch. The chili sauce I dabbed them with was especially addictive. Wine and cocktails are available as well, so I enjoyed a glass of pinot grigio.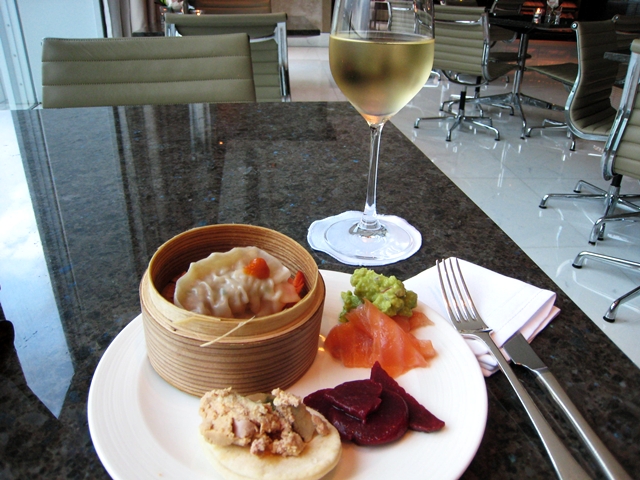 There was also a noodle bar: you could choose either rice noodles or egg noodles and char siu pork or chicken, plus a variety of condiments such as chili garlic sauce, fried shallots, green onions, etc.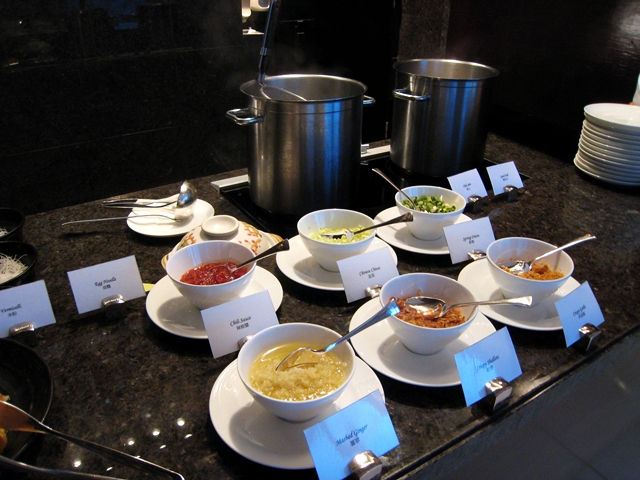 Simple but delicious noodle soup with char siu pork: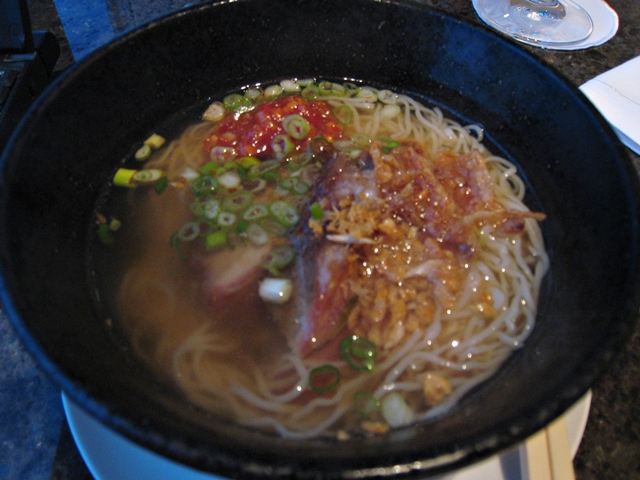 And of course dessert was a treat, for anyone with a sweet tooth. There were cheesecake squares, chocolate mousse in elegant martini glasses, more macarons, a delicious sour cherry confection, chocolate truffles, and more.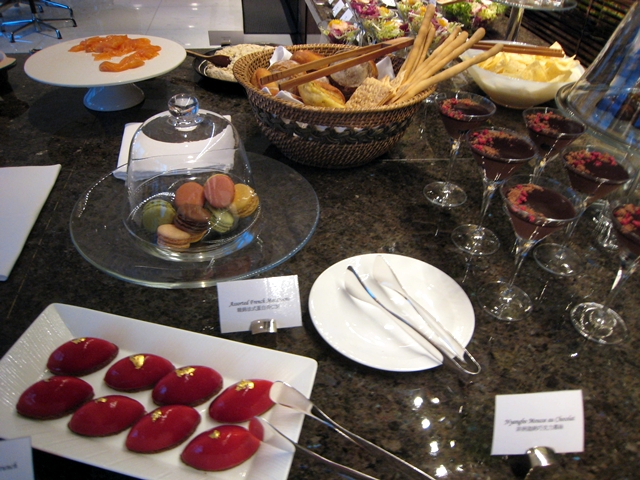 I tried to exercise some restraint with my dessert plate: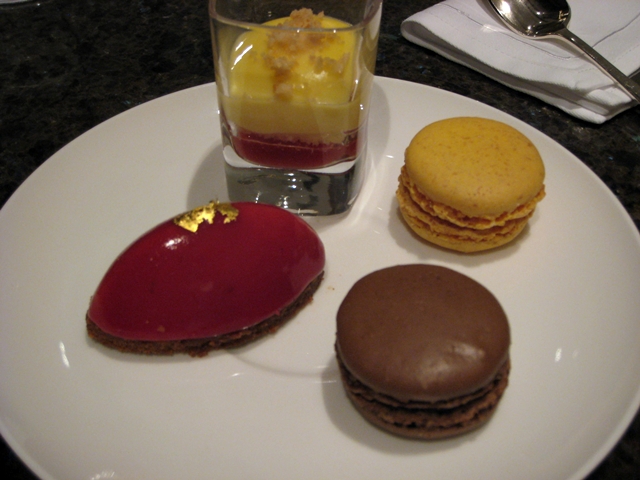 Breakfast the next morning was so good that the munchkin literally had some of everything when he went up to breakfast with my husband, except for tomatoes, which he doesn't like. Then he insisted on coming up again with me a couple hours later, and had a second breakfast while I had my first. In addition to fresh fruit and berries, cereals, and yogurts, there was smoked salmon, different kinds of dumplings and char siu bao, eggs cooked to order, a cheese board and fresh baguette, pear frangipane tart, and beautiful pastries: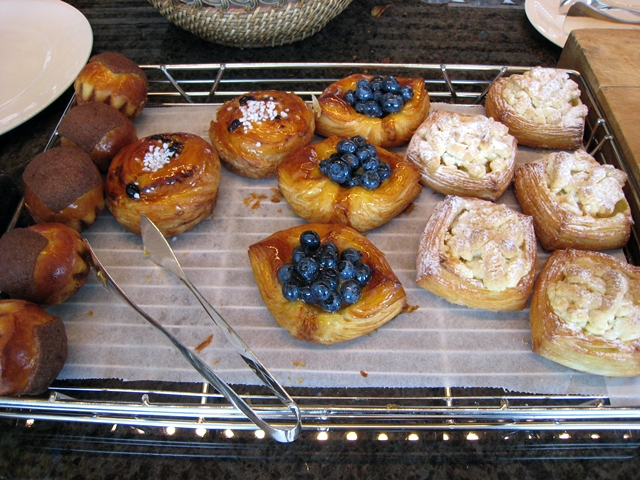 The only thing that disappointed was outside of the Four Seasons' control: we weren't able to use the pool, due to the typhoon warnings. I did peek inside the fitness center, and it was well equipped, as you'd expect, although I didn't use it.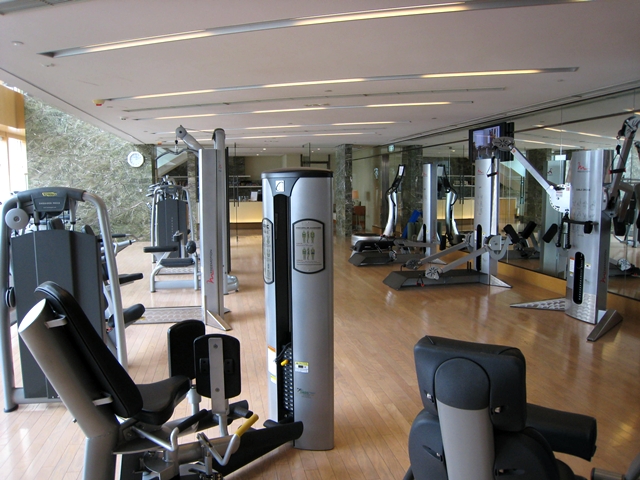 Verdict: While I made a point of reserving our other two nights in Hong Kong at other hotels, in order to review them for TravelSort clients and blog readers, it was hard not to simply prolong our stay at the Four Seasons. And not being able to use the pool during our visit is the perfect excuse to stay there again, the next time we're in Hong Kong. And while not all luxury properties in major cities are child friendly, the Four Seasons Hong Kong definitely is, a huge plus for us since we enjoy traveling with our son.
Become a TravelSort Client to book the Four Seasons Hong Kong with Four Seasons Preferred Partner benefits:
Daily full American breakfast for two people per bedroom, served through In-Room Dining or in the hotel restaurant (including buffets)
Spa credit of USD100 once during stay (not applicable to products)
Upgrade of one category, based on availability at time of check-in (excluding signature suites and villas)
Complimentary basic Internet in all guest rooms, complimentary premium Internet in all suites.
Related posts:
Four Seasons Preferred Partner Benefits
Best Luxury Hotels in Hong Kong
Four Seasons Bali at Jimbaran Bay Hotel Review
Cathay Pacific Business Class Review 777-300ER: NYC to Hong Kong
Which Places in Hong Kong Serve the Best Dim Sum?
Need Award Booking Help? Our fee is as low as $75 per ticket if you book your hotel through us.
If you enjoyed this, join 200,000+ readers: please follow TravelSort on Twitter or like us on Facebook to be alerted to new posts.
Become a TravelSort Client and Book the Four Seasons Hong Kong or Other Hotel with Virtuoso or Four Seasons Preferred VIP Amenities!