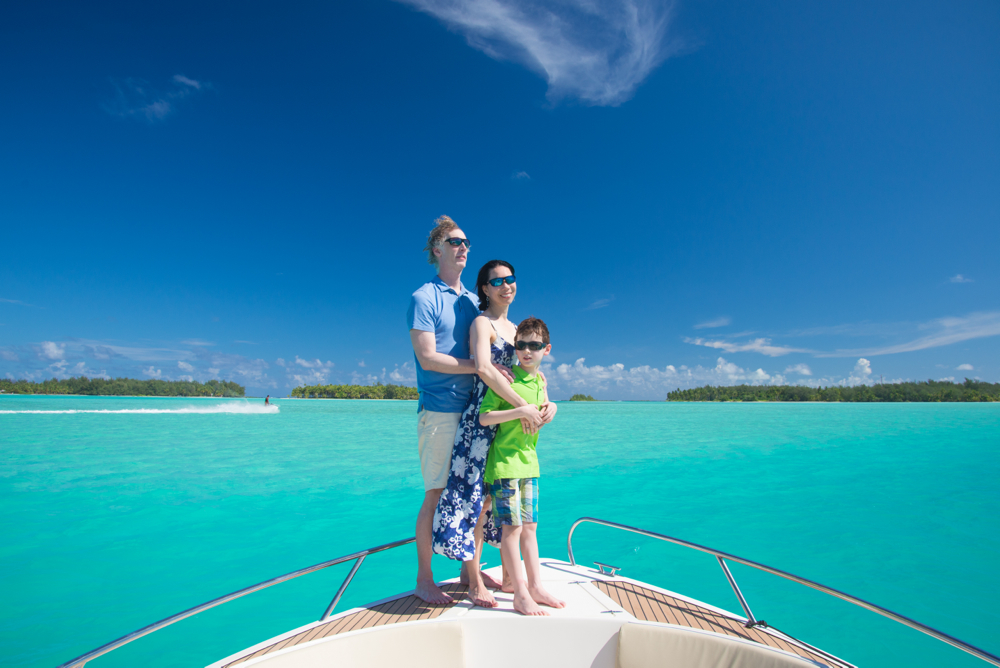 What are the Top 10 Things to Do at Four Seasons Bora Bora? Without question, the resort is very relaxing, and it would be easy to simply destress by sleeping in and relaxing at your overwater bungalow. But while that was certainly high on our priority list (see #1 below) it would be a shame to leave Bora Bora without exploring the underwater life, seeing Tahitian dancing, and trying the other top things to do on our list. Here's what you shouldn't miss:
1. Enjoy the View from Your Overwater Bungalow
It just doesn't get much better than taking in the view from your overwater bungalow: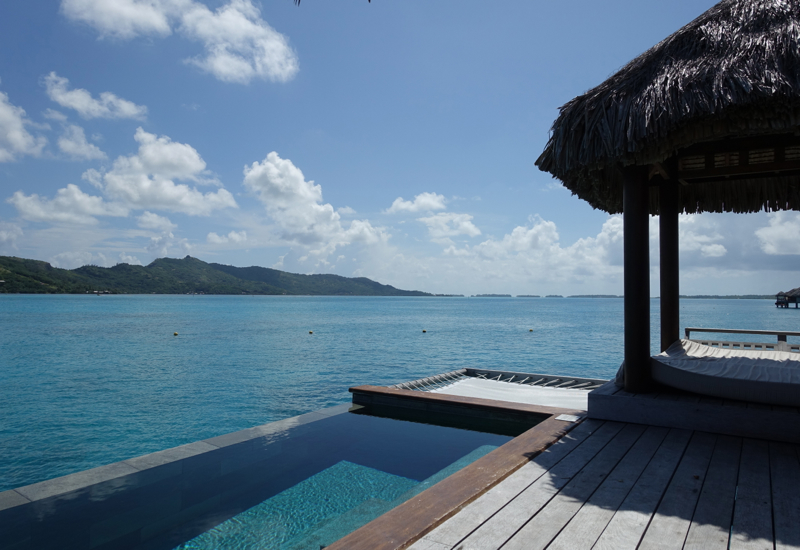 2. Go Scuba Diving with Bora Bora Dive 'N Smile
I had a great experience diving with Bora Bora Dive 'N Smile, who even kindly took along my husband for snorkeling, at no extra charge. Fantastic views of many manta rays, some of which actually brushed by us, many eagle rays, a giant yellow moray eel, all kinds of tropical fish…and my husband saw several sharks. Somehow they always find him, although at least this time he didn't have to punch a shark in the nose 🙂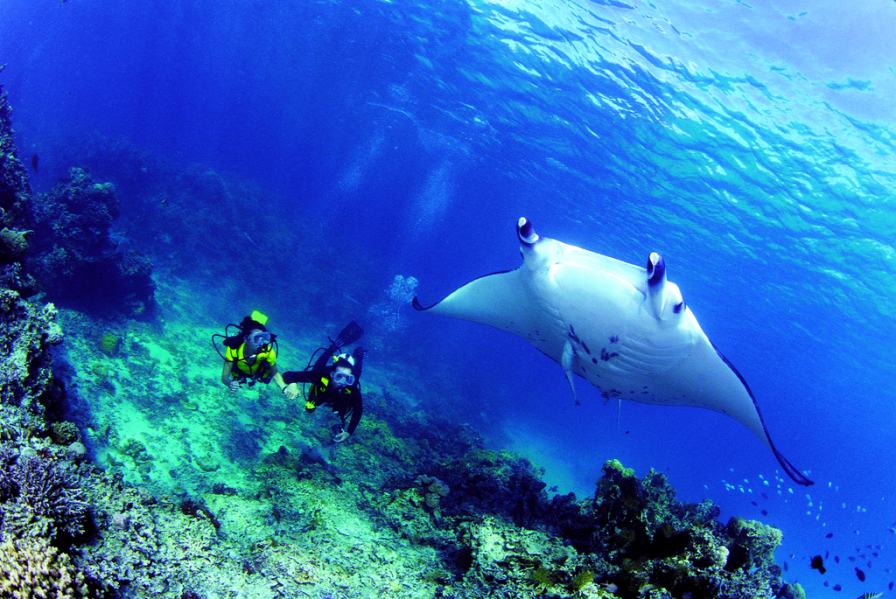 3. Go Snorkeling with Pure Snorkeling
Even if you're not a certified scuba diver, there's no excuse for not going snorkeling in Bora Bora, which is another great way to see the enormous manta rays, tropical fish, and appreciate the soft corals and anemones in the Coral Garden. My son and I had a great experience with Pure Snorkeling on the morning of the day my husband arrived, and when he went with Pure Snorkeling a few days later, he even got a chance to see and swim with dolphins.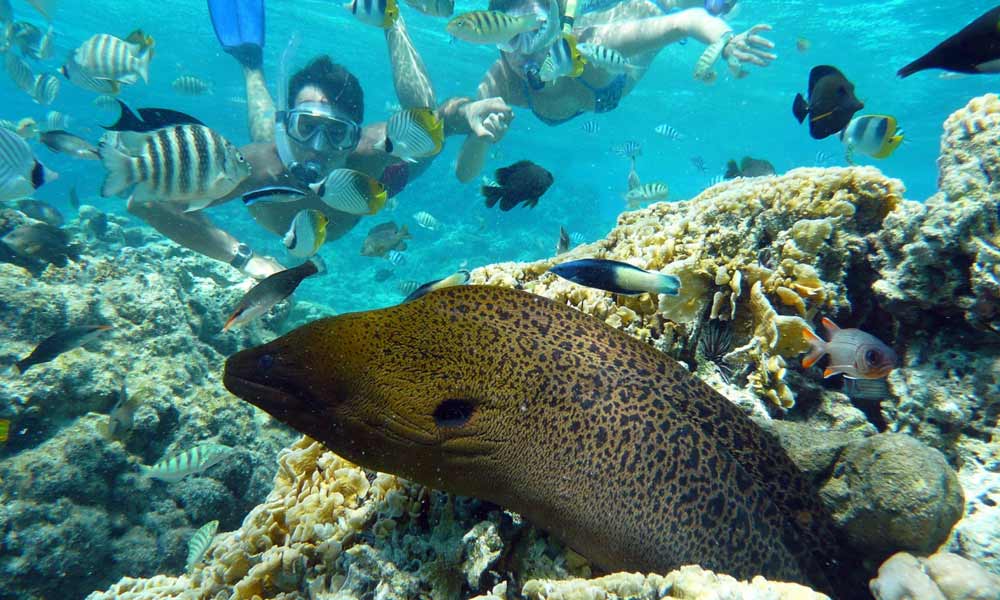 4. Enjoy a Lagoon Photo Shoot and Snorkeling with Bora Bora Dream Pictures
Since we always wish we had more photos and better quality photos, especially of all three of us instead of just one or two of us, it was an easy decision to book a Lagoon photo shoot with Vincent Brossault of Bora Bora Dream Pictures. While the weather forecasts spooked us a bit before our Bora Bora trip, Vincent reassured us that the forecasts were often wrong, and sure enough, we had a beautiful morning for photos and cruising the lagoon. Vincent is also a marine biologist and naturalist by training, so you'll also learn more about what you're seeing around the lagoon. And about a week after your session, Vincent will send you a link to a Dropbox folder of his professional shots of you and your loved one(s).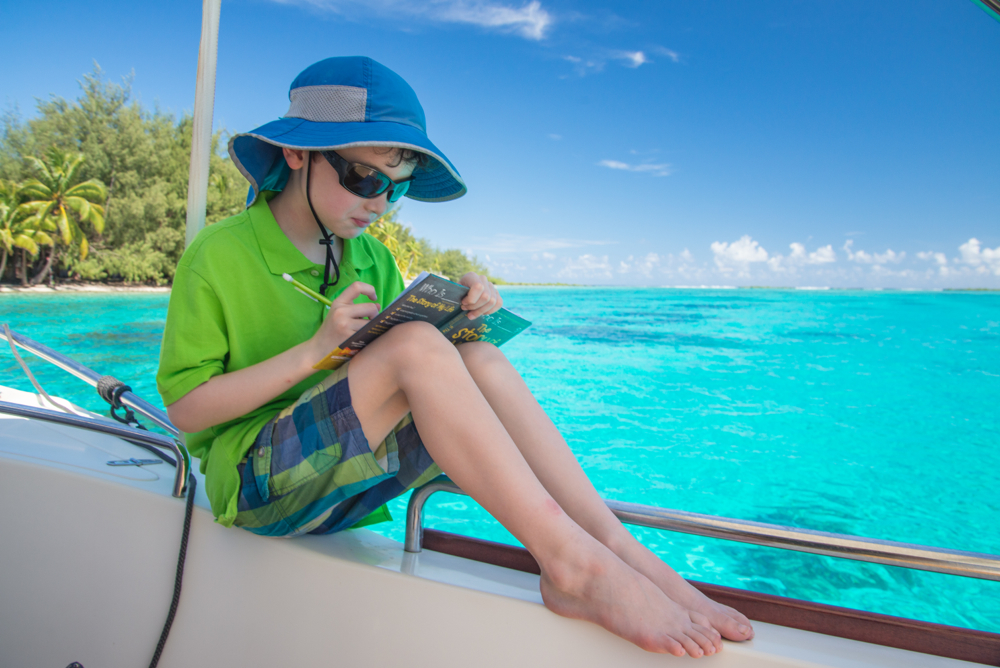 5. See the Polynesian Show by the Sunset Restaurant and Bar
You could shrug and say you've seen Polynesian shows before in Hawaii, but Hawaiian kahiko and 'auana are different from their Tahitian counterparts, both in the chants and the dances. I recommend having an early dinner al fresco at the Sunset Restaurant, at one of the tables closest to where the dance show is held, and making an evening of it. And if you want to try your hand at dancing, no worries–after a number of dances, the dancers invite members of the audience to join them. It was endearing to see several of the child guests try their hand at Tahitian dancing!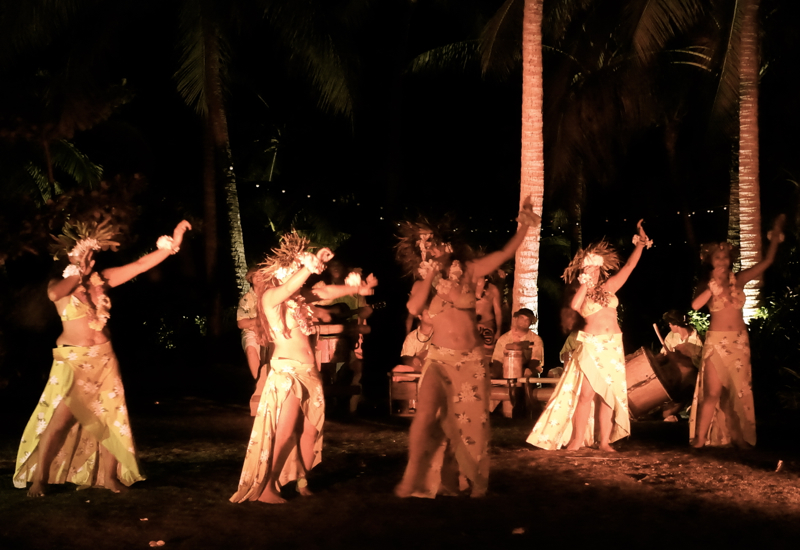 6. Enjoy a Relaxing Massage at the Spa
My husband enjoyed a relaxing half hour back and shoulder massage at the Four Seasons Bora Bora Spa, virtually complimentary apart from gratuity thanks to the Four Seasons Preferred Partner spa credit.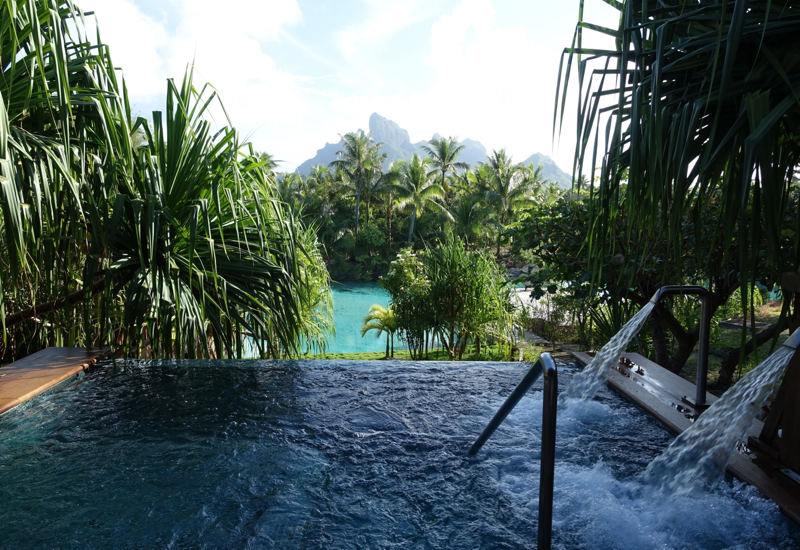 7. Learn How to Open a Coconut
If you enjoy drinking fresh coconut milk or eating fresh coconut, why not learn how to open one yourself? My son found out it's hard work, but was excited to see how it was done: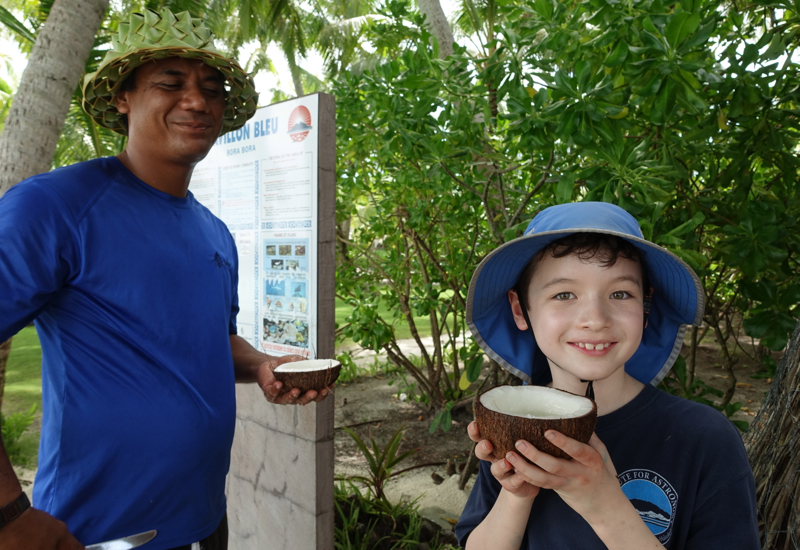 8. Take Advantage of the Great Kids' Club
Four Seasons manages better than any other luxury hotel company to keep couples and families with kids happy, at the same resort. The secret? Complimentary and well-run Kids for All Seasons kids' clubs. My son was especially drawn to the foosball table, enjoying games with other boys his age, but there were also crafts projects, water play, learning a bit of Tahitian language and culture, and even an Easter Egg Hunt on Easter Sunday.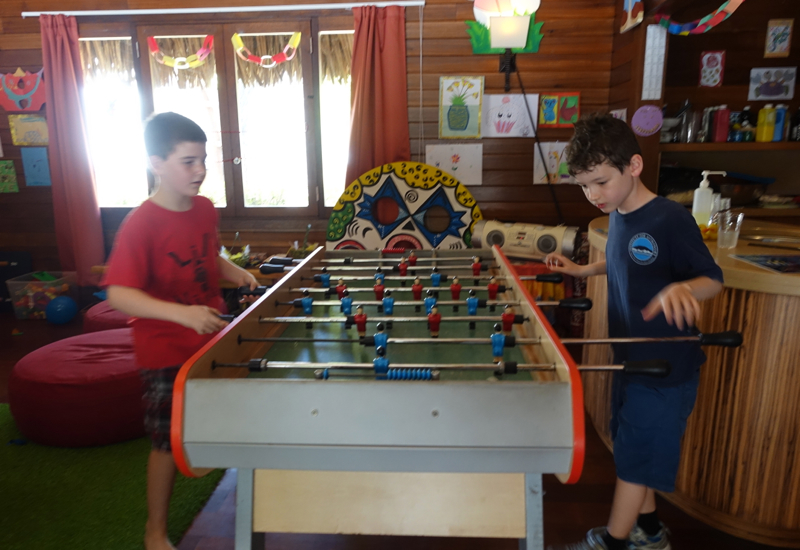 9. Learn How to Make Poisson Cru
If you enjoy sashimi, ceviche and coconut, I think you'll take a liking to poisson cru–a Tahitian-style ceviche where the fresh raw tuna is "cooked" by the lime juice, but the flavors are balanced by the sweetness of fresh coconut milk, crunch of some raw cabbage, and additional bright flavors of cherry tomatoes and green onions. It's a refreshing light meal, and you can watch a cooking lesson by the resort's Executive Chef on how to prepare it.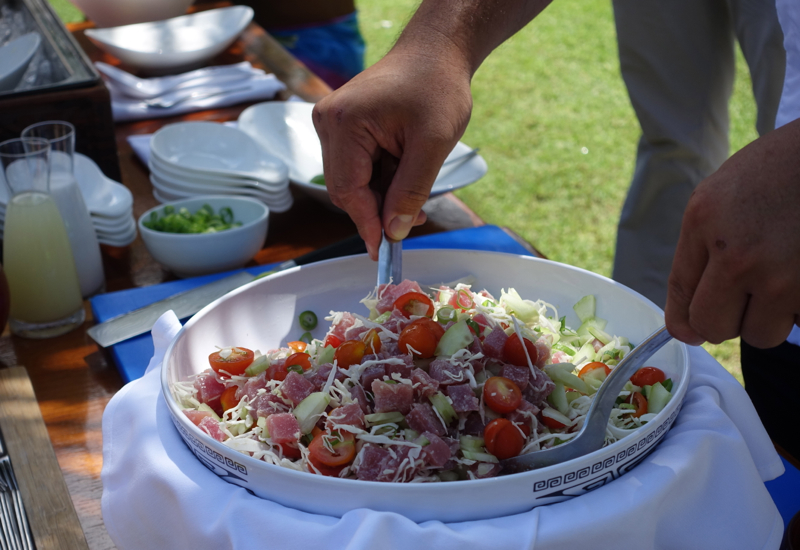 10. Play Tennis
Warning: Bora Bora is hot and humid, so don't plan to play tennis in the middle of the day. In fact, even in the relatively early morning, we were soon sweating just from our volleys. But it did help justify another delicious breakfast, especially those killer financiers and dark, rich hot chocolate…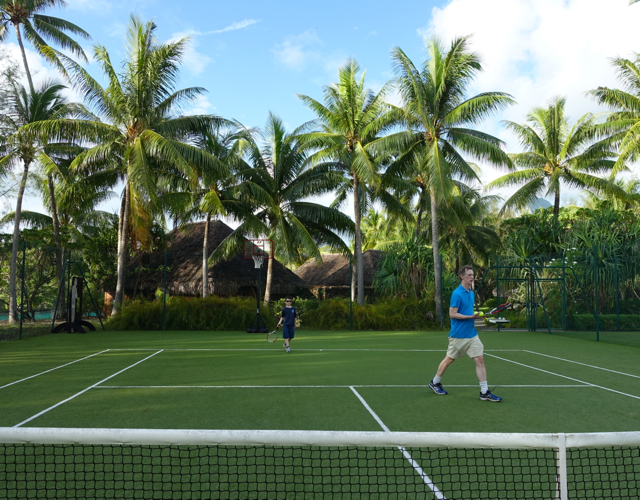 If you've stayed at Four Seasons Resort Bora Bora, what were your favorite things to do?
Related Posts
Four Seasons Bora Bora Restaurant Reviews and Menus
Review: Air Tahiti Nui Business Class
Disclosure: I received two complimentary nights, inclusive of breakfast, at Four Seasons Bora Bora, and reserved our third night at the full retail rate with all Four Seasons Preferred Partner amenities. I paid regular retail rate for our Dive N'Smile, Pure Snorkeling and Bora Bora Dream Pictures excursions. The opinions in this review are mine.
Need Award Booking Help? Our fee is as low as $75 per ticket if you book your hotel through us.
If you enjoyed this, join 200,000+ readers: please follow TravelSort on Twitter or like us on Facebook to be alerted to new posts.
Become a TravelSort Client and Book Your Hotel with Virtuoso or Four Seasons Preferred Partner Amenities!