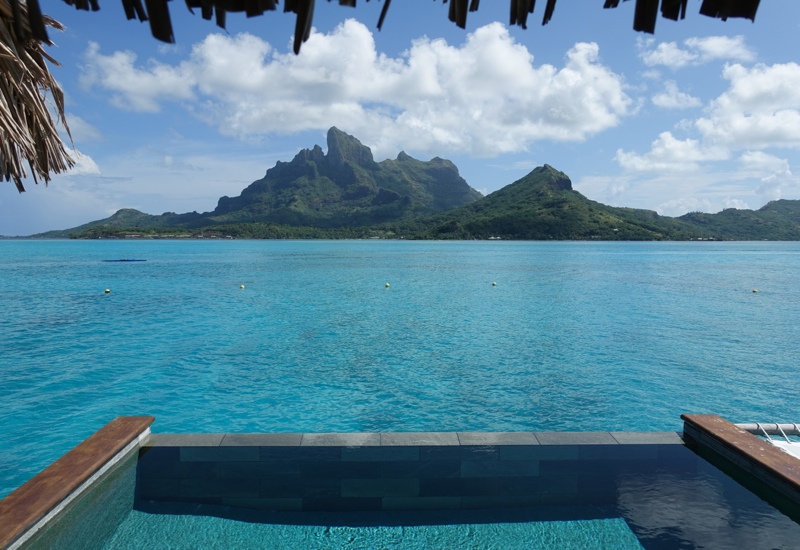 This Four Seasons Bora Bora Review is part of a new trip report on Bora Bora and Tahiti luxury resorts, dining and activities. For the prior posts, please see:
Review: American A321 Business Class New York to Los Angeles
Paradise! Can You Guess the Place?
Review: Residence Inn by Marriott LA
Review: Los Angeles International Lounge
Review: Air Tahiti Nui Business Class
A Must in New Zealand: The Farm at Cape Kidnappers, Hawkes Bay
Review: American Airlines A321 First Class JFK to LAX
TravelSort Clients enjoy these Four Seasons Preferred Partner benefits when reserving Four Seasons Bora Bora:
Daily full American breakfast for two people per bedroom, served through In-Room Dining or in the hotel restaurant (including buffets)
Spa credit of USD100 once during stay (not applicable to products)
Upgrade of one category, based on availability at time of check-in (excluding signature suites and villas)
Complimentary basic Internet in all guest rooms, complimentary premium Internet in all suites.
4pm late check-out based on availability and guaranteed 4pm late check-out on all over-water suites and villas for reservations of 7 or more nights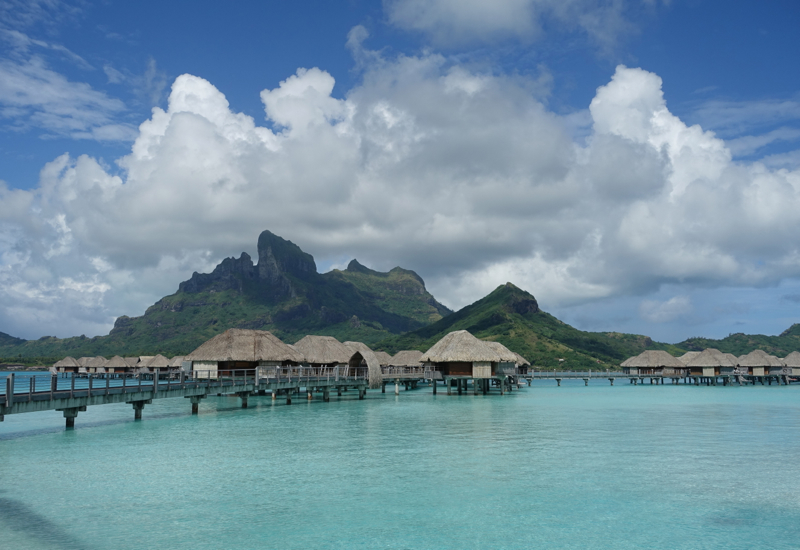 Four Seasons Bora Bora Location and Check-In
Four Seasons Bora Bora is located about a 15 minute yacht ride from Bora Bora Airport, which is a 45 minute flight from Papeete (PPT), Tahiti's international airport.
The Bora Bora airport is small, and as soon as we were in the arrivals area we were welcomed by the Four Seasons representative with a lovely flower lei for me, and a woven hat for my son: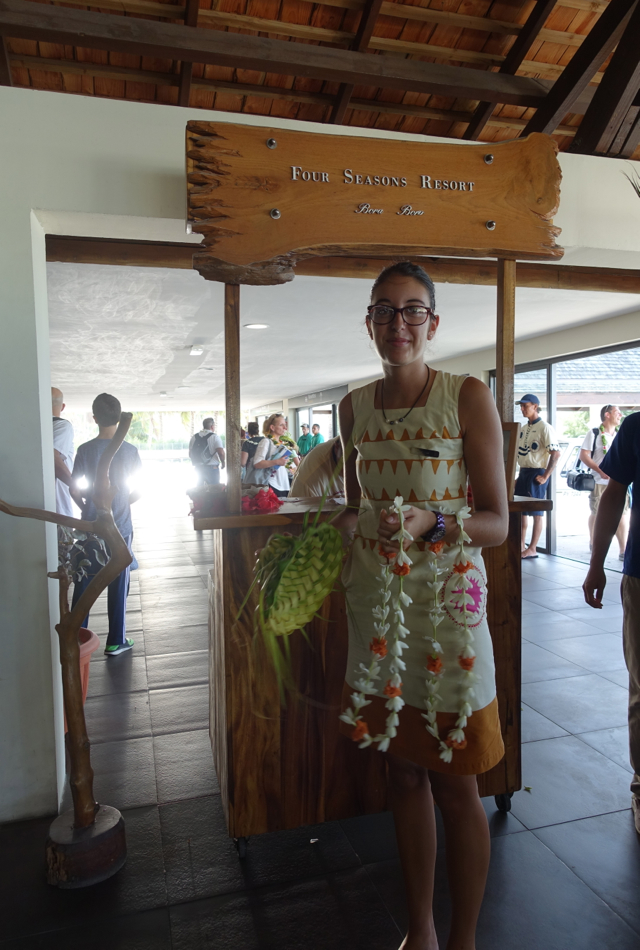 Even at the airport, the views were already lovely: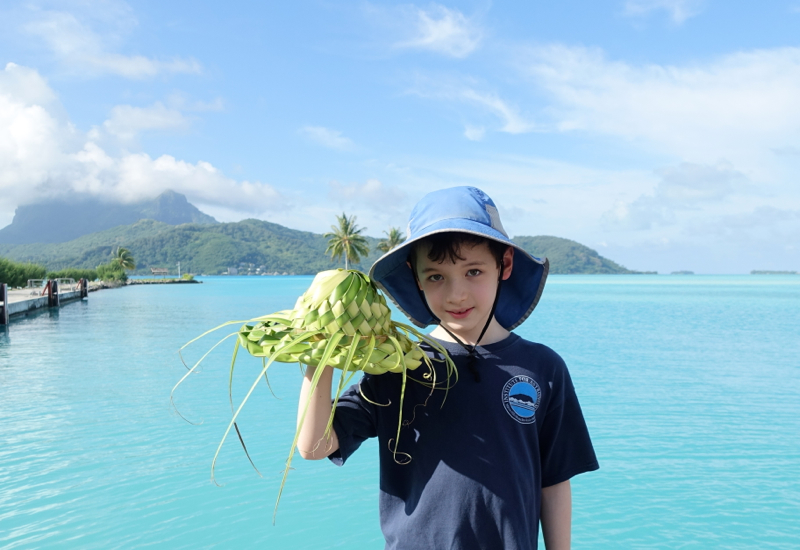 On the custom Andreyale yacht, we were offered cool towels and chilled Evian water: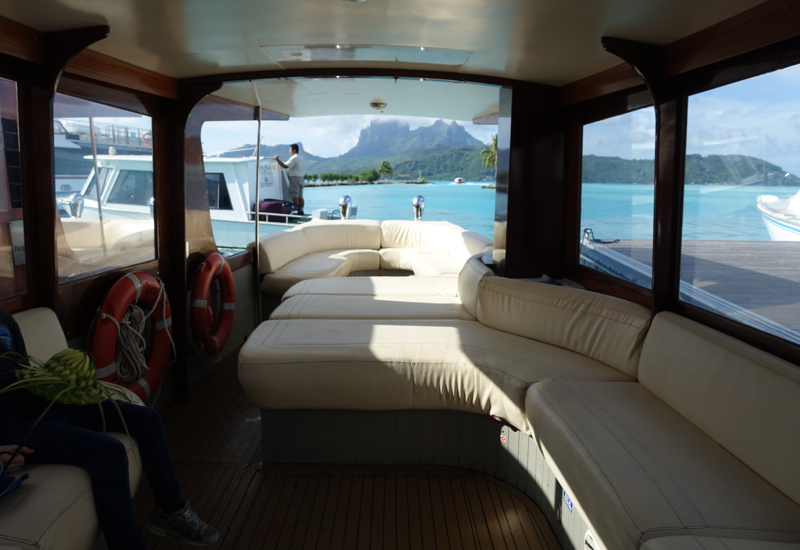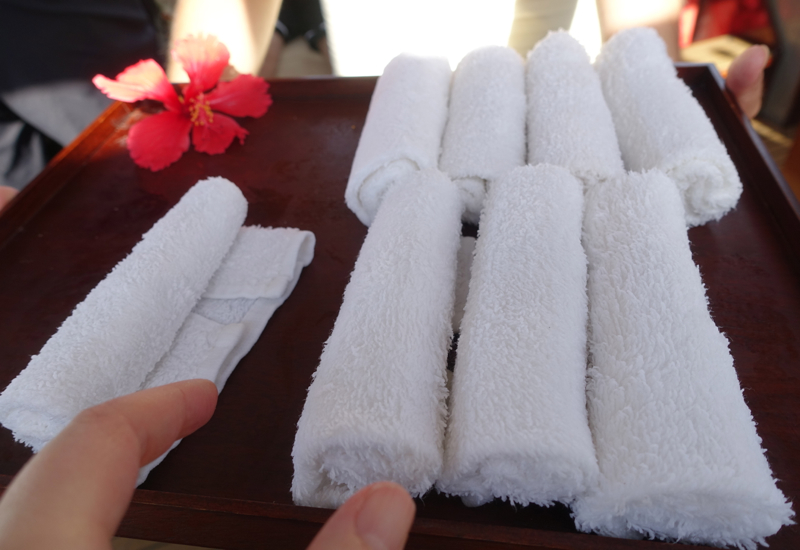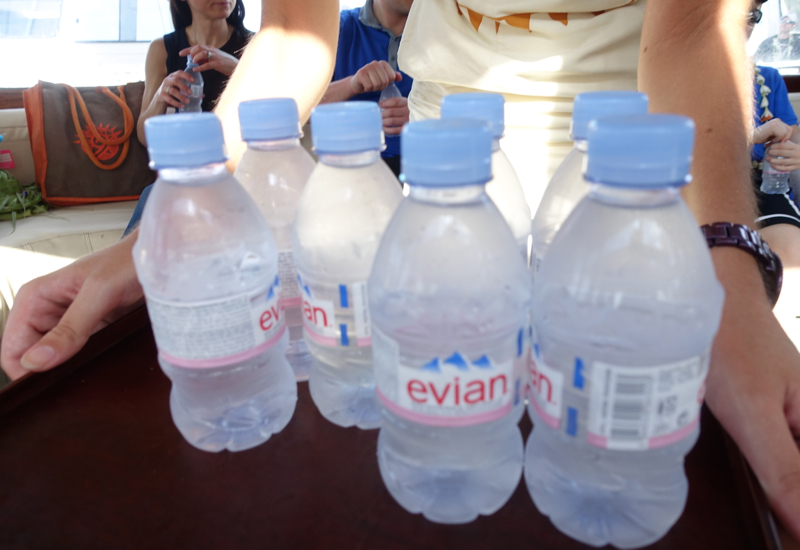 And on arriving at Four Seasons Bora Bora, we were welcomed in the lobby with delicious passion fruit smoothies–so good that my son was thrilled when he was offered a second one 🙂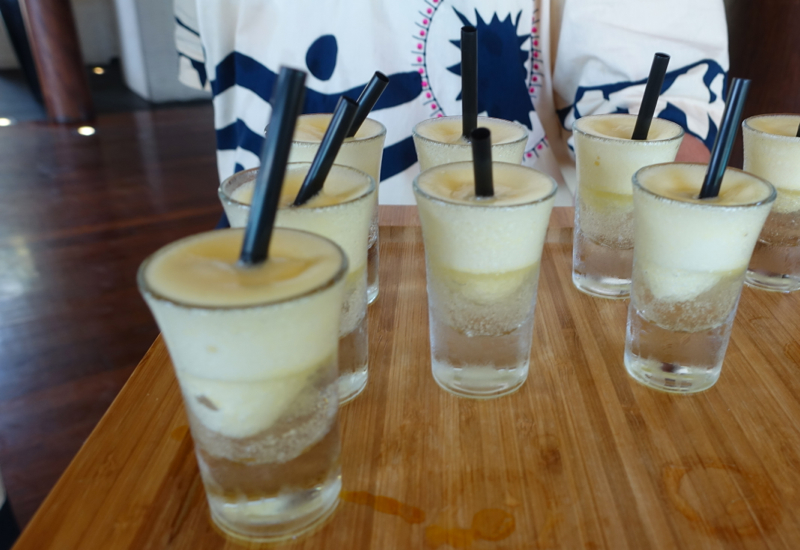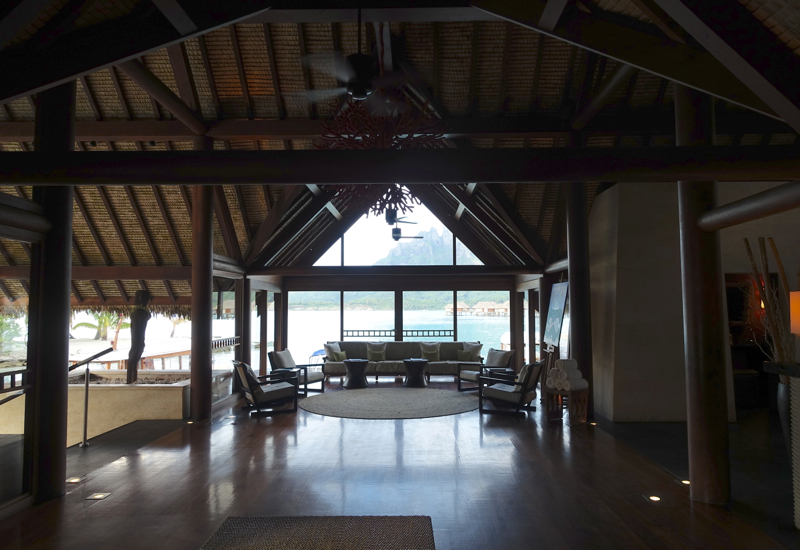 Four Seasons Bora Bora Otemanu Overwater Bungalow Suites
One thing to note is that the 1 Bedroom Overwater Bungalow Suites are virtually the same in size and furnishings, and the primary point of differentiation is the view; entry-level bungalows face the beach (although have the advantage of being close to everything) while the next category of bungalow faces the lagoon, and the most expensive overwater bungalows face Mount Otemanu.
Also note that if you would like a plunge pool, you'll need to pay for one; upgrades are typically not done from regular bungalows to bungalows with plunge pools, due to how few bungalows have plunge pools and the fact that these are often reserved in advance. So my advice is to pay for the overwater bungalow you want, as Bora Bora is a very popular destination and upgrades are less likely here, particularly during high season.
We loved both our Overwater Bungalow Suite, which were at the end of the pontoon and featured lovely lagoon mountain views of Otemanu. This is our original Overwater Bungalow Suite with Plunge Pool, 231: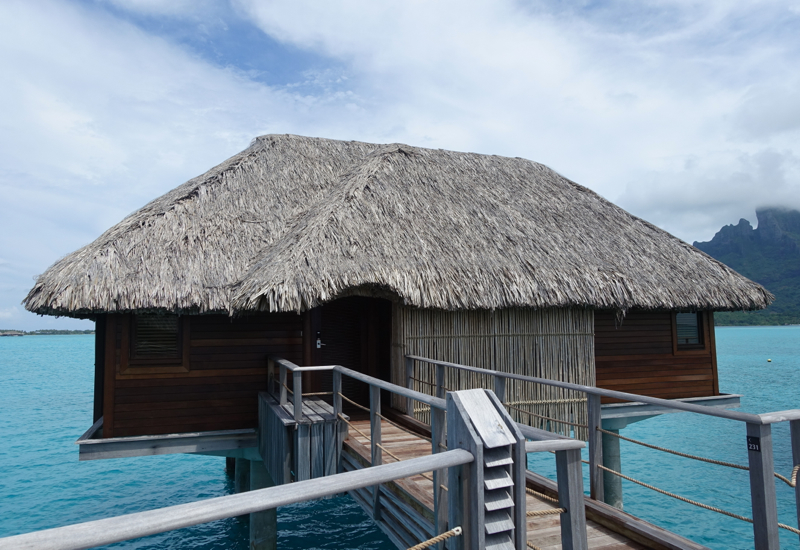 And here's the beautiful view from the deck: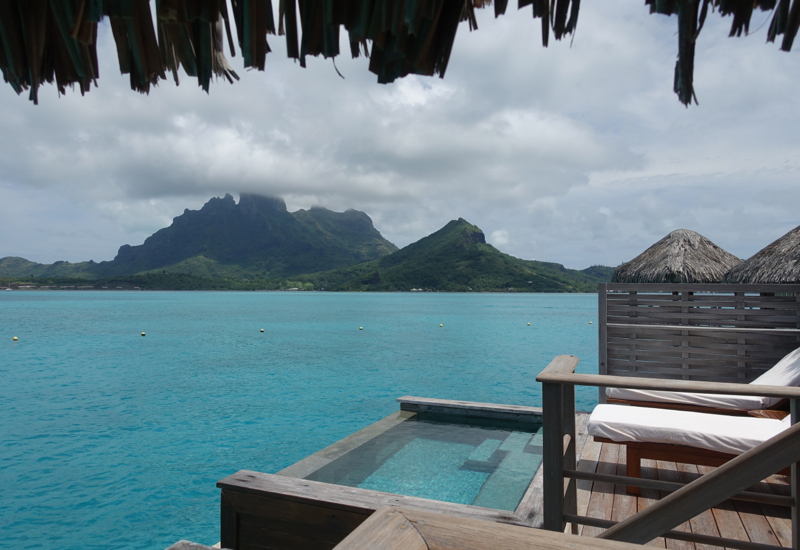 Inside, we found some very thoughtful 10th wedding anniversary welcome amenities, including chilled champagne (which the resort was happy to swap out for an excellent bottle of Sauvignon Blanc, as we prefer it to champagne), fresh fruit, and the most delicious passion fruit mousse cake I've ever tasted. In fact, writing this post reminds me I need to request the recipe from the resort–it was that good.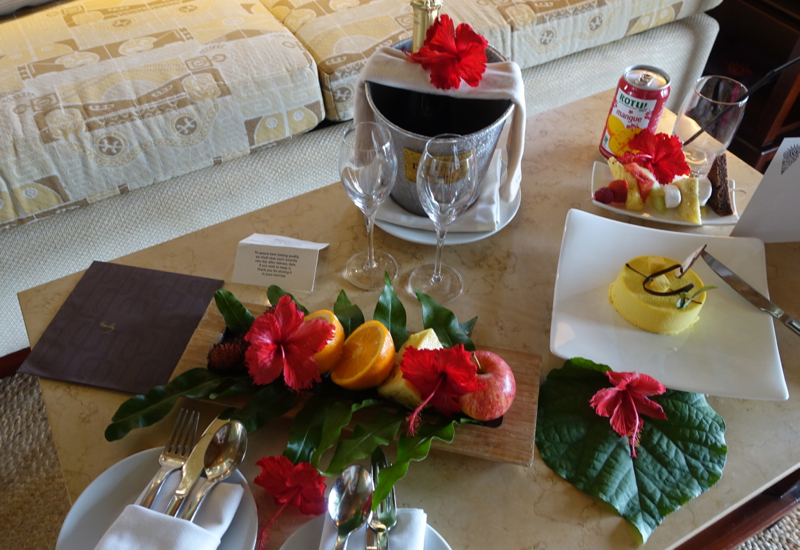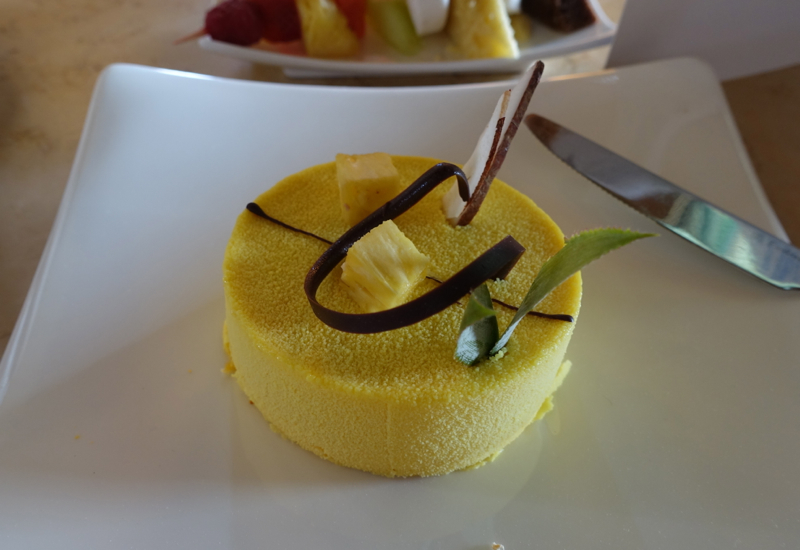 There was also a cute plush manta ray toy for our son, as well as a child-size yukata-style cotton bathrobe for him.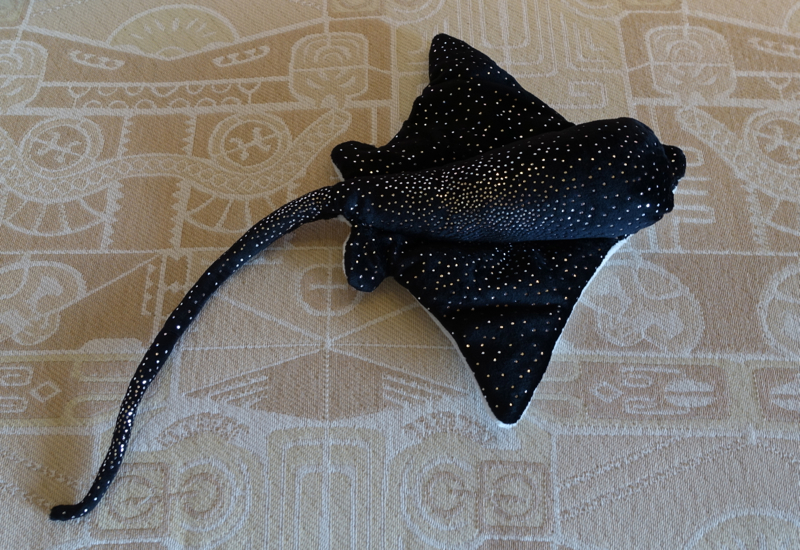 The bedroom and in fact the entire bungalow's air conditioning worked very well, which was a comfortable respite from the tropical heat, particularly midday. And we slept extremely well on the Four Seasons bed, as we always do.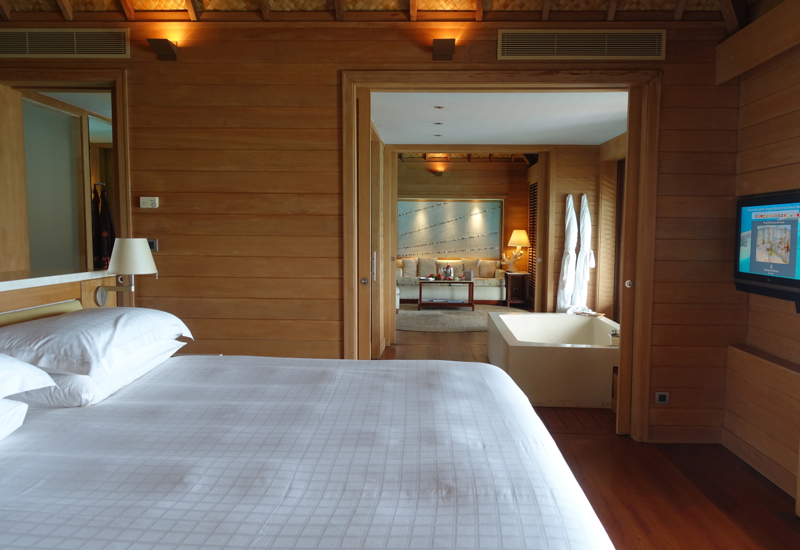 The bathroom featured a large soaking tub by the window, double vanities with his and hers sinks across from each other, a separate toilet chamber and a separate shower.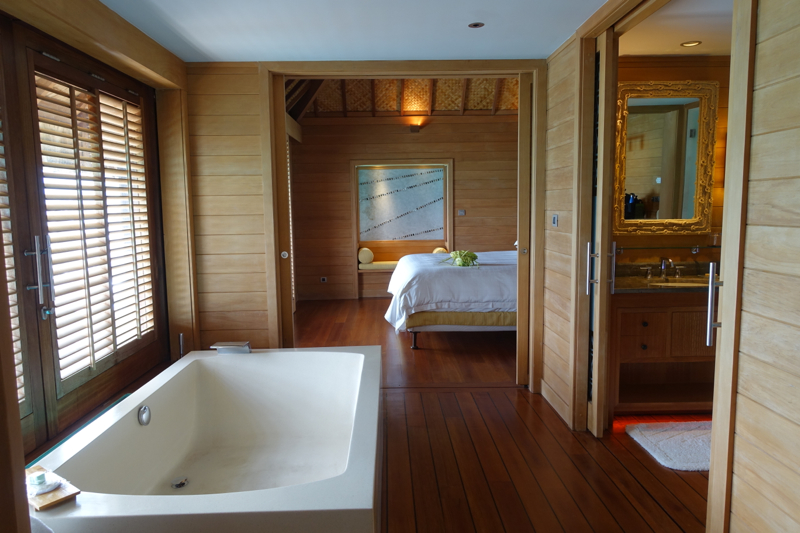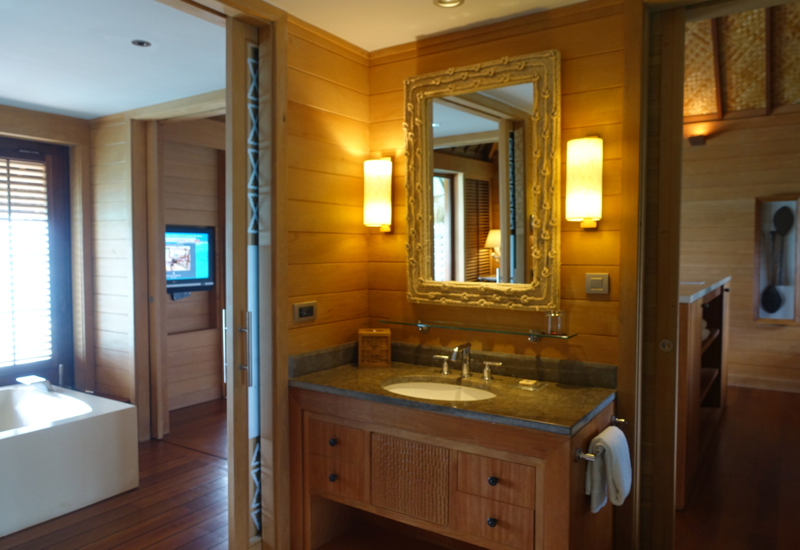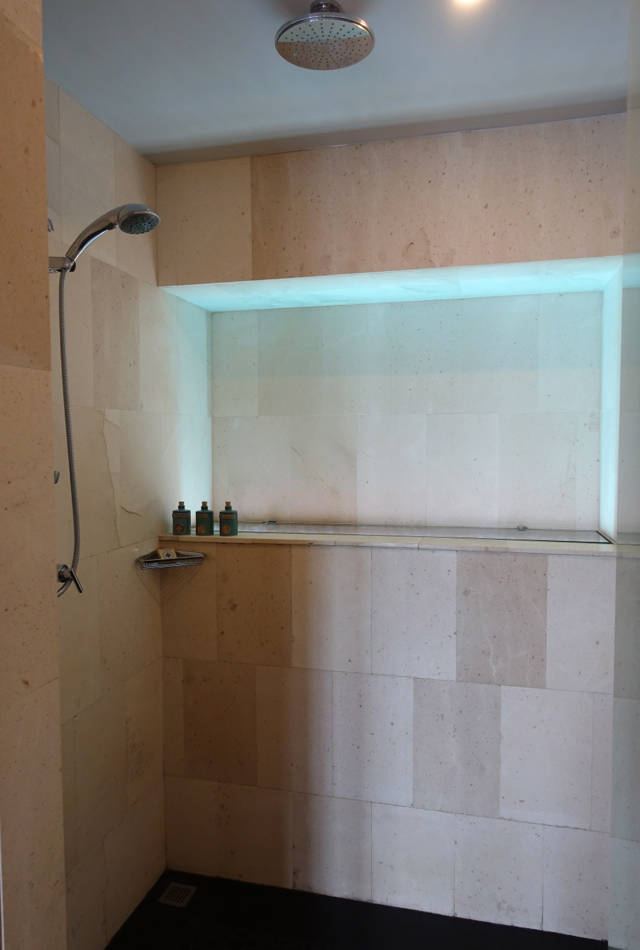 Bath products are in eco-friendly reuseable containers, but are L'Occitane, one of my favorite brands.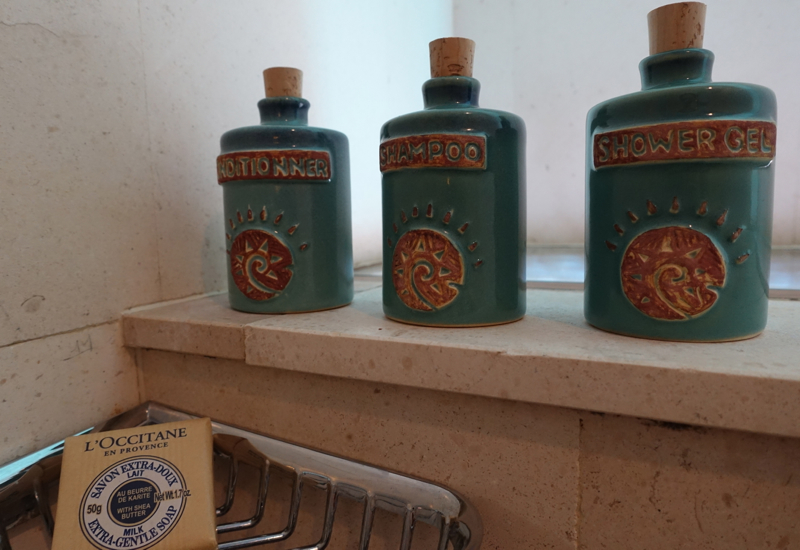 There's a Nespresso machine, which is complimentary and replenished daily, as well as various teas. Bottled water is provided, although the tap water is drinkable (Bora Bora desalinates its water, similar to Four Seasons Maldives at Landaa Giraavaru and other Maldivian resorts).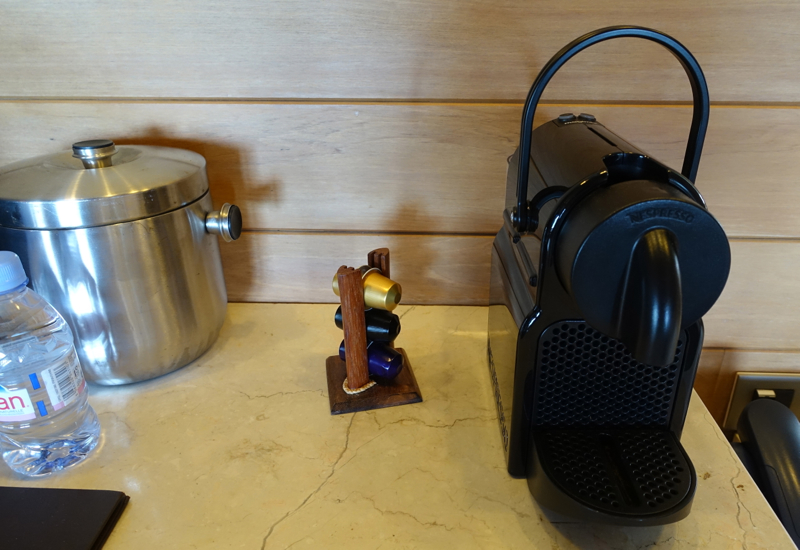 For our last night, we were lucky enough to be in the adjacent Otemanu Overwater Bungalow, with a direct view of Otemanu both from the bedroom and the deck and plunge pool: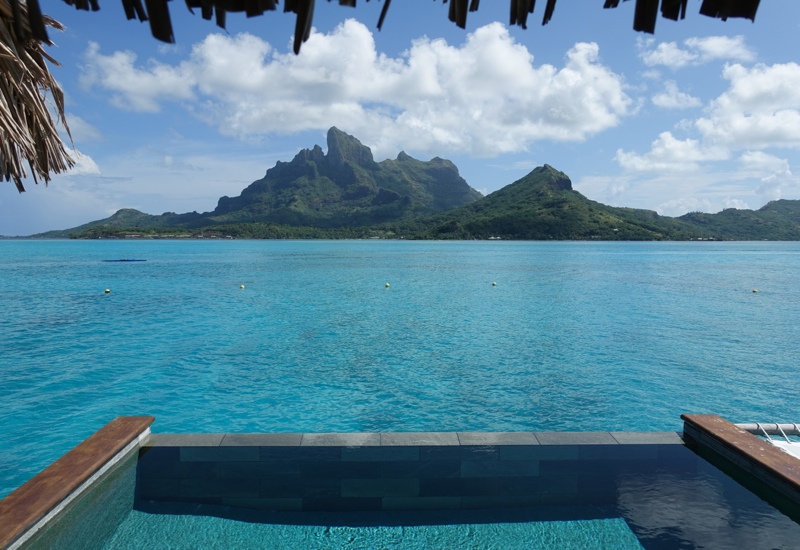 Here's a video I shot of this beautiful Otemanu Overwater Bungalow with Plunge Pool, even though it doesn't do it justice:
As you can see, the Otemanu Overwater Bungalow Suite is even more spacious, at 1576 square feet, with a large living room and dining area: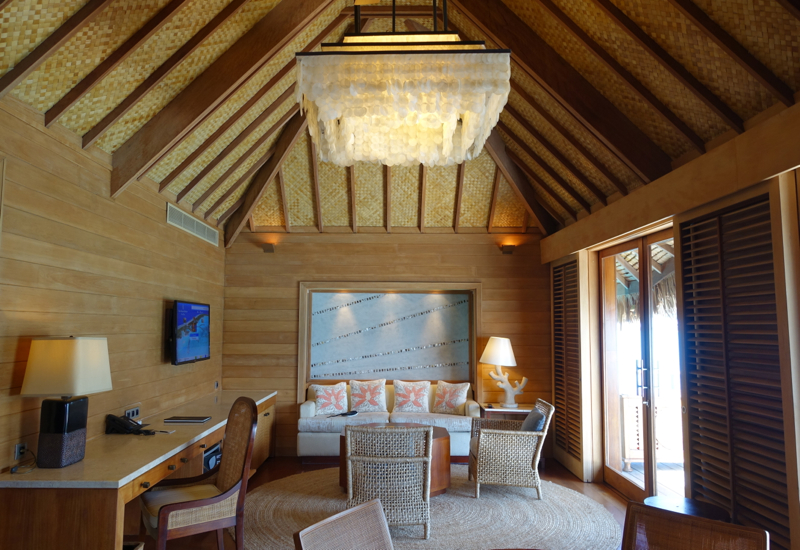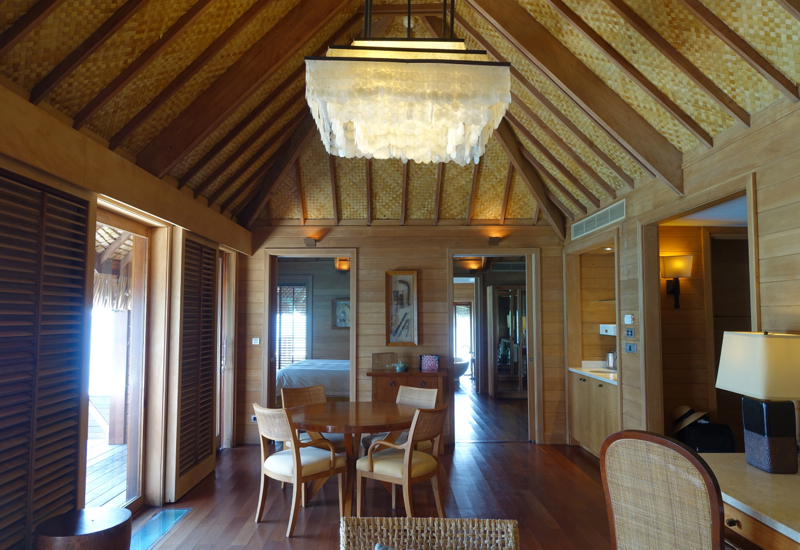 The bedroom was likewise a bit more spacious than in our other Overwater Bungalow with Plunge Pool: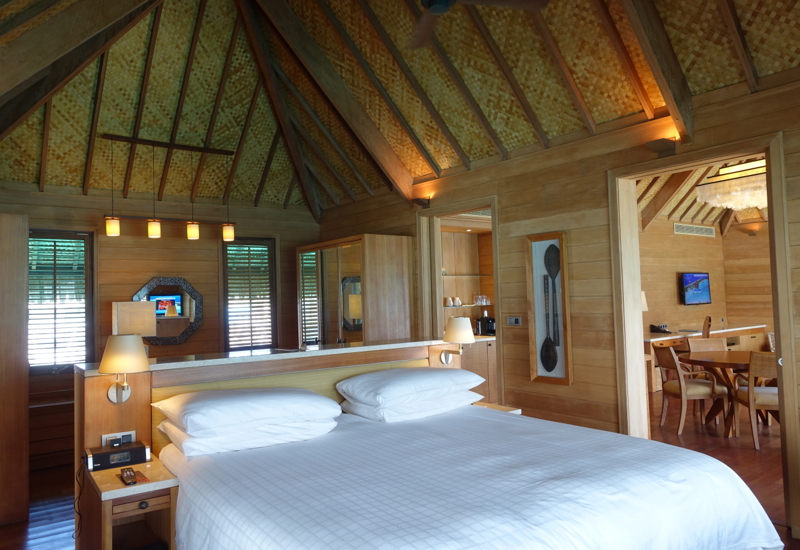 The additional space is great, although what really sets this suite apart is the extensive outdoor deck, with two thatched bales and plunge pool with that magnificent Otemanu view: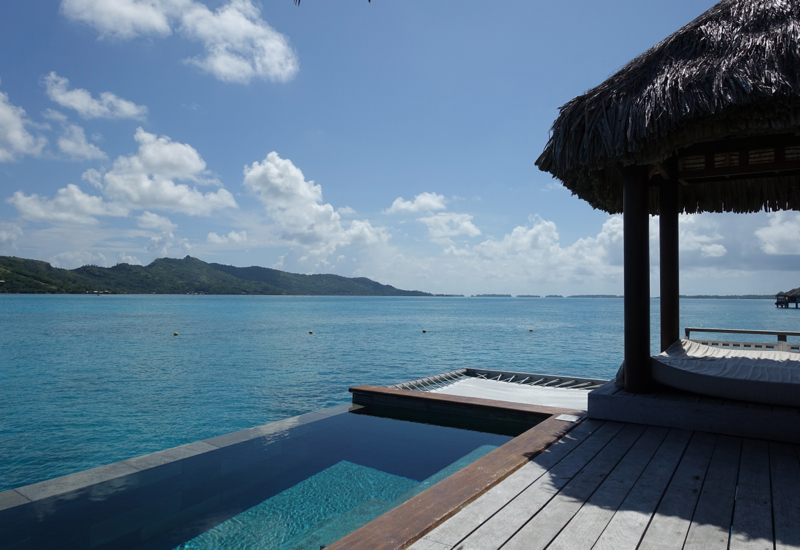 Four Seasons Bora Bora Beach, Pool and Lagoons
The Four Seasons Bora Bora has a lovely white sand beach, with ample lounge chairs and umbrellas. As you can see, the water is just an incredible color–we never tired of the views.
While we barely used it due to our other water activities, there's also a large free form main pool: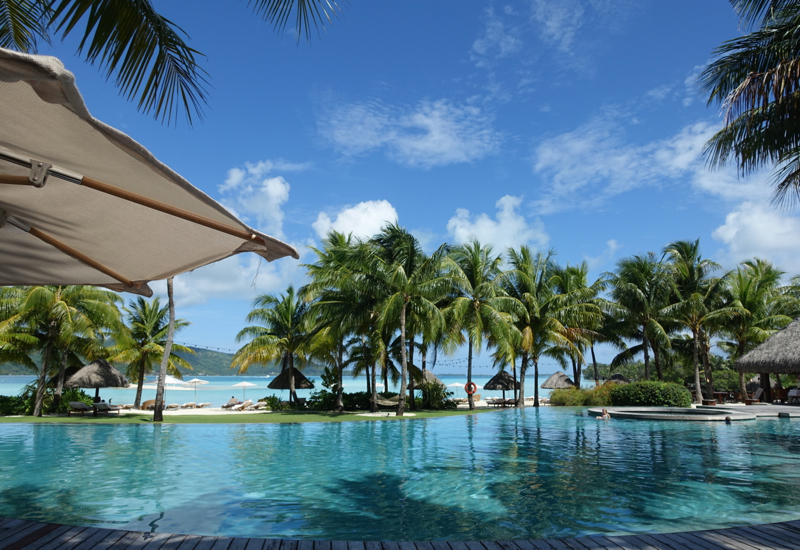 And if you want to snorkel or even just wade into the water to see fish, you should visit the snorkeling lagoon; there's also a second lagoon used primarily for water sports, such as kayaking.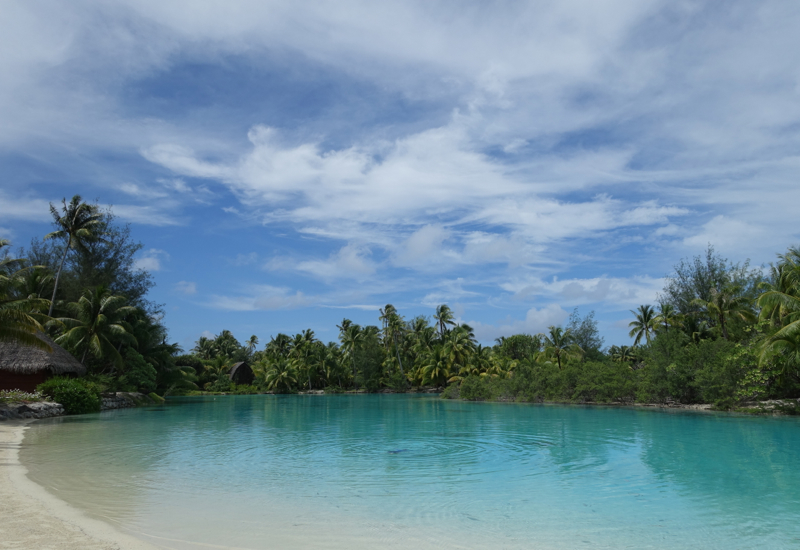 Four Seasons Bora Bora Spa
Since our Four Seasons Preferred Partner amenities included a spa credit, I gave my husband a massage as he enjoys massages more than I do. He really enjoyed it, and noted that the therapist used great pressure. So if you need a deep tissue or sports massage to work out some particularly tight knots, the Four Seasons has you covered.
The Four Seasons Bora Bora Spa also has complimentary areas for guests to use at any time, not just before or after a spa treatment. There's a plunge pool, experience shower, sauna, and relaxation room, as well as a changing room. So if you're arriving early and haven't booked the preceding night, I highly recommend enjoying the spa facilities until your room is ready.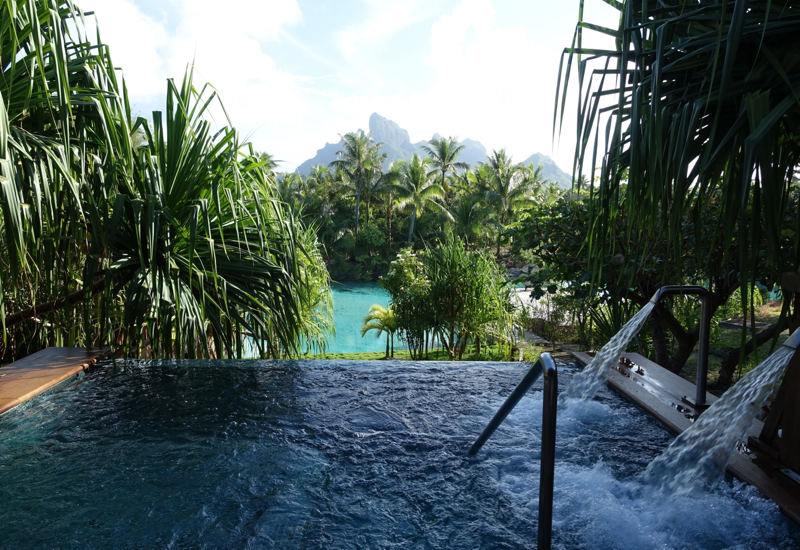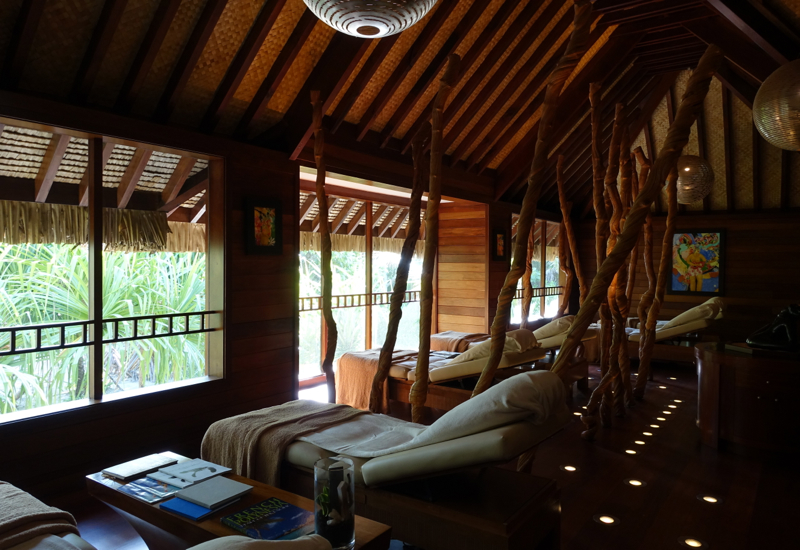 Four Seasons Bora Bora Breakfast, Restaurants and Dining
I'll cover Four Seasons Bora Bora breakfast at Tere Nui and dining at Arii Moana and the Sunset Restaurant & Bar in a separate post.
The Verdict
Four Seasons Bora Bora is a popular destination for many of my clients celebrating a honeymoon or anniversary, and it was indeed an amazing place to celebrate our 10th wedding anniversary. The views, including the color of the water and of Mount Otemanu, are incredible, as are the opportunities to see manta rays, eagle rays, all kinds of tropical fish, sharks and even (if you're lucky) dolphins. And the Four Seasons Bora Bora lived up to the Four Seasons reputation of outstanding service, with (since this is French Polynesia) French flair. Bungalows are beautiful, in Tahitian style, and while food is without question pricey, given the cost of bringing much of it so far to Bora Bora, we enjoyed our meals.
We brought our son, since he had two weeks off for spring break, and he enjoyed it as well, particularly swimming with fish in the lagoon area, splashing about in the bungalow's private plunge pool, playing foosball with other kids at the Kids' Club, and snorkeling on the excursions we went on.
Related Posts
Paradise! Can You Guess the Place?
Review: Air Tahiti Nui Business Class
Flat Bed Business Class to Tahiti and Bora Bora?
Top Things to Do in Bora Bora if You Don't Scuba Dive
Disclosure: I received two complimentary nights, inclusive of breakfast, and reserved our third night at the full retail rate with all Four Seasons Preferred Partner amenities. The opinions in this review are mine.
Need Award Booking Help? Our fee is as low as $75 per ticket if you book your hotel through us.
If you enjoyed this, join 200,000+ readers: please follow TravelSort on Twitter or  like us on Facebook to be alerted to new posts. 
Become a TravelSort Client and Book Your Hotel with Virtuoso or Four Seasons Preferred Partner Amenities!