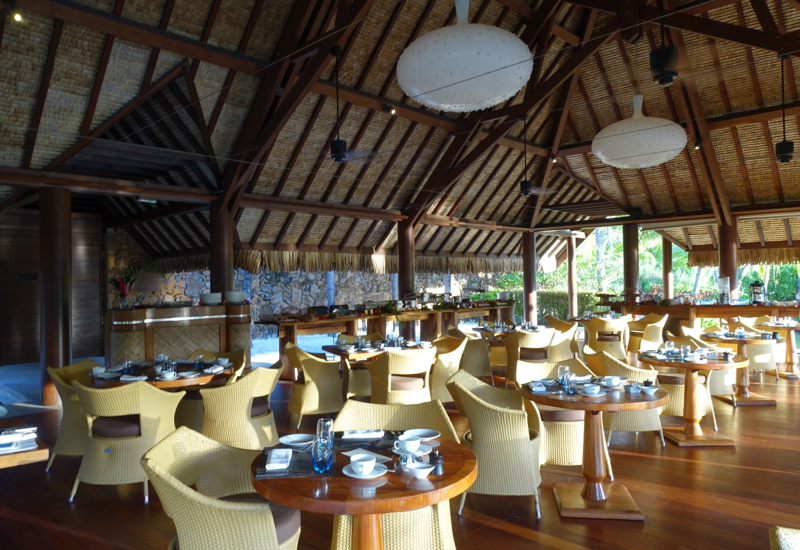 This Four Seasons Bora Bora Restaurant Reviews and Menus post is part of a new trip report on Bora Bora and Tahiti luxury resorts, dining and activities. For the prior posts, please see:
Review: American A321 Business Class New York to Los Angeles
Paradise! Can You Guess the Place?
Review: Residence Inn by Marriott LA
Review: Los Angeles International Lounge
Review: Air Tahiti Nui Business Class
A Must in New Zealand: The Farm at Cape Kidnappers, Hawkes Bay
Review: American Airlines A321 First Class JFK to LAX
As a reminder, TravelSort Clients enjoy complimentary buffet breakfast daily at the resort's restaurant, Tere Nui, or alternatively can enjoy breakfast served in the privacy of their overwater bungalow, as a Four Seasons Preferred Partner benefit.
Four Seasons Bora Bora Restaurants
The resort has 4 restaurants:
Tere Nui Restaurant, open for buffet breakfast 6:30am-11am, lunch 11am-5pm, and seasonally for dinner 6:30-9:30pm
Arii Moana, the resort's fine dining restaurant, open seasonally for dinner 6:30-9:30pm
Sunset Restaurant and Bar, open 4-11pm (no reservations)
Fare Hoa Beach Bar, open for lunch and snacks 10am-5pm daily
During our stay, we dined at Tere Nui and the Lagoon Restaurant (opened during peak season) for daily breakfast; a simple dinner at the Sunset Restaurant and Bar; dinner at Arii Moana, and a room service dinner in our overwater bungalow.
Tere Nui Restaurant and Lagoon Restaurant
Tere Nui Restaurant is where the daily breakfast buffet is normally served, although since we were there during high season, during Easter and the spring break holiday, breakfast was also available at the Lagoon Restaurant, which normally is not a restaurant but serves as a place for special events and group functions. I actually preferred Lagoon Restaurant as it was less busy, yet had most of the same items on the breakfast buffet, with the option to order hot items such as omelets and crepes off of a menu.
Breakfast at Four Seasons Bora Bora
We always looked forward to breakfast, which had a good assortment of fresh fruit, yogurt, smoked salmon, salad, hot items, and especially delicious pastries. Here are our favorite breakfast items at Four Seasons Bora Bora:
1. Financiers
Usually I can take or leave financiers, at least the ones that come from mediocre bakeries. But not these ones–the Four Seasons Bora Bora almond financiers were moist, tender and buttery inside, with a crisp exterior and plenty of delicious almond flavor-yum!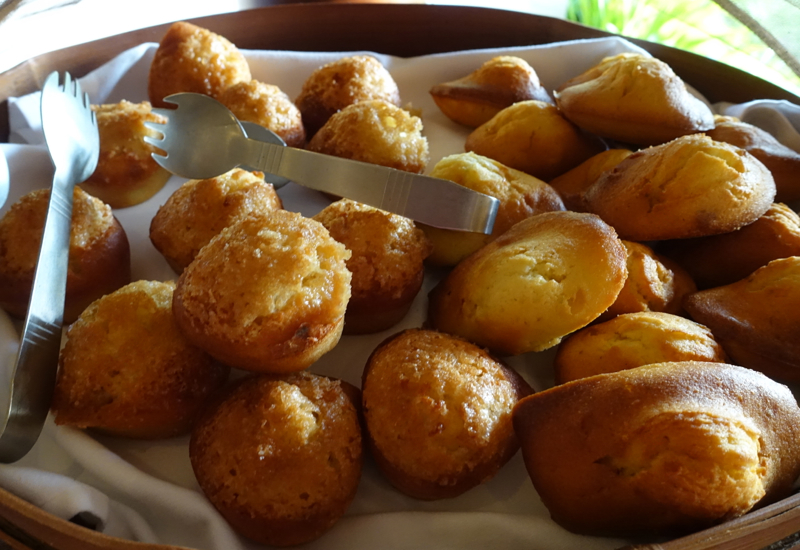 2. Dark, Rich Hot Chocolate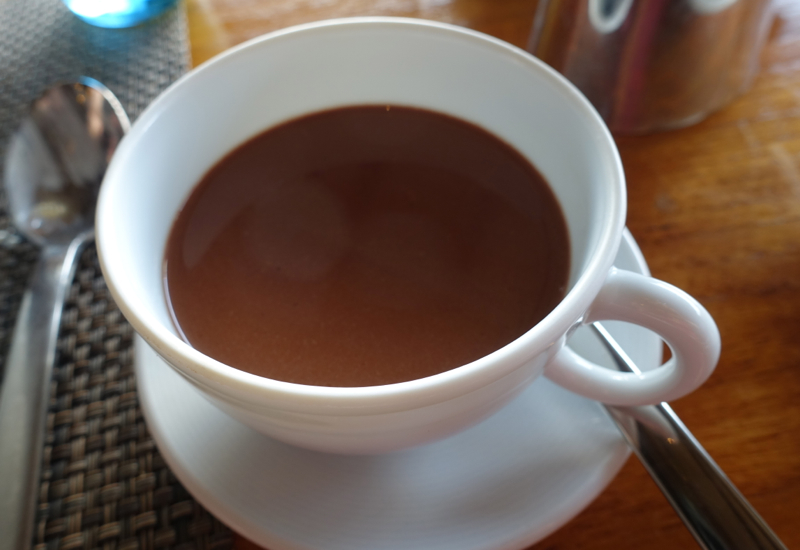 3. Yogurt
Yogurt is a staple for our family, so we were happy to see that there was both plain and fruit yogurt offered, together with a smoothie that had yogurt in it: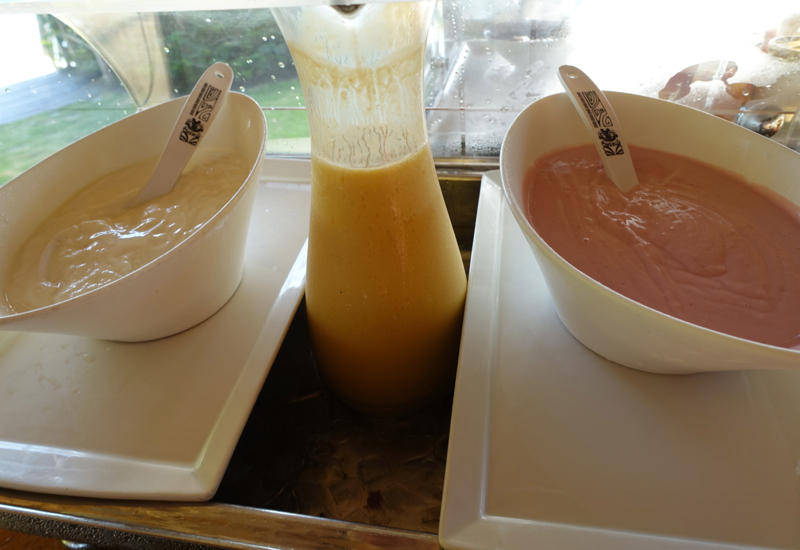 As well as French style mini yogurt pots with fruit compote. These tasted deliciously homemade, and were so much better than the industrial yogurt we were served on the Air Tahiti Nui Business Class flight. The only thing missing was some homemade granola to put on top.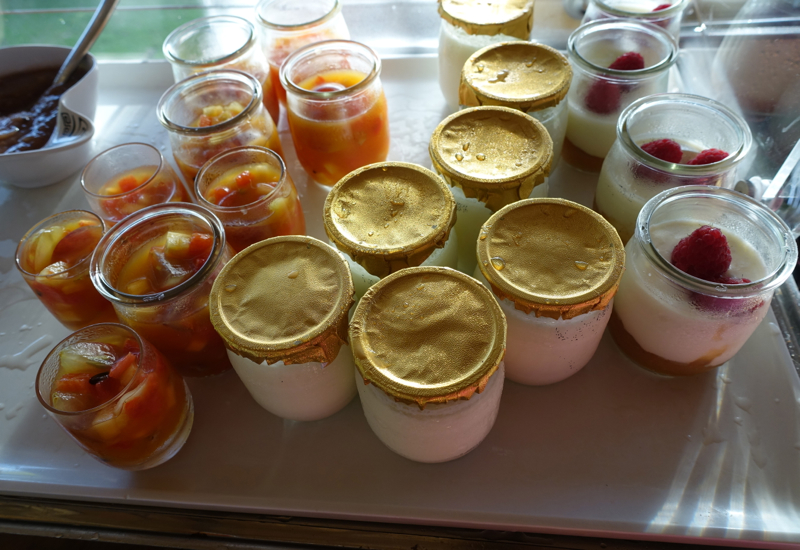 4. Fresh Ahi (Tuna)
My husband and son aren't used to eating fish for breakfast, but I enjoy it, thanks to a year spent in Japan.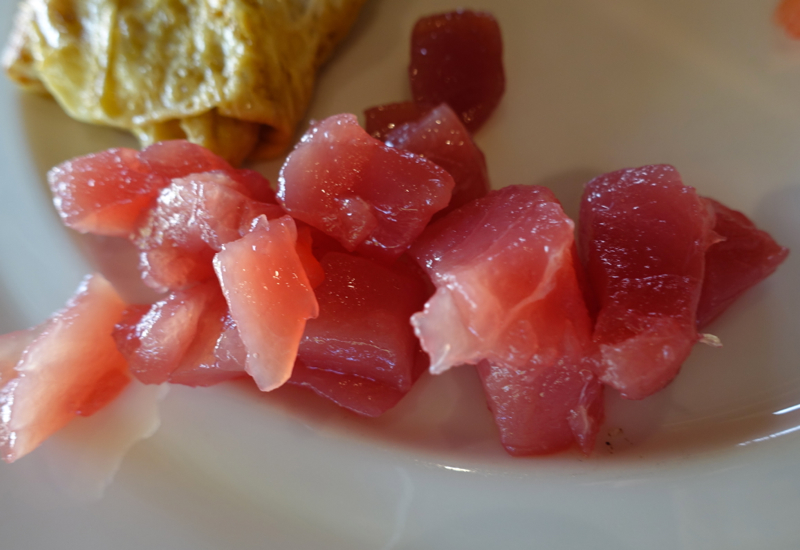 5. Fresh Fruit
While I wouldn't say the fresh fruit selection was as extensive as in Asia or the best Maldivian resorts, I very much enjoyed the fresh mango and my son liked the fresh watermelon. There were even rambutans, although I don't care for them.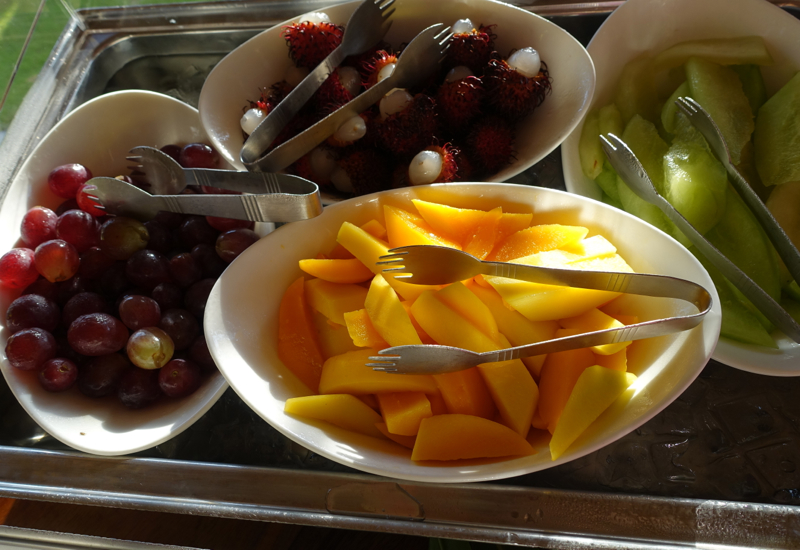 6. Made to Order Omelets
Eggs are a great high protein way to start the day, and I usually requested a made to order omelet with mushrooms, tomatoes and herbs. The only thing to be aware of is that sometimes the cheese changes, so cheddar, for example, wasn't always available (not that it mattered to me, but my son didn't care for the swiss cheese that was used one day).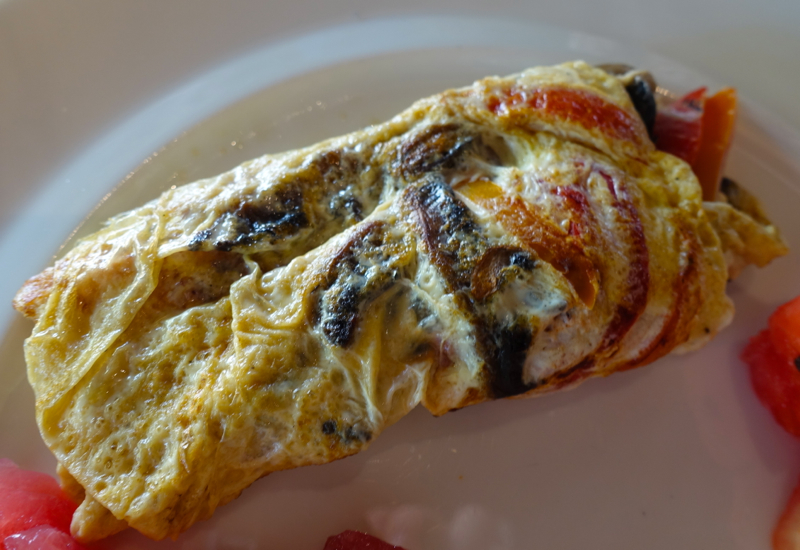 7. Smoked Salmon
Smoked salmon is another breakfast favorite of ours, and there was an ample supply of smoked salmon, and capers and other garnishes were also available.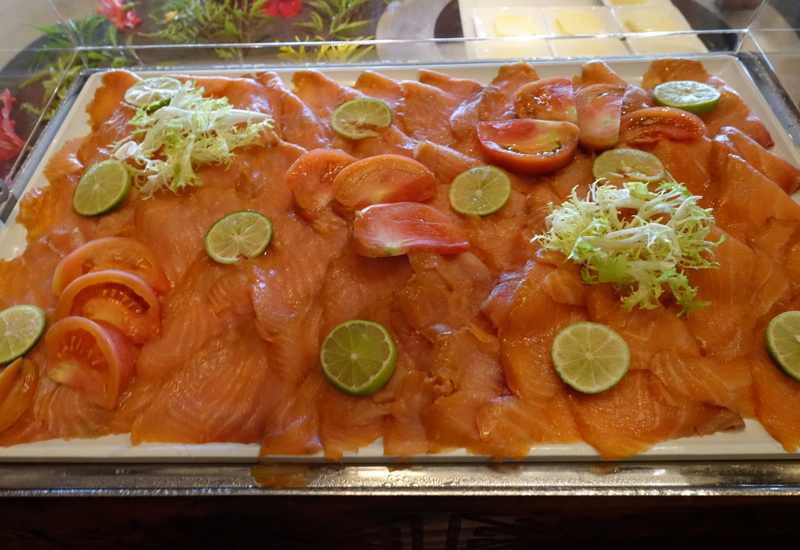 8. Fresh Squeezed Orange Juice
While Bora Bora isn't the Maldives, with all kinds of fresh squeezed juices, I did enjoy being able to have fresh squeezed orange juice (you do have to ask for it) which wasn't available at breakfast at the other resort we visited in Bora Bora.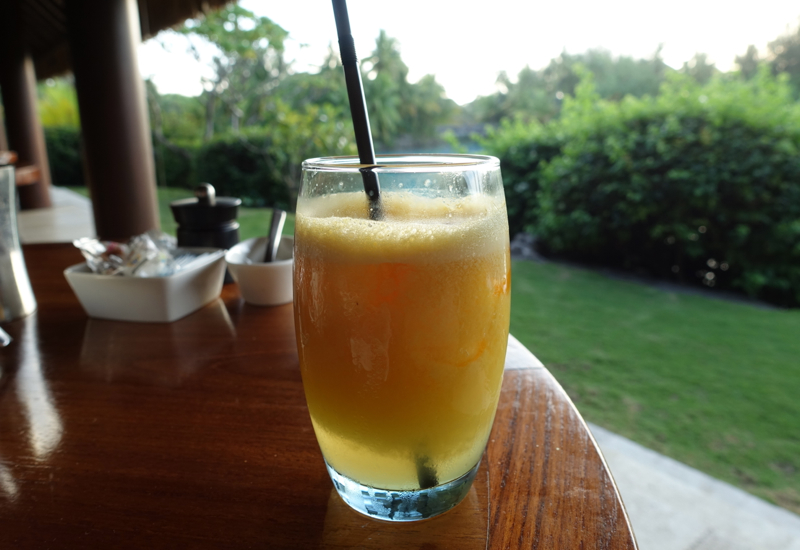 Dinner at Arii Moana
We enjoyed a low key dinner at Arii Moana, Four Seasons Bora Bora's fine dining restaurant. Here are the dinner menus: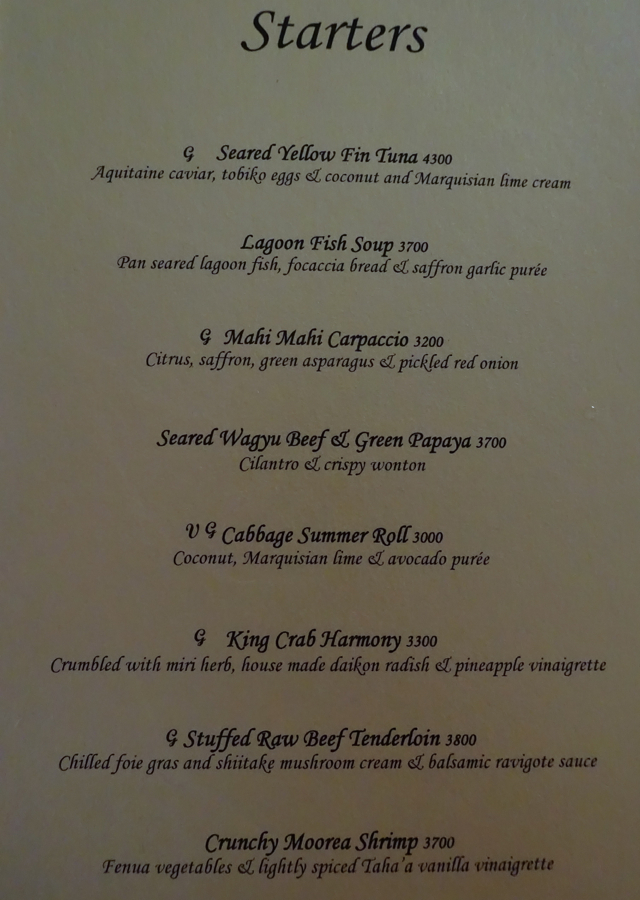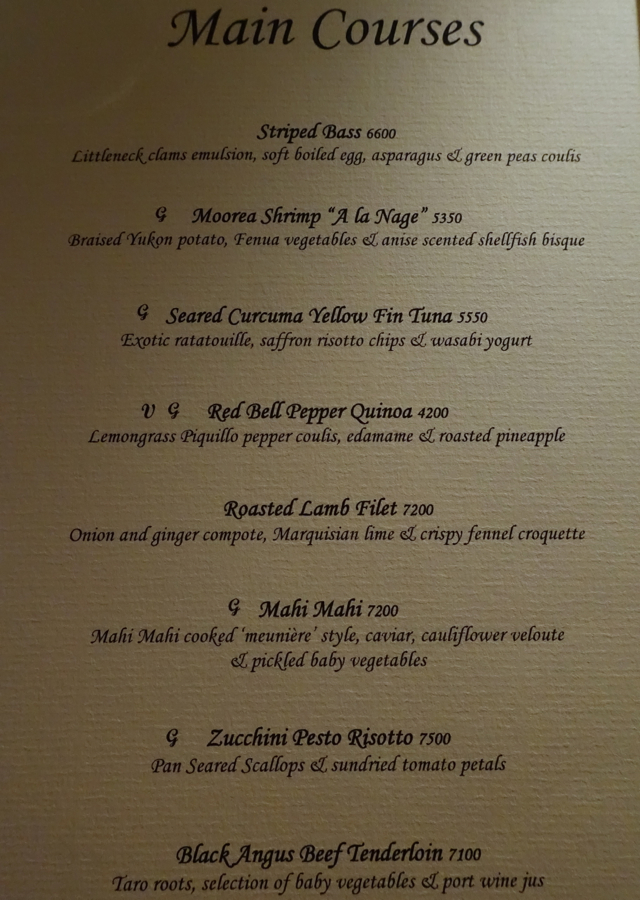 My husband was recovering from a slight illness, so he only had yogurt and bread, but I ordered a couple of appetizers that our server recommended.
We were first brought a lovely ahi tuna amuse bouche, with a fresh basil garnish: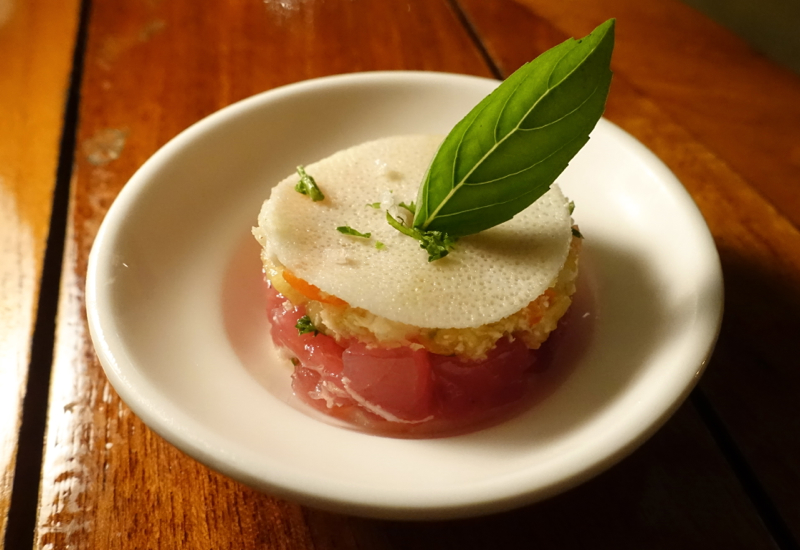 The highlight for me was my Seared Tuna Appetizer, with Caviar and Lime Cream, which was not only beautifully plated, but a delectable balance of flavors.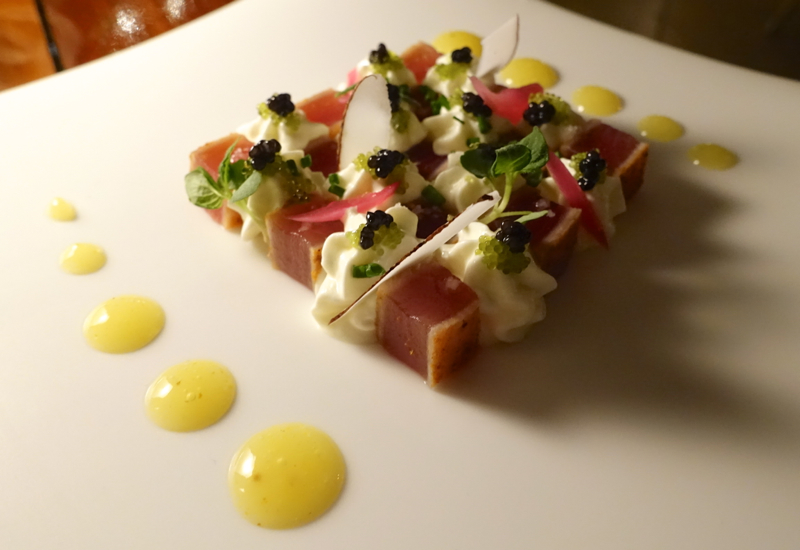 While I also enjoyed the Crispy Moorea Shrimp appetizer, it was a slightly small portion for the price, and didn't rise to the level of the Seared Tuna.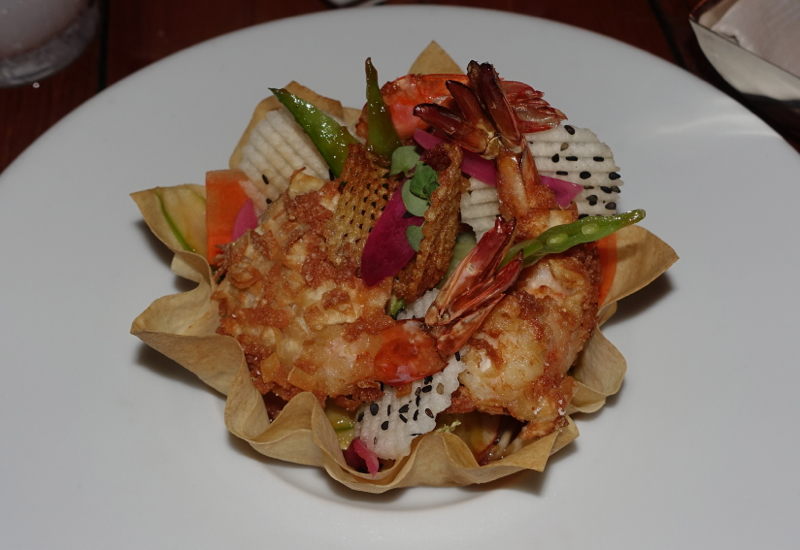 My son meanwhile ordered the cheeseburger from the kids' menu, which turned out to be so big he couldn't finish it. The kids' menu is actually very good value, although I'm pretty sure they won't let you order from it if you don't have kids 🙂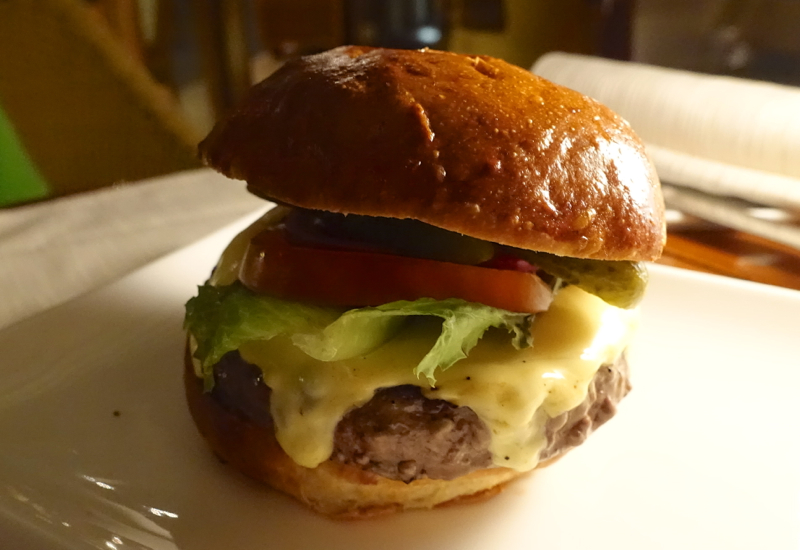 Sunset Restaurant and Bar
The Sunset Restaurant and Bar can't be reserved in advance and is first come, first served, but is a popular spot for its sushi and Asian fare. I wandered in our first night at the resort, and asked if I could have a seat with a good vantage point to view the Polynesian show, and the server graciously obliged, setting me up at a table right near where the performance would be. The chirashi was good, although of course a smaller portion for a more expensive price than I'd get at my favorite midtown place in NYC, Tsushima–but that's to be expected in Bora Bora.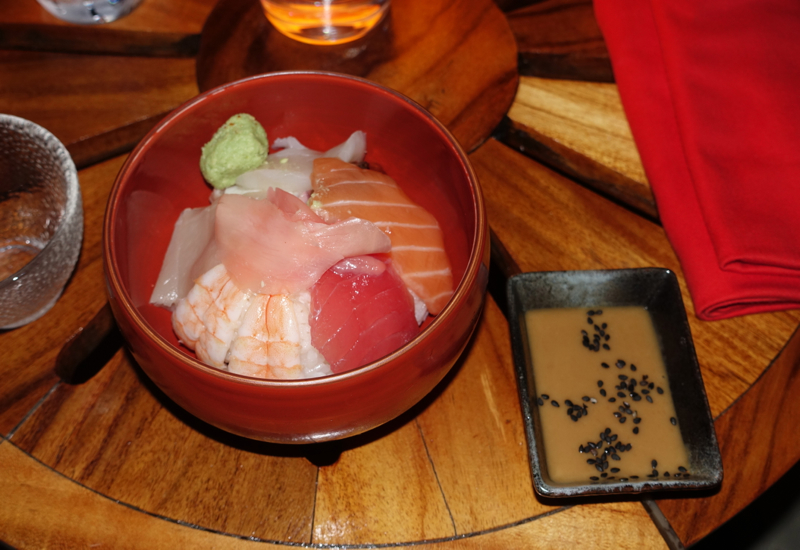 In-Room Dining Menus and Dinner
The in-room dining menus feature a variety of appetizers, including soups and salads: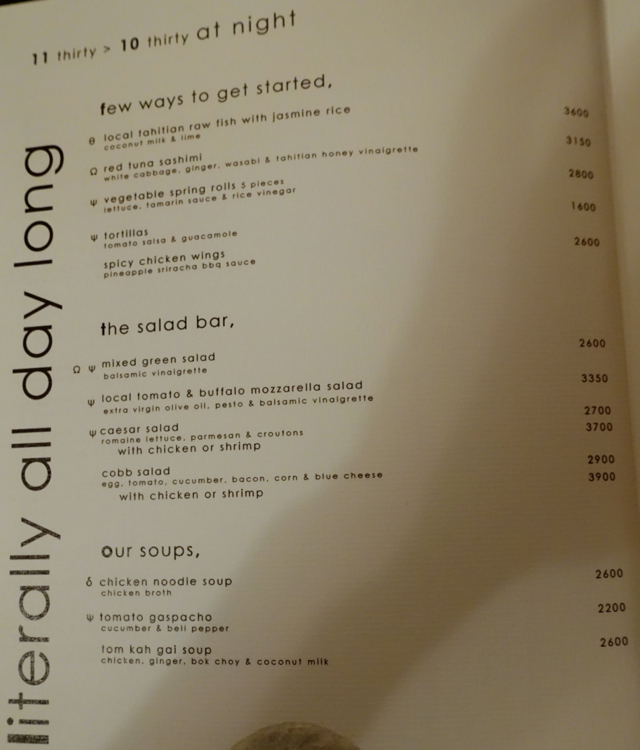 There are also sandwiches, pizzas and pastas, and main courses can be accompanied by a side dish and sauce of your choice.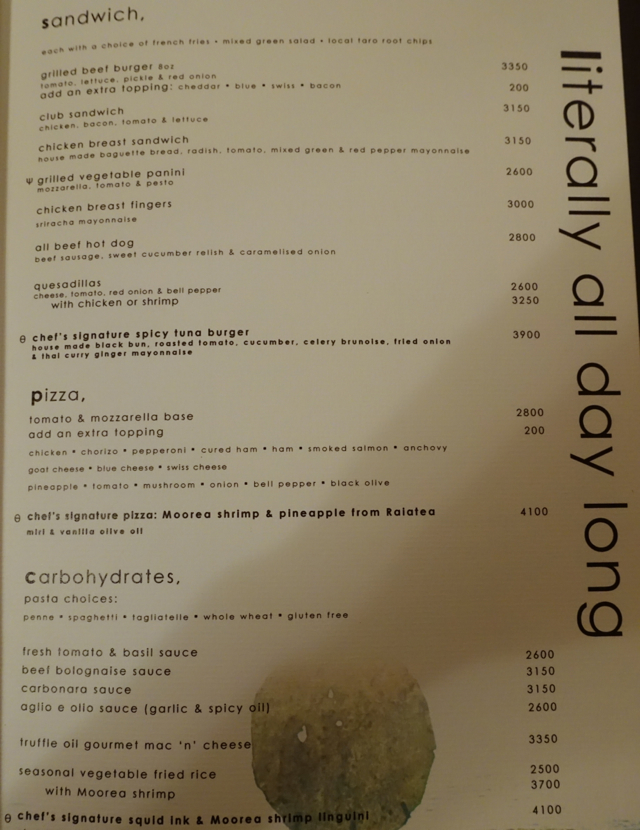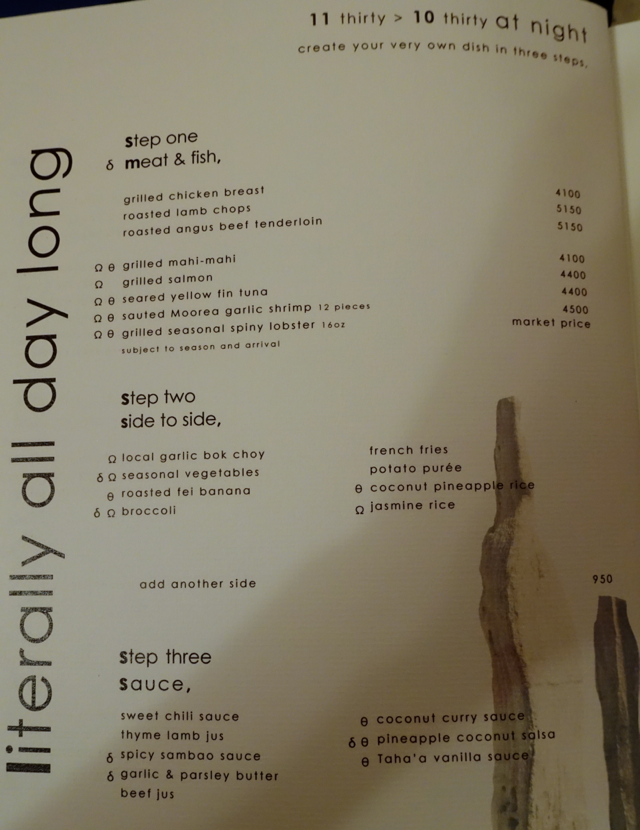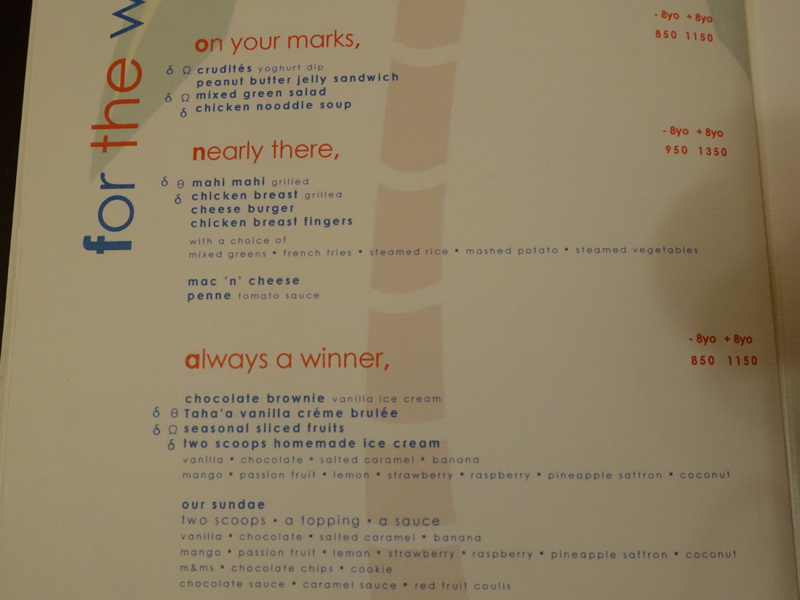 My husband, who had recovered and had a healthy appetite by our last night, thoroughly enjoyed his Linguine Carbonara, which he shared with our son, who also had some of his leftover cheeseburger from the prior night: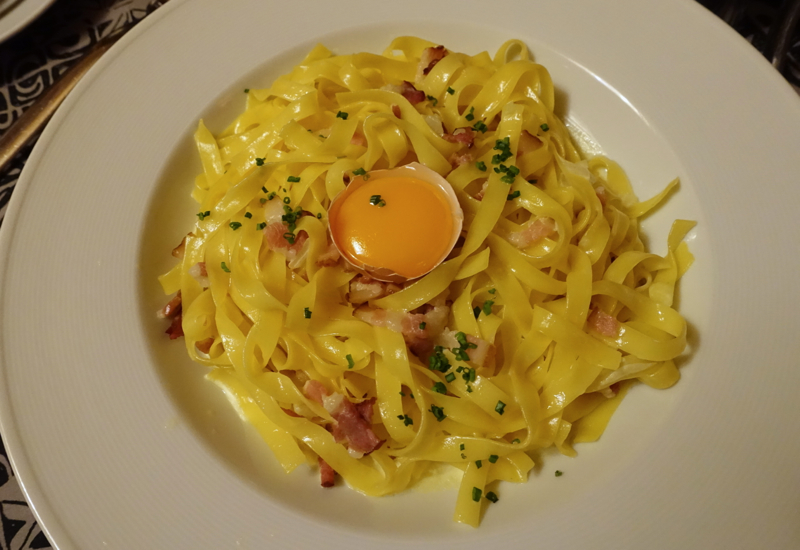 Meanwhile, my Sauteed Moorea Shrimp were very satisfying with the coconut pineapple rice and spicy sambaa sauce: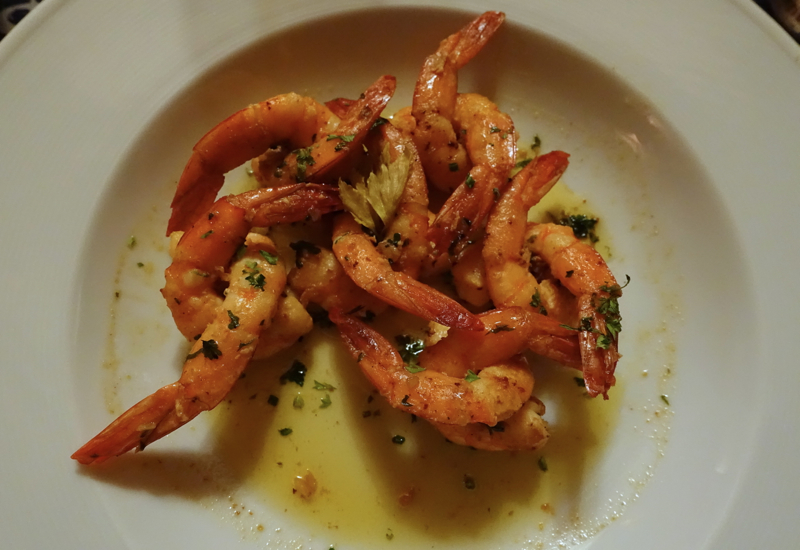 For dessert, we treated ourselves to the Chocolate Fondant, a molten chocolate cake, which came with homemade vanilla bean ice cream: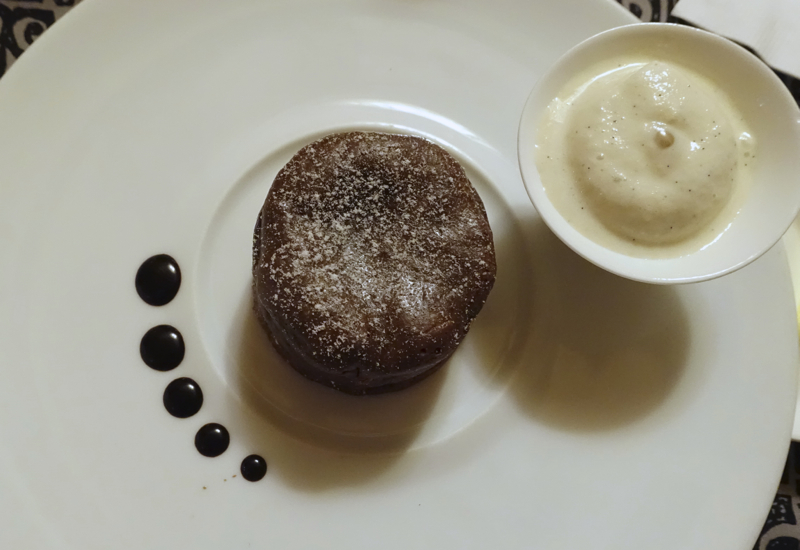 We also sampled passion fruit sorbet and salted caramel, both of them delicious and kept cold in an ice bucket, while we enjoyed our dinner.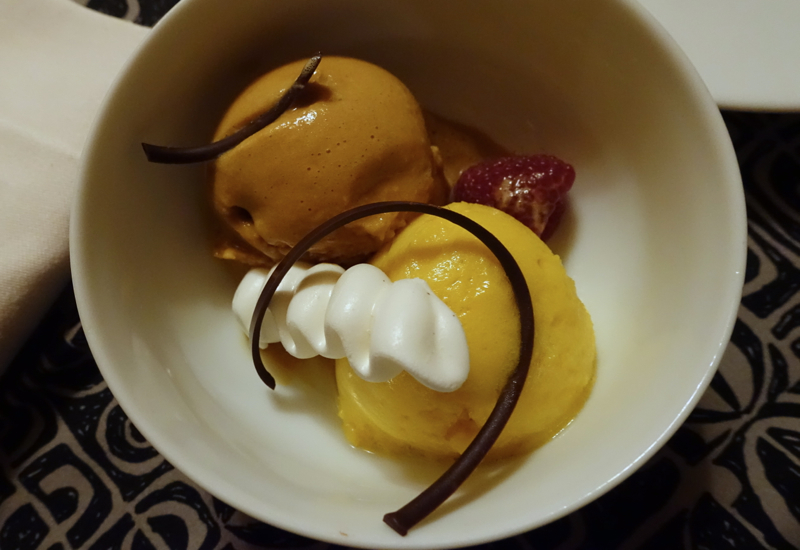 The Verdict
Dining in Bora Bora is quite pricey, and the Four Seasons Bora Bora is no exception–many items have to be flown in. Some of the other reviews I've read have complained a bit about the food, but I do think much of this has to do with sticker shock. If you've been to the Maldives or other remote beach destinations and realize how far the food has to come, not to mention the skill needed to prepare it to international standards, the prices are in line with that. We particularly enjoyed the resort's seafood preparations and exquisite pastries and desserts. Service at breakfast at Tere Nui was at times a bit distracted, but it is a buffet after all, and most items we were able to help ourselves to. I'd recommend dining at the Lagoon Restaurant for breakfast if that is an option, during peak periods.
If you've dined at Four Seasons Bora Bora, what was your experience?
Related Posts
Paradise! Can You Guess the Place?
Review: Air Tahiti Nui Business Class
Flat Bed Business Class to Tahiti and Bora Bora?
Top Things to Do in Bora Bora if You Don't Scuba Dive
Disclosure: I received two complimentary nights, inclusive of breakfast, and reserved our third night at the full retail rate with all Four Seasons Preferred Partner amenities. The opinions in this review are mine.
Need Award Booking Help? Our fee is as low as $75 per ticket if you book your hotel through us.
If you enjoyed this, join 200,000+ readers: please follow TravelSort on Twitter or like us on Facebook to be alerted to new posts.
Become a TravelSort Client and Book Your Hotel with Virtuoso or Four Seasons Preferred Partner Amenities!