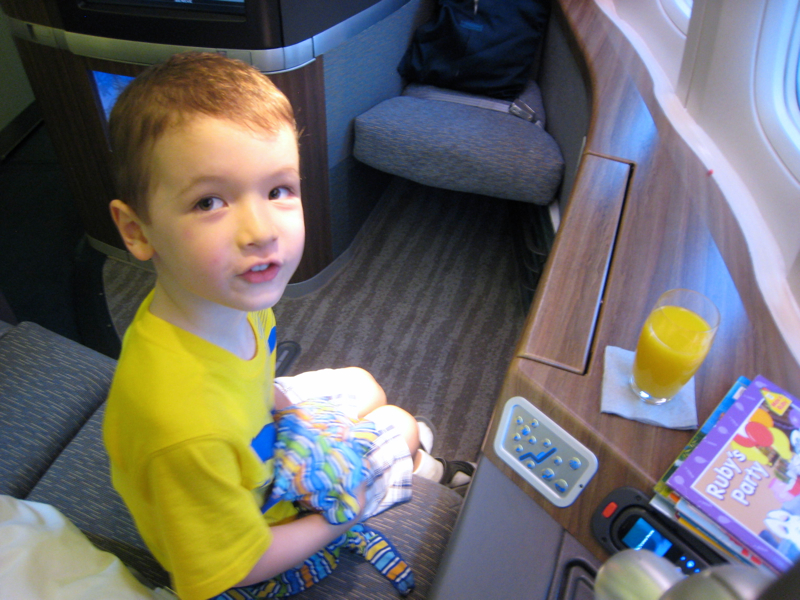 Flying first class with a child? Which airlines and first class seats are best? Kimberly tweeted me "@TravelSort Do any airlines have 1st class seats for 2? Would be nice to not be across the aisle from my child."
Since I've flown first class with my son a number of times, in Cathay Pacific First Class, Etihad First Class, British Airways First Class, Qantas First Class, Asiana First Class and JAL First Class, and my husband recently flew Singapore Suites on the A380 with a kid in tow, I have some thoughts on both the best airlines and seats for parents flying first class with their kid.

First Class with a Kid
Kimberly already knows she wants to fly first class with her child, but for any other parents who are wondering whether it's worth earning the additional miles and points to book first class seats for you and your child: it's absolutely worth it. International business class is good for sleeping, but it's usually a very private and utilitarian product, whereas first class provides all the little touches that make flying fun again, helps you sleep and dine better, and enables you to share the experience with your child, whether it's having dinner together or reading a bedtime story next to him or her. Also see Top 10 Reasons to Fly First Class with Kids.
This is not to say that you should fly first class with your kid if you think that even in first class it will be a tough journey. Some kids just don't travel as well as others. For example, we know families where the kids don't sleep much, and the parents would never take them on a long flight, even in first class, as the kids would be awake and restless most of the time. Or perhaps your child is afraid of flying or is going through a stage when s/he has frequent tantrums or melt downs. If this is a case, I would definitely recommend postponing any flights except those that you absolutely must take to see close family.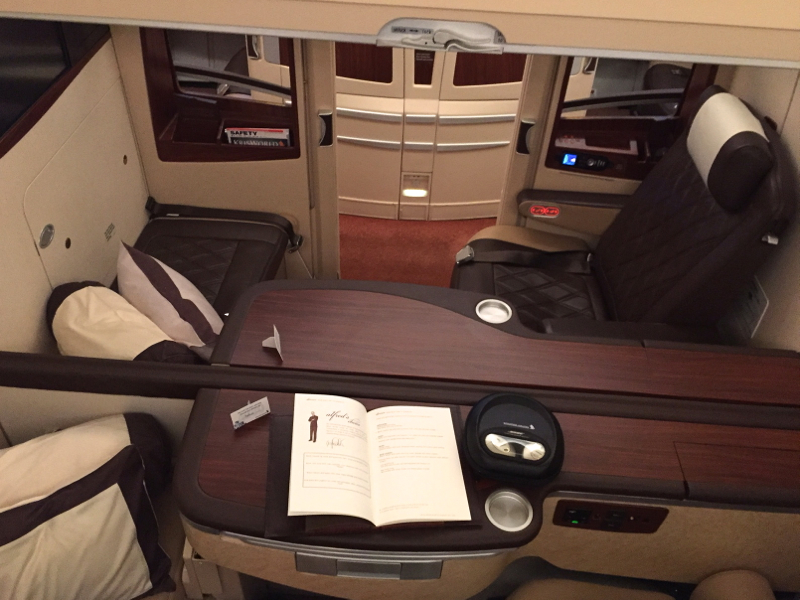 First Class Seats Together Are in the Middle (No Window) and Have a Divider
First, keep in mind that First Class seats that are "together" are in the middle of the aircraft, so they don't have a window. If being able to see out the window is important to your child (as it is to mine) then I recommend taking either two window seats one behind the other, or putting your child in a window seat and you across the aisle. In most cases, due to the privacy of even open suite products, you will only be able to see each other if you both lean forward, but at least your child will be happy having a window seat.
The other thing to keep in mind with the middle seats is that, even without putting the privacy divider up, there's still a wall there between your footwells, so it can be awkward helping your child with his or her seatbelt or if s/he drops anything. That said, if you want to be able to see each other easily during takeoff and landing, this is usually the best option. International airlines that offer two first class seats in the center include:
ANA First Class
Asiana First Class
British Airways First Class
Emirates First Class
Etihad First Class
Japan Airlines (JAL) First Class
Korean Air First Class
Lufthansa First Class
Singapore Suites
Thai Airways First Class
As you can see, some notable exceptions that do NOT have two seats together in the center are Cathay Pacific, with just 6 first class open suites, all of them stand alone, and also Qantas First Class on the A380, where the 14 first class open suites are also all stand alone, not paired with another suite.
Airline First Class When Flying with Kids: Top Picks
Singapore Suites on the A380
One of the best options, if it works with your flight plans, is Singapore Suites. While the "double bed" is a favorite of couples, it also is well suited to a parent traveling with a young child, because once both of your beds are made up with the comfortable memory foam mattress, they are at the same level as the top of the divider, instead of lower down as is usually the case with these paired first class seats. and since these are closed suites, there's greater privacy and a better chance of your child sleeping (making it easier for you to rest as well).
Another thing I love about Singapore is how wonderful most of their in-flight crews are with kids. They are consummate professionals, but also genuinely friendly–my son says to write that Singapore Suites is his favorite airline that he's flown.
I've seen exceptional service and care even when I was traveling economy class in the same row with a family with 2 young boys-the crew were always helpful with bringing the kids' meals first, and one of the crew members held and amused one of the boys for awhile to give the boy's mother a break. I've even chatted with a Singapore flight attendant about our kids when I wasn't flying with my son.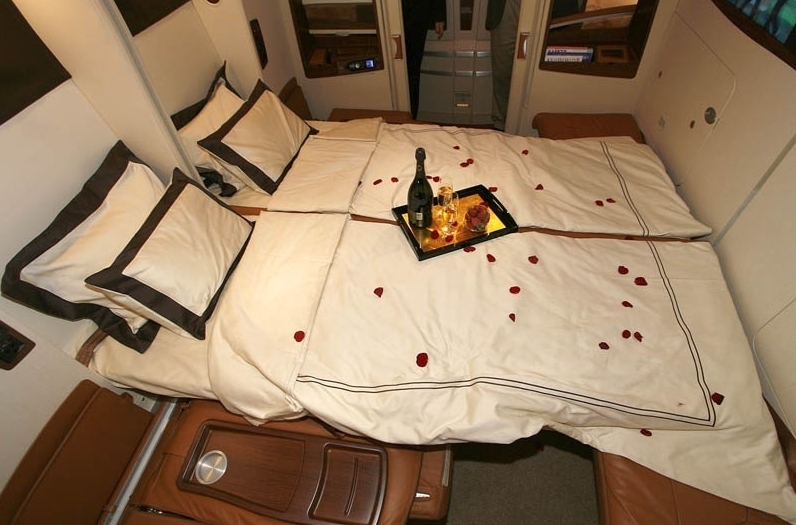 Cathay Pacific First Class
Although Cathay Pacific doesn't offer suites right next to each other, as long as your child is fine by himself or herself during takeoff and landing, when you each need to be buckled into your respective seats, Cathay Pacific seats are a wonderfully wide 36 inches, which we love. It's great to be able to sit side by side to read a book together, or even to help your child with his/her meal if s/he is very young.
I also love how quiet the cabin tends to be with just 6 first class seats, which also generally means a great level of personal attention and service from the in-flight crew. Plus, it means virtually never having to wait for one of the two bathrooms, which is an important consideration if you have a recently potty trained child.
We've also had generally good experiences with Cathay Pacific crews, although the service isn't as proactive as on Singapore, and not quite to the same professional level or as consistent. As with Singapore and several other carriers, there's often a kids' activity set your child will be given, and as with Singapore, the in-flight entertainment (IFE) offers plenty of kid-friendly options.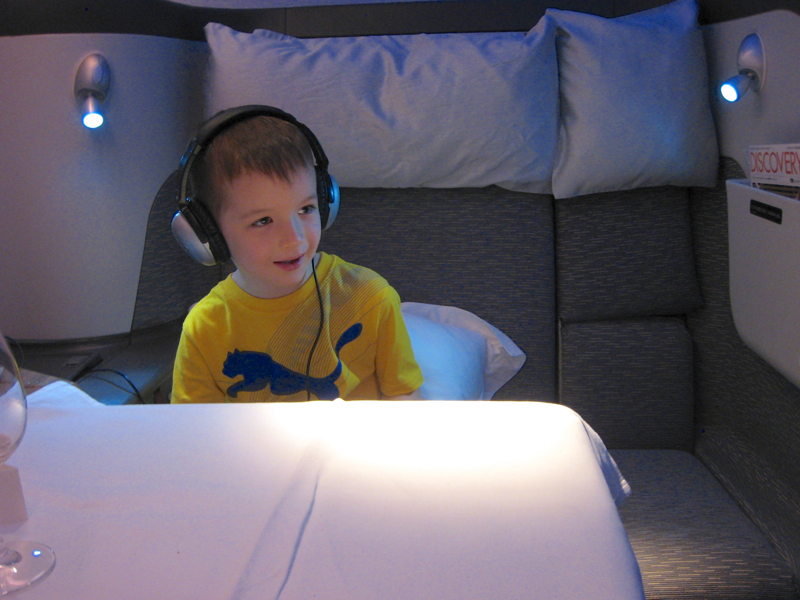 Etihad First Apartment
Let me caveat this by saying that I haven't yet flown this with my son, but we will be trying it out later this year. We've enjoyed flying Etihad First Class as a family, and in general Etihad gets plaudits for innovation, with its Flying Nanny service (though I'd imagine this is mostly geared toward families flying in Economy Class) and more recently, The Residence and Etihad First Apartments.
Two sets of the Etihad First Apartments, 3A/4A and 3K/4K can have a partition lowered by your head, so these could be a good bet since you could read your child a bedtime story. Do note that the 3A and 3K are rear facing seats though.
The other nice thing about Etihad First Apartments is that there's a shower available. So if it's a long travel day or your kid is just a super messy eater, you can clean him or her up, assuming s/he's ok with a shower instead of a bath.
If you've flown first class with your child, what are your favorite airlines and first class seats?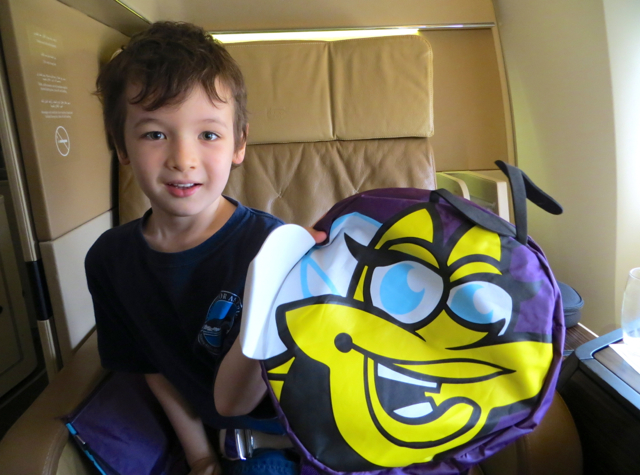 Related Posts
Top 10 Reasons to Fly First Class with Kids
Review Singapore Suites A380 with a Kid
10 Tips to Travel Better with Kids
Which Frequent Flyer Miles for Which Destination?
Top 10 Low Tech Toys to Entertain Kids on Airplane Flights
Need Award Booking Help? Our fee is as low as $75 per ticket if you book your hotel through us.
If you enjoyed this, join 200,000+ readers: please follow TravelSort on Twitter or like us on Facebook to be alerted to new posts.
Become a TravelSort Client and Book 5-Star Hotels with Virtuoso or Four Seasons Preferred Partner Amenities