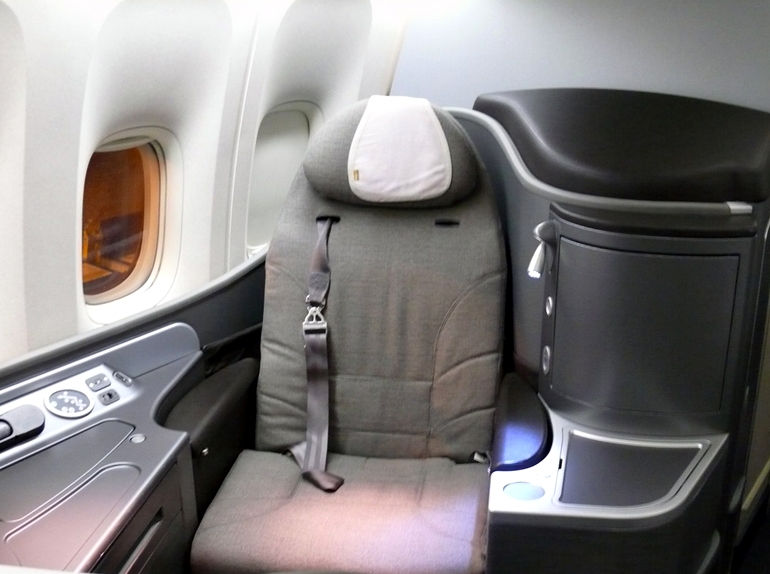 TravelSort reader Karen asks: "Can you get flat bed seats to Hawaii from the East Coast? I don't want to fly in a recliner seat, and prefer to avoid angled flat seats as well."
You can in fact get a flat bed seat to Hawaii for 50,000 United miles each way. Note that if it prices at 40,000, it's in recliner seats, so you'll want to check the seat maps to ensure you're in flat bed seats.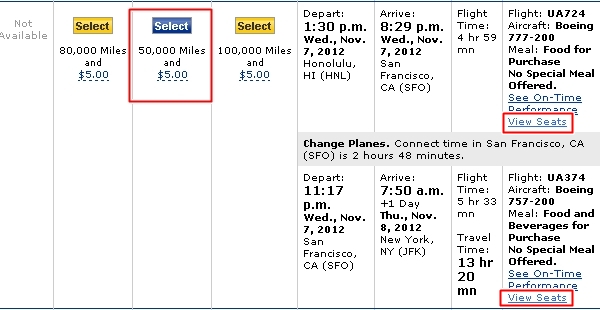 Here's how:
1. Search SFO-HNL and HNL-SFO for a 777-200 with First Class Suites
In the right column, where it says "Aircraft," search for Boeing 777-200. Note though that not all 777-200 planes are configured with the First Class flat bed seats; you'll need to check the seat map to see. It will be clear from the map if it's a bed, or just a square (recliner seat). Note that the seats in the seat map below are United's old First Class, not the new First Class Suites that are pictured at the top of the post. You may want to make sure you can fully recline to a bed position right after you board, so that if there is a problem, you can alert a flight attendant and try to be reseated.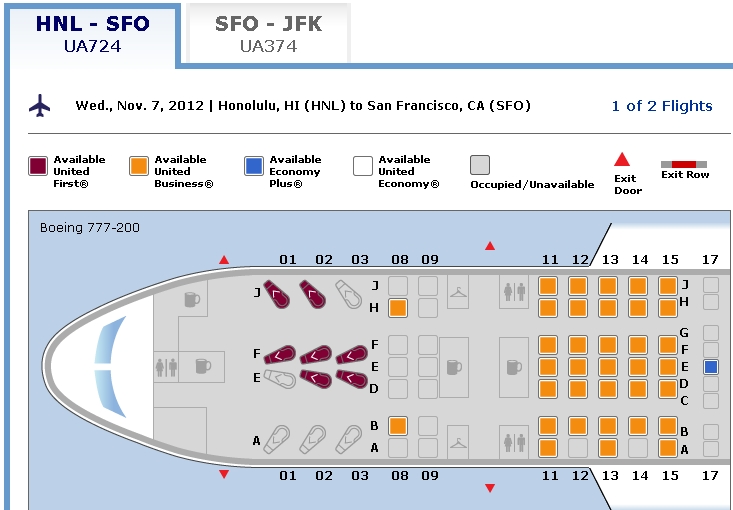 2. Search JFK-SFO and SFO-JFK for a 757-200 with Flat Bed Seats
United has had its Premium Service with flat bed seats for some time now, and the old Continental 757-200 also offer flat bed seats in BusinessFirst. See United BusinessFirst Review. It's usually easier to find the flat bed seats on the transcontinental segment NYC-SFO, which is why I recommend first finding space on SFO-HNL and HNL-SFO.
3. If You Can Only Find the Individual Segments, Put SFO-HNL or HNL-SFO on hold, then Call United
Since the SFO-HNL and HNL-SFO legs are hardest to get, put those on hold first and call United to add the flight to or from NYC. You can still go back to your held reservation to book online, after the agent has added the leg(s), avoiding the telephone booking fee.
While 50,000 United miles for First Class on United to Hawaii isn't the most aspirational use of United miles–after all, 67,500 will get you First Class on Lufthansa–it's still a decent deal for flat bed seats for about 11 hours of flying time from NYC. It's of course not such a good deal from the West Coast, although what you could do is put in a stopover if you're booking a roundtrip flight. For example, HNL-SFO (stop) NYC-SFO-HNL. Of course, as with the free one way flight to Hawaii on American, you would then need to get another flight from HNL back to SFO…well, unless you decide to stay in Hawaii!
You can earn 50,000 United miles with just 1 credit card application for the Ink Plus Credit Card, since Ultimate Rewards points transfer instantly and 1:1 to United miles. Or earn 100,000 points by leveraging the category spend bonuses. See Make Your Own 100,000 Bonus Offer. Anyone with any kind of small business, or even just plans for a business, is eligible for these cards. If you have income from consulting, renting, selling things at garage sales or on Amazon or eBay, etc., you can apply.
While we haven't yet picked dates for our next trip to Hawaii, I know that in part I'll be basing our dates on when I can find an award for these flat bed seats from NYC to Honolulu for my husband, since he's well over 6 feet and will appreciate being able to stretch out. The munchkin and I will be using our first and last Alaska Airlines companion voucher for First Class, since we squeaked in before Alaska Airlines made the companion voucher valid for coach class only.
Do you plan to try to get flat bed seats in United First Class to Hawaii? Tell us in the comments!
Related Posts
Best United Miles Bonus Offers Available Now
How to Book a Business Class Award Ticket to Hawaii
Tips for Booking Award Flights to Hawaii
How to Fly Hawaiian from NYC to Hawaii Using AAdvantage Miles
Need Award Booking Help? Our fee is as low as $75 per ticket if you book your hotel through us.
If you enjoyed this, join 200,000+ readers: please follow TravelSort on Twitter or like us on Facebook to be alerted to new posts.
Become a TravelSort Client and Book Your Hotel with Virtuoso or Four Seasons Preferred VIP Amenities!