This Five Points NYC Brunch Review is one of our many NYC Restaurant Reviews. Visiting New York? See all of our posts tagged NYC.
It's no secret my family loves a good brunch, and unlike some New Yorkers, we're very willing to get out of our 'nabe and trek around the city (or even to Brooklyn, in the case of Traif) for one. Five Points in Noho has long been one of our favorites, for a few reasons: 1. the food 2. you can make reservations (which isn't the case at a lot of NYC brunch places) and 3. awesome churros and chocolate (check out the last photo). So recently, we made a reservation at Five Points on Open Table for Sunday brunch.
When we got there (a few minutes late, due to NYC subway delays) they weren't able to accommodate our request to sit in the back room where the skylight is, but they did show us to a very roomy booth, which was much appreciated. It can get pretty cramped at some of the tables.
Our friendly server came over with the menu, which we were happy to see still had most of our favorites. The wood-fired oven dishes are specialties, so we ordered two of them: macaroni and cheese for our son (his favorite dish) and for me, the roasted farm eggs with polenta, ricotta and chunky tomato sauce. We were ravenous, having eaten a pretty small breakfast at 7:30am, so although the wait wasn't overly long, at 20 minutes, it did seem like an eternity, especially for our 4- year old, who couldn't wait for his mac and cheese.
Finally everything arrived, and we immediately set about cooling the piping hot macaroni and cheese to a temperature our son could eat. He enjoyed it so much he didn't want to let either of us have any, and very nearly managed to polish it all off himself. I snagged a bite when he wasn't looking–delicious! I do wish they still made their previous version, which included egg and bacon in the dish, but even just the mac and cheese is excellent, and you could always order bacon on the side.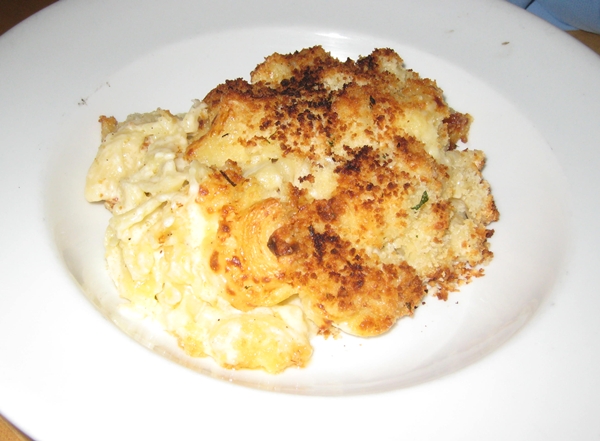 My dish looks incredibly messy in this picture, but it was wonderful as well. Less tomato sauce than I anticipated, but a great hearty mix of oven baked eggs, creamy polenta and ricotta with just a hint of tomato sauce. The problem was that I was so hungry it wasn't quite enough, especially after I shared a few bites with my husband.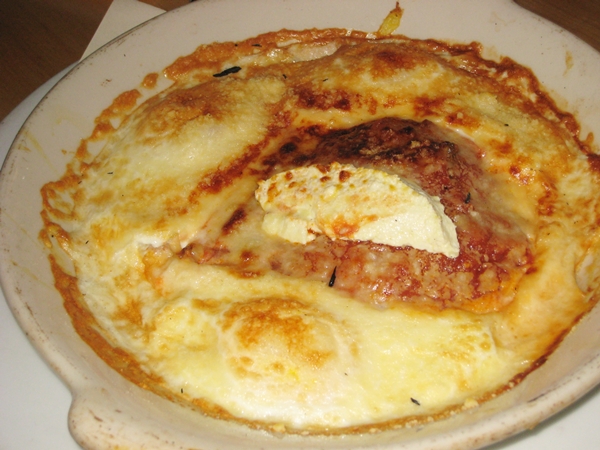 My husband's dish, the breakfast sausage benedict, was the most artfully presented: 2 sausages, the biscuit, egg and crawfish hollandaise. He enjoyed it, and as a rich dish it probably would have been enough for many appetites, but was definitely too small for him.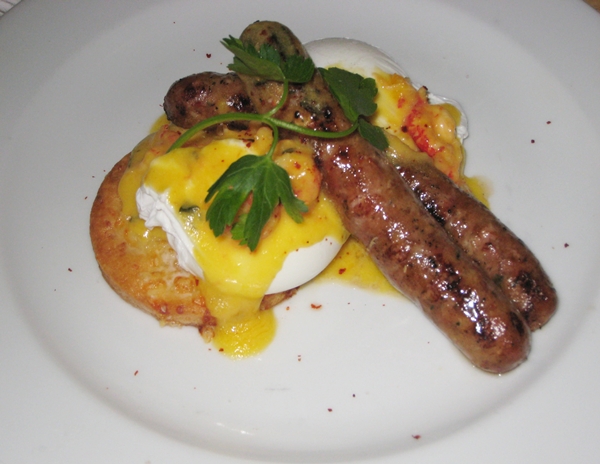 We mentioned to our server we were a bit disappointed by the portion size, and she was incredibly responsive, bringing over a cheery manager who offered to bring out some granola and yogurt on the house. We took her up on it. It was again hard to get our spoons in since our son was busy eating this too (I know we all sound at this point as if we have the appetites of sumo wrestlers):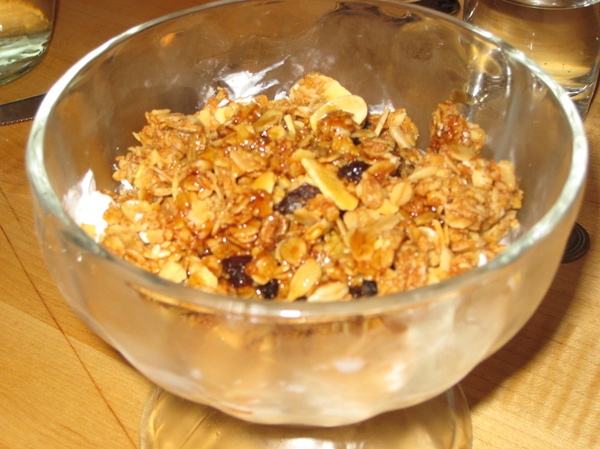 Fortunately, someone (the manager?) must have seen how quickly the three of us were polishing off the granola and yogurt, because just as we were finishing the last couple of bites a plate of another of our favorites, churros with hot chocolate, arrived. I wasn't sure if it was a mistake, but in any case I was happy to pay for it since we knew from past visits this is one of Five Point's best sweet dishes.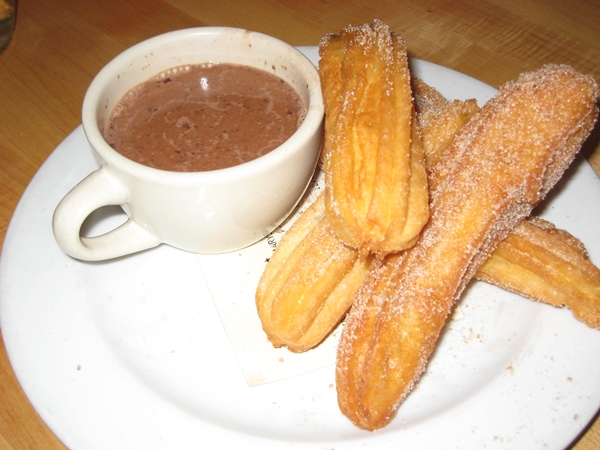 While the above may make us seem like gluttons, trust us–we were all just really ravenous. And if you compare it to what my husband used to eat as a teen–around 10,000 calories a day–it wasn't that much 🙂 In any case the verdict: easily one of NYC's best brunches, for food and being able to reserve. Value is good as well, especially if you're not quite as hungry as us. Be aware it's not that quiet though, given the poor acoustics and how crowded it is. It's better than Prune (which often has rather loud music and is really small) but worse than Fulton on the UES, which is much more tranquil but also a bit pricier.
Related posts
Review: Clinton Street Baking Company, NYC
Where to Go for the Best Brunches in New York
20 Best Cities in the World for Foodies
Need Award Booking Help? Our fee is as low as $75 per ticket if you book your hotel through us.
If you enjoyed this, join 200,000+ readers: please follow TravelSort on Twitter or like us on Facebook to be alerted to new posts.
Become a TravelSort Client and Book 5-Star Hotels with Virtuoso or Four Seasons Preferred VIP Amenities!